On Friday I went out to look at a bed that I had found this winter to try to figure out a kill tree, and on the way out I discovered another bed that I had missed my first time out there. I was walking the edge of the cattails and there were a few cedar trees as well as some blow downs that were in the cattails that I thought needed to be checked out. sure enough right between the blow downs I found some beds.
One of the first things I noticed when stepping into the bed was all the piles of crap in and around the beds. I stopped counting at 20, but there were more than that. Some of the pellets were bigger, some were smaller, and seemed somewhat fresh, so i figured it was probably does using the beds through the winter. The only tracks i could find were tracks that were in hte little bit of snow that was still left on the trail coming out of the bed going towards the field. THey looked like doe tracks to me. I was a little discuraged at this point thinking that I had found doe beds. So if a buck wasnt using this bed during the winter months and does were using these beds through the winter, is it possible that a buck would take up this bed in the fall? Looking at the beds, if a buck were to bed there, i think he would have every wind direction covered. Since I had my stand with me I figured i might a as well pick a kill tree and clear it out.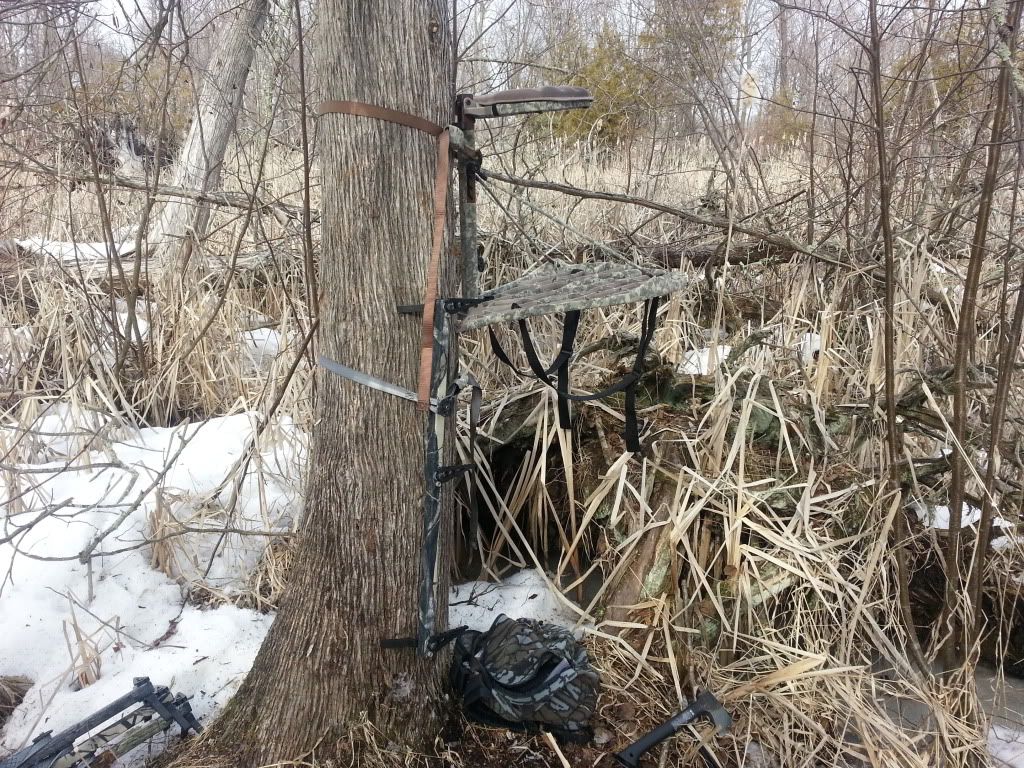 Im only going to use one stick to get a few feet off the ground, just high enough to see over some of the thick stuff in front of me.
Here is a view from the stand looking towrds the bed.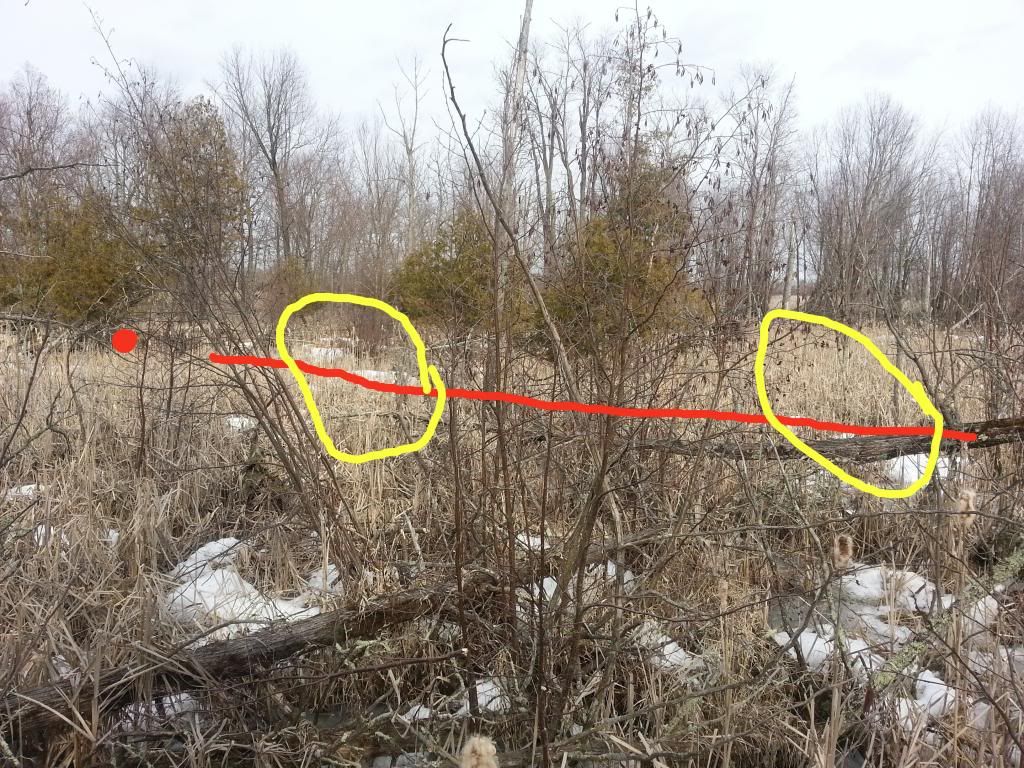 When i was in the bed i put some orange ribbon at about deers head level so i could see it from the stand so i would know not to get any higher. The red dot is the bed, red line is the trail, yellow circles are shooting lanes. The bed is only 30 - 35 yards from the stand. There is a field only 100 yards to the south, and my stand is to the south west of the bed. I think its very risky trying to get this close to the bed, but if i hunt any farther away I dont htink i would get a crack at any buck leaving this bed. Because its so close to the field Im thinking that any buck that may use this bed would get up in the last few minutes of shooting light, if he even gets up before its dark. Do you guys think that this would be a bed that a buck would use during the season? Even if it was being used by does through out the winter? Or might I be waisting my time here?
So after I was done wiht that bed, I went out to look at the bed that I had planned on looking at. I figured it would be wet, I didn't realized it was going to be under a foot and half of water!!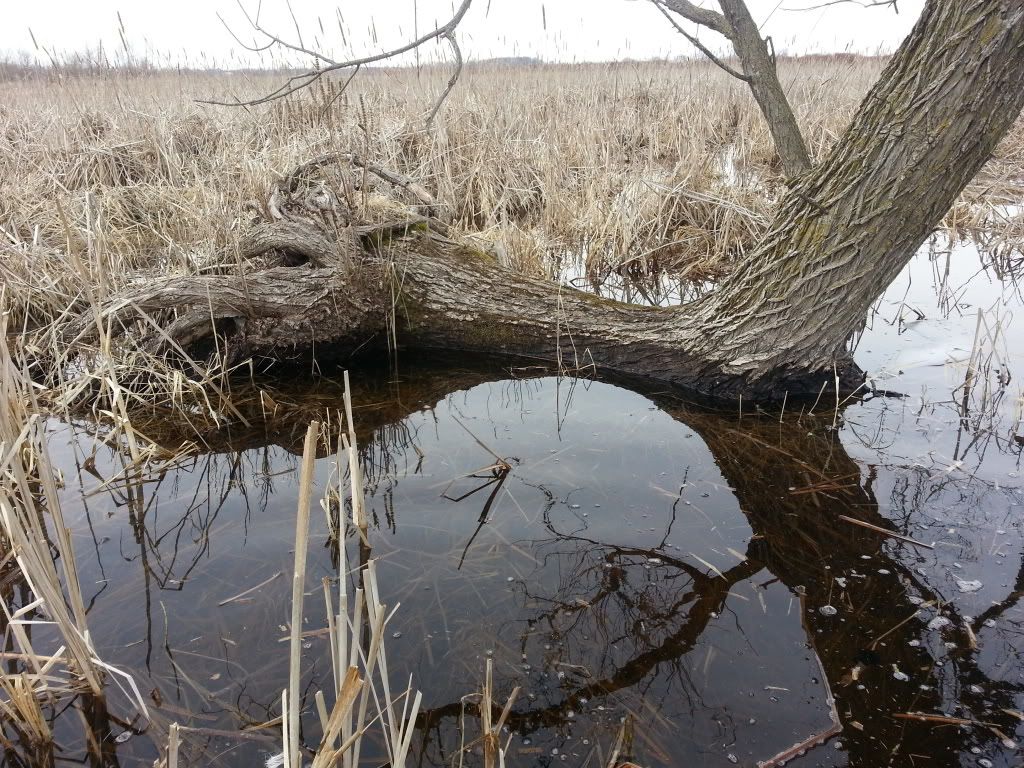 Believe it or not there is a bed at the base of that tree.
Here is a view from behind the bed, seeing what the buck sees.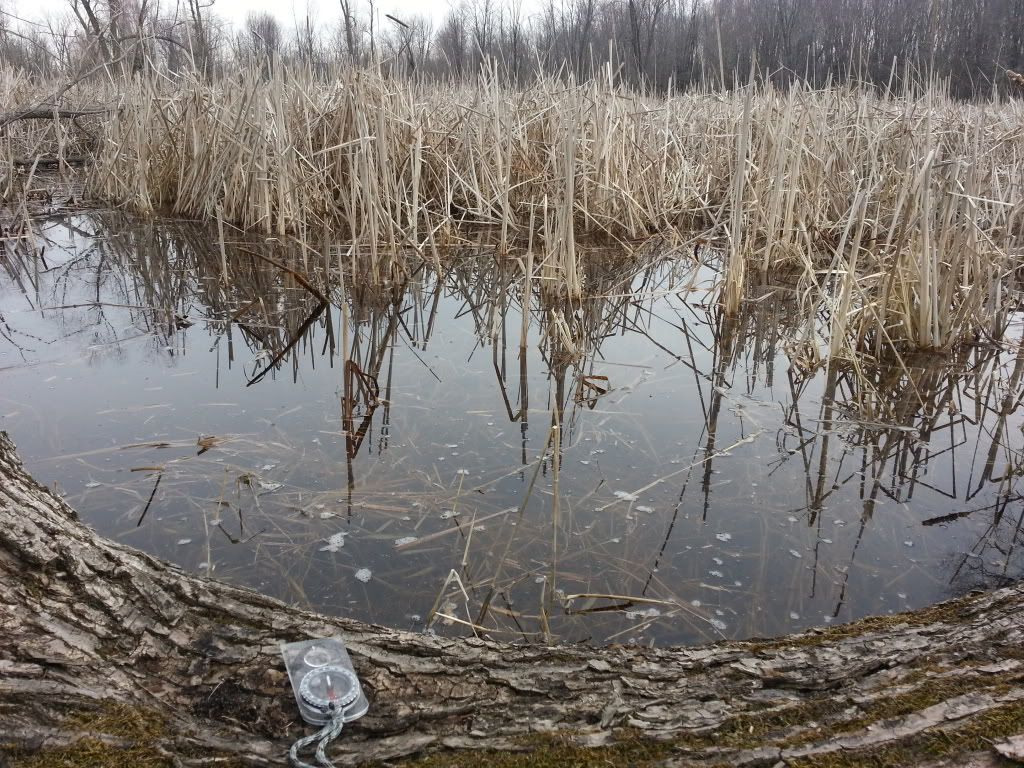 I believe this bed would be used with any wind other than a SE -SW wind.
What I really like about this bed is that I will be able to use an observation tree. Im thinking that I should be able to climb up and see if he is in his bed before I get out there and try to hunt him and burn that bridge. If hes not in his bed Im not even going to waist my time hunting it. Im really excited about that.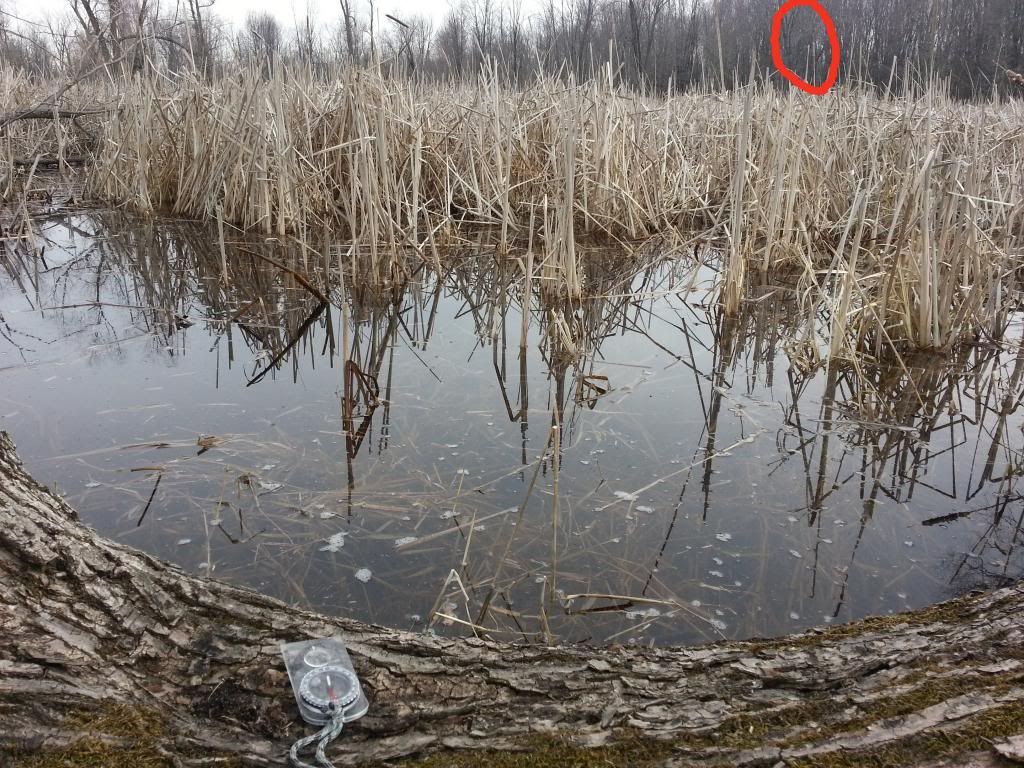 The observation tree is somewhere in the area of the red circle. It is south west of the bed. The kill tree i have picked out is to the north west, about 45 yards away from the bed. Here in this picture I am pointing at it.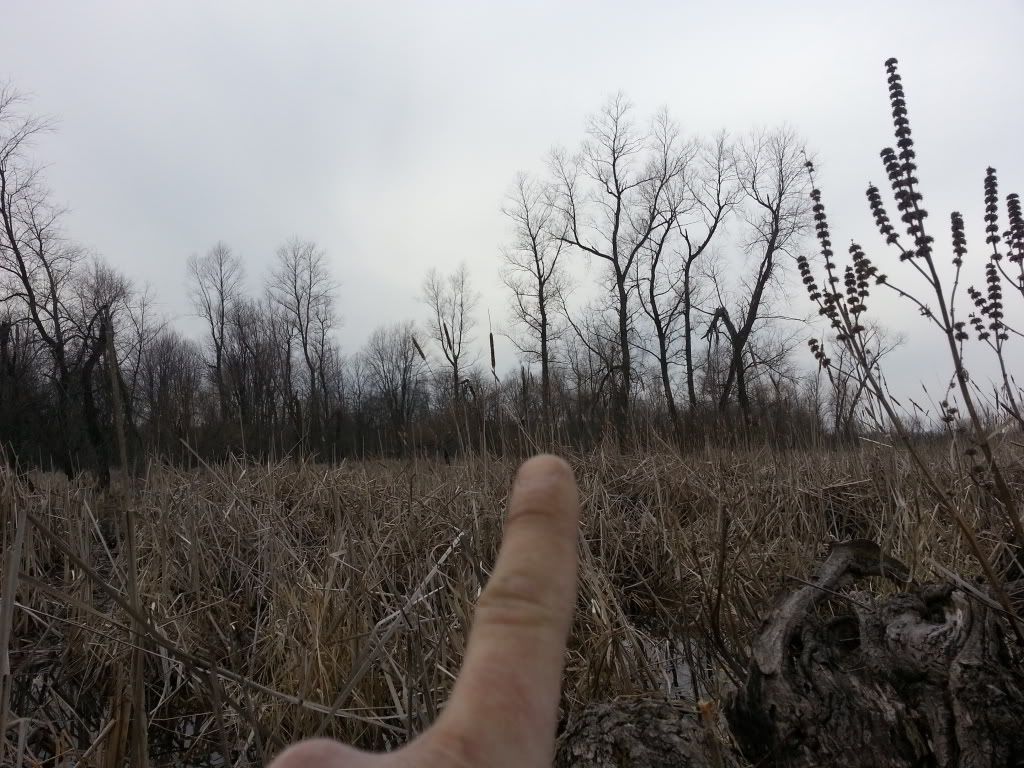 IN the picture you would think the deer would spot me climbing this tree, but when I took this picture I was standing. I couldnt get down and take one at deer head level due to the water level, but when the buck i bedded I dont think theres any ways he sees me.
Oh yeah, and the field that I believe this buck would be using from this bed is to the west. The trail I think he will use leaves his bed heading WNW and will bring him right by my stand.. hopefully.
Here is a view of the bed from the base of the kill tree. the bed is in that little island of a few trees.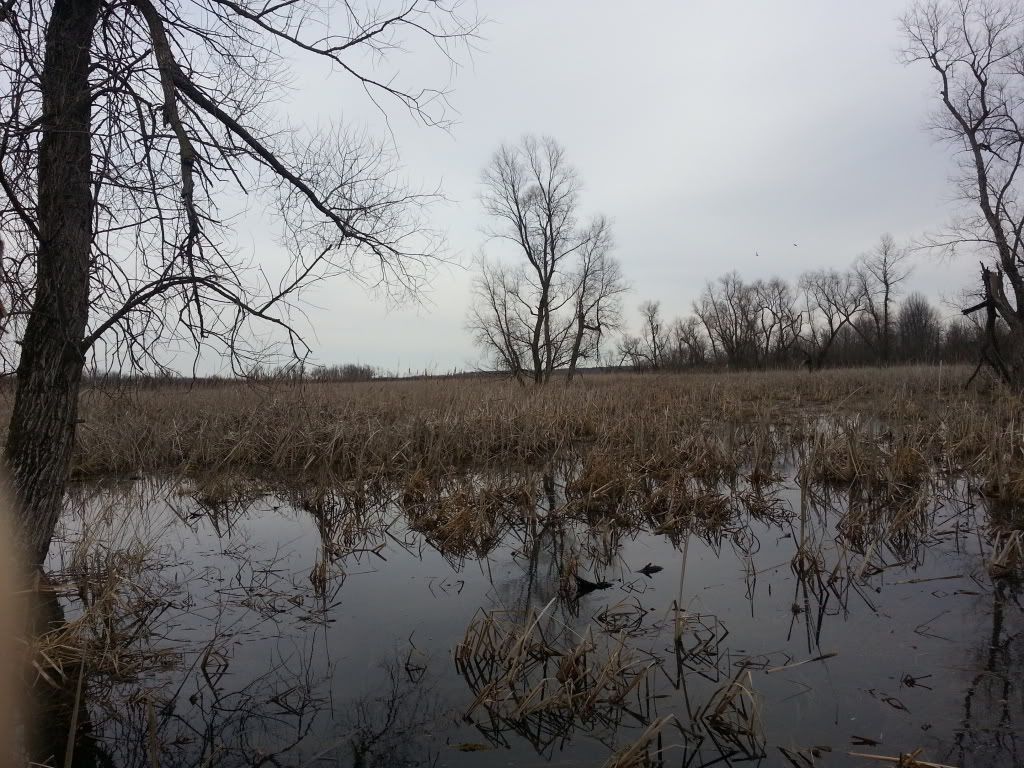 I felt like I had a pretty productive day in the woods. Anybody have any thoughts on either of these two beds? Especially the first one? Im pretty confident about the 2nd bed, the one that was under water, but the first one im just not sure.