Well I have been trying to get my nephew a turkey since before I was seriously into turkey hunting. I started 3 years ago, and 4 years ago we took him out for the first try. I was still too into fly fishing then to care about birds.
Well Last year I thought I had the birds narrowed down and a slam dunk youth hunt. Well the night before they didn't talk on the roost because of the wind, and they ended up roosting a lot further away from us. We couldn't get on a bird and put a lot of miles on that day.
This year my nephew said he didn't want to go and gave me a pile of exuses why. On Friday I figured it was because of all of the walking we did the previous year. I was really bummed but figured I would plead with him one last time. I told him that we wouldn't walk a lot this year and he decided to go.
So as soon as he said that I had to go hit the patterning board with the "JUNKY 500';). I got it sighted in and hitting perfect.
I went back to pick him up and Corbin, my nephew and I, went out to try and roost some birds. None talked but they had fun throwing rocks and building tree castles. LOL
After that we went back to the house and went over the gun, safety, and all that. I am glad we did as he had issues getting the safety off and couldn't see the setting I had the scope set on very well.
Saturday morning came and we were off. He wasn't even hard to wake up as he normally is. We hit the woods and to my dismay they had logged the area I had scouted. We didn't hear any birds there but heard some across the hollow. We beat feet to get over there as the birds were just flying down. I called to them a little, and back where we first started birds were hammering every call. The ones we moved too got henned up so we jetted back to the other birds. Well they got henned up in the mean time.
I told my nephew we would go try some other spots I had scouted. Well each spot had at least 1-2 cars at each. OH THE JOYS OF PUBLIC LAND.
Well I decided that since he had Hockey I would just go to an area that had turkey sign in the past and just do some blind calling. After a half hour or so of yelping and waiting. I decided I would just cluck for a while.
My nephew told me he was uncomfortable and wanted to move. SO we did to a bigger tree.
About 5 minutes later I heard a one gobble about 200 yards away. I knew there was pressure in the area and thought about jetting to close the distance but decided to just maneuver my nephew and cluck. I just did a few clucks here and there and mixed in some soft yelps. HE WAS COMING.
I was getting excited and put the box call on my lap and got out my new MAC glass call. I did some cuts and added some excitement. He just kept coming and gobbling, as I can see my nephews breathing increase. I was neeling behind him.
When I felt the bird was at about 60 down over a small noll I put my mouth call in for the finishing touches. I soft talked the bird.
I could hear his wings draggin in the leaves and told my nephew "Get ready buddy he is going to pop up over the knoll any minute.
JUst after I sad this I could see the red white and blue head and a half strutted bird. I did a few more soft cuts and he broke into strut showing me his full fan and dangling beard.
"Is this really happening??" I thought to myself.
I saw the bird turn right towards and opening And in my view the bird was right between 2 trees with maybe a 12" gap between.
"When he comes out from behind those two trees you pop him"
"Uncle Mike I can see him now, Just wait buddy."
The bird breaks strut and takes the two more steps.
I try to say Shoot. but I got to "SH..BOOM!!"
I see the bird back flip and start flapping.
I scream a word followed by the word RIGHT! and jump up, with Calls flying everywhere. I run down to make sure the bird didn't go anywhere but it was not needed. It never got off its back.
"OOOOOWWW, YOU LIAR!!" my nephew yells.."30-30 my but!"
I knew if I told him the gun would kick he would be scared so I told him that my 12 GA with 3" LBXR 1-7/8oz ot #5 kicked like his 30-30.
We exchanged a fist pound and I told him how proud of him I was. I told him "GIVE ME A HUGE HUG BUDDY!" We hugged and I lifted his little but right off the ground.
It meant a lot to me to finally call a bird in for him and a good one at that. His dad left him and his mom, and wont even call him or talk to him. I try my best to help fill some Dad shoes, but I am just too busy. Our youth turkey hunt is almost the only time we get to hunt together each year so I make the best of it.
Well enough yacking and lets see some pics: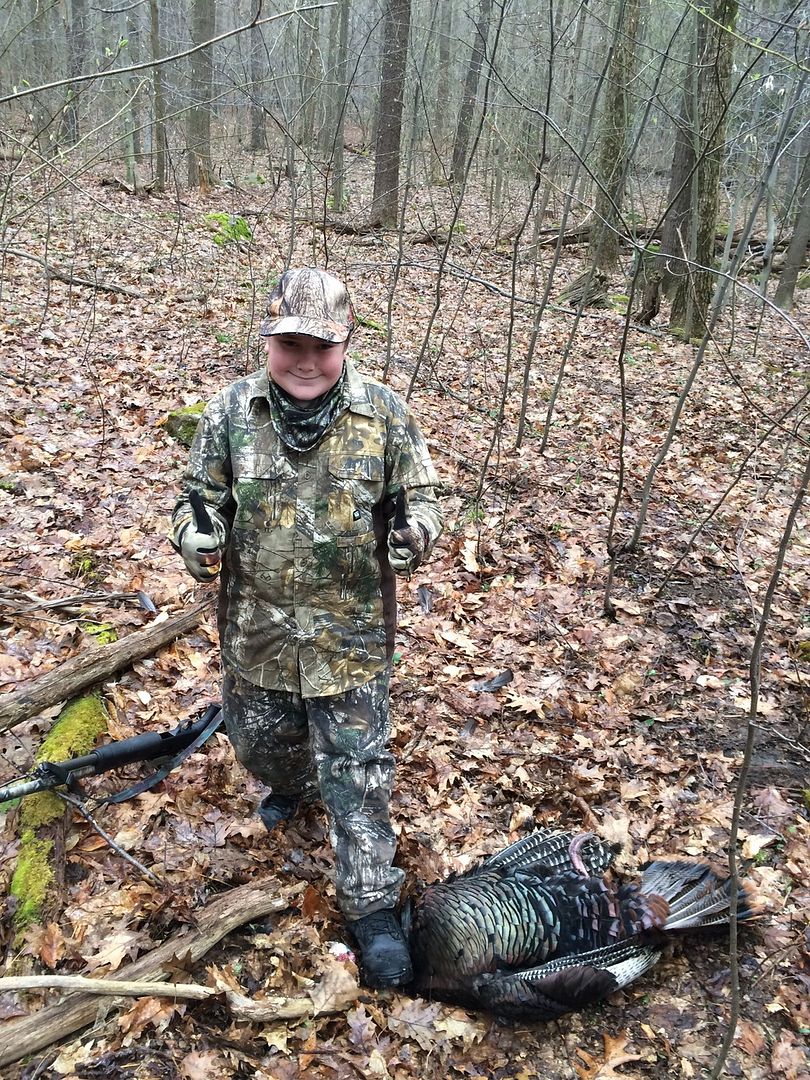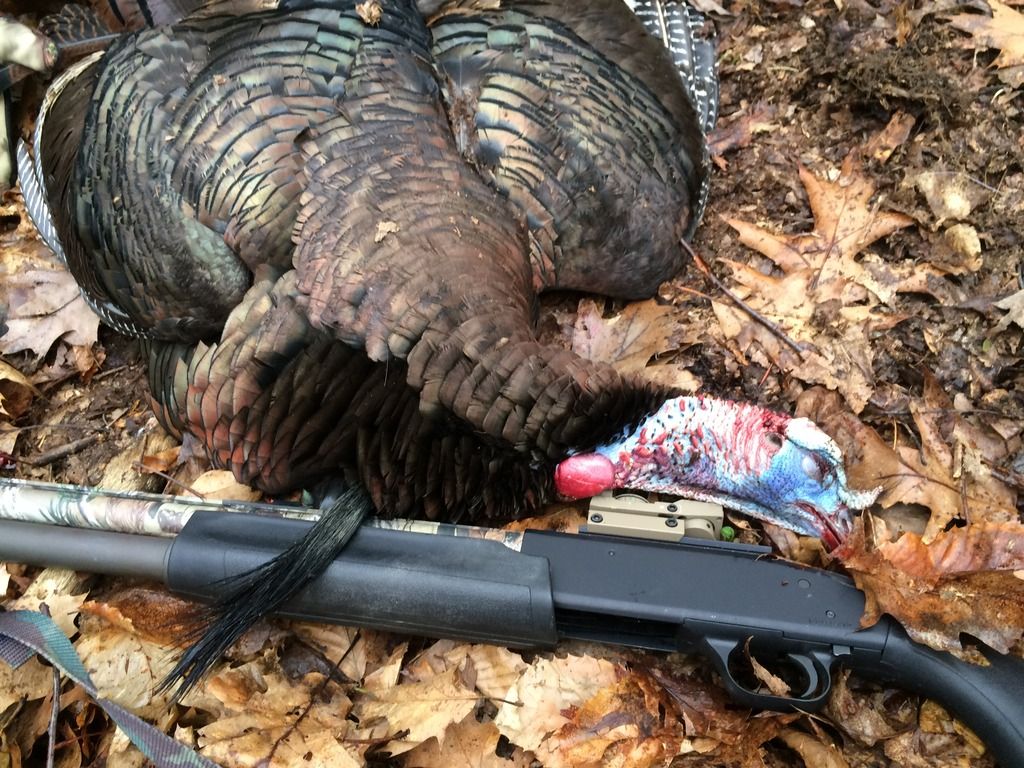 Here is the bird with the 500 that I took flack on the other day. It was my uncles gun that I converted this year. This was the first turkey ever killed with it. The fact that my nephew killed this bird with the gun that my late uncle gave me was awesome. It made me a bit emotional as well.
Here are the calls I used for to bring the bird in. Austin Hornberger box, Mark Cornelious glass over glass with diamond wood striker, Andy Snair wingbone striker to purr, and Tipton Creek Mouth call.
After the high fives, and hugs, and pictures we went back to the house to show Corbin and get some pictures.
I could not be happier, and am still on cloud 9. I am getting my nephew on of Andy Snairs Turkinator wing bone calls made, and a matching regular wingbone. They will be wrapped in blue. I have the fan preservine right now, and the beard is beside me. I am going to get some sort of tail fan plaque and beard board made, but just not positive on what one.
This was my best memory in the woods yet and will be hard to top. I wrote this one off as a loss and just sat there clucking randomly and struck a bird. You never know. This was my first bird ever called in with friction calls, and wont be the last. I love calls and to be able to use a few different calls and bring in a bird is awesome. I am still JACKED OUT OF MY MIND, for Saturday but if I never kill another bird again, I could die happy with that memory of my nephews first bird.