Hey guys, just wanted to fill you in on the Jaffa contest.
Corbin woke up at 6 am and was pumped to go to the contest. We ate breakfast and such and got read. The contest had me up before Corbin. I was a little nervous as this was my first contest and the Kee Kee run was on the list of calls. I can do it pretty decent on a ghost cut mouth call but brought my Jordan Yelper just in case.
Before the Hunter Division was up I went out in the hallway real quick to do some last minute practicing on the kee kee. I nailed it pretty decent with the ghost cut call.
I was caller number 5 of 6 so that had me on edge, knowing that the would get to hear some people before me, and made me think that they would compare my calling to theirs.
Right before the Hunter division started I went to grab my ghost cut mouth call. NO WHERE TO BE FOUND! I looked in my bag, searched my pockets, and could not find it. OH WELL the old Jordan got called up.
I went up and did my run.
First call was Assembly call, and I thought I nailed that pretty well.
Up next was the Fly down cackle.
I had a couple slips on my "tree call" but thought my cackle was pretty solid. Not going to lie I was pretty nervous.
The next one was the kee kee run. I was nervous as I can kee on a Jordan but my yelps leave something to be desired for sure. I ran through and thought I keed pretty well but the yelps were a little rough.
The last was callers best call. I chose to do yelping of an excited hen. I love my pot call and it cuts pretty well. I thought I did pretty good on that.
Here are a few other pics from my run.
Here is the videos of my run. My dad called right in the middle of the video recording so it had to be split. GO figure.
first half:
https://youtu.be/V02JsXKfXRE
second half
https://youtu.be/vj5mfx3MAdE
I knew that the callers ahead of me did quite well, and was thinking I got 4th or 5th after hearing the last caller. I was relieved for sure.
After I was done, there was a long time before the poults division. I was kind of bummed that they had them at the very end. It is hard to keep a 3 year old entertained for that long. We walked around the show a few time, did the fishing, shot bb guns and all kinds of stuff, but Corbin didn't get to call until 4 oclock. He drew the very last number of the contest. I had a lot of trouble keeping him awake before his run. Really bummed me out as I knew his calling would suffer. He was nailing it in practice, but when we got up there he was not focused and seemed like he just wanted to be done.
Here is the video of his run. Still very proud of him as he was really well behaved for the length of time he had to just sit there, or try to occupy his mind. But still pretty upset the length of time he had to wait. Not saying it would have changed the results at all, but I know he would have at least called a lot better.
https://youtu.be/rgDLpAMqzVo
So after Corbin was done it was time to hand out trophies. He was pretty bummed that he didn't get one but they did call him up and give him a flashlight. When they called him up the MC told him he did well and asked him how old he was.
"Free"
He said. The MC then asked everyone to stand up and give Corbin a round of applause for being 3 and going up on stage.
To say the least I was bummed out for him too. We practiced really hard for this, and to see him be half asleep for his run just saddened me, and made me a little upset. I could see it in him that he was pretty upset but took it pretty well.
So I comforted him, and knew we weren't going to be going home with any trophies. I got a bit more bummed. The announced the jakes, and intermediate, then moved on to the hunter division.
"For the hunter divison your third place caller is Mike Richardson"
Wait... What?
"Daddy you get a trophy"
"No Corb, WE get a trophy"
"I was really pumped and grabbed Corbin, and we went up to get our trophy." I let him accept it and we got our pic together. The only reason I Called was to show support for Corbin. I spent a lot of nights out in the unheated garage practicing for the show, so this helped with my bummed feeling for Corbin. We are doing these contest together so if one of gets a trophy we both get one.
They announced all the other people, and I saw Corey Chamberlain walk over to the MC. I heard him say Corbings name. Corey is a 3 time GNCC caller and is under 15 years old.
The MC said "Why don't you tell everyone what you want to do Corey"
"I want to give my first place trophy to Corbin Richardson for going up there and doing his best"
To say the least this choked me up pretty bad. Knowing that Corbin would get to take home a trophy really made my day, and cheered him right up.
Here is a picture of Corbin with Corey and the trophy he gave him. He singed the trophy for him as well.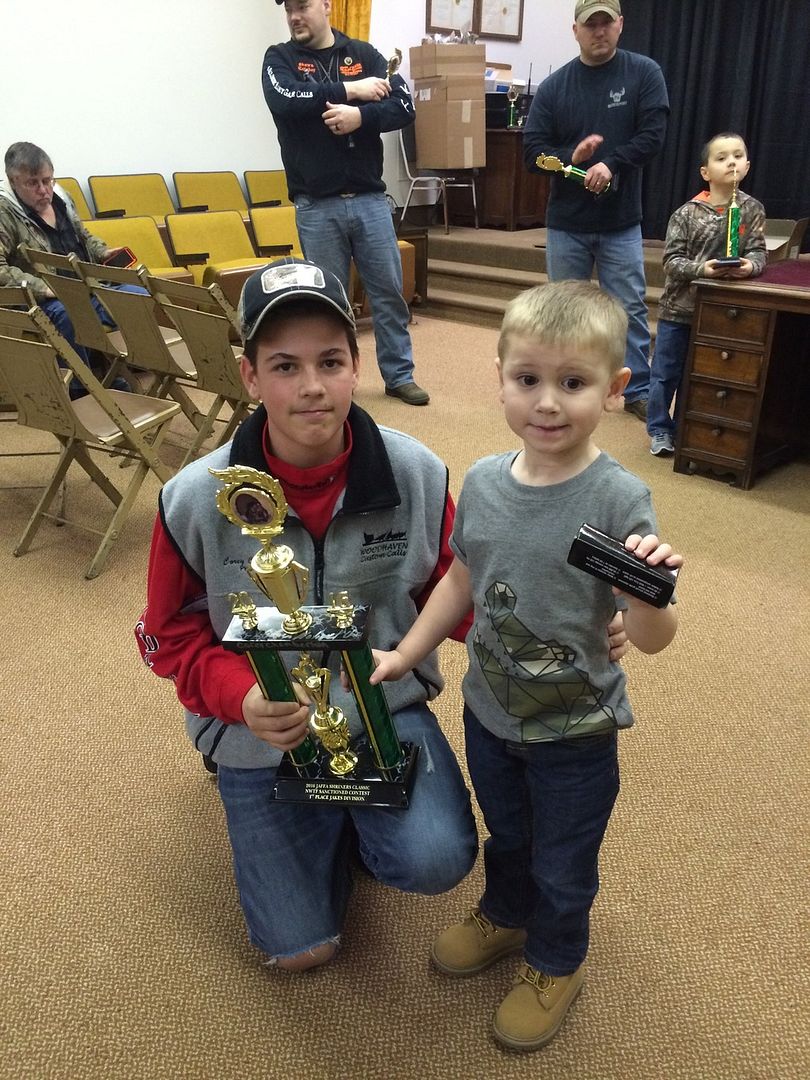 We got a few other pictures before leaving the contest.
Here is Mark Cornelious and his daughter Sway, Rob Bartlebaugh and his son Bo, and Corbin and I. Mark took First in hunter, and Sway took 3rd in poults. Rob took Second in hunter and his boy took 2nd in poults, and Corbin and I. I really enjoy these contest and making friends. Marks daughter and Corbin have become pretty good friends, as have Mark and I. I love Marks calls and used a pot of his in the contest. I think these 3 will have a blast continuing these contest and competing with one another as will I competing against Mark, and Rob.
Here is the poults division, Corbin is holding the trophy that Corey Chamberlain gave him.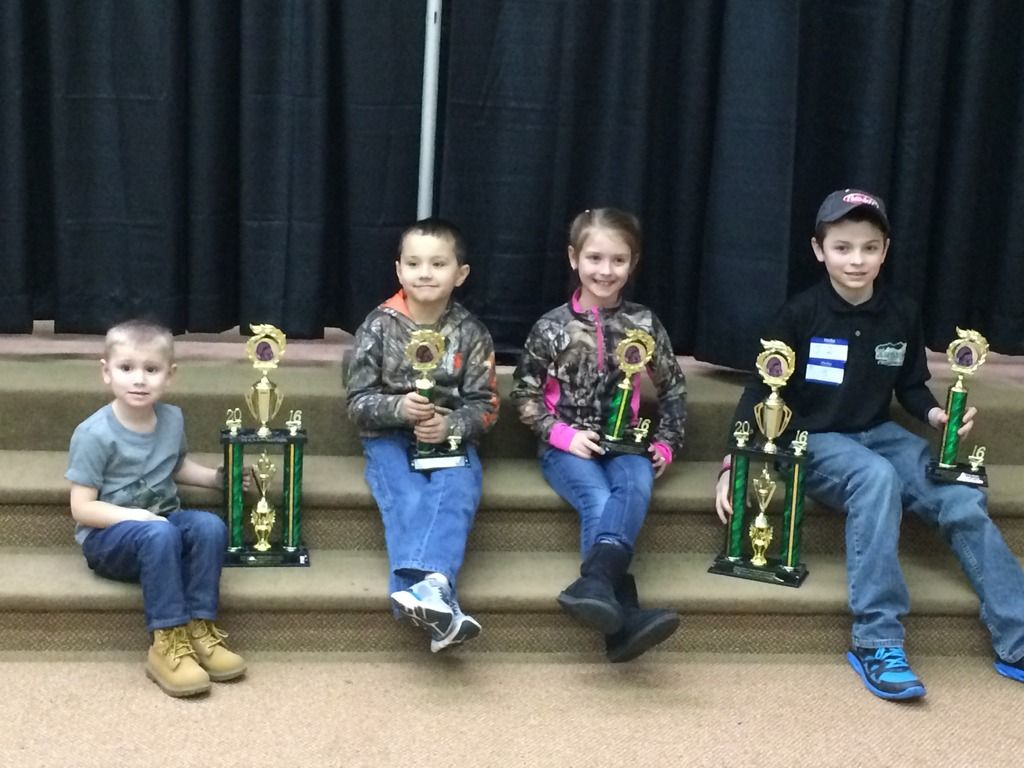 Here is Corbin and I with out trophies.
I love turkey hunting, and contest calling is a thing that is really exciting to me. Seeing the generations of callers, hearing some amazing calling, and really practicing to get better is awesome. Some of the best people I know are turkey hunters, callers and call makers. What Corey did for Corbin is just awesome and lets you know there are still great people out there. He is a true champion and just shows how great parenting can have an effect on kids.
This sport is great and I hope Corbin and I can do this together for a long time.
Thanks for the read.