I had a good feeling that this morning might be the last I would be able to hunt due to school commitments this week. I woke up at 4am and sure enough the whole state was red on the weather radar, with torrential downpours happening outside. So I just slept in, even if I could make it out my camera equipment couldn't. Ended up getting sick anyways, and got another 8 hours of sleep and got my first food to stay down about an hour ago.
Tomorrow I have a test from 9 to 10. Getting out before that isn't going to happen because of rush hour traffic back to the cities. But I might go out afterwards. It's supposed to be windy (> 20 mph) and rainy up until about 11am, then the rain should stop and the wind should die down to about 15-17mph.
Now I've heard many times in the past that turkeys are silent after being shook around in trees all night, especially combined with the rain. That shouldn't mean that they don't still move, right? I was thinking about trying a mobile still hunting strategy for a few hours: set up near the top of a ridge where I can see a ways, and sit and wait 20-30 min, then move on to the next spot, sit and wait 20-30 min, etc. Think this is about the best shot I would have? Do turkeys tend to stay lower in elevation with this kind of weather, stick to certain tree types (like pines over hardwoods) etc?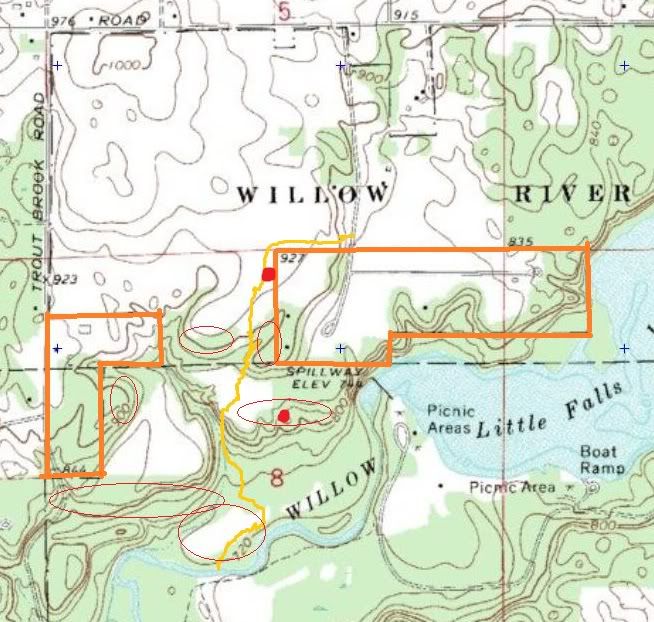 The upper red dot is where I saw the tom around 1:30 on Wednesday, in the calm sunshine. The lower red dot is where the tom was roosting yesterday morning before he went off to the southwest. The four red circles are where I had planned on concentrating efforts from 11pm to 3pm tomorrow. I know that on a normal day, the ridge tops would be my best best, but with the wind, perhaps they'd prefer to stay down closer to the thick riverbottom?