My turkey season started out with really high hopes. I had tags for 2 seasons, 1st and 4th, and I had plans on hunting 5th and 6th as well. I had been putting out trail cams a week or so before my first season to try and anticipate strutting area's and where they were hanging out. I have hunted this piece of land for 3 years so I have a good idea about how the turkeys move, where they like to feed, and of course approximately where they roost. The problem is it is about 500 acres and it is hard to get the turkeys pinched down into my comfortable bow range. I had been going out in the evenings after work and seeing where the turkey were feeding in a corner of a unplowed corn field from last year. They were there every single night and usually most mornings too.
My season started out on April 11th, and my dad had a turkey tag too. He set up about 300 yards or so away from me in a different food source and in a spot where a lot of turkeys hang out.
I put my decoys out, two hens and a jake at 15 yards and settled in about an hour before sunrise. The morning started out like most mornings, lots of toms gobbling off the roost, and then going silent until around 9-11 when they would start up again. They were not acting like they normally do in the 1st season, the spring had come early and the birds were acting like they would normally do in 4th or 5th season. They were call receptive and I did manage to call in a few toms, just not close enough for a shot. The day was going by really fast due to the constant turkeys coming and going in the fields, and being it was a huge bottomland of beans (freshly planted not sprouted yet), alfalfa, and cut corn, I could see about a half mile in front of me, and probably 3/4 of a mile in the other directions, so i was seeing a lot of birds.
I called in a very nice tom around 3 in the afternoon and he came right into my decoys, but angled off just before getting into them. I slid forward to try and kneel (they chair I was using made lots of noise and I figured it was best to not draw from a seated position), and the tom busted me and took off running back into the woods where he came from. He was honestly the biggest tom I had ever seen as far as e beard goes, it was one of them that makes you say OH my god when you saw him walk, and I had killed toms with 11 and 12 inch beards before.
I was pretty disappointed (especially since I got it on film with my bow mounted camera) and decided to hang in there and see if anything else would happen. I managed to see a lot of toms, especially right before dark where two toms came out into the field i was in, but stayed about 60 yards away from the blind.
The next morning found me in the same spot, though I turned the blind a different direction. I once again called in a tom fairly early in the morning but he worked into the decoys real slowly. Come to find out he was the same tom I messed up on the day prior. He was coming in very slowly in full strut, and I estimate it took 30 minutes to come 50 yards. Like he did the prior day, he made a angled turn right at the last minute and went out to 35 yards, and I decided to take the shot. I drew back put the pin on him, and squeezed off the release. The problem was he was walking and I missed him by 2 feet by the time the arrow got there. He took off and stopped about 100 yards away and went back into full strut for 20 minutes before finally leaving.
By this point I was getting frustrated by the many missed opportunities, and since I didn't get a tom the year before I decided to go to the truck and get my shotgun electing to use the bow later on in my other seasons. I managed to break my pair of binoculars in the process of going to the truck which just added further insult to injury, thank god I had a spare in the truck so I could still see the birds. I got the gun around 10 in the morning and sat the rest of the day. Like the day before I was seeing a lot of birds, just none inside my gun range. The day had been really chilly and since I was in a black blind on the inside, and since I didn't have a lot of heavier weight black clothes, I took a black snuggie along. I knew the entire time I was wearing it that if I shot a bird, I would never hear the end of it on here due to my wardrobe. I texted Matt (Backwoods Hunter) and told him of my snuggie strategy and he told me if I got one, to pose with it on in the hero shots. I agreed and went on with my hunt.
About an hour before dark a tom came out with a thick brushy beard but hung up 20 yards outside of gun range. He went down into the middle of the field and hung out with some hens. He got below and behind my blind and fed with the two hens for 45 minutes before starting his way back in my direction. He was going to come by inside of my range, but just at the last minute he angled out of range just like the rest of the turkeys had been doing. The hens kept coming and I noticed a pair of toms coming from the same general direction about 400 yards behind the first tom. They came in really fast and stayed just in gun range as they passed the blind. I stuck the gun barrel out to shoot the lead tom (had the bigger beard) and he saw the barrel come out. He put his head down and took 2 quick steps and I decided to shoot the 2nd tom as he was 3 feet behind and still walking with his head up. I put his head in the diamond on the scope and squeezed the trigger. Immediately he fell forward and started flopping but went down fast. I ran out and took some pictures and texted my dad to let him know what I got. He was in front of me a half mile away but could not see the 2nd and 3rd tom because of the curve of the terrain, but he had been filming the first tom and the 2 hens. He thought I shot and missed the 1st bird was was relieved to hear I hadn't missed anything. I took some self pictures and then my dad came down and we got some more including the famed snuggie shot. The tom ended up being 20 pounds, had inch spurs, and had a surprisingly nice beard at 11 7/8" inches, which made me really wonder how big the other toms were because they clearly had bigger beards.
I hunted the rest of the season with my dad and while we had some very close encounters everyday, we never managed to seal the deal and he had to wait until the 4th season to get his bird while I was at work. I hunted in the 4th and 5th season and saw a few more birds, but nothing remotely close enough to shoot.
I am very satisfied with my season, I had a great time, has some super close encounters with bow and gun, and got a nice tom. I am doing a tail fan mount and giving it to my 3 year old nephew for his room
Here are a few photo's: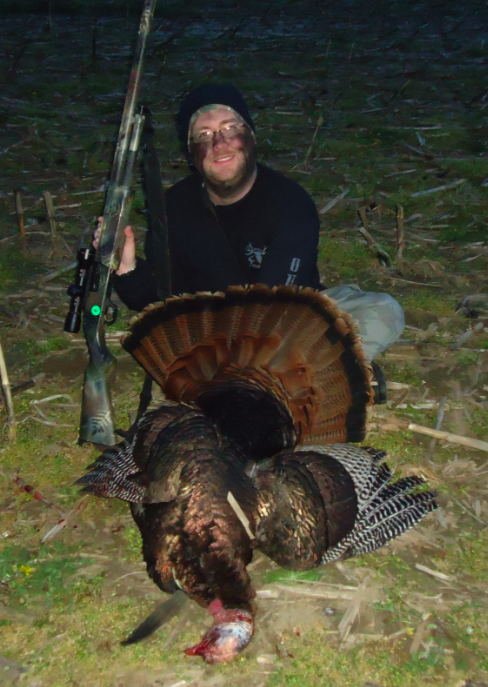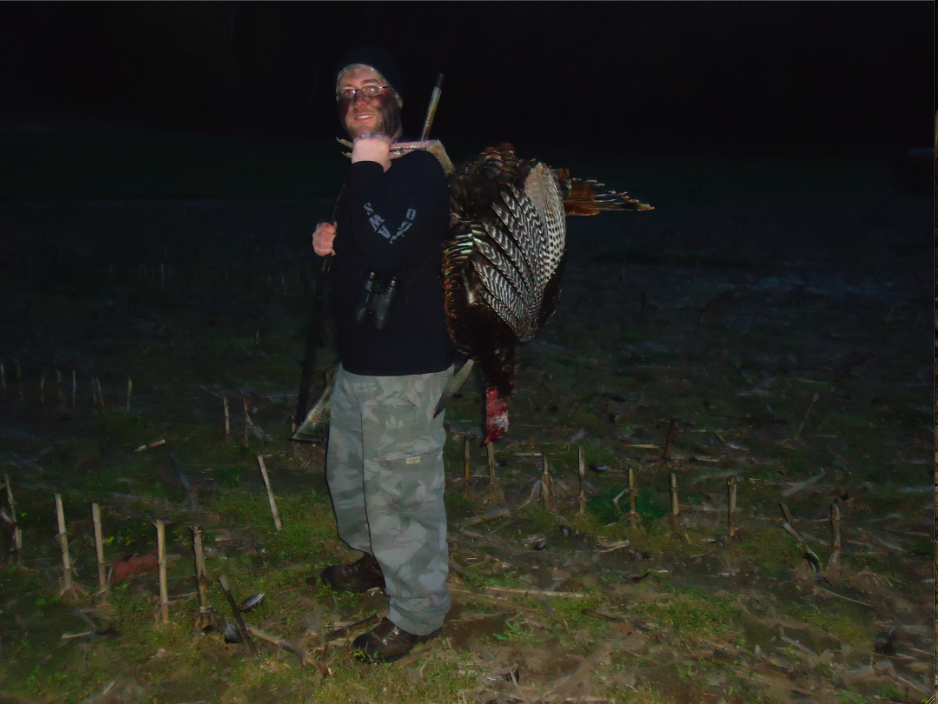 And now for the "snuggie shots" or the "Snug Lock" suit as it has later been called