What a crazy bear baiting/hunting season 1st off. I'll get into that as they story go's. [glow=red]WARNING- Very long read.[/glow]
1 week before bear baiting opener my driver that drives for me called me while I was out fishing and says he can't drive for me the following weekend which was bear baiting opener. He said he had a thing he had to do for his sister. In these exact words I said minus a death in you're family or something else that happened bad with you or you're family I don't care what you have to do for you're sister or anyone else, I'm going bear baiting and I'll be damned if I miss it. He's worked for me now for 14 years. He knows come August and September it's my time. I haven't missed a bear baiting opener in 25 years and I didn't miss this one either as not another word was said from him.
So my 7 year old daughter and I packed the truck Friday morning and we were off to northern Minnesota by 1:00 that day.
There are usually 6 of us in our little bear hunting group that hunt together. Usually its every 2 years that we get drawn but this year 3 others who should've got drawn didn't so it was just me and my dads wife who got drawn. In Minnesota you can only run 3 baits per person so we put 6 out on Saturday and Sunday. The bear sign was phenomenal!! Found a few piles of bear poop along with some berries that were hit too and lots of matted down trail sign. Saw white berries this year get hit for the 1st time ever by bear.
I told Lydia I had a surprise for her when we went back up the 2nd time the following weekend to check the baits.
We left by 9:00 Friday morning and made a pit stop at Paul Bunyan Animal Land just south of Bemidgi.
http://www.paulbunyansanimalland.com/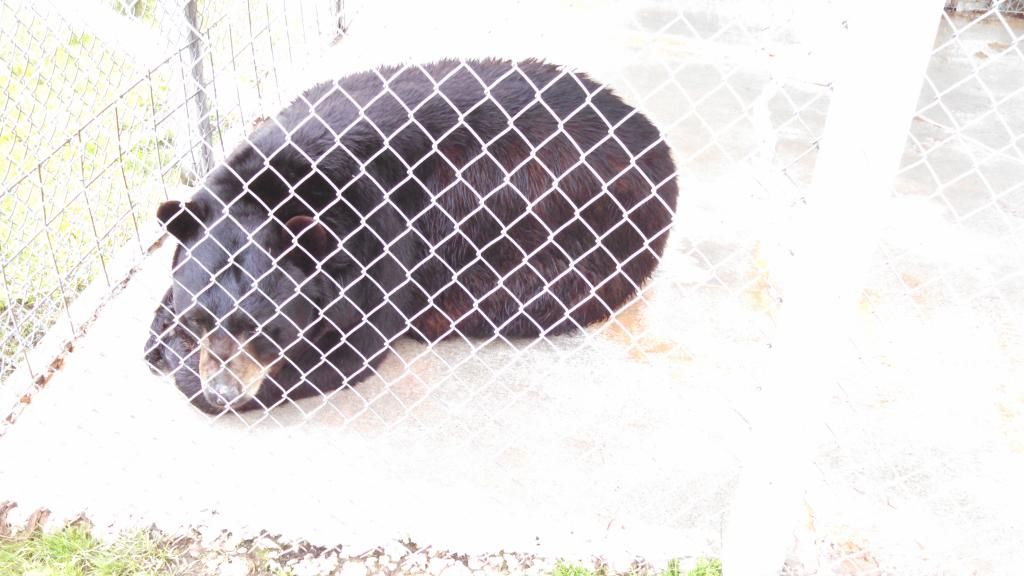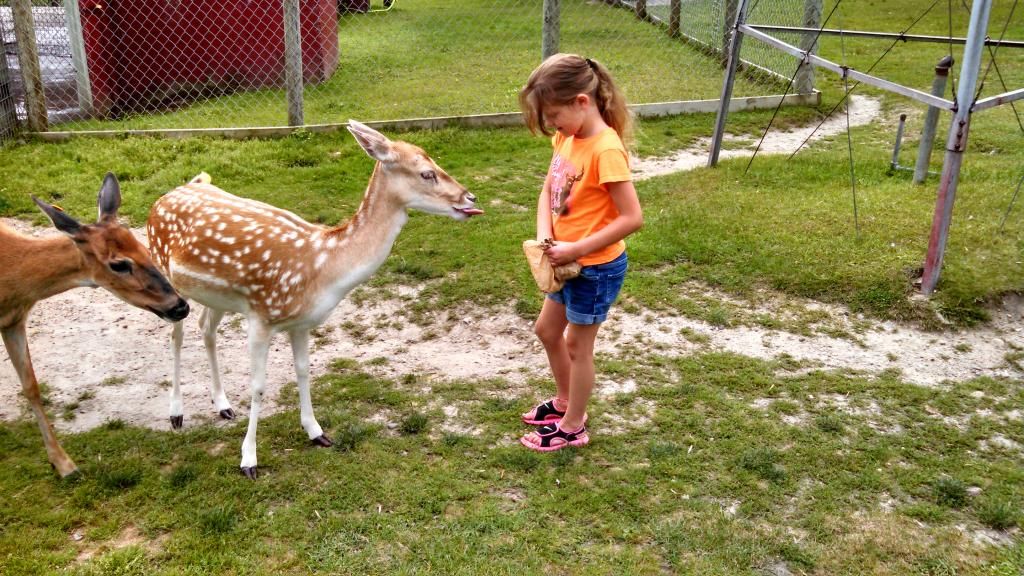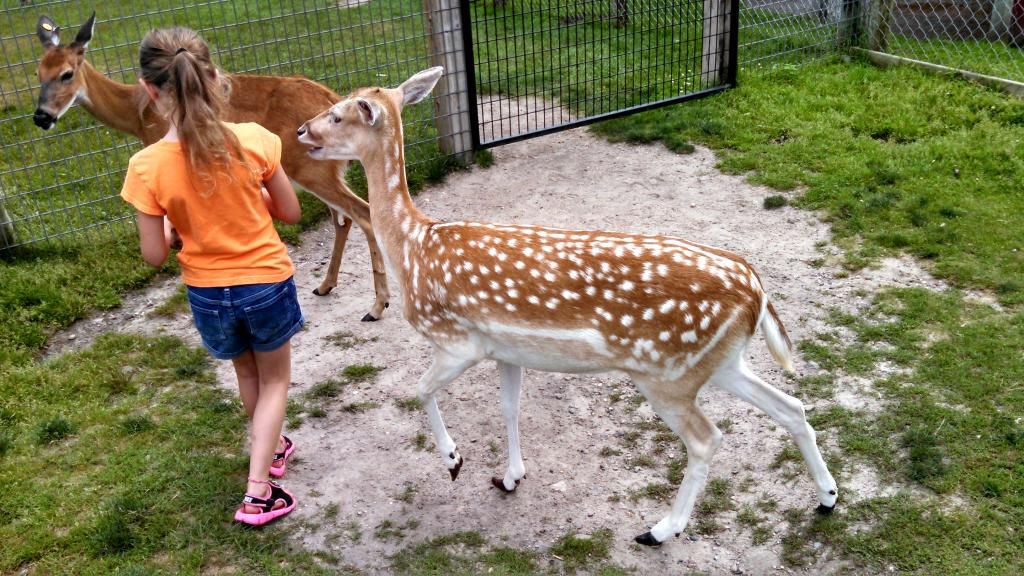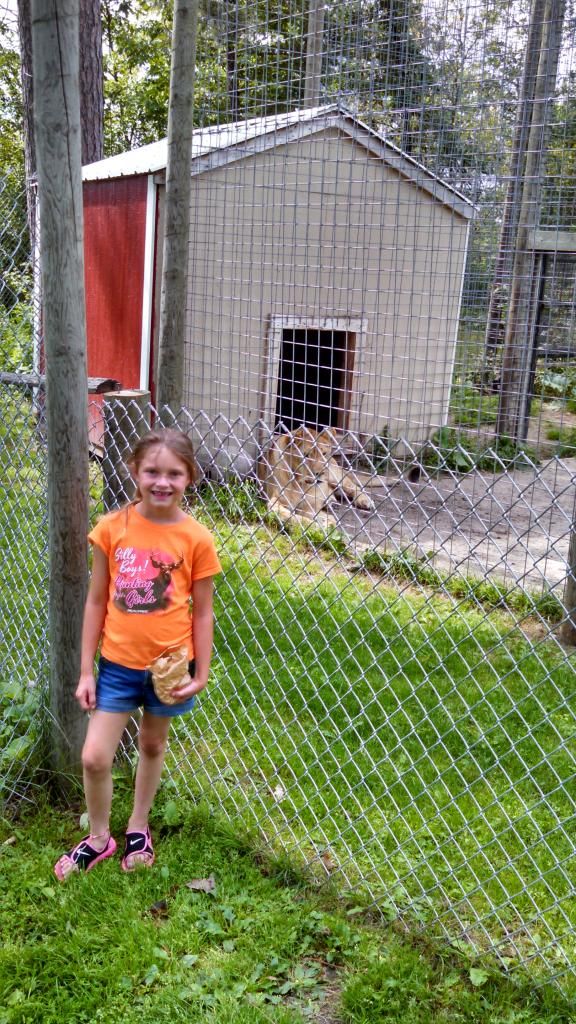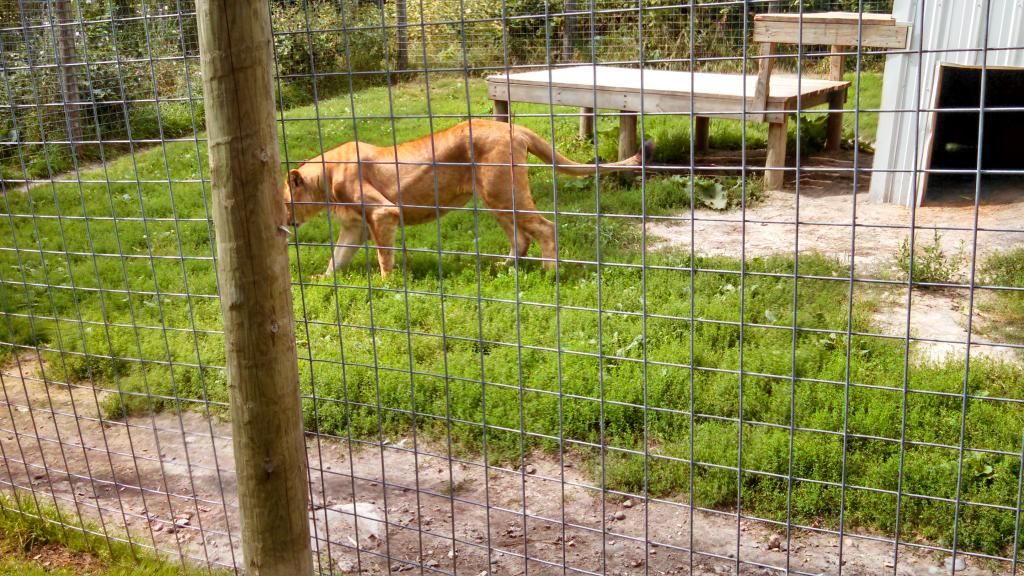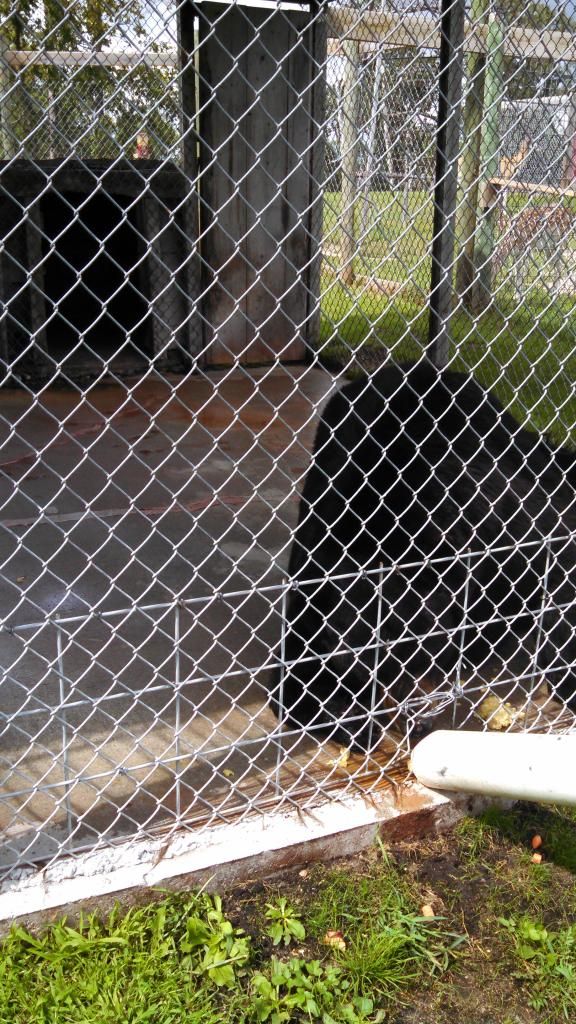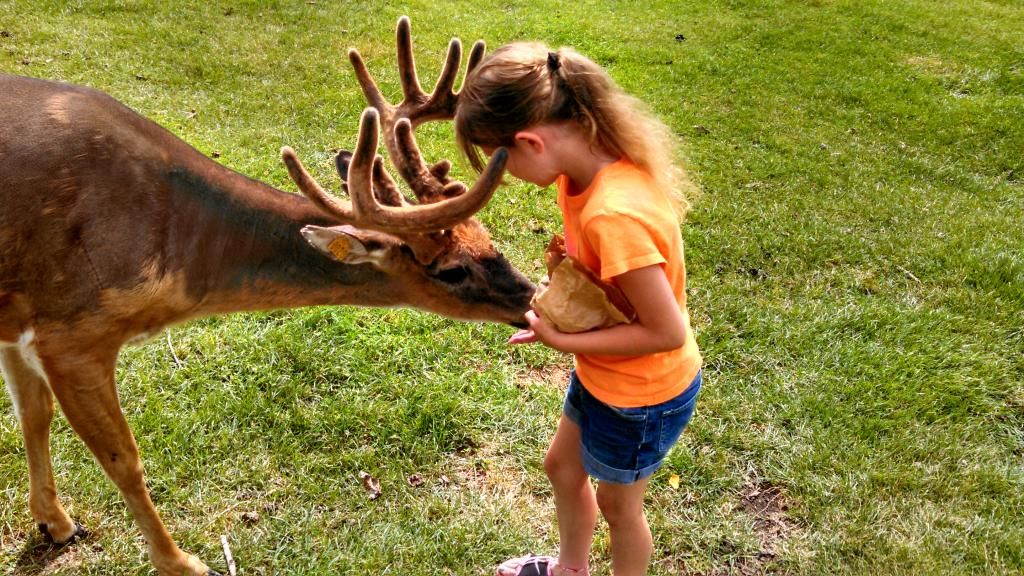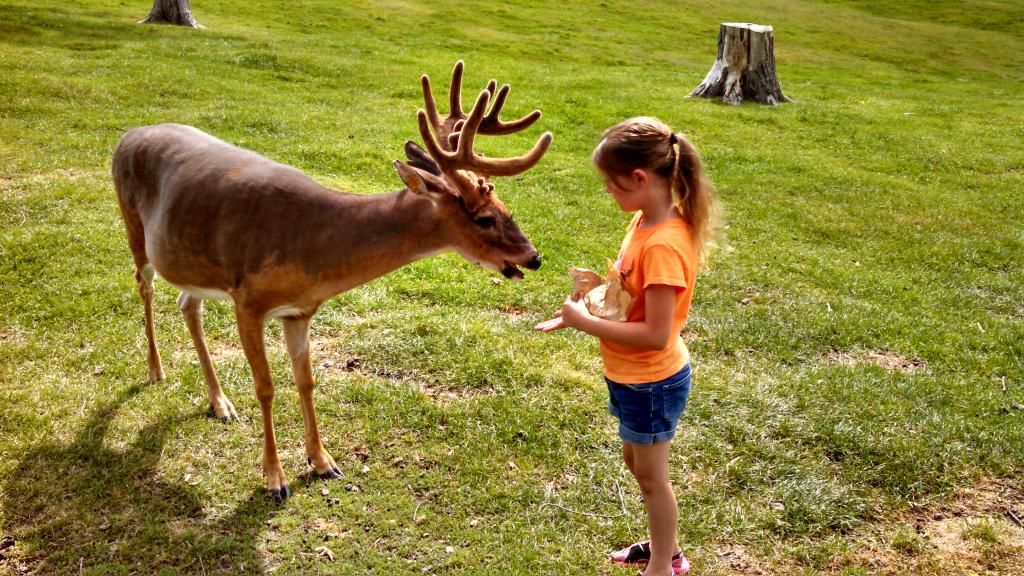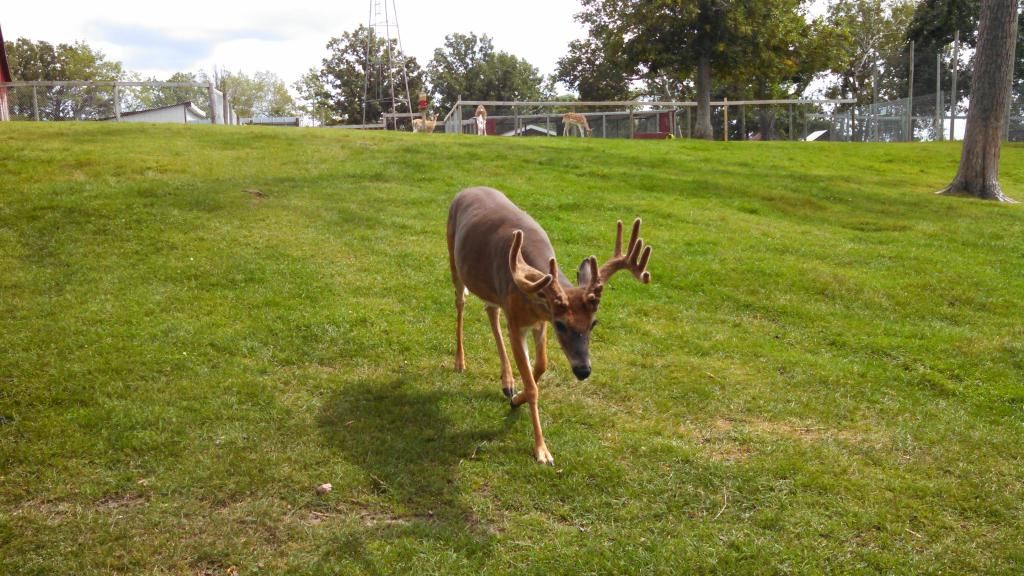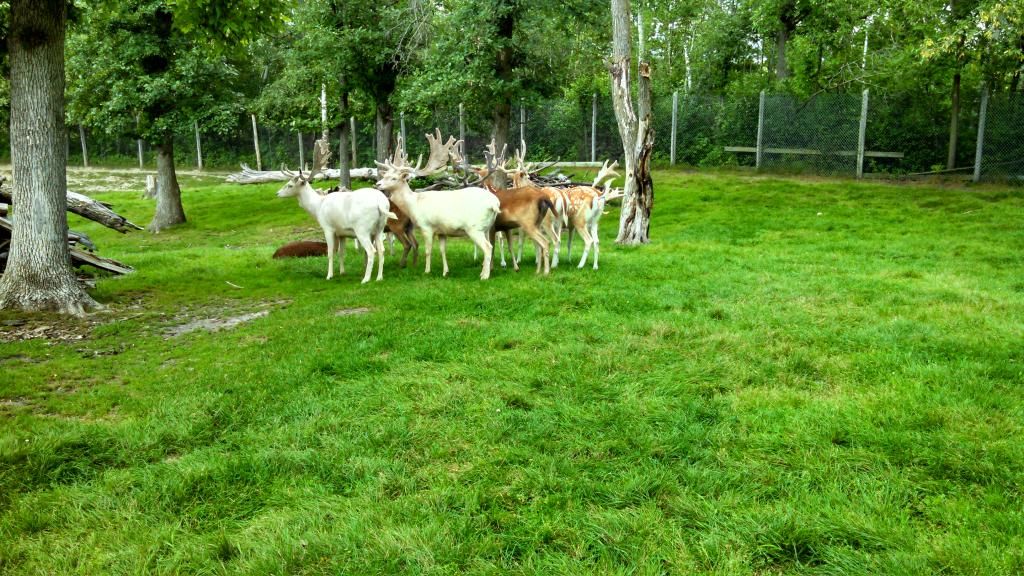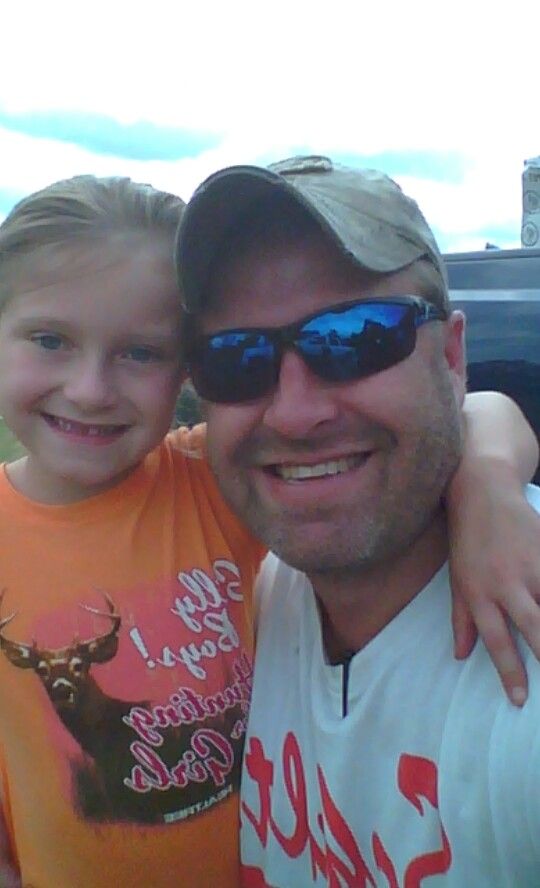 Once we got to bear camp (we camp in the woods) we started getting ready for Saturday. Lydia and I caught some Catfish this summer and I saved most of them to use as scent to help bring bears in to our baits. I put them in a black 5 gallon pail and add some water and let sit in the sun for a month to ferment and turn into a liquid form. Let me tell you it's raunchy!! It don't effect this girl none though. Here she is mixing up one of the pails. I put some flower in the pail to help make it more tacky and stick around longer at the baits and it will also help if it rains and not wash away as quick.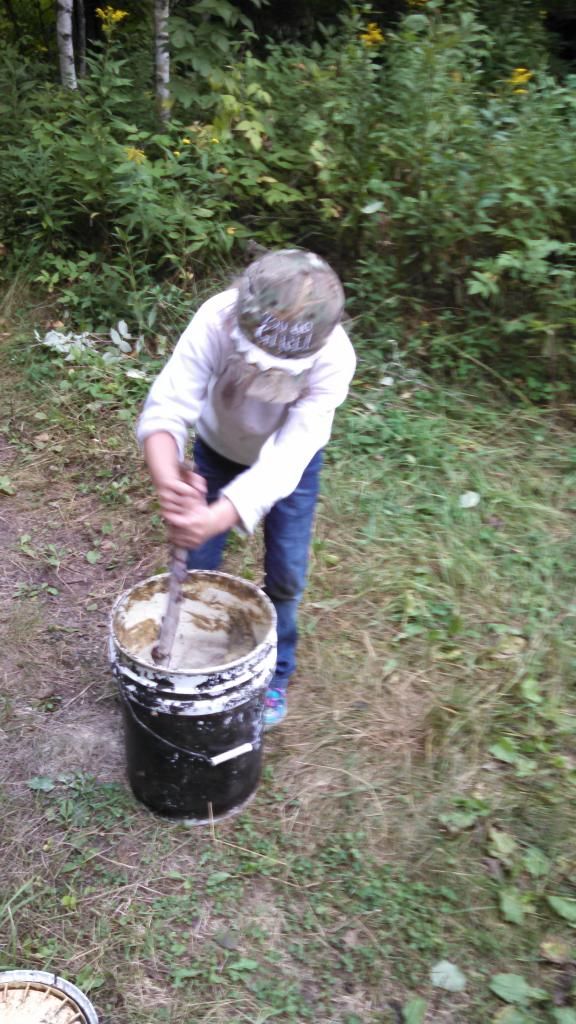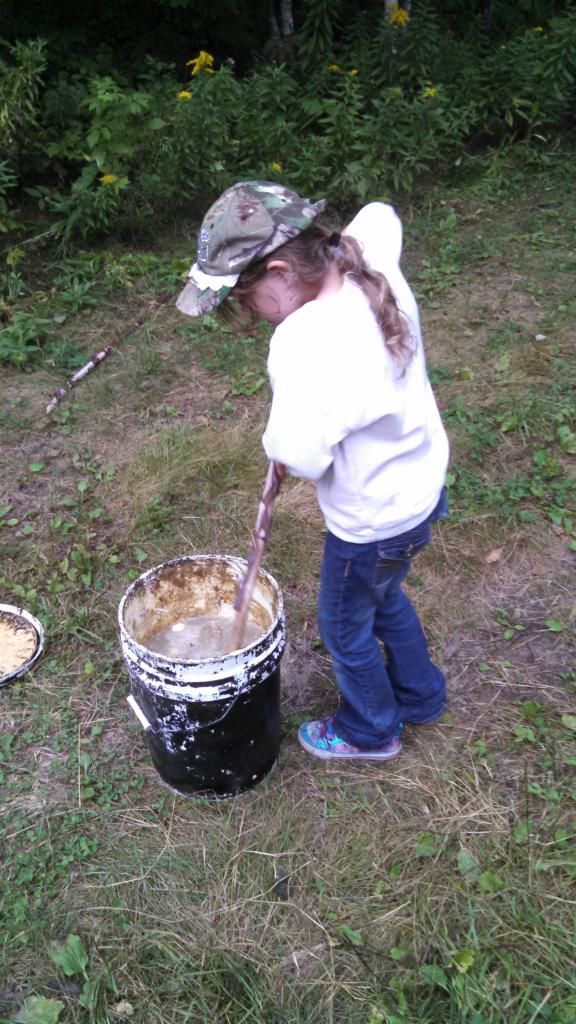 Saturday morning around 10 we start checking baits. It was a good check. We went 5 for 6 on our hits. Here's some pics of the kids helping out at the bait sights. These little farts could dang near do it on their own as they've now been with us for 3 years baiting. A very proud dad here!!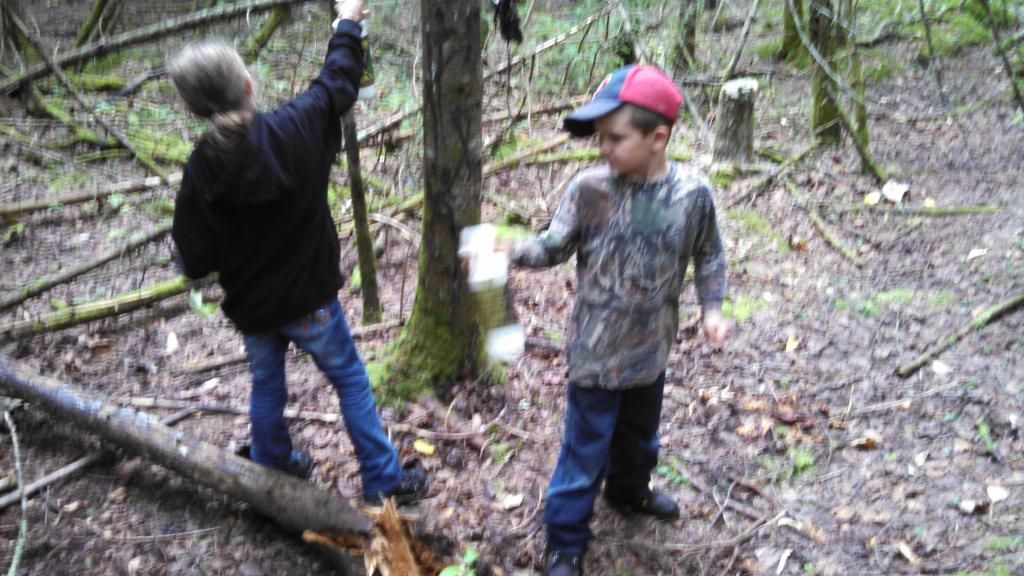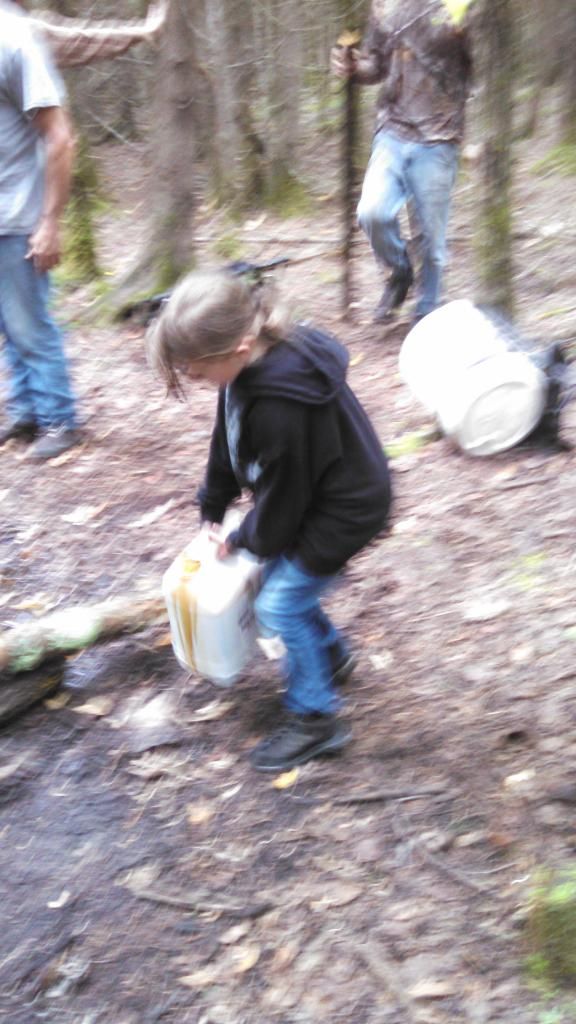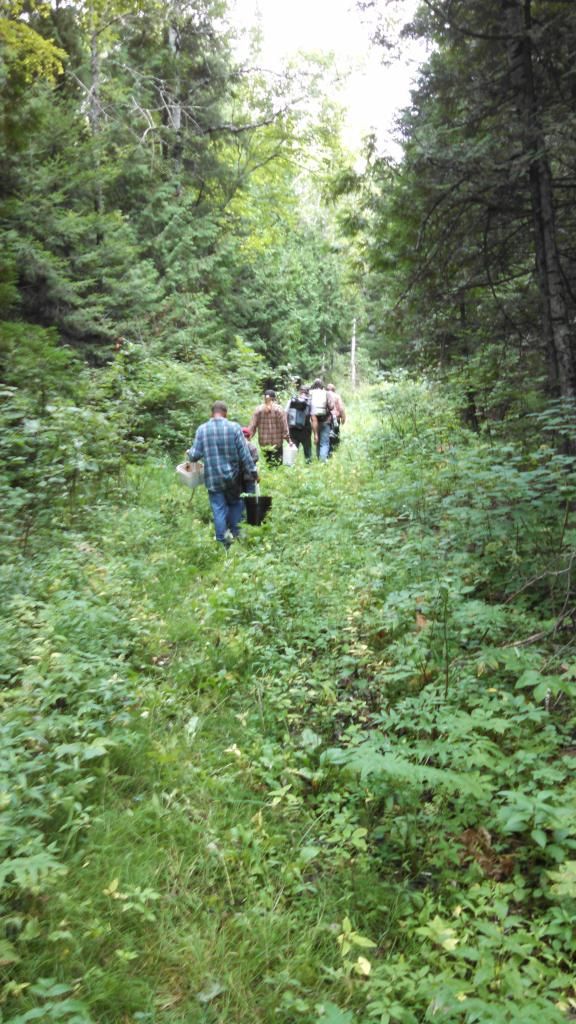 Lydia wanted to bring her bow with so I let her. Here she is shooting her recurve at bear camp.
I brought my laptop with and checked our trail cam pics. I was quite disappointed with the size of bear we had hitting but as usual the 2nd check usually gets better with bigger bear.
Come the 3rd weekend of bear baiting (bear season starts Monday) Lydia and I head out Friday around noon for the 4.5 trip up north. We get not quite half way up there and my relief driver calls me up and says his dad isn't doing well and may not live much longer. I didn't know this at the time but his dad had been living off of a machine for 7 days. Anyhow I said no problem at all and Lydia and I turned around and came back home quick as we could so I could jump back in the milk truck so he could head to the hospital to see his dad. Well half way to the hospital his dad dies. In the end it was a good thing as he wasn't suffering no more but still it sucks. I gave my driver Jack all the personal time he wanted. 4 days later he called me and said Wednesday is the funeral and that he can drive again starting Thursday.
When I had packed the truck Friday to leave the 1st time I had packed a 50 gallon barrel full of meat for bait that I had previously frozen. I have 4 freezers going at all times at my place that I store meat for bear bait. Anyhow I had burned the boxes that the meat was in so I had nothing to put the meat in to put back in the freezer. So instead of unloading my pickup that was full of bait (about 2500lbs worth of meat and goodies) I left everything in the back of the truck (even the meat in the barrel) and parked it in the shed where it was cool. It stayed in there for 6 days. Wednesday morning a buddy of mine who used to work for me called me up after he heard the news about my drivers dad and that I was missing out on bear hunting offered to work the rest of the day so I could head out a few hours earlier. I was ecstatic!! Thank you a million times I bet I said. The only piece of the puzzle that I was missing was my daughter not going up with me. I was quite bummed but what do you do I guess. The meat in the barrel was a little raunchy but not bad. I did have a lid on the barrel.
Anyway this was the 1st bear opener I've ever missed. I've been bear hunting now for 25 years. Good streaks gotta end sometime I guess. Being I couldn't get up there and bait over the weekend my dad ran the baits for me. The bad part was I had 90% of the bait at my place and my dad lives about 45 minutes from where we bear hunt. He had some meat that I left with him the previous week of baiting just in case I'd need him to do some baiting for me late season if I was still without a bear. That was a good call on my part!! He baited the baits but had to bait them very light as I wasn't sure exactly when I'd be back up being I hadn't heard when the funeral was yet. Well he baited them again Tuesday for me and baited light as he could. He had just enough bait to get them all done. He was now out of bait. The pics on the baits were getting less as we were loosing bear that were going to other baiters (bear guides) that follow us around like puppy dogs (dinks)!!! I was starting to get nervous thinking I might've just wasted over 400.00 dollars in gas and bait costs the previous 2 weeks and that our bear would soon be all gone going else where.
Anyhow at noon on Wednesday I was finally on my way. My happy face was coming around.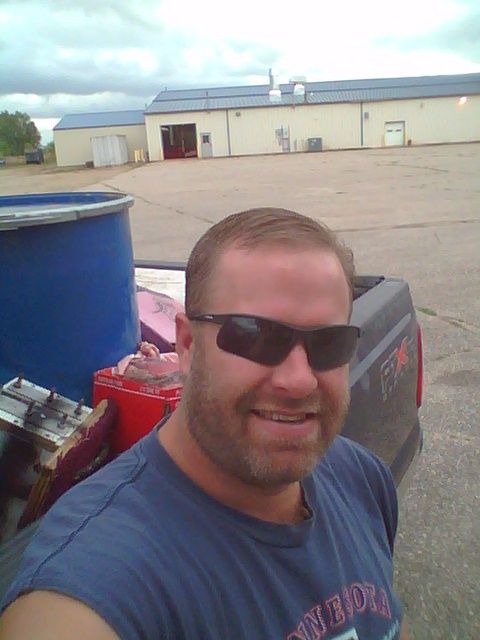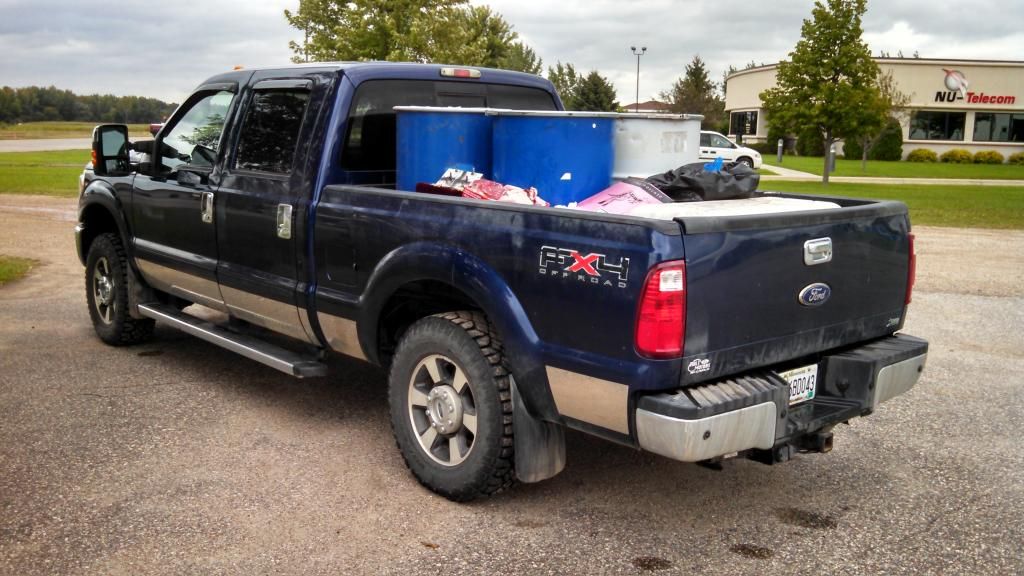 Once up there I grabbed the cards from the cameras that were on the baits and uploaded them to my laptop. Pretty disgusted I was. Nothing over 225lbs dressed I figured and 70% of the bear had left but one decent one that I wanted to hunt was still hitting one of the baits and during the daylight too. Actually opening night I could've shot him (at least shot at him).
He was there at 6:30 that night all night. I figured he was in that 225lb range and had a good head on him that would put him in the P&Y books. I hunted that bait Thursday evening and sure enough he showed up at 8:00 that evening. He came in and gave me one shot at the bait right away but I passed as I wanted him to get more involved at the bait. It turned out that was the only shot he would give me and it would've had to have been a quick shot as he only stood there for a couple seconds. He somehow must have saw me in the tree. He walked around to the base of my tree and sat on his hinder and looked right up at me. I'm about 8 feet up in the tree. He then decides to stand up on his back legs and lean up against my tree to get a better look at me. We were about 18 inches apart. I figured he was about a 6 to 6.5 foot bear. I'm used to bear doing this. I've had 4 other experiences where bear have actually crawled up my tree to get a good look at me. Some have been as close as 3 to 4 inches from me. Anyway this one didn't climb but sat back down on his but.
I then hear something to the north of me and look that way slowly. To my surprise I see a Timberwolf that is almost pure white. It was getting dark (about 8:15) and the area around this wolf just glowed. The bear and him looked at each other. The Timber was about 30 yards away. It was one of the prettiest things I've ever saw out in the wild. Everywhere he went the woods lit right up. It was amazing!! I was hoping the bear was going to go back to the bait as time and daylight were not on my side. He never did show up beside me like I was expecting so I slowly turned my head to see where the bear was. He was no where to be seen. I figured he probably walked down our bait trail the we walk in and out of. It was pretty much dark at this time so I'm thinking I better text my dad and have him come and get me in case the bear is still close by yet. I didn't want to spook the bear from my tree stand. If so he may put two and two together and associate that tree with danger. Instead with dad walking in and the bear spooking it made more sense. 10 minutes before dad showed the bear showed back up. He sat at the bait and ate away. It was completely dark so all I could do was watch. My dad got with in about 25 yards before the bear slowly loped off when he saw him coming. The next day when we came in and baited the bear had came back only 40 minutes after he spooked out of there so it was a good plan on my part I thought.
The next evening I sat there again and no show of anything. The following evening I decided to jump to a different bait. The bait I jumped to I've shot my last 2 bear out of in the last 2 years. At 6:00 that evening I heard some grouse peeping about 60 yards north of me. I got down on my knees in the treestand and looked hard through the dark timber north of me. Sure enough I see long black legs walking. I'm thinking wow another bear I got to see this year and this one looks to be quite tall and has a nice solid frame. My wind wasn't the best on this hunt. It was swirling way too much. This bear kept on pacing from side to side in 70 yard increments trying to wind me. He did this for 30 minutes and finally he gave in and came to the bait. On the camcorder went. Not once did he give me a good shot. He knew right away I was there because of the swirling wind. I threw some Christmas cookies out that I saved from Christmas for treats by the bait logs for him to eat when I went in for the hunt. These cookies were tiny. He was so nervous that he'd grab a little cookie and turn around and leave and eat it 20 yards away in back of the bait. He did this for 12 minutes and the last time he didn't come back. I was pouting some and upset. I had plenty of quartering too shots but zero quartering away or broadside shots. There's a reason for this and I'll explain another day in a different thread why he never gave me a good angle shot.
Right at 8:00 he came back. It was darker then before (only 15 minutes of shooting light left). Too dark for the camcorder so I didn't turn it on. He felt much more comfortable as darkness was near. Right away when he came in he gave me a quartering away shot. I started drawing my recurve back very slowly and off he went running out of the bait. I'm thinking what in the heck???? He must have possibly caught a glimpse of me drawing?? I wasn't sure. When he took off running I heard him run for 40+ yards. I'm thinking yep this night is over!! 2 bear in 3 hunts at 10 yards and no shot at either one. Yeah I wasn't impressed.
Not even a minute later (my bottom lip is still hanging I'm sure) here comes this same bear back in to the bait. I'm like what in the heck??? There's no way he came back that quick to the bait. I know what I heard when I heard him running 40+ yards away. The only thing I can think of was there was another bear coming in and when he spooked out of there the other bear ran off and that's who I heard running. Honestly I don't think this bear spooked from me drawing. I think this other bear was coming and he either spooked because of him or maybe he was going to chase him out. Who knows I guess but when he came back in he was calm as could be. He never once looked at me and dove right in to the logs to eat. He gave me a perfect quartering away shot so I drew me recurve back and remember my fingers hitting my cheek and rubbing against my whiskers. I then released the arrow from my finger tab and the arrow hit him absolutely perfect!! He growled when the arrow hit him and kept growling the whole way when he ran out. He made it maybe 25 yards and piled up there.
I got both lungs and top of the heart. This bear had zero fat on him. He should've weighed another 70 to 80 pounds at least then what he was. I'll let you all guess the weight.
I was 20lbs off what I thought he weighed. I did forget one thing at home when I left to come up bear hunting. I left my damn battery for my camera at home on the charger. Oh boy was I upset that night while looking for it when I wanted someone to take some pics for me in the woods. So Instead I gave my cell phone to my brother who came up for the weekend to help out and he took pics with my smart phone. My Droid takes breathtaking pictures during the day but sucks at night so sorry for the bad pics.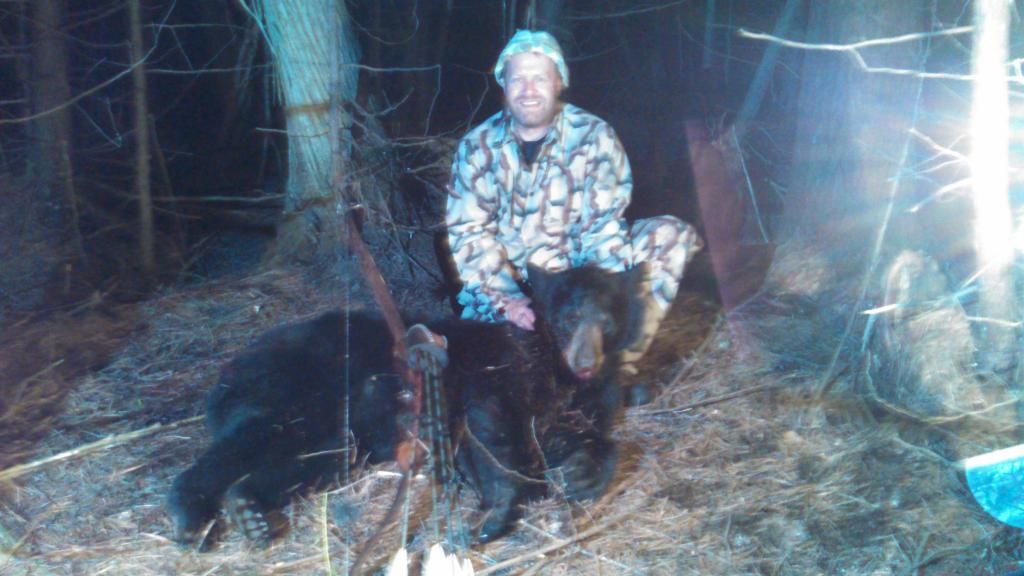 Here are some more pics of camp and stuff.