I know some guys had some questions on some flat land bedding. Thought I would share this. Today, scouted another piece of property. Man was it super wet. I think the swamp/swamp is pretty full since its spring time and the water is high. Most of my scouting is usually looking for food sources, looking for bedding and scouting all the transition lines. Basically, all weekend Is scouted transitions. Whether it was swamp to softwood transistions, alder to softwood transitions....most of my scouting, that is where I spend most of my time. Especially on new ground. You can see a lot of the transitions on google earth.
So here is a bed and the "elevation" is only about 18". Sure enough, there was a bed on it. This photo kind of shows the elevation change. Bed is right on the end.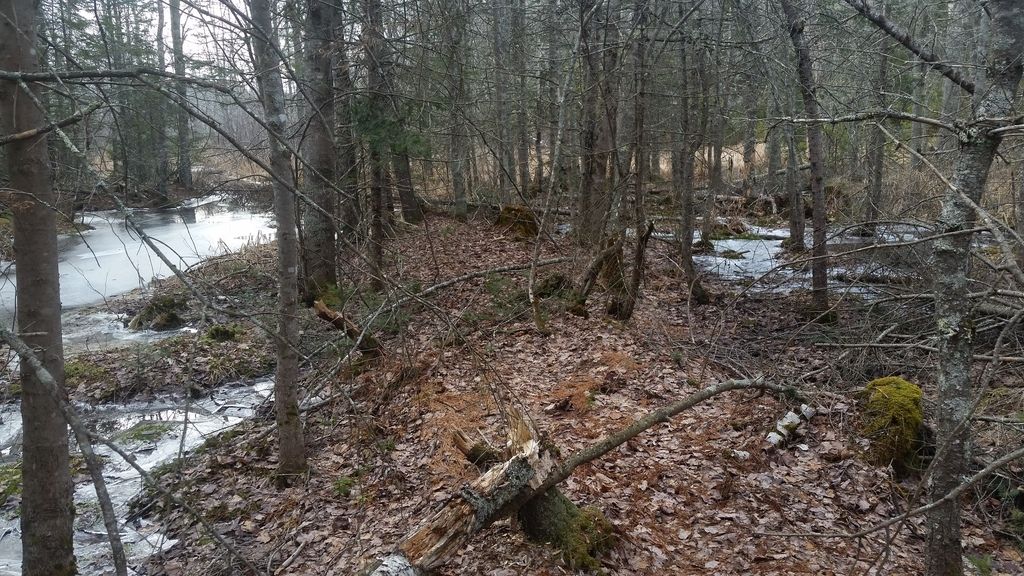 At first, the bed really meant nothing to me. Its not a spot I can really hunt because of the access. No idea of the travel direction. So I continued to scout all the transition lines. Directly opposite of that bed, on the opposite side of the water, saw probably 8-10 rubs and a run headed in the softwood.
The rubs were on the opposite side of this water. Guessing its lower in the fall.
Now this gives a direction to the bed. I can access this spot, 80 yds from the bed and hunt it if I thought there was a buck using that bed on a regular basis. The rubs looked old so who knows.
Really just wanted to post a bed for the flat land / swamp / woods guys. There is no agriculture where I live. Deer are headed for the apples. What is interesting is, I did jump probably 10 deer in here and they all headed right back to where I just came from with these rubs.
I was hunting a buck in here last year. Came into 5yds one night but it was just too dark. Just got on this ground in 2015 so really did not do any hard core scouting until after the season. Really looking for the beds this buck was using when he was feeding on the apples.
Flat land / woods bedding is very subtle. Its pretty easy to miss. You really have to be looking for the elevation changes to see it. The leaves look flattened and the white belly hair is the dead give away.