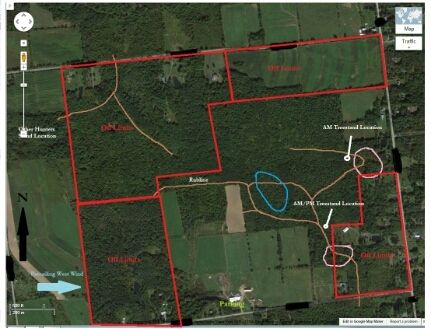 This is my first attempt at posting through photobucket so bear wth me!
Above is a property i am looking to tackle this year come spring thaw. Below is a Legend so to speak for the map:
Pink= bedding area
Blue= late season/secondary bedding
Brown=deer trails
Red=off limits
Lower left corner shows wind and north bearing
I have yet to "beast scout" the property because i am just learning about it and will have to wait until snow thaw. But this is my thought on stand locations. There is little topography, one dry creekbed that runs E to W from my AM stand location. And the brown field is up on a small ridge that is on the east side of it and faces the east.
[ Post made via Android ]