I had to work yesterday so it didn't matter what the weather was like today because I was determined to do some scouting. Cool, dense fog, light winds, and drizzle. Seemed like a perfect day to me!
Pretty excited about this rub and thought I would share. Still trying to figure out if the buck that made it is alive or still bedding around the area I scouted today. Would be great if I could find sheds to know for sure.
I am 5' 11" and the rub came up to the top of my chest!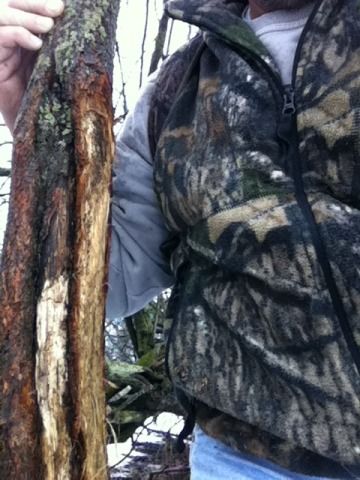 I know this spot very well and last time I was here was early November and this rub was not there then. Normally I don't get real excited by a rub from the previous season but this is very close to where I saw a buck that I am very confident was a Booner during the rut last season. Two years ago I saw an even bigger buck only a few hundred yards from here late season so I know the area holds some good ones.
Much easier getting around since the snowpack dropped plenty but flooding is starting in many areas. The marsh is filling up fast!
Today was one of those days that you could smell deer beds before you see them! Anybody else experience this before? I notice this most this time of the year when there is a perfect balance of dampness, temp and light winds. When I walked downwind of suspected bedding I could smell the most heavily used beds since they were soiled pretty good with plenty of urine and droppings. My nose led me right to quite a few beds!
[ Post made via iPhone ]