Been awhile since I posted one of my scouting adventures so I thought I would put one together since I found some pretty interesting stuff today. Since the hunting season closed I have been really putting some time in scouting and learning new areas and it's always exciting putting the puzzle together in them. Been narrowing down these spots all winter and adding them to my list of ones I want to pick apart further after snowmelt.
When I got started today all I found was turkey tracks and was starting to think there were no deer around!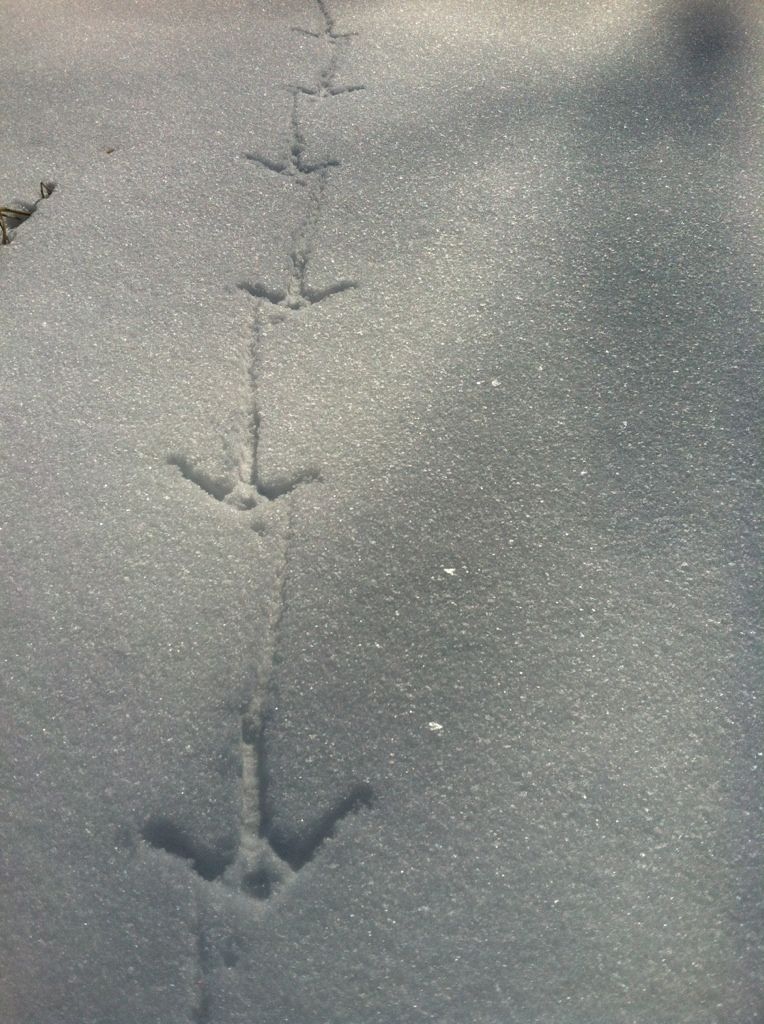 I really enjoy getting out in the snow and feeling like I am the first person out there with not one human track to be found.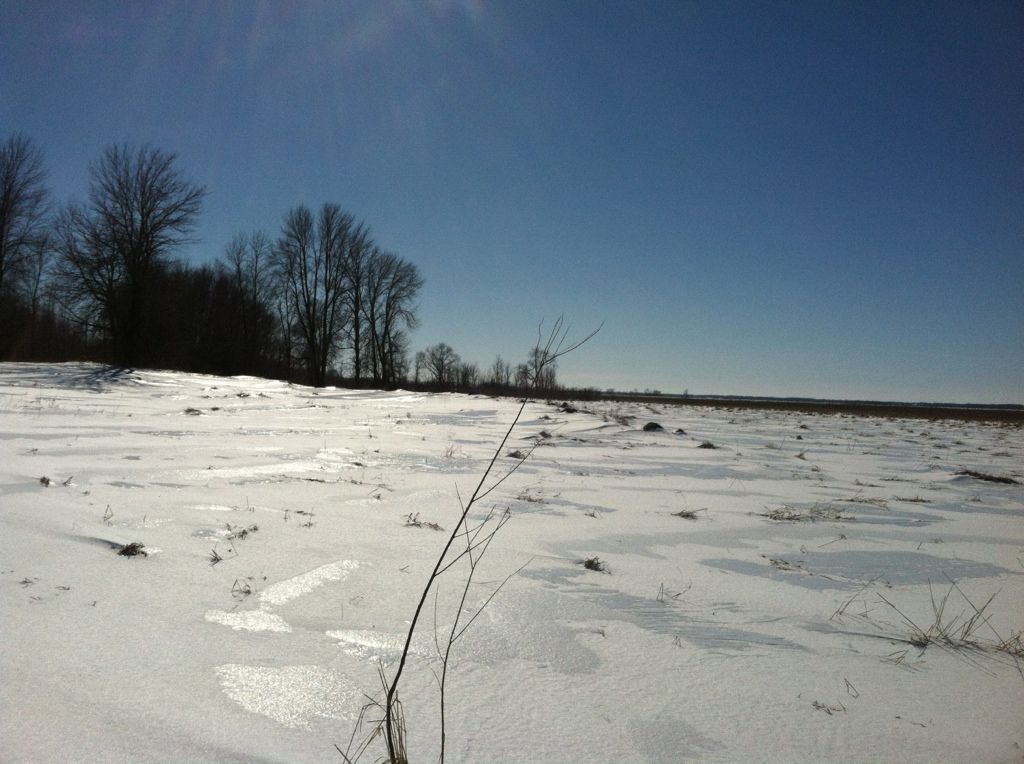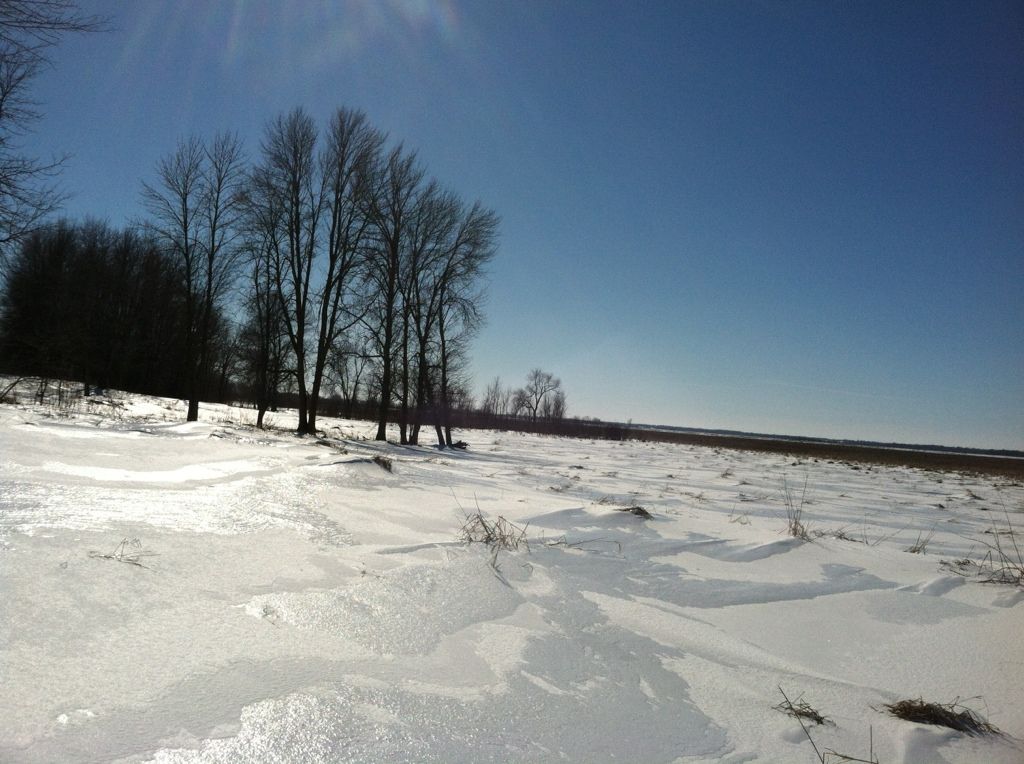 Thought I would check out this point going out into the marsh hoping the deer were using it.
Sure enough! First set of tracks right where I thought they would be! I followed them for awhile but it looked to be a doe and fawn headed way out in the cattails. Not what I am looking for.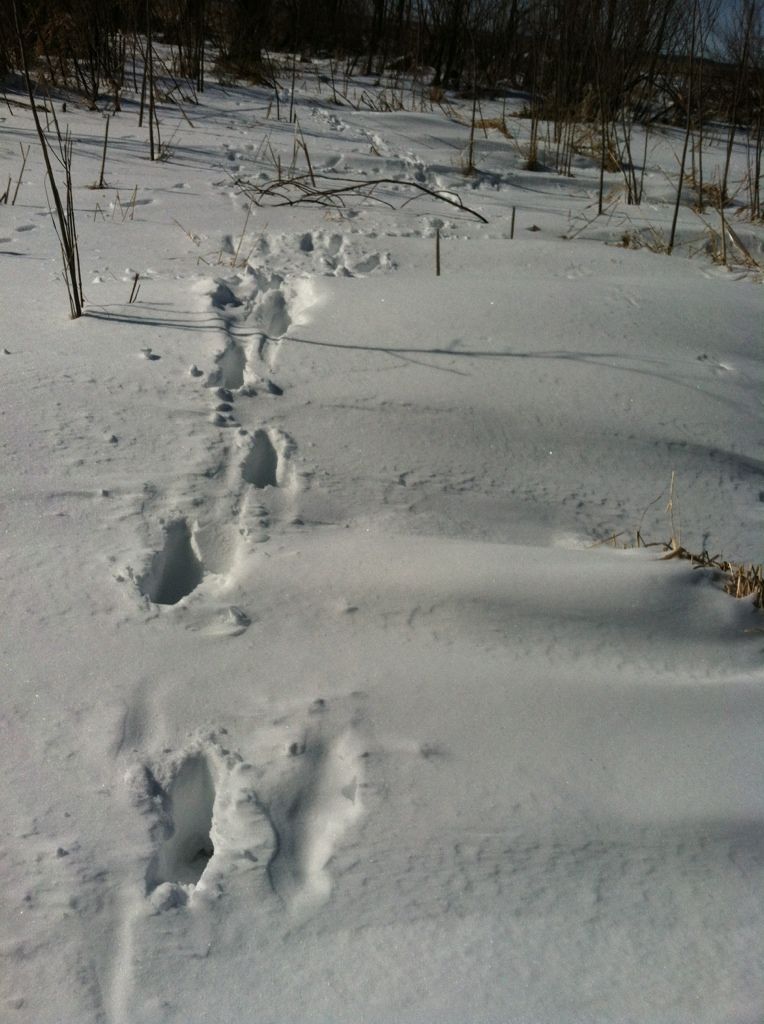 Found WAY too many coyote tracks. This looked to be either a pack of them or just a runway being used.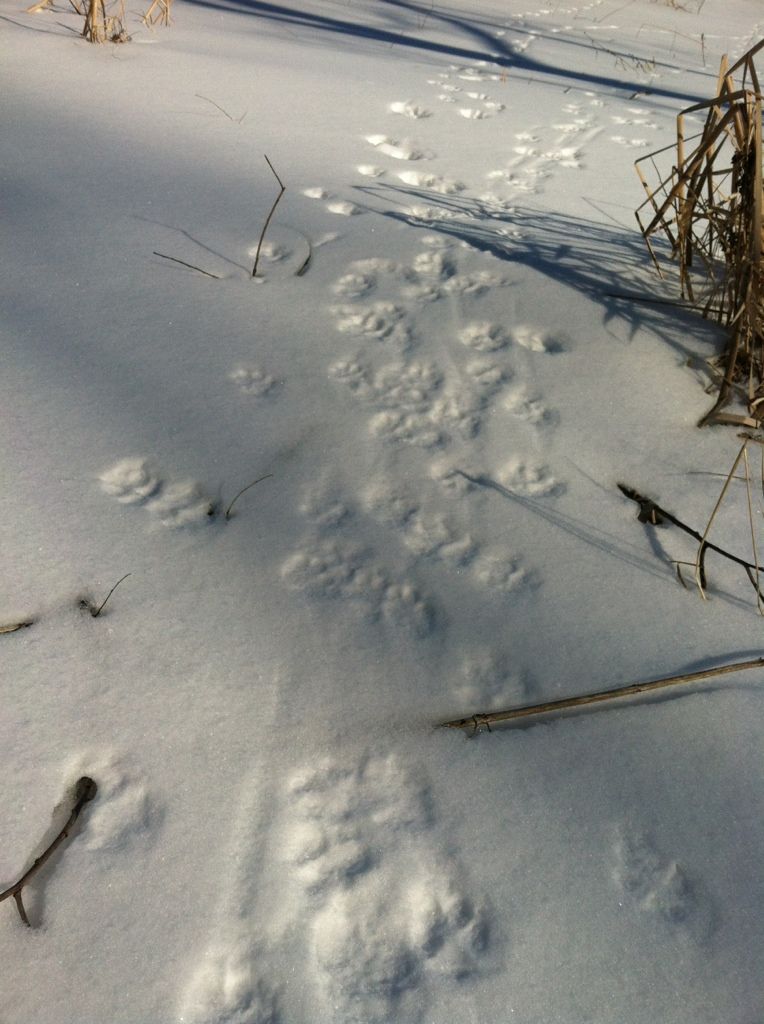 I came across this little guy out for a stroll. Since I was downwind I smelled him way before I saw him!
As I got closer he turned away from me showed me his business end and lifted his tail. I thought it would be wise to not approach any closer and get the heck out of there!!
[bbvideo=425,350]http://www.youtube.com/watch?v=k_Qdw4Xru8A[/bbvideo]
This is where it starts to get interesting. I headed to the thickest stuff I could find and that is where the buck sign started to improve. One of the better rubs I found.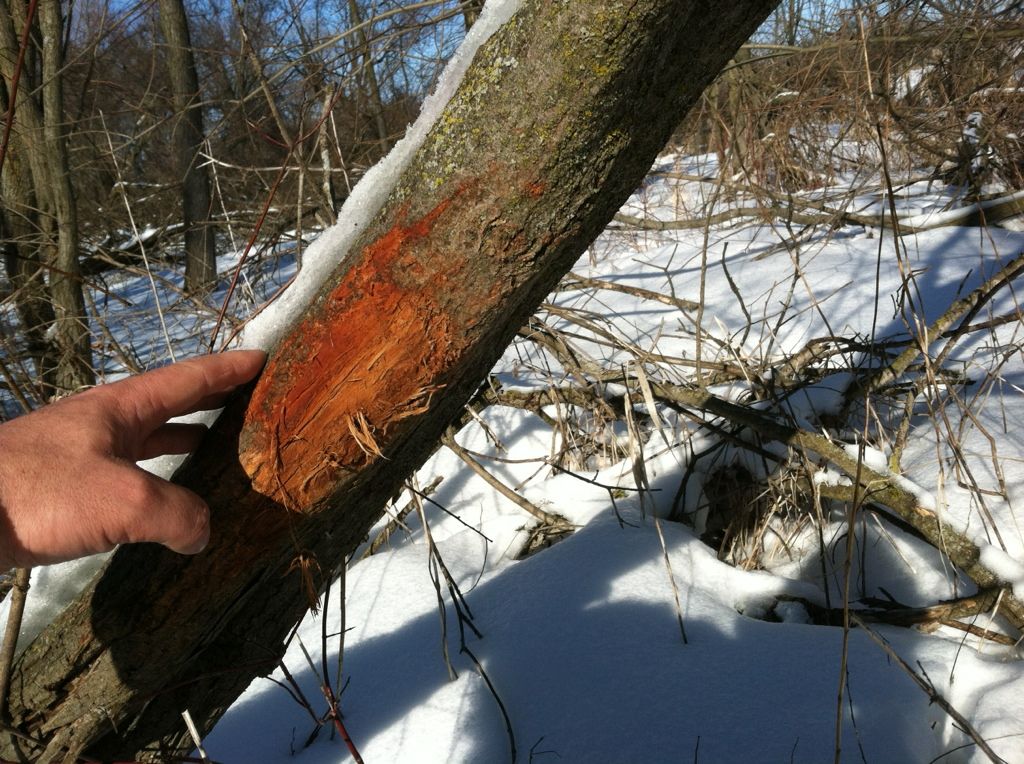 A few more.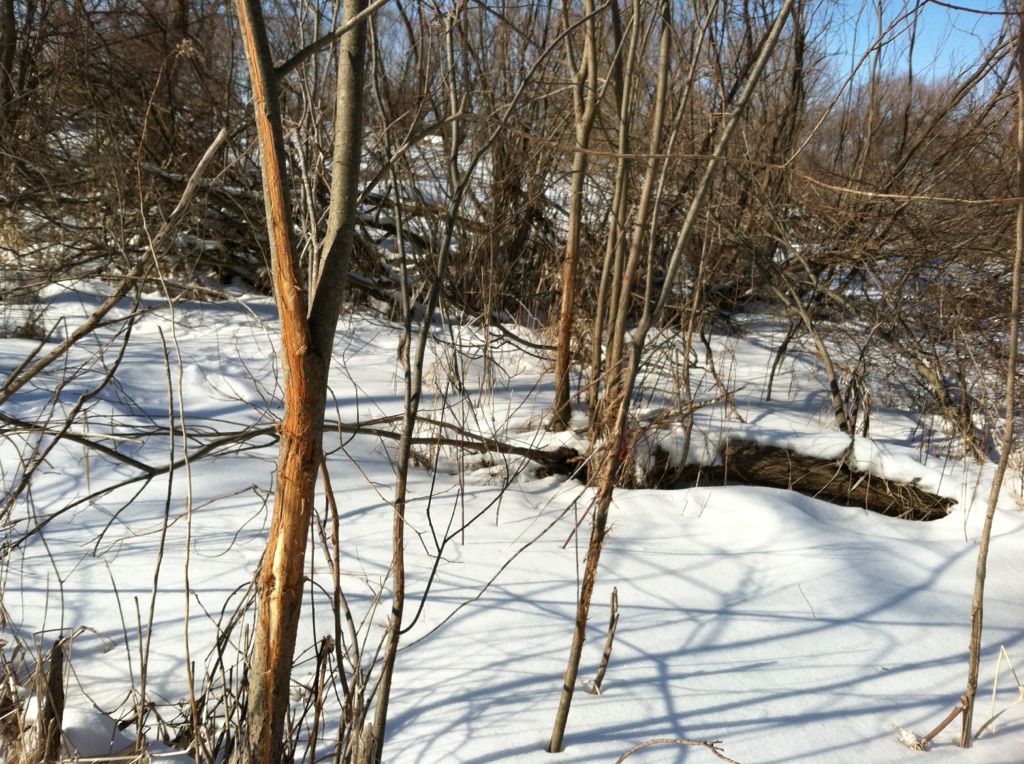 I followed this single set of tracks to what I suspected was a buck bedding area. What I found was three different beds but could not confirm if they were buck beds for sure. They were spread out over a pretty good sized area but the bed size did not make me think mature deer.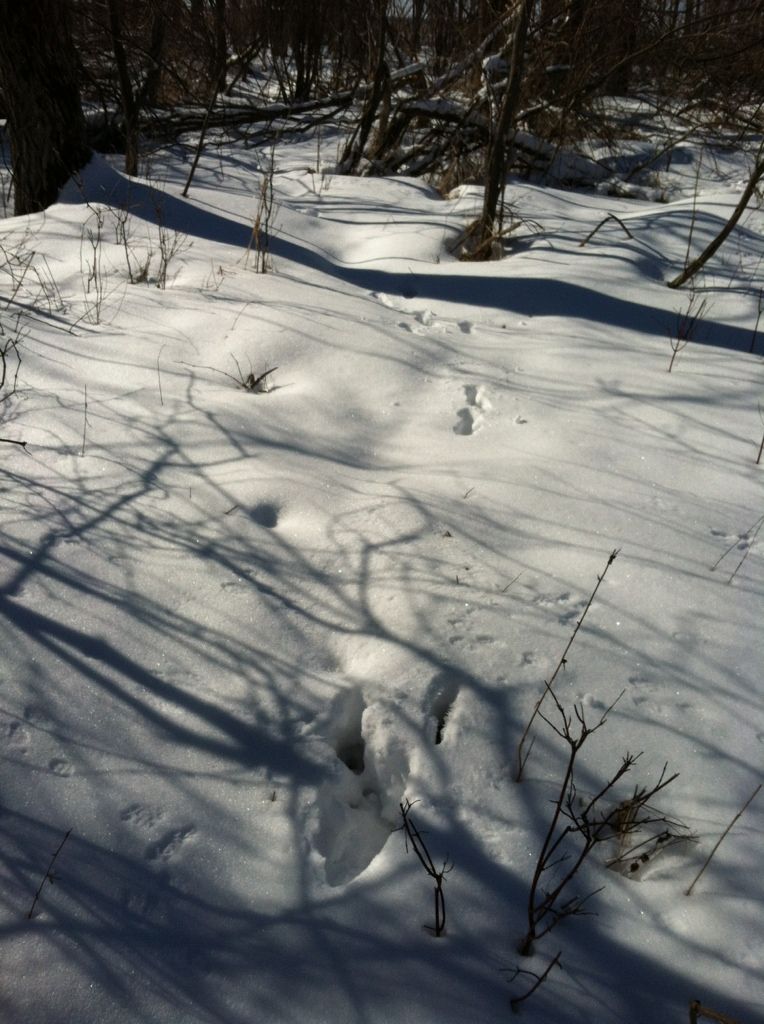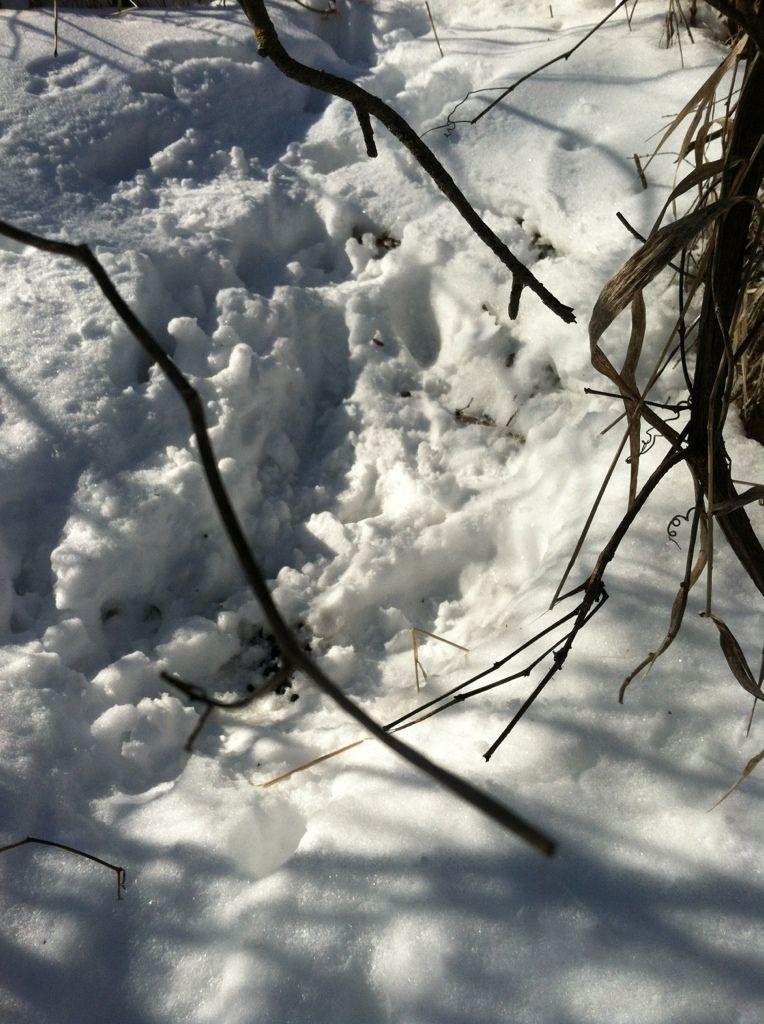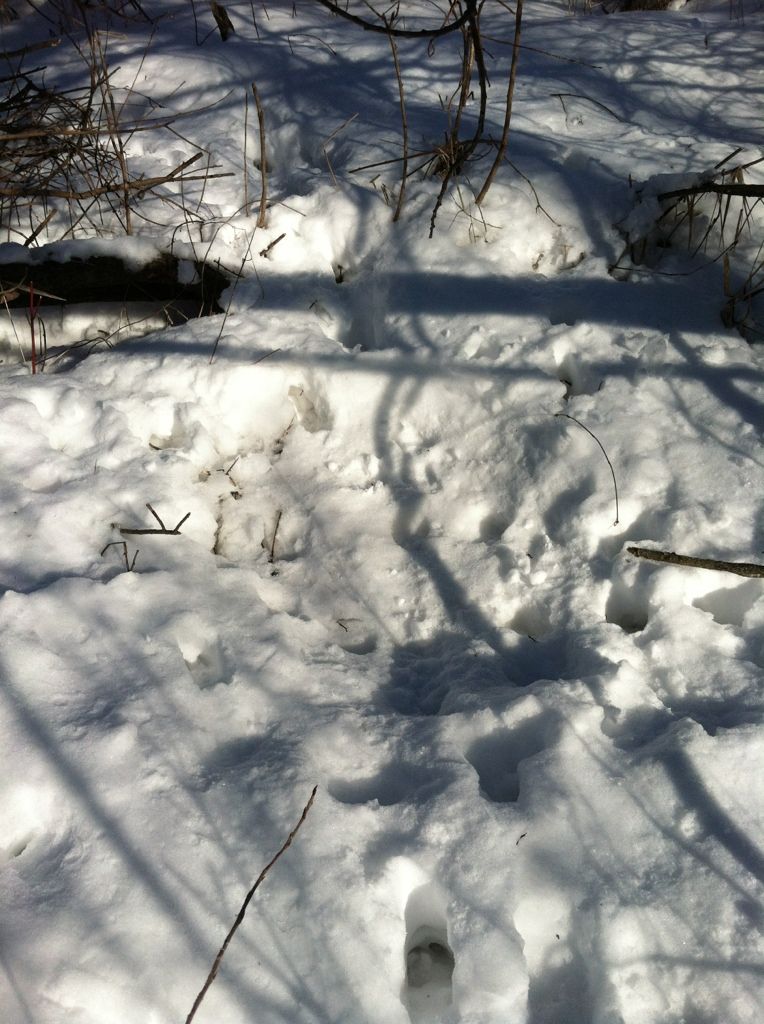 These beds were in pretty tight to these thick areas of brush and I had to climb on my hands and knees to access them!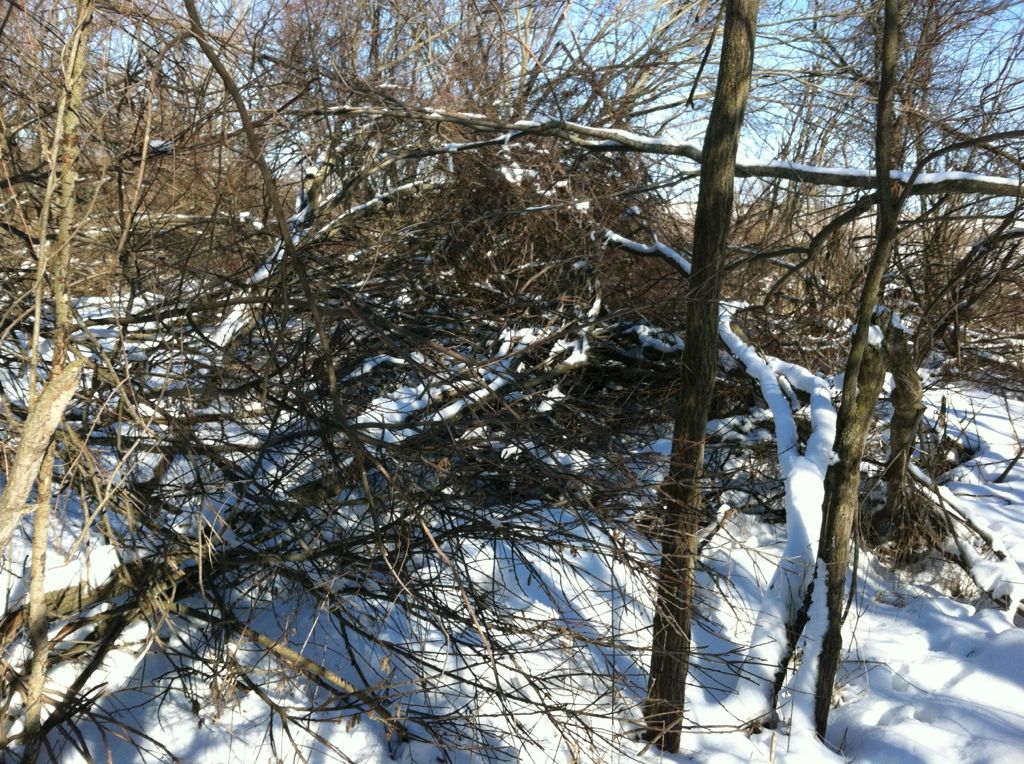 This kinda had me fooled for a bit. As I came upon this I thought I was looking at a very large (dead?) deer lying on it's side with it's back toward me!
It ended up being a rock!
Even at 10 yards I still thought it was a deer because the coloring was exactly the same color and texture of a whitetail winter coat!
I followed another single set of large tracks and ended up at this bed. Seemed like a very odd place to bed being very open but after sitting in the bed at the height the deer would be I could see it was very well hidden and had a clear view of any predators coming from 360 degrees.
This one at first appeared to be three deer bedded together in a circle so I thought a doe family group. Upon further investigation I found only one large set of tracks coming and going. Thinking a buck was bedded here and just got up to stretch a few times during the day and the bedded again facing a different direction.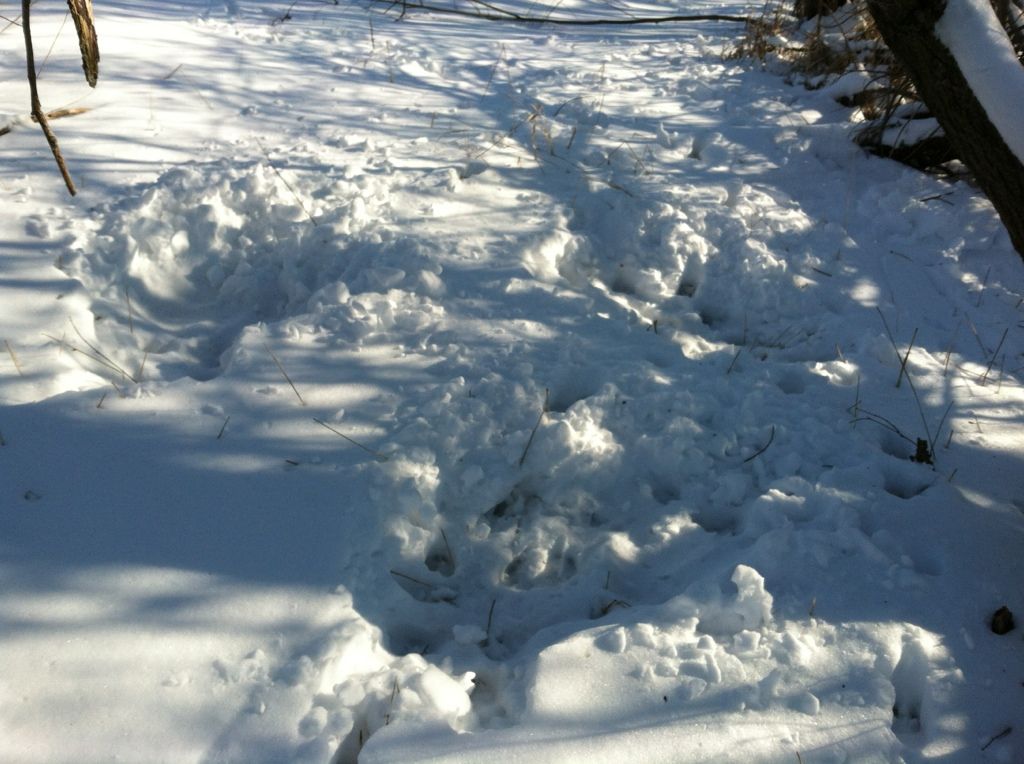 I just hopped around in these small pockets of thick brush and it seemed that was where most of the bedding was. Pretty sure many are used year round but will check later to make sure. No trees here for a stand so this will be a ground hunt.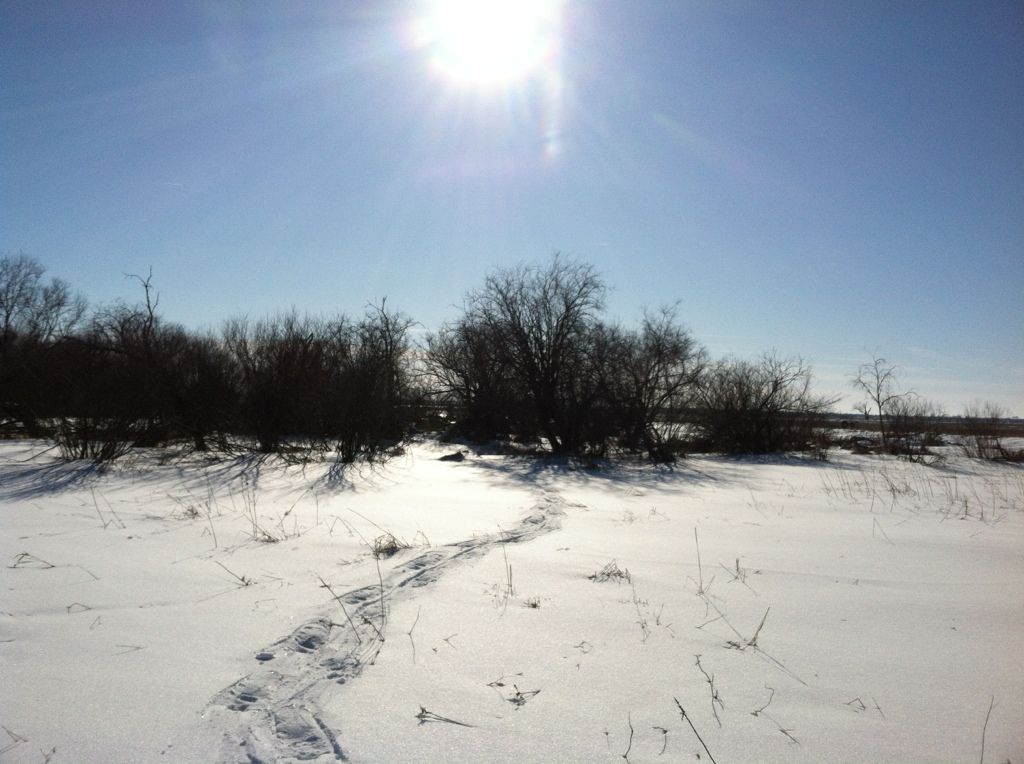 I had some daylight left so thought I would drive around and do some glassing from the road.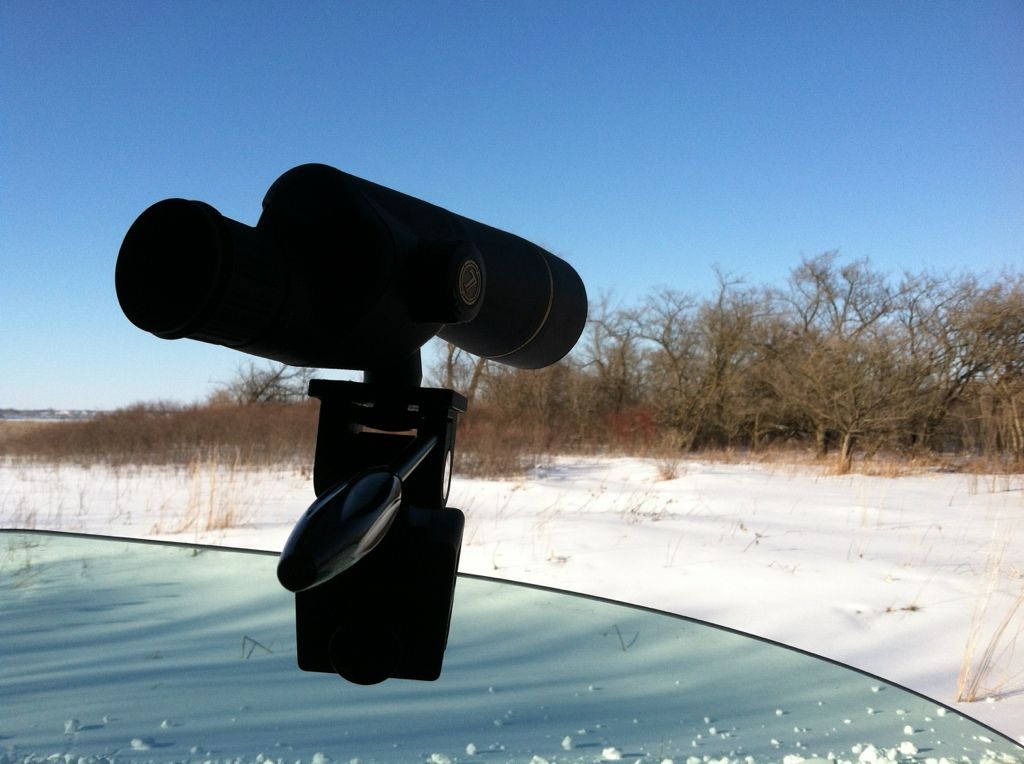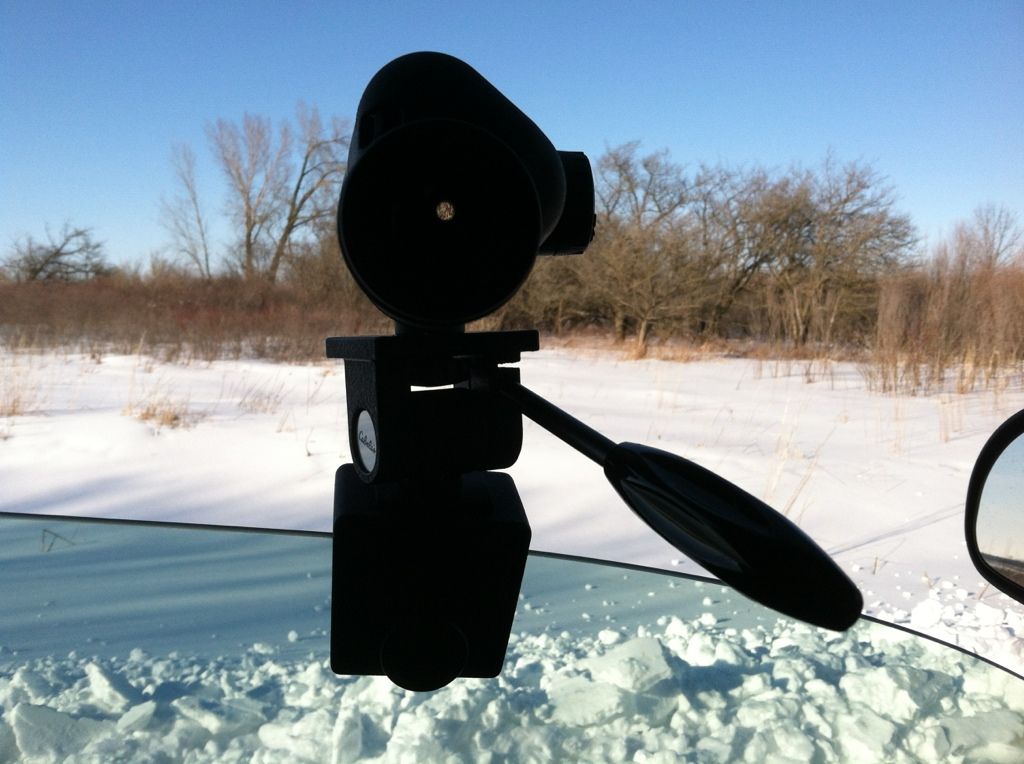 I never used a spotting scope before I bought this Leupold and really wish I would have spent the money a long time ago. This will be a very valuable tool for summer glassing and looking for specific bucks.
Here is the view for those of you that never tried one. The treeline at the far edge of the cattails is what I am looking at.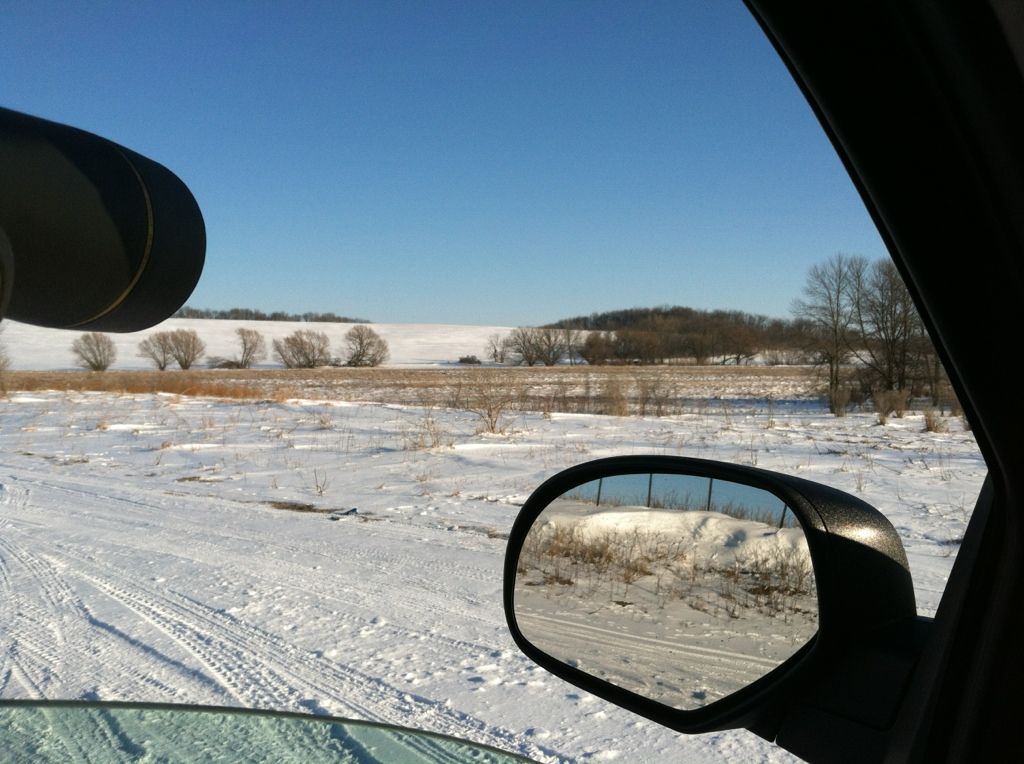 Here it is looking thru the spotting scope at lower zoom. Pretty good pic since all I did was put the camera lens of my iPhone up to the spotting scope eye piece! Now I can see bedded bucks from a mile away!
I didn't see any deer while glassing but turkeys were everywhere. Every field with fresh manure spread was just full of birds. Probably saw at least 100 of them today.
Had fun today and getting around was extremely easy with snowshoes. The top surface of snow was fairly hard so travel was much easier than any other time of the year. Great day to really cover some miles! More snow on the way tommorow so it looks like snowshoes will be my mode of transportation for awhile yet!