Being news years day, and the season is over for many of us. Seems a good time to reflect on this years hunts, think about things that were learned and things to do differently on future hunts.
This years hunt in the BWCAW was 6 guys, 2 of us on a portage hunt, and 4 in main camp. Mike and I will be on the portage hunt, so will speak to that experience. The hunt will be 9 days, 2 travel days and 7 days hunting on the lake. We launch and travel thru 1 lake and portage about 3/4 mile into a different lake, loading boat and gear onto a wheeled cart and PULL, then about 9-10 miles up the second lake, and set camp before nightfall, this becomes a long day.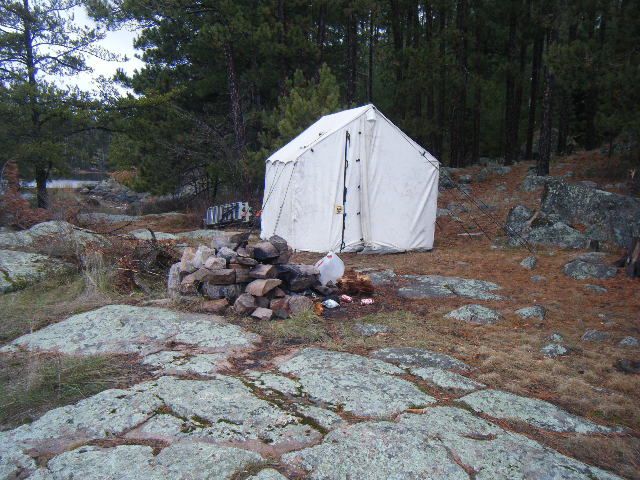 camp setup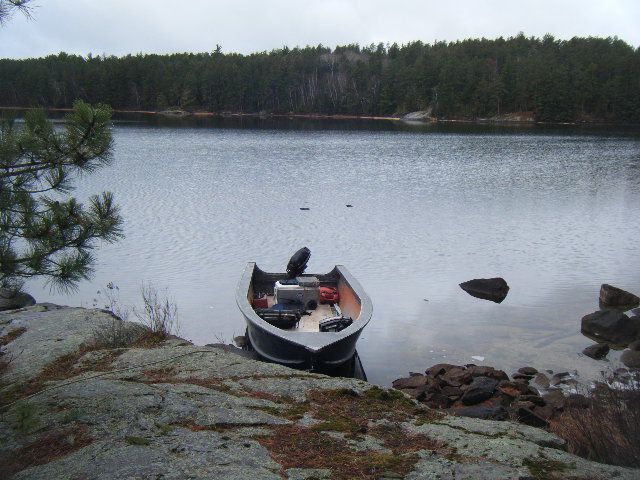 boat setup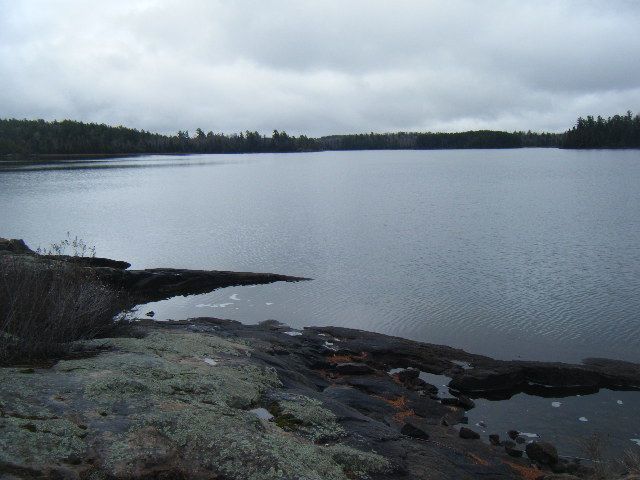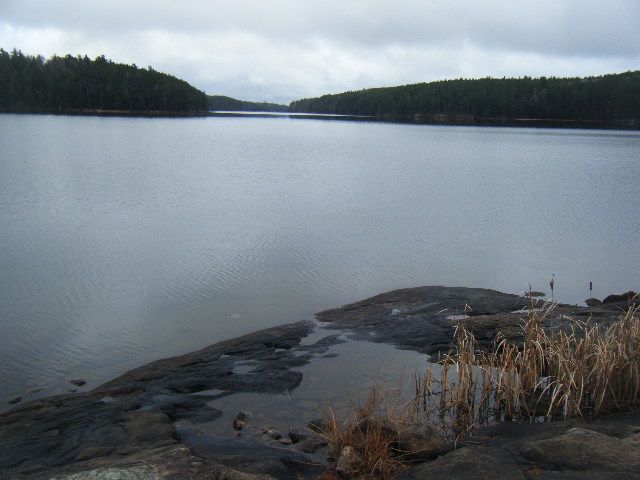 Sure can't beat the view from the front door
Had several goals before the start of the hunt. Mike and I are childhood friends, and will have to rely on each other on this hunt, after hunting together for many years, we know what to expect from one another. 1st goal is to get Mike a buck, which we succeed doing on a parallel still hunt on day 2. Mike kills a decent 9-pt at 1:30 p.m. while the buck works a scrape, the skunk is off.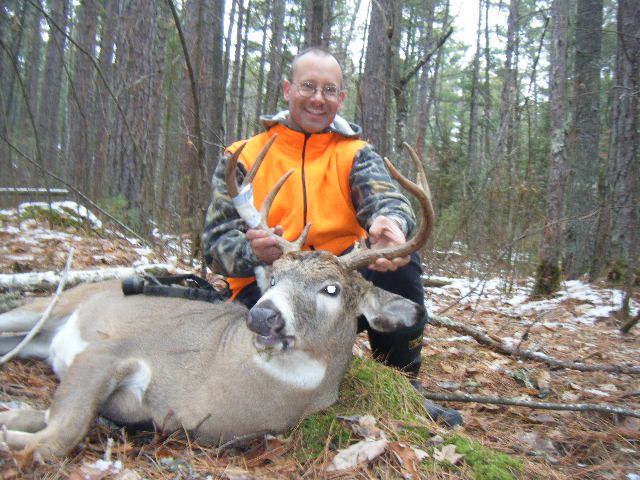 Mike's 9-pt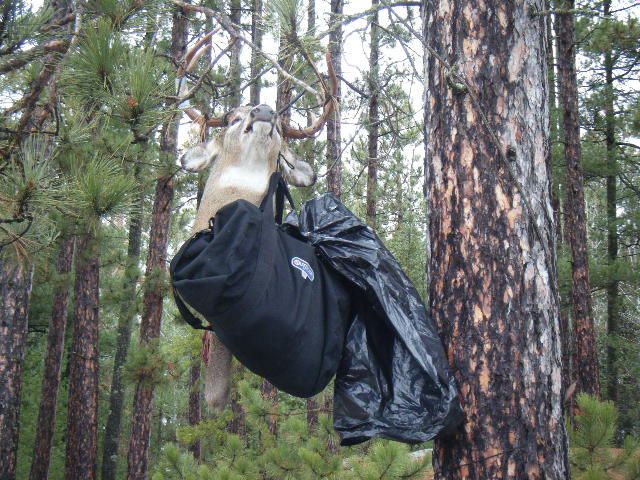 To far to drag back to the boat, so we bone and pack the buck out. Makes a strange looking buckpole.
Outline of our parallel still hunt.
2nd goal is going after a buck I call short toe, he has a broken right rear hoof, which makes his track disticntive. I have went toe to toe with him 2 years ago in this area, and seen him on that hunt but was already tagged out. Believe him to be now 6.5 yo, when I seen him 2 yrs ago believe he was 4.5 and about 130ish. Well on day 3, I find his track on a scrapeline about 1/3 down from the top, a natural travel corridor on a ridgetop above a lake, backtrack him and locate 1 of his beds. Day 4 go in with a climber and setup, see 6 deer this day, all between 10 a.m. and 3 p.m. At 12:30 have a doe come through and she is obviously being pushed, ready for a shot thinking it's "the" buck. A 130ish 10pt comes through, 1st reaction it's not him, and let him pass. This decision makes me think twice about what I'm after, being that any mature buck in this country is a good buck, but in this country you usually don't have time to think you need to go on autopilot. Well I hunt short toe for a total of 4.5 days, and see his track 1 more time, and then he just disappeared.
Beliveve he recognized my presence and that he was being hunted, at that point it's game over, these old bucks in that country just vanish, they have 0 tolerance for human intrusion and a bunch of country.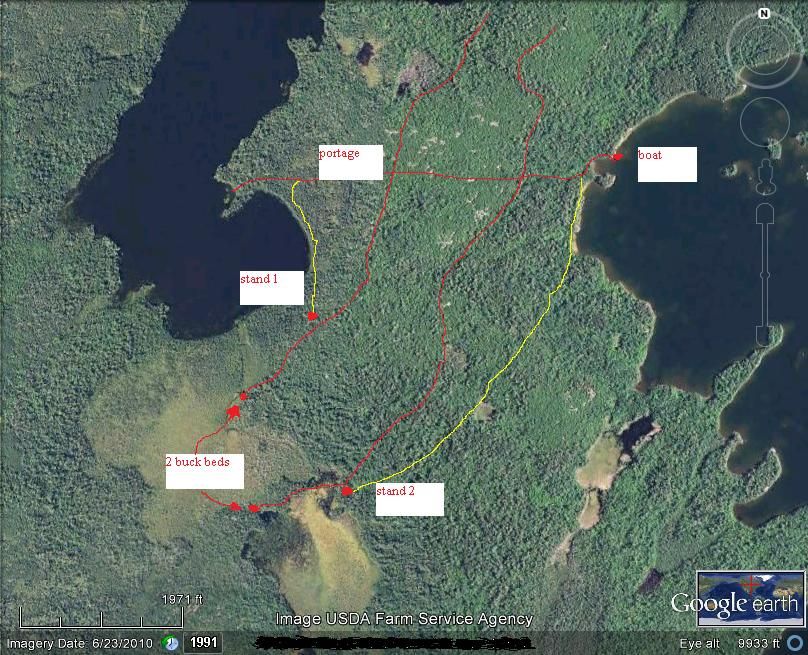 Map of my setups on short toe. Welcome any thoughts or comments from Beasts on the approach. Being I have another year to chew on this hunt, and lord willing him and I will get to dance again.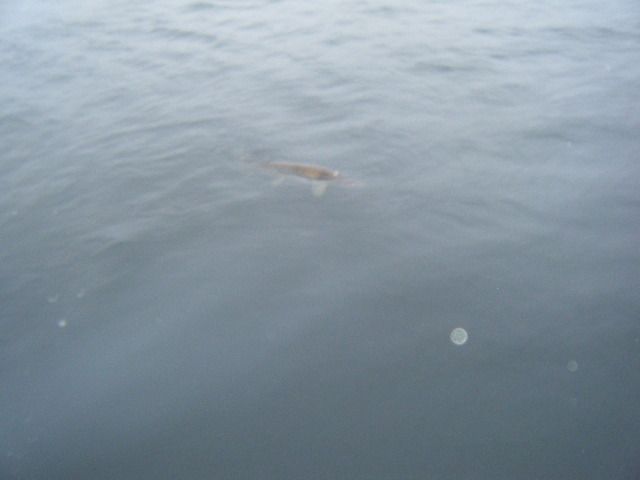 Interesting picture, this was a pike that I saw floating belly up going across the lake 1 day. Thought he was dead, maybe 16-18 lbs and 40" long. Circled back around, and he was still alive, pulled him up by the gills, he had a bunch of marks on top of his head, like he was in a fight. Looked down his throat and could see the tail and feet of a duck that he swallowed.....guess you can't use to big of bait when fishing for big pike.
Wish I would have taken a picture looking down that pikes throat.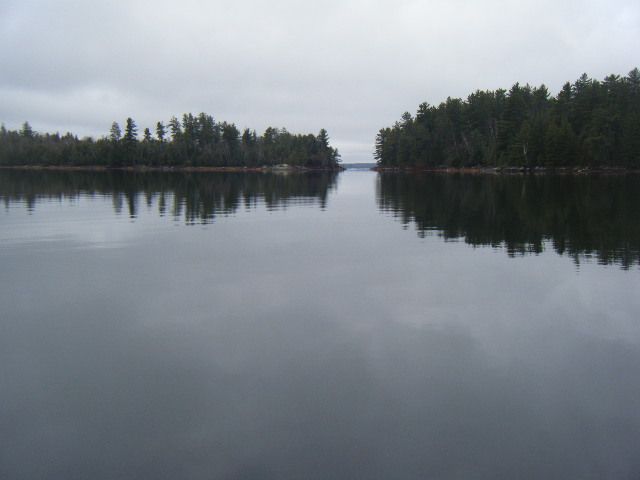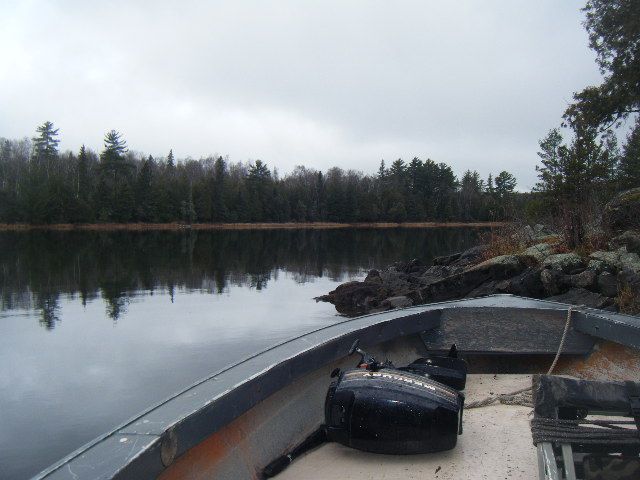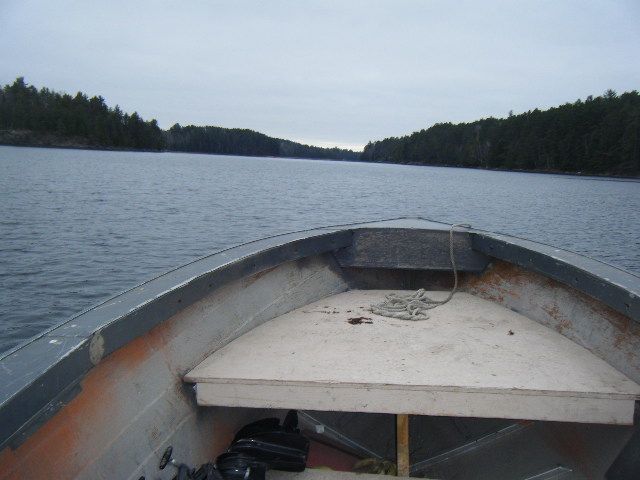 Couple of random pictures, just great country up there.
After the hunt and on the portage out, we had the boat on the cart when 1 of the tires had a blow out. We spent a VERY long day getting out after this hunt. But know Mike and I will remember this adversity faced and overcome together, more than the details of the hunt in the years to come. Bonds made while "on the hunt" last a lifetime.
Think it, Plan it, Do it.....life is short.