So I scouted started scouting a new marsh this week....I located likely bedding trees, I located the transition and all that.
I get out there and there is a distinct trail running just inside the transition on the hardwood side...still slightly in the thick.... distinct trail but no rubs or scrapes that I saw.
The "back end" is all tall cattails. The front half of the marsh is mostly grass with a redbrush transition and I expected the bedding to be in the back at the cattails and where there were some good looking points and big lone trees and "classic" marsh bedding.
Right before I got to where the cattails start, I find this...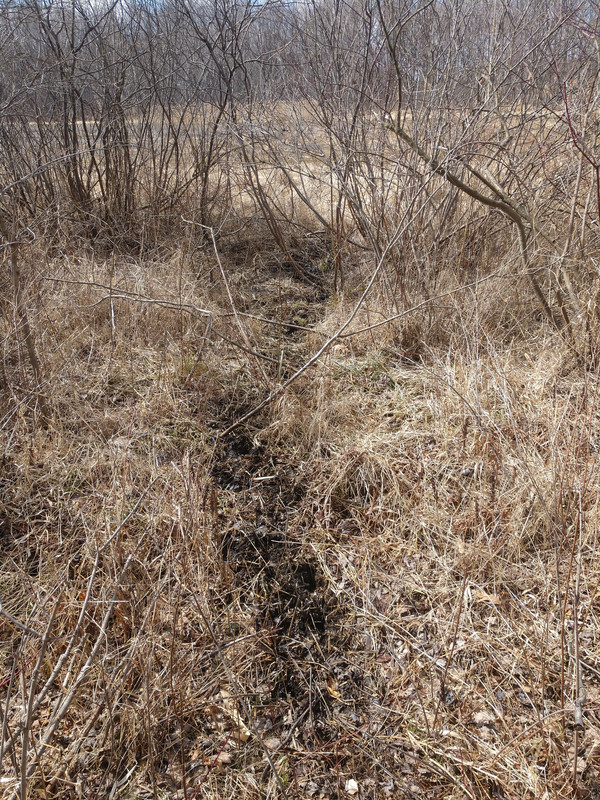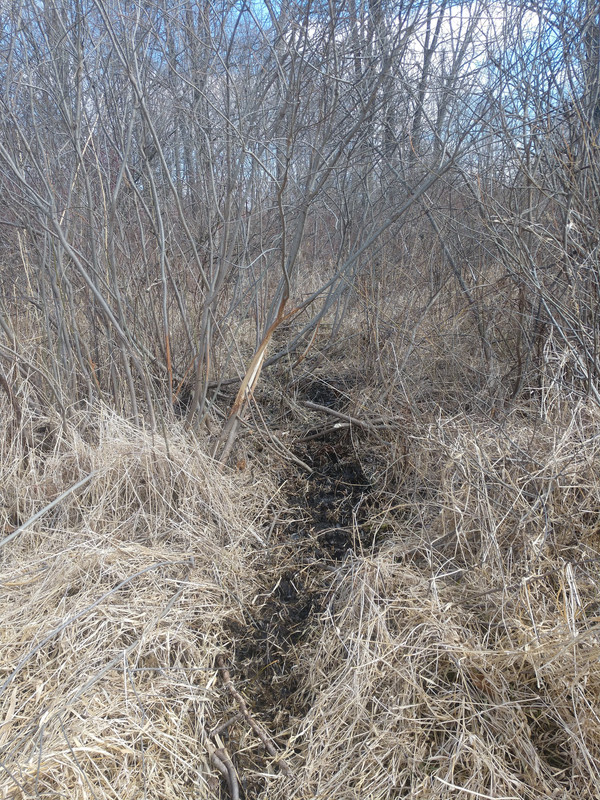 Same trail....one pic from the woods the other from the marsh side...you can see the marsh isn't HUGE....but one would think that prime bedding and cover would hold deer....
Literally the first "fresh" (as in this past falls) rubs I came across. So I look out and there's just nothing.....why in the world are there rubs and a beat down trail there? No bed that I could see.
To the north is some big lone trees in the cattails....well, he must be bedding there and entering and exiting the woods on that trail..."boy this is a slam dunk spot if that's the case....). I go check every single tree....and there were some DANDY bedding trees in those cattails and no evidence of a bed.
So I look even harder and I can see his big ole tracks going out across the marsh. What in the world?!? So I follow them to where he jumps the creek and basically can't figure out where he's going. "Well with a SW wind he's bedding on this point and crossing the marsh....".
Same thing. Absolutely no rubs or beds or anything to be found.
I follow more of the marsh clear back around and I found ONE spot that looked like a classic buck bedding spot....and I searched a lot of great looking stuff.
The entire place has a worn trail around it...but at the same time no rubs or scraps or scat...both sets of tracks that we're fresh were mature buck tracks though...and some old rubs around....
I drove by 2 of the 3 access points nearly daily all year and pressure is almost non-existent. Like 1 guy runs beagles there and a guy rifle hunted there a few days. Other than that pressure was almost nothing. The private around has agriculture and a few places right close got pounded in rifle season....
Now....the winter was weird...not a ton of snow and it's been pretty wet and cold.
There's a pretty decent sized timbering operation on a hill above the marsh where they dropped trees and haven't done anything with them.
It's actually so wet that a lot of the GREAT classic bedding by big lone trees and red brush points etc actually had water...I'd still think I'd see evidence of the fall beds or rubs or something?
Any thoughts? I know that got longer than I hoped. Just really beside myself. I thought for sure it was going to be great.....and the one set of buck tracks....well..they are huge.
The surrounding woods have some great oaks and stuff too...nice big acorns on the ground...
I might through another day at the North end and see what I turn up....then maybe come fall just jump on that transition trail with my stand and walk till I find fresh sign that is heading towards what I think is a bedding area...I don't know...looks too good not to hold deer... actually it's probably some of the best stuff I've actually looked at....I am supreme frustrated over it...it's close to my house and looks GREAT and pressure is minimal and surrounding private is pounded...recipe for a big buck hideout in my book.....