hes alive im shocked! well last year i located a giant buck up in the mountains i pursued him all season, and never even was close too him or so i thought.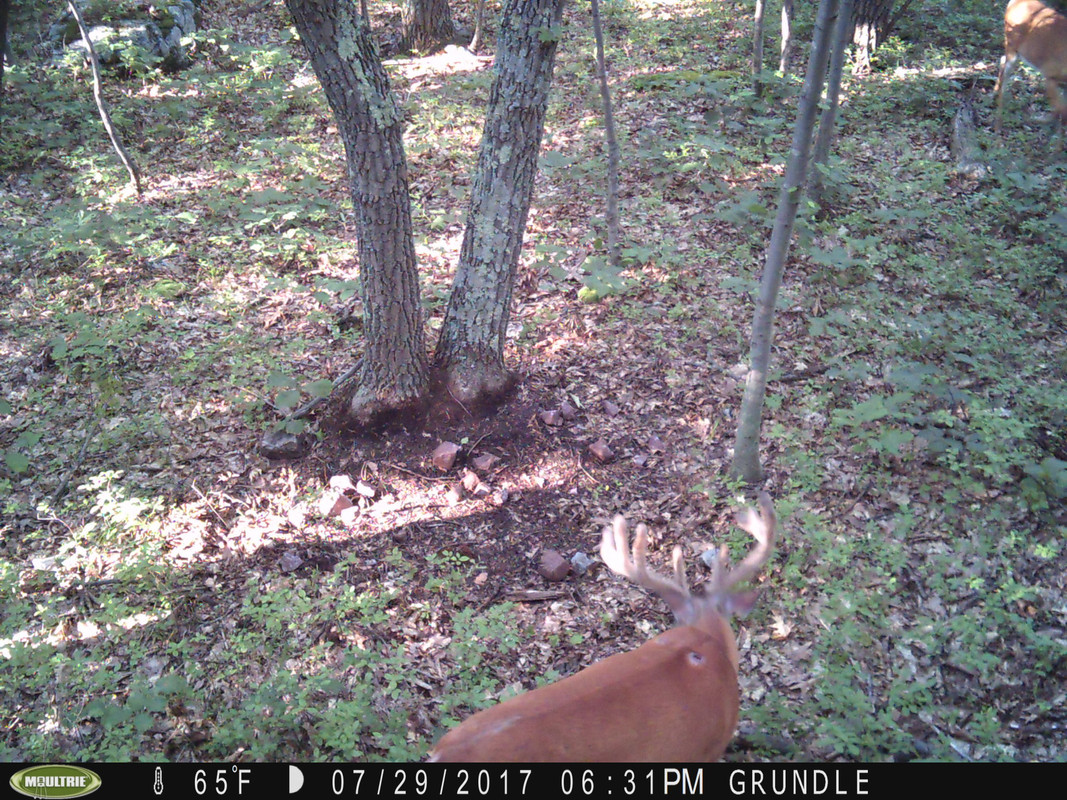 during the summer i like running mineral for pics for taking inventory for the next season. well one day i check the camera and get a buck that drops my jaw. The Hunt is on. from the pics i determined the buck was using a east facing point when i had him on camera. what i didn't know was the journey this buck would take me on. I hunted for this deer at least once a week all season. I found one big rub from the buck all season and was starting to think he was not in the area i hunt much at all. i ran cameras on rub lines down the ridge i ran them over scrapes i tried every spot. I never got another pic of the buck and gave up mid November and switched over to the biggest buck i knew was around and had him on the ground in 3 days.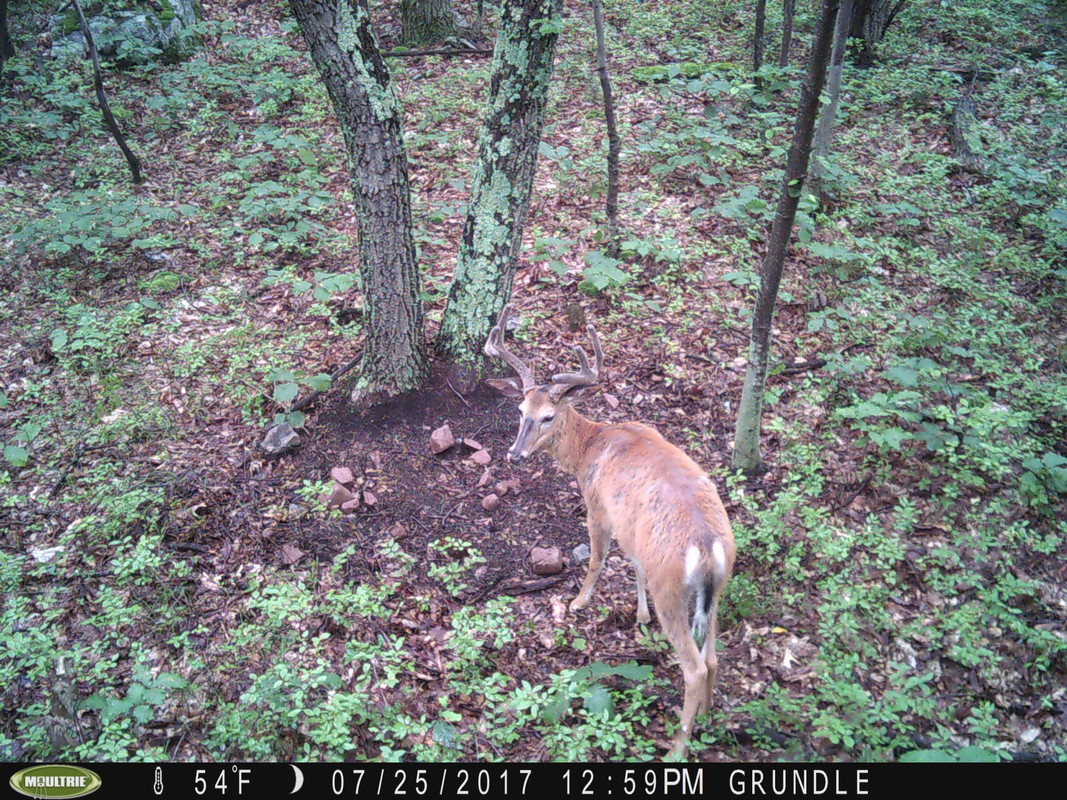 after the season i decided i have to find this deer and see if hes still alive. i spent a month in the mountains scouting every day after the season. lucky for me we did not get snow till late. I managed to locate 4 beds one on the east point half way down off the front below all the other buck bedding. the bed was worn too dirt and covered in hair and there was big poo every place. above the bed was a wall of laurel 300 yards thick and close too fifty other buck beds. below him was heavily hunted private land and wide open woods all of it was one gigantic drainage that goes for close too half a mile. I noticed something special in this bed, the buck can see six giant boxed in permanent tree fort sized stands and the atv trail coming off the hill. this buck had these poor guys made in the dark before they even headed up. the buck was not using wind too his back in this bed, but he had the cover and other deer too his back. he also had 3 different thermals a major sight advantage and hearing the sounds from below seam too echo up the drainage from the bottom over a mile away. this spot is crazy! i figured out the buck is just skirting the elevation lines too enter the bed the front is almost vertical rock.
on too the next bed i traced out the bucks entry and exit trails buy terrain threw the mountains buy finding small clues along the way mostly buy giant dropping the size of grapes. i figured out the buck travels along cliff edges about halfway down the mountain so around 1000 foot elevation line. at this elevation hes not doing the normal hes not on upper one third using the wind why o why? one day running the cliffs i walked myself into a pinch in the rocks there were 100 foot cliffs above me and 100 foot cliffs below me but i was still finding deer sign the ledge was about 100 yards wide at the mouth and i started finding small buck bedding every place on the flat spots above trees on the uneven terrain. i thought to myself well these deer are dump they are trapped in hear. then it happened again i get all the way too the back and locate a giant rub next too a huge tree and a huge bed. next too a giant 200 year old red oak.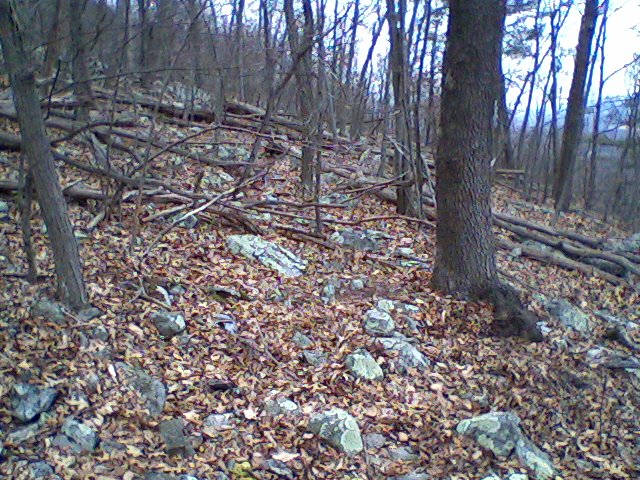 why would this buck bed hear? i walked behind his bed and found this.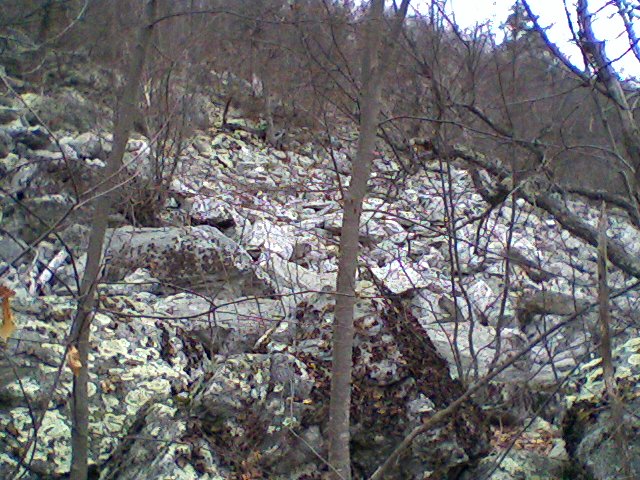 Im scratching my head this does not make sense for a big buck. Then i noticed the rubs in the boulder fields, and a faint trail this buck is now a goat!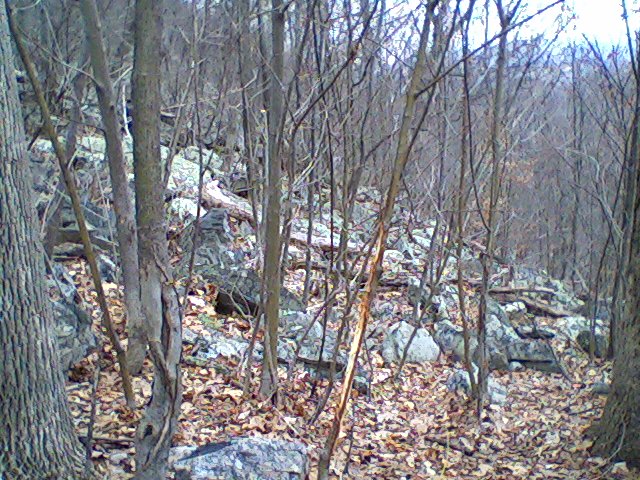 i concluded the buck is using the deer and line of sight too use this bed he can see anything coming for 170 yards. i followed the trail threw the boulders and traced it up the hill and ver the top and back down the back side straight too this bed buried in the thickest patch of laurel ive ever been threw its more than 500 acers of impenetrable fortress. safe from deer drives and anything else. i located 2 more big beds in there that are strictly setup for sound alone nothing can touch this buck.
now fast forward too yesterday morning i cant get in on this buck without blowing it out in afternoons. so i hunted the point bed on entry exit trails on the down wind end 30 yards from the bed in a tree on the edge of a cliff. when daylight came i noticed something glowing white in a laurel bush ten feet from the bed. holy smokes a shed!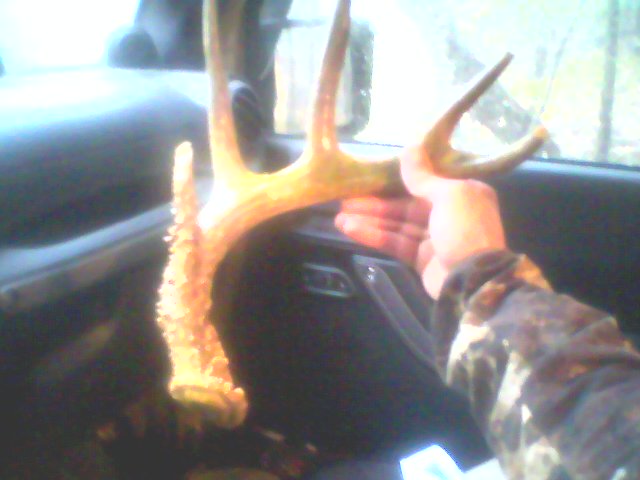 at least now i know he made it threw the season and that im not crazy chasing a deer that does not even exist. so the hunt is on! I learned alot about this buck all the trails this deer uses avoids other deer trails and is always down hill so thermals play this buck is full nocturnal almost all the time. he avoided all my areas with cameras and normal places you would expect to find deer hes literally been under my nose all this time. some of my setups last year i was under 200 yards from this deer but hunting the wrong sign. the bases on the shed have almost no sign of wear so he does not rub trees. the rubs he does make are very subtle a couple swipes with deep gouges thats it. almost looks like a bear scratched a tree but its not at a angle its vertical. the best way too tell the difference is on a buck you will notice light marks higher up from the tines. i still have a lot too figure out but at least im headed in the right direction. i started approaching his beds twice this year but opted to back out because i didnt think i could make the wind sight and hearing work for me. but one day everything will be right to make a move i hope... here is a pic of me holding his shed too another buck shed i found couple years ago of equal size for perspective.