Hello everyone! I'm pretty new to the beast. I'm a ground hunter, who has been a typical find sign and hunt it style hunter my whole life. I'm trying to change that, but I'm completely overwhelmed by the knowledge on this site!
On a tract of public land where I hunt, about a mile and a half in, there is a very good size hill. On the steep cliff-side (SE) is a big swamp, and on the NW side is thick nasty, nasty thick mountain laurel leading into a swamp.
I've found the military crest on the SE side, and of course there is a Run on it.
This is where my lack of knowledge comes into play!
(This area recieves very little archery pressure besides myself. I've honestly not run into another bowhunter in the past two seasons or saw signs of any.)
What should I expect to see on this run? Rubs? Do bucks use these runs outside of the rut? If so, Is this why I didn't see any decent sign?
I've scouted it last year (late october in the pouring rain) and saw no major buck signs. There were a few small saplings torn up, and some hoof prints and decent droppings. I hunted it once right before November, and saw nothing.
Most of the land I hunt is a gradual sloping downward hill. (Lower right hand corner of the map type terrain, I don't usually hunt this hill I'm mentioning) No major land features. A few small hills, Very thick undergrowth (mountain laurels and princess pines. I'm clueless trying to find buck beds in these conditions. I know there are big bucks in the area, (for New England) I've caught a few on trail cameras at funnels in the thick stuff.
Here's a pic of the topo map. The yellow line +/- is where I found the run. Access is from the south following the black dashed line.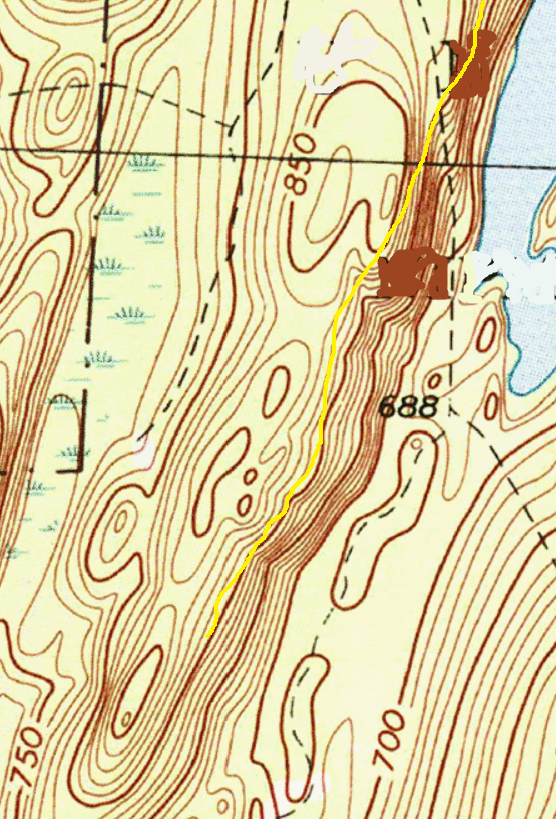 It makes sense, the predominant wind comes over the military crest, and the thermals rise from the swamp below, creating the tunnel.
I set up 15 yards below the run. in a blowdown. I know thermals can bust me, but by the time he catches my scent, I'm thinking he will have an arrow through him.
here's a pic of the setup:
Thoughts? Should I have seen more sign? Will I not see sign until the rut? Am I wasting my time? I appreciate any input.
Joe