I know not a lot of people read journals so I figured I would post this here as well. Anyone else ever try this? Kind of thought it was a cool idea and I'm always trying to spice things up a bit. Not every situation is ideal but I try and figure out what will work best for it.
5/23/2017
Did some prep work of a different kind today, some out of the box thinking. I have 3 years in this particular area and with each year I've come closer and closer. Last year I found out that this point is a bachelor hangout with 3 good shooters creeping around. On my way to hunt what I think is by far the best bed I bumped this tall 8. The hill is a south to north point. The west facing slope and predominant windward side is a very steep slope. I believe its around 500ft of elevation in a little over 1/4 mile. Access to this side is separated by a creek and a swamp. The eastern side has a piece of leased property as well as public access. He was bedded on the west facing side, a little higher than the 1/3 line on a crosswind, thermals coming up the hill and wind coming across his back. I could not figure out why he was there until a scout March where I glassed 2 ladder stands on the private. Also coming from the east side on public is a tad bit easier but I don't believe it's done often.
The main bed on the point has the private hunters pegged. You can see their gate from this bed as well as the road and any hunter coming from the east side of the public will be directly upwind of this bed. Long gone before anyone has a chance. The only way to access this bed to hunt it is from the west side and that means I must go through the satellite bedding.
With the age structure being what it is in NY, I believe that the 3 shooters were all of the same age. Just one was more dominate over the others but to me they are all shooters. With records kept of that particular day I plan on hunting both beds as soon as I get similar conditions. On my way to the main bed I will try and stalk the first bed.
I cleared off a spot at a safe distance to drop my stand and sticks before I begin this stalk. Placing a solar blanket in the bed (had hair in it as well as back in march) I glanced around found what would be a safe distance to creep to. Not easy. Other than the tree the bed is in most the trees are skinny. From this tree I slowly began to rake a path backwards keeping the bed and myself between trees. I did this until I felt safe and could no longer glass the bed from multiple directions. I also took note on where I can first glass the bed. From here I'll check to see if he's home. If he's home then I have a good path cleared out to a 34 yard shot. If he's not then I continue to the main location.
The bed feels pretty well used but we will see. More than likely a buck will bed on my path
The beginning of the stalk. I don't normally use trail tape but I feel safe enough to use it here as well as I feel it's kind of necessary to ensure a clean stalk.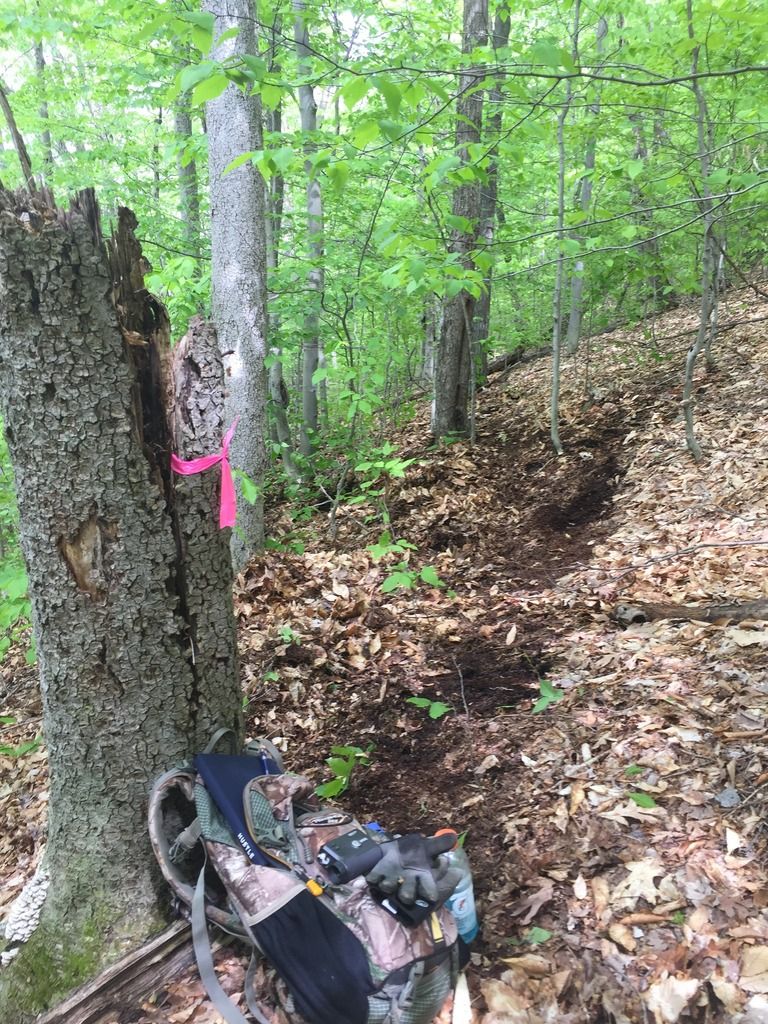 2nd leg of the stalk
3rd leg
Final spot, 34yrds to the blanket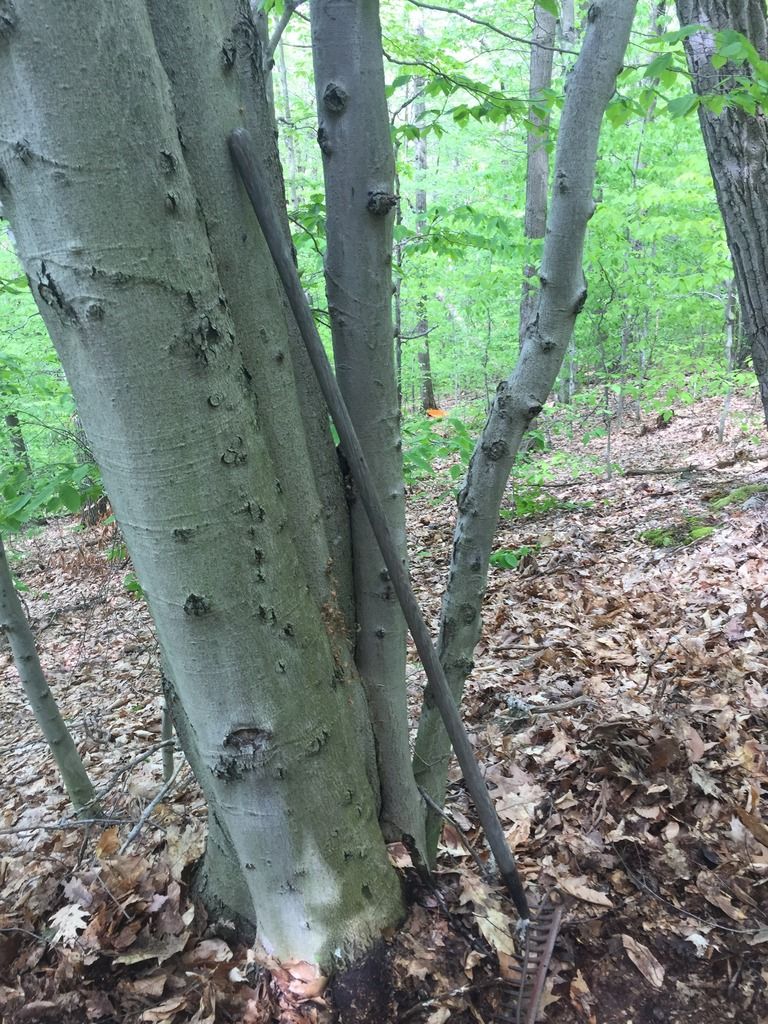 The tall 8