Posts: 150
Joined: Tue Feb 09, 2016 2:45 pm
Location: central FL
Status: Offline
http://www.thedestinlog.com/news/201701 ... ton-county
I might start bringing the 270 when I take the family to the beach..... you just never know!
Posts: 29
Joined: Wed Jan 11, 2017 12:53 am
Facebook: jodypalmerrocketmail@yahoo.com
Location: inverness florida
Status: Offline
looks like a 9 point with the crab on the right antler,eglin afb is not far from there,some nice ones come off there every year,the base is open to hunting.
the lazy do not roast any game,but the dilligent feed on the riches of the hunt
500 Club
Posts: 1734
Joined: Sat Oct 25, 2014 1:06 pm
Location: Dirty South
Status: Offline
My uncle was a fishermen on the South shore of Long Island, NY and he said that he's seen deer swim from island to island. Now from Fire Island to Long Island it's a good 1-2 mile swim... I'm sure the sharks, current and unaware boaters took their toll but the deer seem to do well.
It wouldn't surprise me if that buck was making a swim for food or even some hot does and got caught up in a current.
On a side note I bet some Florida boys are losing their minds, an 8pt down there is a GIANT
Trust the Process
500 Club
Posts: 1957
Joined: Tue Oct 06, 2015 10:02 am
Location: Central Florida
Status: Offline
Stud. Wouldn't be safe by me...I'm headed to the beach.
500 Club
Posts: 5338
Joined: Mon Dec 15, 2014 2:13 pm
Location: michigan
Status: Offline
Maybe this is how they end up in the big water. Told my buddy that must of been on the Wisconsin side because deer don't get that big in Michigan. Lol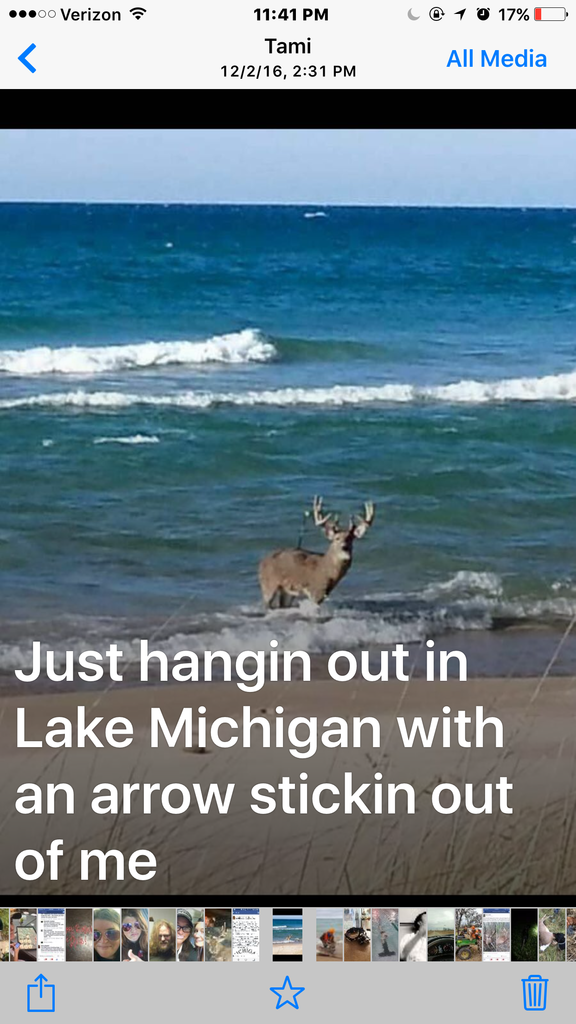 ---
Users browsing this forum: Applebot, YandexBot and 19 guests