Sorry for the long read but I didnt wanna leave anything out.
Well guys alot of yall seen that on the 13th of this month I killed the largest buck of my life on the ground and its kinda stuck on me, so it's tough to make a great year in Louisiana any better. Well while still hunting/scouting on December 23rd I just so happen to find something that made it better. I woke up that morning knowing it would break daylight soon, but I wasn't in a rush. I was still on the high from a buck I killed 10 days earlier so It wasnt eating on me like it usually does, plus I was really only scouting out new beds to bow hunt for next season and possibly in late Jan. if a worthy buck showed up. Im a bow hunter at heart, but when looking for these beds im gonna have a rifle with me just because momma didnt raise no fool. I hunt more then the average man, and dont quite spend the right amount of time where I need to once hunting season comes around.... I decided to make the wife and I a cup of coffee and hang around with her and the munchkin until she left for work.. So after about 20 minutes she heads off to work and I ride down the road towards a very high pressure spot I feel a buck would hang around just because of the pattern the other hunters make... So in this spot you turn off a highway and travel down a gravel road, after 100 or so yards you cross an old railroad that is also gravel that is used for trailrides during the summer, then you go another 1/2 mile and park at a gate to the left which is an entrance to a walk in area.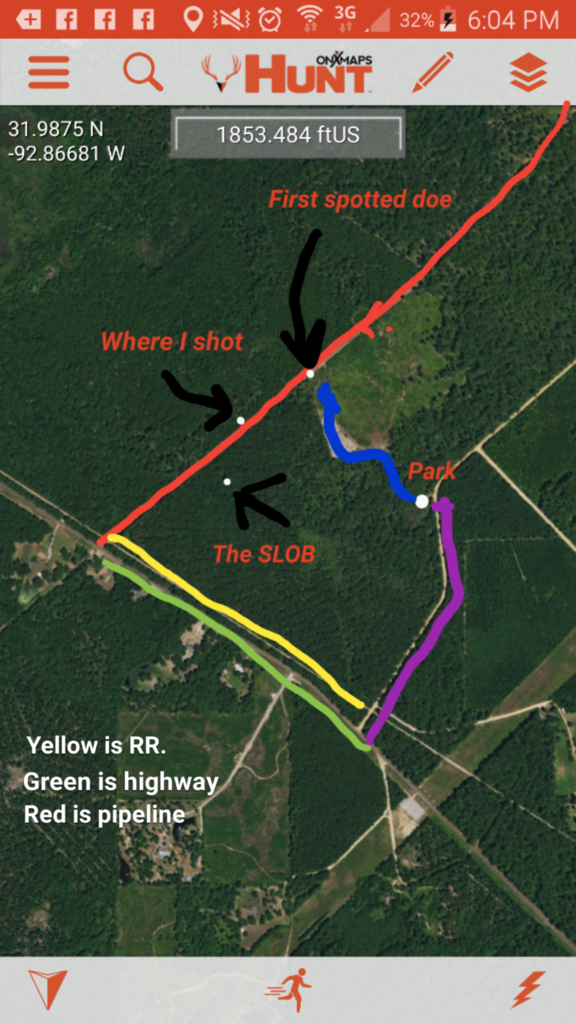 So I pull up to the gate get out, grab my rifle and head down the old white rock road down the edge of a 2-3 year old thicket. When you get to the back of the thicket the road deadends on a narrow pipeline which you can see about 700 yards one way and 400 the other. When I made it to the line it was decent daylight but still would brighten up more in the timber so I decided to wait a few minutes and watch the line for a buck coming in late to his bed. (Also here in Louisiana our 2nd rut kicks in around this time and is usually better then the 1st) After 10 minutes or so I caught a different shade in the grass on the left side about 400 yards down. In no big hurry i sat my coffee on the ground and raised the scope to see what looked to be a yearling. She was feeding under an acorn tree, and I noticed right away she wasn't comfortable. She would grab an acorn and watch the woods until it was time to grab another. After 5 minutes of this I told myself its a buck down there, you need to get closer and be ready. I moved out of her sight and traveled in the line right on the edge. I had closed to about 300 yards and made a look to see her still there, and still staring into the woods. Out of cover on the left I get on all fours and crawl down the middle of line using the 2 ft. sage grass as cover. At this level I can see nothing so I have no idea what she is doing or if my plan needs to change. At about 250 yards Im confident in my range and feel its time to take a peak and I stand up. Im no longer on the elevation needed to see the deer clearly, but after a second or so i catch her outline in grass as she scoots off the line to the left in a quick manor. I get back down and start running it through my head I know she seen me but she wasnt spooked she just wasnt sure of what she seen. So I react and crawl to the right edge quickly and ease on my feet about 20 yards inside the timber. Im now in a 15 year old pine thicket that had been thinned well and had a full canopy, thats about as quiet as it gets in the south. From past experience I know there is a chance she is curious and will try to sneak up and identify what she had seen. So with a forest floor covered in dead pine straw I make the next 70 yards flawlessly other than catching myself several times about to die from not breathing and trying to be quiet lol, Feeling like a shadow in a world of darkness I step slightly in the line and stop. Im looking frantically I know she is close and probably looking as hard as I am. There it is. MOVEMENT!! I see the yearling 50 yards away almost directly across the line in thick brush heading in the direction she seen me moments ago. She stops and stares behind her, then slowly disappears as she continues her journey.. At this point I realize how thick this edge is. So I ease my rifle in a position that I can shoulder it quickly if the time arrives, and stare in the next to last opening I seen her in. The woods are still, the wind is easing through the naked branches of the few oaks above me and i have been frozen for about 10 minutes. And I feel it, a calmness takes over me, like im stuck in time, im suddenly aware to every little thing going on around me. Just as i tell myself lets ease down some more I catch it.... A glimpse... A shade of white among the year old burnt forest floor. My mind says it BUCK!!!!!! My arms shoulder the rifle and my eye lasers through the scope like I'm Chris Kyle or something. When the crossheirs hit the deer he turns hit head and that moment you dont have to ask yourself if he is a shooter or not takes it place as the safety switches off. Instantly my body changes Im no longer Chris Kyle im a shaking lunatic losing it quick. The crossheirs make one rotation around the deer and when they land on the throatpatch again I squeeze... Im shocked, did i miss, man i wish i had a gun rest. Im looking back now thinking, worrying. I jerked the trigger and my crossheirs were to the left. I could feel it. I bolt another bullet and take a few steps in the line praying he crosses. I hear running, shoulder the rifle a BIG doe briefly stops in the lane then carries on quickly. I stay put I hear more leaves crashing as the yearling runs back by me and to the same trail the doe had just taken.. Lowering the rifle i wait ready to reshoulder at a moments notice. Its been about 10 minutes a smile starts to come over me. HE'S DEAD!! My mind is telling me he would have followed that doe if not. Im off to the races after about 130 yards i start turning circles no blood.... Maybe im in the wrong spot, im now in a semi jog tripping over everything looking for anything to show me my destination. STOP!!! Thats an ear aint it.... I turn my head to the side like a misunderstood kid, as I strain my eyes then the outline of the mainbeam of my 2nd SLOB in 10 days is potruding from the ground... Here we go again, my favorite part.... I run to the buck. When im in reaching distance I dont grab, I dont yell, I stare. I sit down lay my head back and look at the top of the giant pines that shade us... Im thanking GOD over and over. Deciding I want to share with my family and my dad (he is working in the gulf on a rig right now, and he was present and helped drag all 5 of the bucks that has made it on my wall.) I try to go live on fb and it doesnt work. So I just start recording in the middle of this whole ordeal and post it and im pretty sure he is gonna die when he sees it lol. After I make the next 2 most important calls, then text for help I sit back down and really think about how this played out.. On my post about the first buck I said how I was focusing on the small things. Its not many people I know that would notice that doe acting that way. Then how many folks would have taken there thought serious enough to stalk and find out. My mind told me the whole first 100 yards your wasting time whats the chances of it being a mature deer. Well I knew the odds of it being a mature buck wasnt high, but the small things told me if your wrong and stalk you lose nothing, but if your right and dont stalk you could lose alot. This is the first hunt really that i got to see it all play out and the whole thing wasn't an adrenaline rush that i couldnt remember the details of. Dont get me wrong I felt every emotion, you want to experience on a hunt. But it was at a pace that my mind could soak all the details in, and the ones I wrote here are the things I remember my mind noticing and telling myself along this stalk.. Its probably because I was calm the whole time and didnt know what i was actually stalking. This is a landmark hunt for me, for the first time in my life I remember more about a hunt then just pulling a trigger. I left the house around 6:45 and the shot was around 7:35 so this happened fairly quick.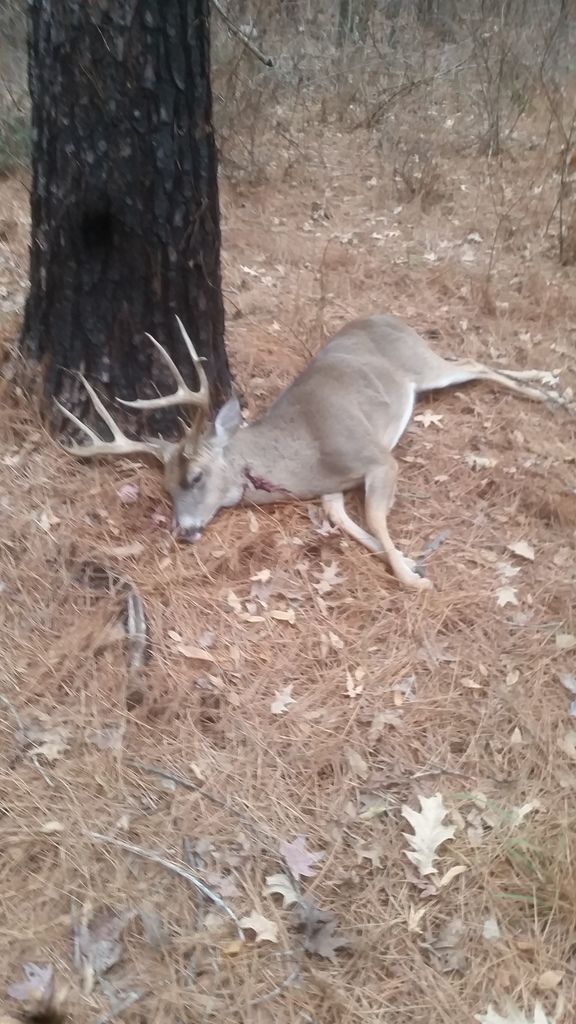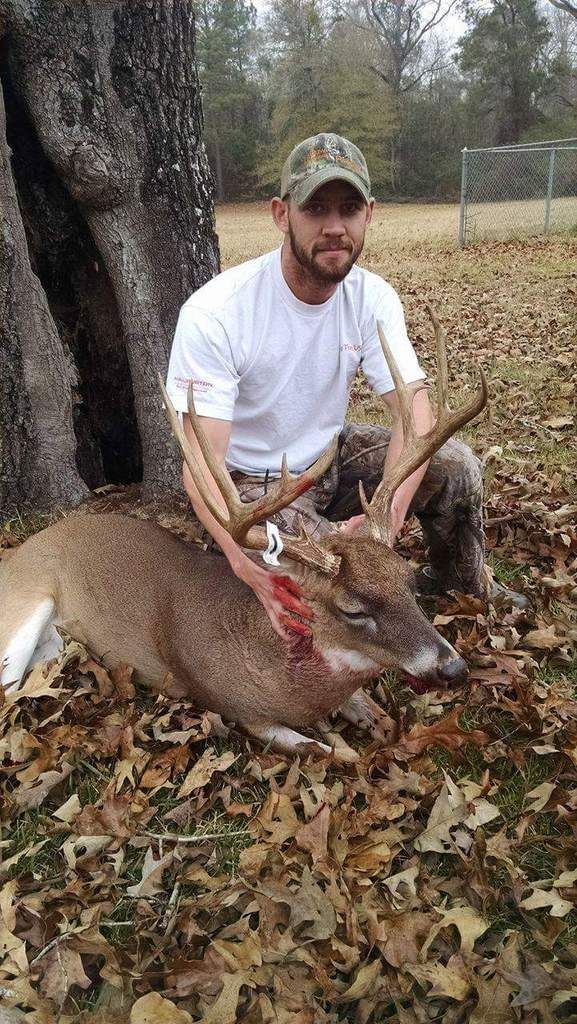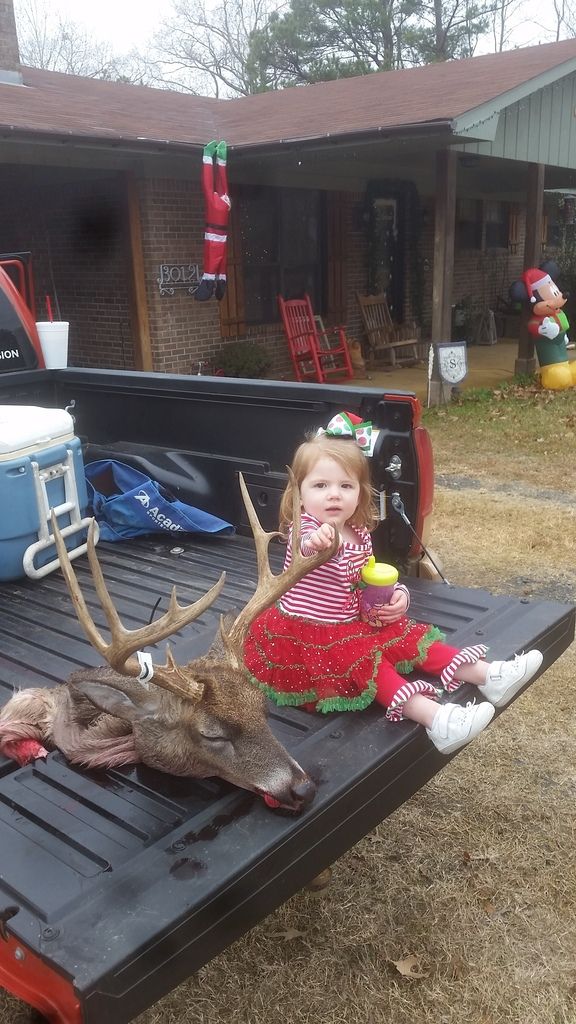 I ended up trying to see the hole I shot through and its amazing because me and my buddy looked and it is the only opening where you can see that deep in the woods, he was 180 yards away and all i had was a freehanded neck shot. He said I was lucky. I think it was meant to be.. A SEASON TO REMEMBER.
Here is the link to the video...
https://youtu.be/BHXm-fhkF8Q