Everyone likes a big buck story, so here goes.
Back in 2010, I gained permission to hunt a micro grove in a great area. The grove is next to nothing in itself, but the surrounding properties are pretty close to as good as it gets for Central MN. It wasn't much, but an "in" to a great locale.
I ended up killing my 2010 buck out of that grove. The landowner helped me track it, and we ended up striking up a friendship. He had been hunting his home grove that year, and since I was tagged out, I offered to put a trail camera up for him for fun. He jumped at the chance. We ended up going fishing the following summer, and he eventually volunteered to let me hunt his home grove as well.
We had gotten some pics of some nice shooters in there, and it was hands down a better property than the tiny grove.
In 2011 I hunted it a few times early on and didn't see much. There were resident does in the grove and a small buck or two, but that was it.
Then rut started picking up...
I got a few night time pics of some decent deer, and decided to hunt the grove pretty hard. Late October I had 3 days in a row to hunt. Friday, Saturday, and Sunday. I hunted it Friday with no luck. To give the property a break, I decided to hunt elsewhere Saturday. Nothing again. Not knowing what to do, I went back to the farmer's grove Sunday morning. I saw two little bucks, but no shooters. After the hunt (Sunday October 28th) I pulled the card and this is what I found.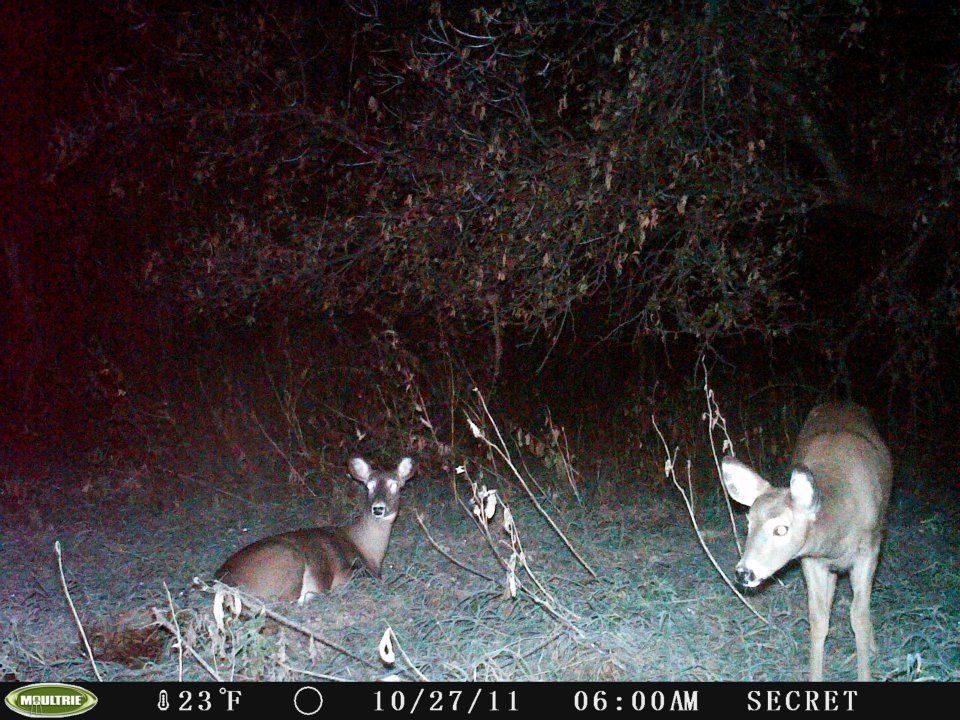 My stand is 20 yards to the left and he came through on a 4 wheeler trail that goes right by my stand. Wind was right and everything
I had heard about "The Big 8" that was around... but this was my first pic of him. SO CLOSE. I was later told that this was deer was approximately 6.5 or 7.5 years old.
Me checking the camera Sunday morning
I got several other pictures of him through out the year...
He was definitely in the top 3 for biggest bucks I'd ever had on trail camera, and even today he's probably top 5. Definitely the oldest.
After tagging out Nov. 4th on a different buck in this grove, I asked the landowner if he'd be OK with my sister trying to take a doe (or whatever shows) while slug hunting. "Go ahead, but you'll be sharing with my brother in law". Fine with me. While we snuck along the edge of the grove to our spot, about 1/4 mile away in the wide open chisel plowing, two deer that were bedded on a rock pile took off. I raised my binoculars... it was a doe with the Big 8 close behind! That was the first time I laid eyes on him. Even at that distance, without a gun in my hand, it still got my adrenaline going a little bit. He was a monarch... wide and tall.
I only had the one daylight picture and one sighting of him that year. I closed the season thinking about "The Big 8".
I spent the next spring and summer wondering... Did he make it through the year? I'm pretty sure I would have heard of someone killing him, but the coyotes are really bad in this area. I ran camera for a month or two and glassed evenings here and there with no sightings. Finally I got a couple velvet pictures of him in early September.
CLOUD NINE!! He was still alive.
I knew from the previous year that he didn't live in the little grove. Once in a great while I'd get a picture that made me wonder if he bedded there, but most often the pics were well after dark. I knew when that first doe came in to estrous, that would be my chance to get him. He was fairly photogenic... I would get right around a picture a week, sometimes more.
I knew that keeping the does moving in daylight would be key. I stayed out early on and remained patient. When late October hit, I moved in. Nothing. No sign of him. Nothing again. Then one November morning I caught movement behind me. There were FOUR bucks chasing one doe... and who was closest to her? The Big 8. In 18 years of hunting I'd never seen any more that two bucks after one doe. Four was NUTS! They ran down a fence line, then made a right angle and headed strait for the grove I was in. They hit a wooded fenceline that heads right to my stand and then all was quiet. They were probably 100 yards away.
"I'm in GREAT shape! They're going to follow the fenceline right to me!" I was almost positive. After what seemed like forever (more like 5 minutes) the smallest buck took off for the grove, in between the farmer's house and I. To my dismay, the other deer eventually followed suit. They had no reason to cut that corner... they were halfway between me and the house, which was around 125 yards from me.
They never came to my end of the grove. I went back that night and had an encounter with the 2nd biggest buck, a 115-120ish 10 point that I would have gladly killed, but he didn't come close enough.
I hunted there the next three days with no luck. No big 8... not even on trail camera. I ended up tagging out at a different property on the day prior to shotgun season.
Of course my worry is that he'll get taken out during one of the gun seasons... but the cagey old buck persevered.
Just after shotgun season.
This was the last pic I got of him in 2012.
The 2013 season is here and of course he is my #1 buck. I've never had a multi-year history with a buck before, and this was year #3. I had a bigger buck on camera at a different property, but I didn't want that deer... I had my heart set on the Big 8. Once again, I couldn't locate him during the summer months! I never once saw him while driving and glassing.
The old boy (now 8.5 or 9.5) made me wait until early September before letting me know he was still around.
I couldn't believe it.
Let the games begin once again! 2013 was the year I started filming, and the icing on the cake would have been to kill him on film. I knew by now that hunting him before the last week of October was a waste of time. So I waited. There was no doubt he was old, as he had lost several inches off his tines, and his spread wasn't as impressive either. I didn't care one bit.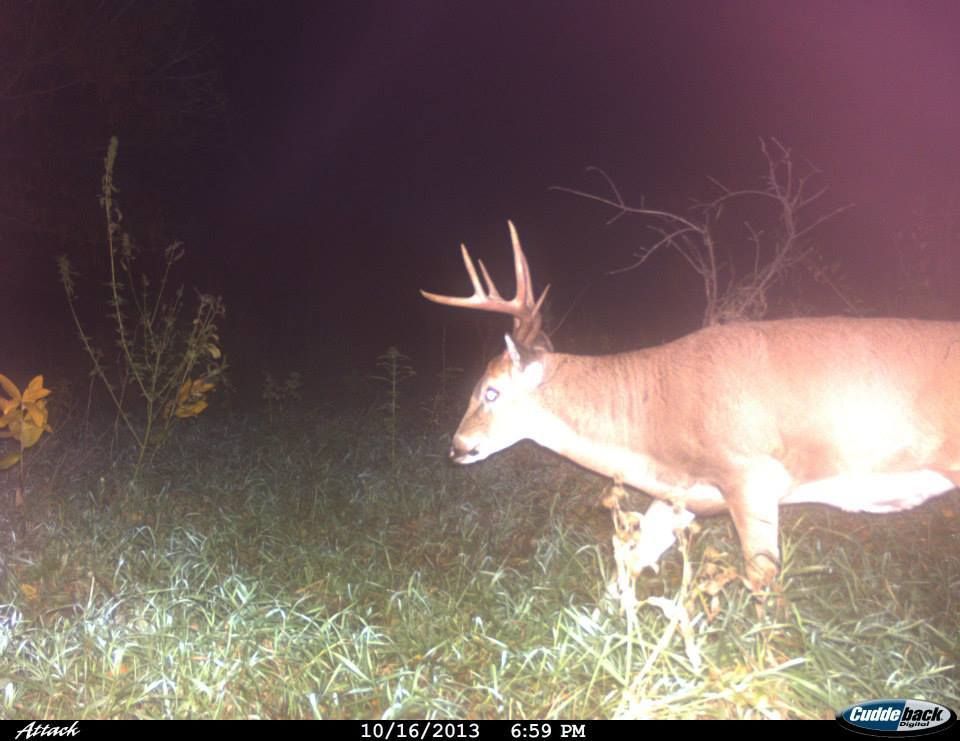 I hunted the grove twice with no sightings. Does and a yearling buck or two... no shooters... no big 8. By this time, most of the corn in the area had been combined, except for 2 sides around the farmers grove
corn in late Oct or early Nov is money in the bank. On hunt #3 I waited and wondered if I'd ever see him again or if I'd have an encounter.
Down the field edge trots a buck. He skirts around me heading into the grove... he was a 2.5 at best. No more than 10 seconds after he disappeared, he went flying down the same field edge and headed back the way he came. "Well that was weird..." ... next thing I know I have a doe come trotting right under my stand, and she stops and looks back. Its obvious... BUCK COMING! I panned the camera out and grabbed my bow. As I stood upright, I saw a smaller buck to my left. The doe wasn't watching him... she was watching 20 yards to his right. I saw a flash of movement through the thicket and thought "Please God... let it be him!"
I saw the deer lower his head and push through the thicket. There was no trail there... he made his own. Big bodied, wide racked...It was him!!
Here is the moment I had waited for.
He was 20 yards away quartering to. The doe bolted, and he trotted forward. He stops again, still quartering to at a mere 10 yards away.
I swing the camera on him and clip my release on my string loop. I had piled a bunch of brush under my tree to keep them from using a trail that went under my stand. It made no difference... he ran right at me and leaped/crashed through the pile of brush. I swung the camera on him, but he was off to the races after that doe.
I went from a crazy adrenaline rush to almost feeling sick. He was right there... and he got away. When reality hit, I don't think I paid attention to my surroundings for a good 10 minutes. I stared blankly in disbelief.
"I didn't kill him, but neither did anyone else." Although the encounter took the wind out of my sails, I hunted on. I went back twice more, but he was nowhere to be found.
Shotgun season was upon us. Not getting the thrill out of gun hunting, I was happy to film my sister kill her first buck ever on opening day. My friend Tyler and I had a South Dakota Archery trip planned, and we were leaving the next morning. I told my Dad I wanted to film his morning hunt, and then I'd go to South Dakota with Tyler afterwards. He felt like it was too much running around (our hunting spots are a ways away), and after some convincing, I reluctantly decided to catch up on some much needed sleep.
I woke up to a message on my cell phone. Dad killed an 8 pointer "He's pretty nice! Big bodied devil..." Dad said. I had a weird feeling. Of course I immediately requested pictures. I was happy for my Dad but my heart sank. It was the big 8. He killed the big 8 without me! He was hunting a nearby CRP field, and it was the first season we'd been granted permission for it. Dad claims it happened so fast I wouldn't have captured it on film anyway, but the big 8's obsession with the ladies finally did him in. He came trotting by at 50 yards and Dad dropped him in his tracks.
Due to the fact that I don't own land, and don't have gun rights to any properties except one, being able to build a history with a buck like this is tough, mainly because deer that size are pretty rare around here. I'm just glad it ended with my Dad killing him, rather than having him disappear and not know whatever happened to him. The closure was nice, but bittersweet. The chase was over for good.
Thanks for the memories old friend...