I found this site in late spring and it really made me think about my hunting style and what I could do differently to have more success like many of the members on this site. Well I started reading a lot of different posts here and kept reading about everyone being a "mobile hunter." Before this site I had never heard that term in my life. My family has always hunted out of fixed stands which we had decent success with. My family has killed quite a few deer this way but at times during the season it seemed like it didn't matter what stand we would go to, we just wouldn't see anything. Well I now know that those deer are purposely avoiding our fixed stands because they know that we sit there. So when I read what being a mobile hunter consisted of and the success guys on this site were having using that method I thought I would give it a try. So this summer I did my research and bought myself a nice Lone Wolf Alpha treestand and even got some stealth strips and yak grips to silence it. It was probably the best purchase that I have ever made! This summer I also bought my first compound bow (mission riot) which I love as well. Because I found this site too late to scout for beds I based where I would hunt each night I went out off of previous encounters I had with bucks and where I thought they may be bedding off of topo maps. Well that turned out to be harder than I thought not seeing any antlers until the day before I killed this buck. I'm sure it's something that will come with experience and it will help to get out and scout for some beds this spring.
So last weekend I decided to sit in one of our fixed stands that none of my family had sat in yet this year that has always been a good spot for during the rut because it's usually downwind of some close doe bedding and we always seem to get a lot of doe action around there. Well Saturday, November 1st I had 2 does come through close to dark hoping a buck would follow but nothing. On Sunday, November 2nd I had 5 different does all around me, one of them about 25 yards behind me started bleating and bleated about 20 times. I thought for sure this would bring a buck in, but once again nothing. So then I started thinking how I had seen posts on here saying how deer would avoid fixed stands and some members would actually place their stands where deer were moving around the other hunter's fixed stands that they would find on public ground. So this past Saturday, November 8th I went back to being a mobile hunter and went out with the Lone Wolf on my back. I went about 60 or so yards away from our fixed stand and found a spot where I couldn't see my stand anymore between a small ridge and the creek that runs through our property. With rut movement in full swing here in Northwest Ohio, I thought I found a great rut funnel to set up, and boy was I right. That night around 30 minutes before dark I heard something behind me and to my left, I slowly looked around my tree and there was a nice 10 point about 25 yards away making a scrape on a tree. He had come around some really thick brush and was able to sneak up on me pretty fast. He ended up walking right behind me and swinging around to the right side of me. Unfortunately I was unable to get a clear shot and he eventually went downwind of me once he caught a whiff of me, he was across the creek and gone. Well after the close encounter, I made the decision that I would keep my Lone Wolf stand there for the night and hunt there again the next night. So yesterday, Sunday, November 9th I was able to sneak back to my LW treestand in the early afternoon without making much noise at all. I had a good feeling about my spot based on the night before and felt like it was going to be a good night. Well at about 5:15 I heard something behind me. I slowly looked around my tree and there stood a different buck than the night before, I knew instantly that if given the opportunity I wouldn't hesitate to shoot this deer. He came right down the same path that the buck the night before took but instead of looping around my right side he started walking right towards me. When I saw this I turned back around and put my back against the tree and got my bow ready hoping he wouldn't see me. Each step he took seemed to get louder and louder as he walked closer and closer. He ended up walking right under my treestand which is when I realized how big he was. He got about 10 yards in front of me to a big path where I wanted him to turn right, well of course he turned left. I quickly found the only hole through all the brush that lay between us that I could shoot him and drew my bow and waited for him to step into the shooting lane. Once he did I let the arrow fly! The arrow was sticking out of his left side as he ran off and I was very discouraged when I saw that I had hit him further back then I wanted to. I think he took another step when I went to shoot, causing me to shoot him a little far back. Well I watched him run as far as I could see and then I thought I heard the worst thing possible....it sounded like he crossed the creek. My family doesn't own on the other side of the creek and with a bad shot I thought it was going to be a long night. Well we decided that since I thought he had crossed the creek that we would find the blood trail and follow it to the creek and then leave him lay for the night since I hit him back further. Well my dad and I started looking for blood. We went around 40 yards down the trail he ran without any luck but then all of the sudden we had some good blood. We were able to follow it another 30 yards or so when we looked up and there he was laying on the edge of the creek about 30 yards ahead. He had stayed on our side of the creek, he ran through a low spot that was kind of flooded with water and must have been what I had heard. He looked dead, and we were only 30 yards away and he wasn't moving at all. We decided to play it safe and mark our position and go home and wait a little while just to be sure. Well 3 hours later we went back and there he was laying in the exact same spot! I was pumped! When we field dressed him we found that the arrow actually hit his vitals and he must had been quartering away from me enough that it was actually good that I shot him further back (not that I tried to). When we got him back to my grandpas we weighed him with the scale and he weighed 181 lbs field dressed. He is a 10 point with a couple little kickers and a lot of character! Half of his right ear is ripped in half down the middle and he has a wound on his face, both from fighting with another buck we suspect! This is my first buck since becoming a mobile hunter. And also my first ever buck with a bow! Words couldn't describe how I was, and still am feeling!
I just wanted to thank Dan, Carol and all the members again for the help that this site has given me and the great culture that has been created on this site! I love this site and have learned many new tactics to use during my hunts and can't wait to see what else I can learn! If it wasn't for taking the ideas/tactics that I have read on this site and applying them to my hunts I would have been sitting in that fixed stand again this weekend probably about 80 yards from great bucks but never even know because the bucks were avoiding that particular stand! I have always dreamed of a hunt where I harvested a mature whitetail and I am just glad that I was blessed to have it happen the way that it did yesterday! Thanks again guys!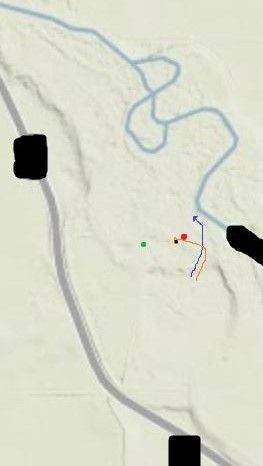 Green Dot = Fixed stand
Red Dot = LW stand
Blue Path = 1st Buck path
Orange Path = 2nd Buck path
Black Dot = Where I shot him