hunter_mike wrote:

Bowhunting Brian wrote:

hunter_mike wrote:

Dhurtubise wrote:

On the other hand a faster bow will obviously produce grater momentum in the same arrow, but how much. When you read the literature on a bow, they use the KE value to quantify their bows. It makes sense because this value should be relatively consistent regardless of your choice of arrow weight. However I think that overall this value is misunderstood, and at least a little misleading for your average hunter.

[ Post made via iPhone ]

This is exactly the concept that really clicked for me and made me realize that momentum is the quantity you want to optimize in your hunting bow rig.

I remember that:

Potential Energy = Kinetic Energy - Waste energy from friction & inefficiency

-Potential energy is the energy you induce when you draw your bow back. When you are at full draw you have induced the maximum potential energy your bow can capacitate. This amount of energy is always the same for your particular bow no matter what type of arrow or setup you are using. The only way to increase your potential energy is to increase your draw weight. Potential energy is simply a force time a distance. (60lb draw weight*29 inch draw length) (I realize its more complicated than that because of the draw cycle and let-off)

- The waste energy and friction is basically an amount of energy that is a function dependent on the efficiency of your bow, friction between your arrow rest and arrow and any other energy that is converted into hand shock energy you can feel and sound energy you can hear.

- Kinetic energy is basically whatever energy is leftover after you deduct the wast energy. According to the equation above in blue, this kinetic energy amount will be pretty much the same no matter what type of arrow or projectile you are launching. Obviously in reality it does vary a bit. (you can feel the difference in hand shock when you shoot a big heavy arrow vs. when you dry fire your bow.)

So if kinetic energy is pretty much always constant what do you have control over? MOMENTUM

Momentum = mass*velocity

An arrow with more momentum will have more penetrating power because it will want to keep moving more than an object with less momentum. Therefore it is more resistant to slowing down from air resistance and tissue and bone

Anyone care to take it from here?

I agree. KE is a marketing tool. KE looks better because it is not a decimal number like momentum is. any of todays bows can get the job done. people think the need a high KE or try to change their set-up so they can raise their KE, when in reality, if they want to increase their chance of a pass through, all they have to do it raise the number of grains on their arrow.

Ok. I agree with that except when you increase the mass of your arrow, you are decreasing your velocity too. Therefore ther has to be a certain optimum point where your arrow will be so heavy that it starts to actually decrease your momentum and hurt you. Thats not my opinion, its math and physics. I would like to find that point.
Ok Brian I apologize, I was actually wrong about that. Heres the mathematical relationship of momentum and mass. The big assumption is that your Kinetic energy is constant throughout this curve with is a decent assumption as others have observed.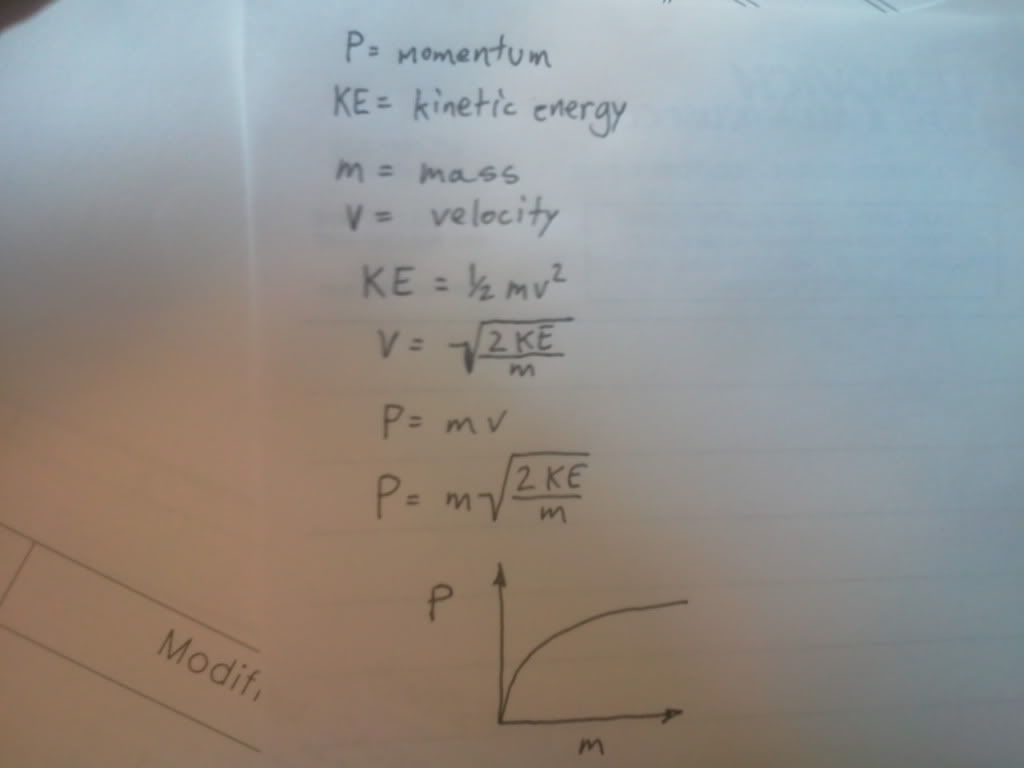 The curve shows that momentum always increases when mass (of your arrow) increases. However the rate of momentum increase starts to slow way down after a while. You can theoretically get as much momentum as you want, it just depends on how much velocity you want to give up