Last winter I had scouted out an island which had some small secondary islands which had beds. With a NW wind I could hunt one of the secondary islands, but not the other, in fact I would have to blow out the first to get to a point on the primary island. I bumped a deer while walking the transition line on the primary island, it was raining at the time and I got within 20 yards before it jumped. It was thick and I could not see what it was. Nearing my tree (I thought I had picked out last winter), I overshot and had to backtrack (first mistake). I found the tree and it was a pain in the but getting my stand set, multiple limbs, the tree was forked and wider near the fork, so my stand wouldn't grip. I eventually got the stand situated where it would lock, but unfortunately it was right below a limb which would hit my head when I stood (I couldn't lower the stand because I had a limb directly below my stand too). I checked to make sure I could draw, and I could easily shoot to my right, and with difficulty (duck my head under the limb) I could shoot to one spot to my left.
About 6 PM I had a doe come in behind me and she must have seen me turn my head, she ran towards the expected bedding island, then turned around and ran right back the way she had come. About 6:30 I heard noise in the cattails, and a tall four pointer was walking down the trail towards me. He stopped right where I had turned around and was smelling every blade of grass. He was getting nervous and headed to the east side of the point and I passed a shot at him. He locked up again when he smelled my track (I had walked in on the downwind East side of the island). He turned around and walked 20 yards farther into the brush and held up. About 10 minutes later I could hear more deer walking in the cattails ever so slowly. I heard sticks break as they stepped onto the island and the first deer headed to my left. I quickly shifted my feet and ducked under the limb and caught sight of him, he was a tall racked eight pointer with a large body. I drew and when the buck hit my only opening I shot. I heard the arrow hit him, and he ran a little ways and then I heard nothing. A minute later I caught sight of another buck basically walking the same path as the eight but further into the brush (he was a good one). I gathered my things and climbed down (busting out the 4 pointer, he had remained in the brush I assume waiting for dark since he smelled my track). I found my arrow and it had brownish material on it, so I assumed gut. I did find a small pool of blood at the spot the deer stopped running. I grabbed my stand and sticks and left headed off the island.
This morning I hiked back to the island to track. It was a difficult blood trail, and I lost it many times. The easiest tracking was in the cattails, where the buck would brush up against them. A couple hundred yards into the track I found white bloody fat/tallow. He passed through two bedding trees/areas without bedding down, which I thought was strange for a gut (I thought) shot deer. About 12:30 I thought I had lost the trail for good, and discovered the buck had back tracked, once I figured that out I found where he had cut off the original trail and I was in pursuit. 100 yards later I heard him jump up and haul out of there. I followed the blood to this bed with a little bit of blood in it.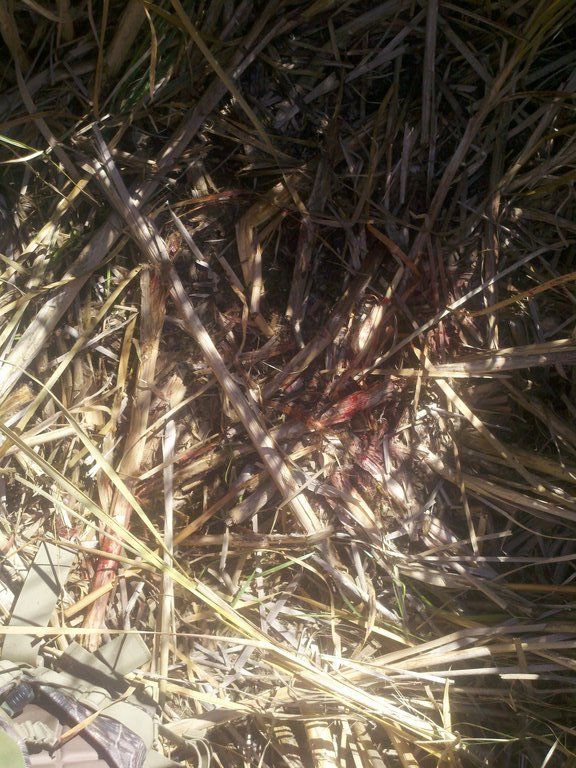 I tried to continue tracking, but after he ran I found only two more spots of blood. I criss crossed the trails trying to pick up blood again, but failed.
I think I must have hit him in the brisket, I would think a gut shot deer would have been dead after 18 hours.
I learned a lot yesterday and today. Missing your tree and then backtracking is a bad idea and will probably not end well. In daylight today I checked for other trees that would work and I'm thinking the tree I was in is the only one. I'll have to try to find a way to make it work with out cutting. It was an awkward shot with my head ducked underneath the limb, which probably changed my shooting form and I blew it.
I am excited that three bucks came off this island and onto the primary island right where I was expecting them to. The fact that two of the three bucks were good bucks is encouraging. The primary island is about 200 yards off of the mainland, and the secondary island off of the primary is about 100 yards away. So the shooter bucks made it about 100 yards and that was at last light. If I had been hunting the mainland I would have never have seen these bucks.
Hopefully other hunters who are new at bed hunting can learn from this, I know I did. The (not so) little things make a big difference on success and failure when hunting pressured bucks.