* I'm posting this for a fellow forum member, mikeperry.
I'd like to preface Mike's story by saying a few words on him. I first started talking with Mike on a archery hunting forum in 2010 when he killed two mature bucks in four days..... I was like " this guy has got to know something!"
He was the first consistent big buck killer that unselfishly shared his knowledge with me. I bet I've asked him hundreds of questions over the years and he still puts up with it. He has influenced me a lot on deer hunting from tips and advice to just plain being a grinder and not giving up. The dude is a beast and glad I can call him a friend even though we have actually never met..... maybe I'll finally make it out there this year!
My first encounter with the buck my kids named Super Freak was on the first morning of the 2014 Ohio bow season, he was a 3 by 5 with unique brow tines that grew at an angle along the main beam, I had a clear shot opportunity at 40 yards but elected to pass because I was hunting a few larger bucks on other properties and I really don't like shooting past 30 yards anyway. Little did I know at that time that this buck would come to consume my thoughts for the next couple seasons. I did not see him again until the end of January 2015 hunting with a wind chill well below zero, he came in on a well beaten trail in the heavy snow to feed in the bean field I was watching. One of the bucks with him caught me drawing on him and it was over, tag soup for the 2014-2015 Ohio season.
2014: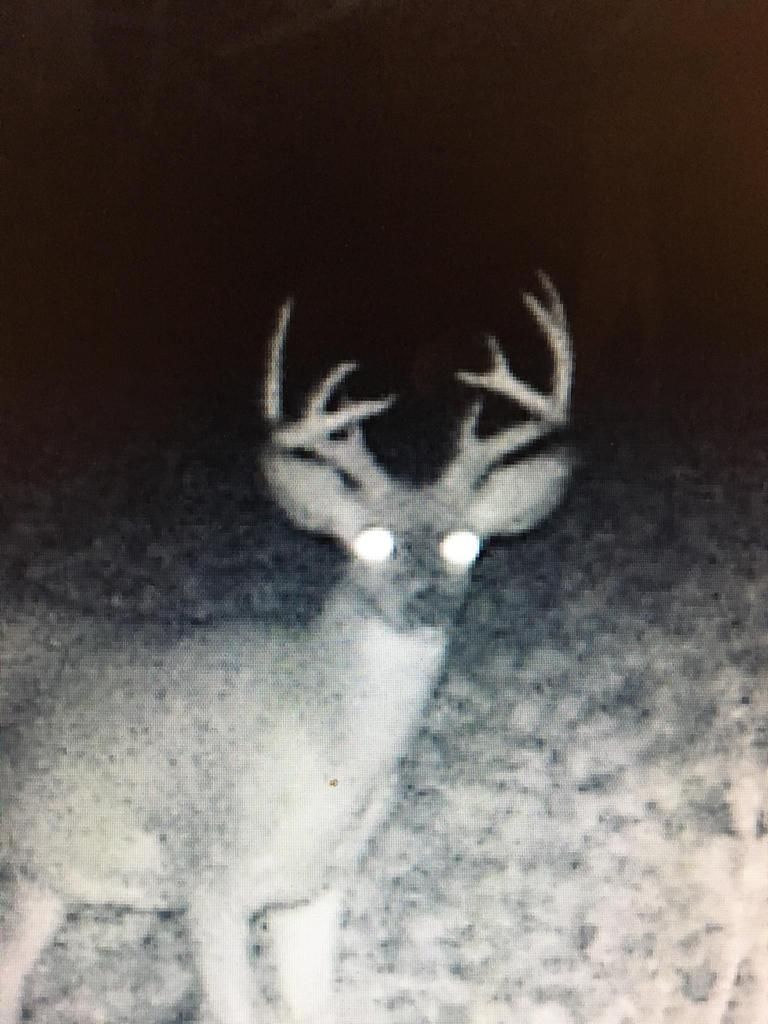 I started getting trail camera photos of him right away in the summer of 2015, he grew into a beautiful 6 by 5 with those same brow tines, I was not sure if he was 3 1/2 or 4 1/2 but I knew I wanted him. Again like the year before my first encounter with him was the first day of archery and again he was just out of my comfortable shooting range 40 yards so I passed in hopes of another encounter with him that season. I never saw him again until late January 2016 while hunting the same field edge in brutal weather conditions. Him and 5 other bucks were on a string feeding in the cut corn down the edge of the field heading right toward me when the goose hunters in the next property started sky blasting at some geese, Super Freak and 2 other bucks bolted out of there the other 3 could of cared less about the commotion. 2015-2016 Ohio tag soup again.
2015: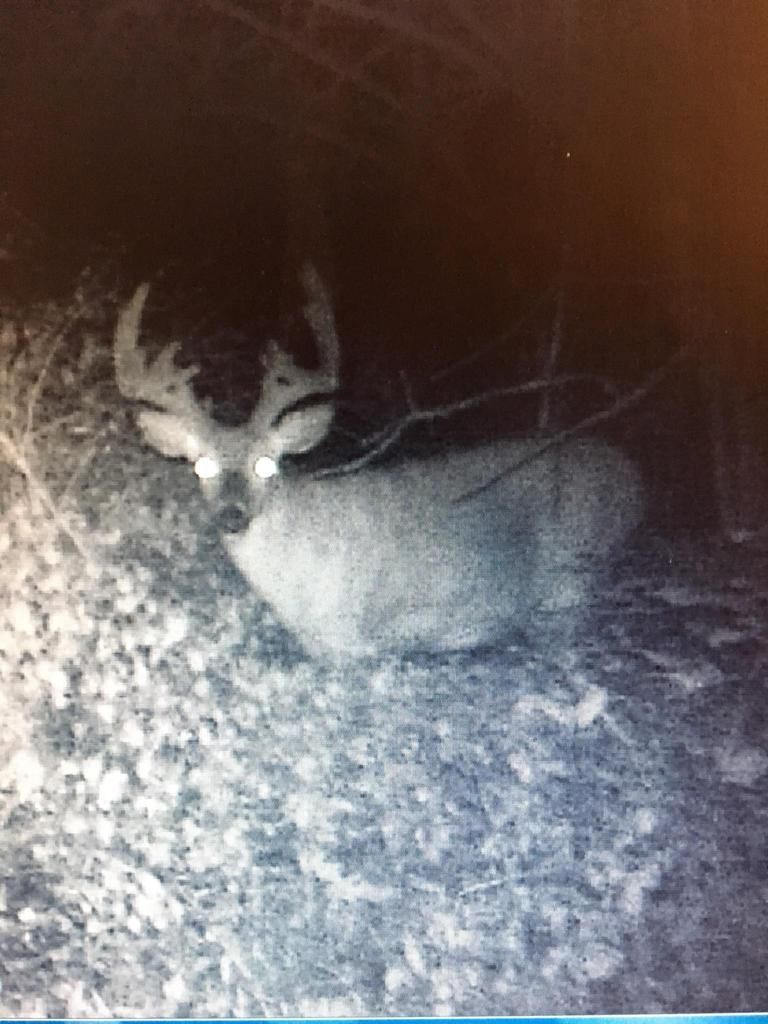 I really started pouring through my data from my 2014 and 2015 trail camera photos. I went back on a weather app and got wind direction data from every picture I had of him and a pattern emerged that he liked to travel on the property I was hunting with a SW wind. I searched and searched for his beds and antlers, I never found his sheds but I sure did find his beds. It was game on. He was bedding on a high spot over looking a long Beaver damn. From his bed he could watch the neighboring property as the hunters walked down to their feeders, those guys never stood a chance.
Because of the situation of where he was bedded I could not hunt him in his bedroom. I knew my best chance would be in November when he was searching for doe so I stayed out till then. I put 4 stands up in the spring of 2016 on trails near the beaver swamp as close as I could to where I found his beds and staging areas. I knew from trail camera photos that he used one particular trail twice during daylight in the first week of November 2015 season. He was coming off that bedding through the sawgrass and cattails and walking the transition of red brush and hard woods paralleling the beaver swamp from north to south. Guess that's why he liked a SW wind.
In 2016 he grew a double drop over his left eye: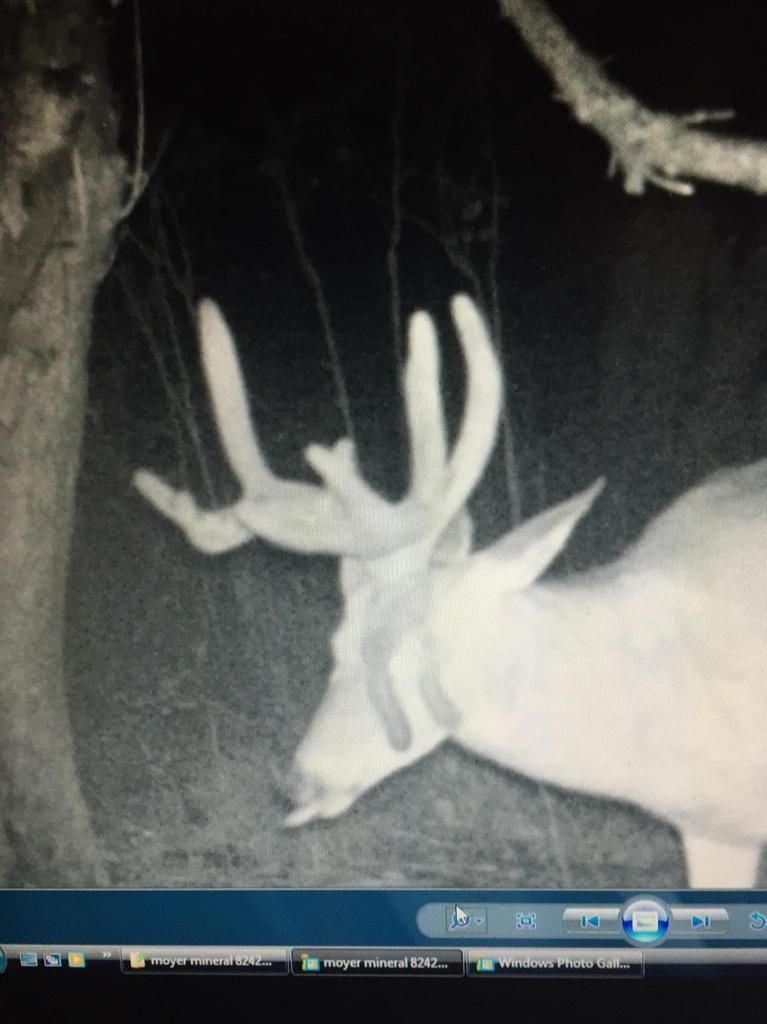 My first sit in there was November 5th, I had a doe and fawn bed in the red brush in the transition a real nice 9 point about a 120 came down their trail about 45 minutes later, I grunted him over to get a better look and decided to pass him at 8 yards.
November 7th at first light I saw the Super Freak for a split second in the heavy fog he was about 70 yards out. I called to him soft one time but he was on a mission. November 9th shortly after light I heard geese getting loud and then suddenly fly up out of the swamp, Super Freak was pushing a doe through the swamp towards me. They were only 50 yards away but in the red brush where it was very thick, they did not seem to be coming my way so I snort wheezed at him. I could not believe when he left that doe and headed right toward me. I had the wind, he was maneuvering his head gear through some thick stuff and walked right in straight at me. I had no lane where he was standing just yards away because it was so thick there I never dreamed a deer would come through from that direction. It looked like he was going to walk right by me and give me a easy shot but he was on high alert, when I drew the slide on my string guard made a slight noise, he looked up at me and had that oh crap look, he spun around walked to the doe and they headed out. They walked out on a trail that intersected with the trail I saw him on the 7th. I also saw that 9 point and those doe all go by the same cherry tree on the transition.
November 13th I went on there in the middle of the afternoon with my xop sticks and my lone wolf and hung them in that Cherry tree 70 yards from where I had been hunting, I thought to myself this is the tree, what were you thinking all along?!
November 14th came I had the SW wind I had the high pressure to keep my scent up and away from Super Freak I had the water thermal from the swamp working in my favor too. When I walked in I jumped the doe and fawn, they must have been feeding on apples because the doe ran to the north but the doe fawn ran to the south. I thought I may be screwed, boy was I wrong. About a hour after I got settled in the stand the doe that went to the North started blowing, I'm dropping milk weed constantly and I knew she was not blowing at me. I started hearing footsteps from the south and here comes a buck I call intruder he's a 140 8 point and he was going right for that doe to the North. I tried to call him over to me he was making a b line for the doe on a trail about 40-50 yards out. He started following the doe grunting she wanted none of it. Then I hear another buck grunt from the direction intruder came from and I see the fawn to my south about 50 yards out walking right toward me.
The leaves were dry I can hear deer walking all around, the fawn is coming right st me and I hear a buck behind her grunting and grunting walking toward her but I can't see him yet because it's too thick and out pops a 125 inch 8 point I knew well from trail camera photos, now all my attention is on him walking at me from the south but the whole time I can still hear the intruder buck grunting at the doe to my north, now I am hearing a deer walking through the water almost directly down wind but just off wind, the doe fawn is now skirting the edge of the swamp 20 yards to my east and the 125 inch 8 is following her about 25 yards behind.
All of a sudden I hear a deer come charging through the water in the swamp and start chasing the fawn in the swamp they make a half circle to my north east all I hear it stuff breaking grunting water splashing and here comes the fawn running right at me she stops right at the base of my tree towing Super Freak and the intruder buck, I lost track of what happened to the smaller one but it did not matter I have two mature bucks about to square off 10 yards from me the fawn is directly below me I draw and put the pin on Super Freaks vitals and shoot. He takes off and it sounded like deer were running all over. I watch SF go about 80 yards into the thicket moving real slow, my nock was lit and I was afraid I didn't have enough penetration. I watched him bed down. I sat in that tree 5 hours in the dark, staring at that nock and at the super moon that night, fitting I shot Super Freak on the night of the super moon.
I snuck out of there at about 10 pm just to be safe. I came back in the morning and found it was a perfect shot. The broad head was lodged in the brisket it just appeared there was bad penetration, He died quick.
He busted off half of his double drop off but I couldn't care less!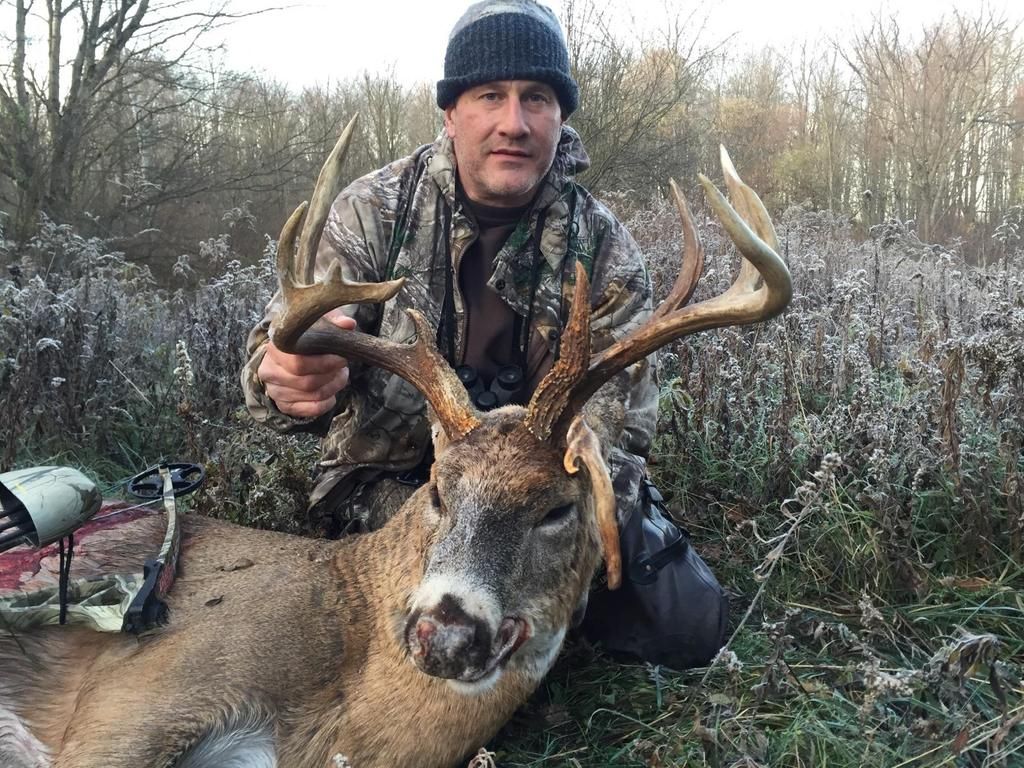 I've been back to scout and check trail cameras there a couple times since I killed him, the place just does not seem the same something is missing without him there. The good news is the intruder buck is still alive and well, this upcoming season my attention turns to him.
-Mike