"The Grinder" An Iowa Public Land Buck
I drew an Iowa 2013 buck tag and focused my hunting on two separate approximately 2000 acre properties. I scouted these two properties over the past two summers to get a feel for access and deer movement. I had never hunted these two areas, and the plan was to hunt fresh stands every hunt, jumping between the two properties until I had a feel for buck movement and hunter pressure. This is not a story about knowing a property thoroughly; this is about grinding it out until you kill a buck.
I started my hunt on November 1st, and before noon I had seen a spike buck, a few does and a nice ten pointer which cut below the ravine funnel I was sitting in. November 2nd I hunted the same property, but two ridges to the east. After setting up I saw two flashlights bobbing up the hill, I promptly turned my light on and the other hunters turned around and hunted elsewhere. I ended up seeing three different two year old eight pointers, one of which worked a couple of licking branches and made two scrapes twenty yards in front of me, it was a cool encounter. Monday November 4th I had my first shot opportunity at a nice eight pointer, probably a mid 130's buck. I decided to pass the shot. After he stopped in some brush I got my binoculars on him and regretted not shooting him, he was a nicer deer than I thought.
The rest of my hunts were incredibly slow, an occasional spike buck and a few does, no mature buck cruising at all. From November 1st through November 8th I did 7 all day sits. If I was going to go home without a buck it was not going to be because I wasn't in the woods hunting.
November 8th I finally had a mostly south wind which is what I wanted for this stand. I accessed the stand from the top, through a ravine. When I got perpendicular to my stand I cut up the hill. I had three does come through at about 5 yards before shooting light. About 12:30 two does came in behind me silently and the lead doe caught me moving. They didn't stomp or snort; they just turned around and left. I was really irritated with myself; I had allowed my mind to wander and was not in full predator mode. Had that been a big buck I would have blown my opportunity. This really focused me, over the next two hours the bow never left my hand and I never sat down. I did not want to get caught flatfooted again! Around 2:35 I noticed a buck cruising towards the northeast near the bottom of the hill. I gave him a grunt and he stopped, another grunt and he turned up the hill towards me. He stopped in my shooting lane, facing me, no shot. When he turned to leave I drew my bow. He was out of my shooting lane and I only had a small window to thread the arrow through, I bleated to stop him and pulled the release.
At the shot he mule-kicked and headed down hill and into the ravine, then silence. The shot felt and looked good, so I climbed down to look for my arrow. When I was tromping around I heard him run out of the ravine and up the other hillside. I watched him tumble down the hill and land with a crash in a large dead fall at the bottom of the ditch. Buck down!
I took a few pictures, gutted him and hauled my bow and stand back to the truck. It was going to be a chore getting him out of the ravine by myself. While I was walking back to the truck, I ran into two college students scouting for a hunt the next day. I asked them if they would like to make $50 cash each to help me drag a buck out. They said yes…….it was the best $100 dollars I ever spent. With three of us dragging we had him back to the truck in an hour.
Front View
Side View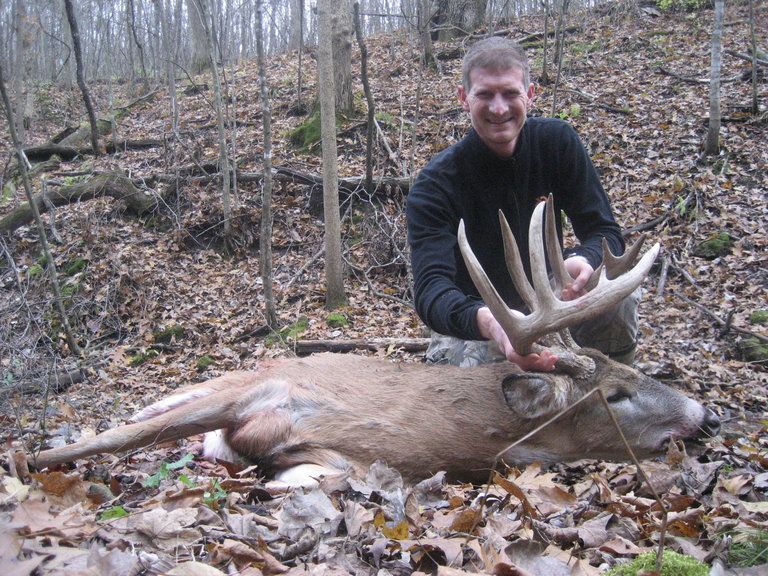 View from the stand.
Buck's view.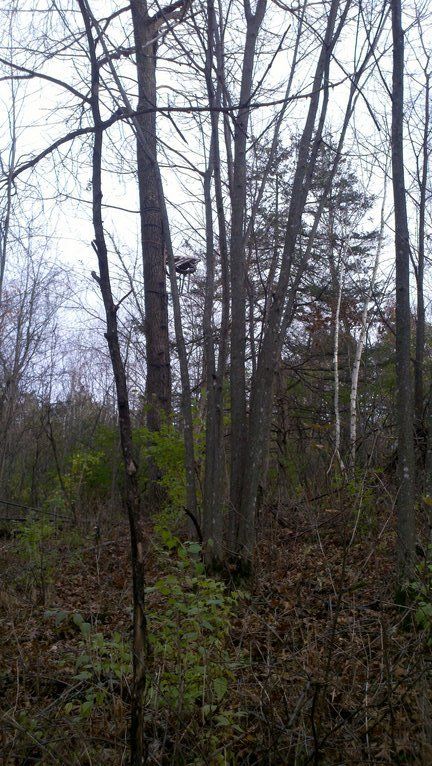 Rub on buck's trail.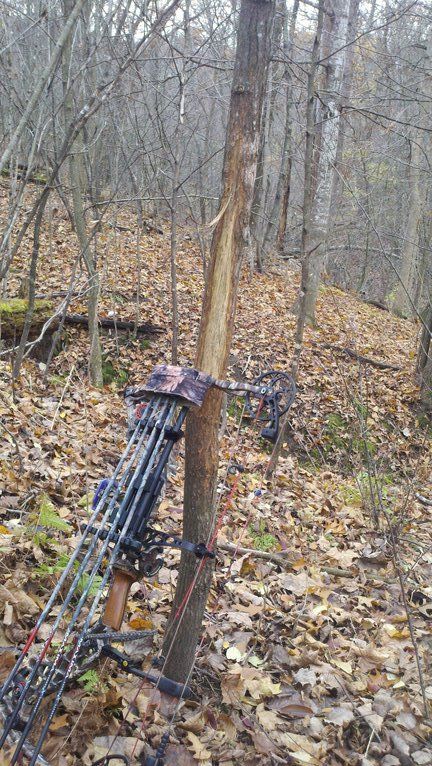 Where he died.
Aerial.
Red = wind direction. Purple = my access route. Gray = buck travel route.
Topo.
I was not successful because of skill, or any great knowledge I possess. I just kept on grinding, day after day, until I killed a buck. Sometimes that's what it takes.