I have been trying to maintain the "scouting more than you hunt" mentality this season. Two weeks ago I decided to check out a new area on the state land near my house. I told myself that I would just walk it until I found sign of a big buck that I thought was useful. I ended up walking a mile and a half that night until I started to finally find some sign and came upon a decent size scrape with some very fresh 3 finger wide tracks in it. I immediately set up a trail cam up in a tree overlooking the scrape, and also decided to hunt over that scrape that night since i was running out of daylight. I never did see or hear anything that night but I felt good that I had finally found some sign that seemed promising.
I finally came back to check the camera yesterday afternoon. I decided that if there was any indication of the scrape still being used, I would hunt near it that night as an observation sit, since i wouldn't have time for an alternative hunt. I approached from downwind and checked the camera. There were 3 different bucks hitting the scrape. I noticed that there was a noticeable pattern of bucks using the scrape in the early morning light, and that just about every buck using the scrape in the morning light was walking to the west of the camera, where I had already suspected bedding after viewing aerial photos earlier that day. Here is the buck I ended up shooting, he is working the scrape in early morning light headed west of the camera to go bed down. Camera is facing WNW.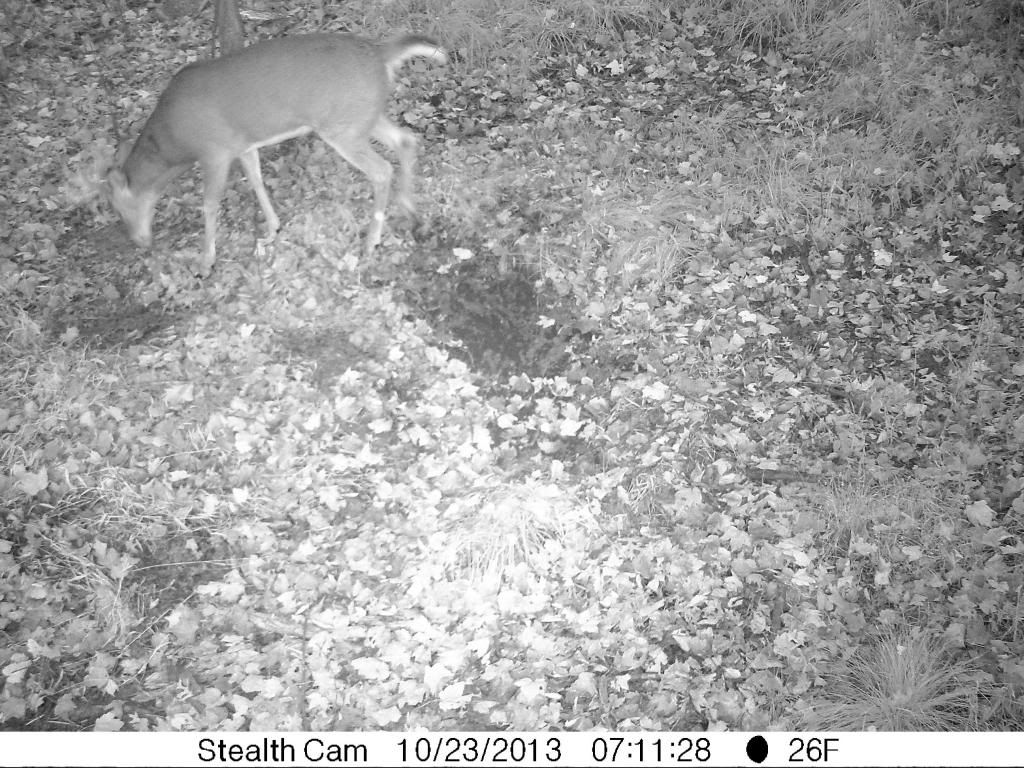 After viewing the photos of the bucks using the scrape in the early morning and headed west, I decided to walk west into the wind about 300 yds and I found a big transition area with 3 main types of cover coming together. I picked a tree, looked towards the transition, and saw another huge fresh scrape 25 yds away. Looked good enough for me to hunt. Set up the lone wolf and 20 mins later this 9 pt came in and was about to freshen the scrape until I drilled him thru the lungs and he went down within sight. I think he might be a 1.5 yr old buck but could possibly be 2. I am not sure? But he is better than any other buck I have taken so I could not pass him up. Even though he is not a really big buck, I feel like he is a milestone in my hunting career because I feel like I am hunting with reason now instead of going through the motions of my old habits. Anyways I had a blast hunting yesterday and I was able to have my brother, my girlfriend, and one of my best friends help me drag him out of the woods. I feel pretty blessed to have had such an awesome night.