I was fortunate enough to be able to go up to Kodiak, Alaska on a blacktail deer/Mt. goat hunt back in October. I have always wanted to hunt in Alaska and this trip was awesome! There were four of us including me. The first leg of the trip was from Minneapolis to Anchorage. We had a few hours in Anchorage before we were on our way to Kodiak. We arrived in Kodiak around 10 pm, gathered our things and stayed in a hotel the first night. The next day we organized our gear, purchased our licenses and a few other miscellaneous things before we headed to the dock to catch our float plane.
All of our gear sitting on the dock waiting for the plane.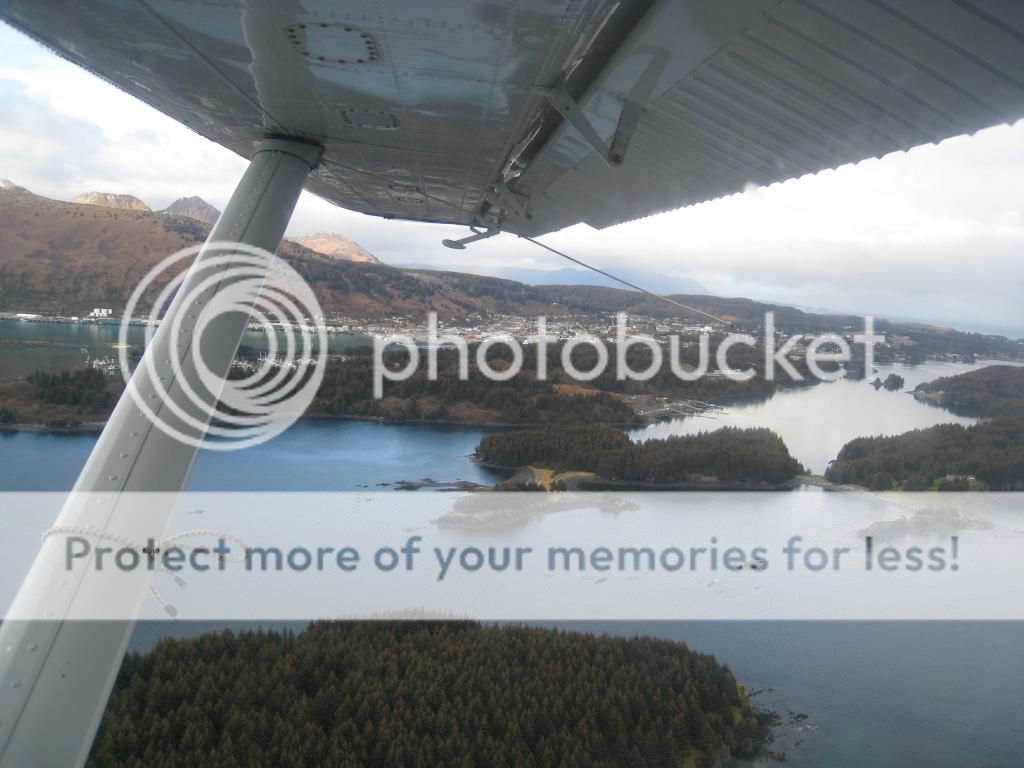 The town of Kodiak as we were leaving.
Once we arrived at our chosen destination we were pleasantly surprised by a camp cook tent. This turned out to be very nice because it was very very windy a few days. We set up the tent and situated our gear and ate some supper.
[URL=http://s830.photobucket.com/user/JeffBoo/media/IMG_0663.jpg.html
[/URL]
The pilot taking off to leave us in the bush for a week.
The next morning we split up into two groups. I went south looking for the mountain goats we had seen on the flight in the previous day. We hiked and hiked and hiked until we finally got to the cliffs we had seen them on the previous day but could not find them. We went out to the edges of the cliffs a few hundred feet above the ocean and figured they were hiding in some caves or tucked up tight against the cliffs. It was terribly windy that day.
We decided to head back towards camp and deer hunt on the way. We had seen a few does and smaller bucks on the walk out. About half way back to camp I was just cresting a peak and noticed a buck feeding ahead of us. We stopped and watched him awhile and I decided I would like to try and get closer for a shot. So I dropped down on the side of the mountain and hustled toward him. When I got to the saddle he was below I dropped my pack and grabbed my gun and snuck towards the top. As I peered over the edge I could not find the buck. I looked and looked. So I dropped back down on the back side and went a little farther. When I looked over the top this time he was feeding 60 yards away. I got my gun up, aimed, shot and he dropped. And then he started rolling and rolling and rolling. He wouldn't stop! Finally, about halfway down he stopped. We went back and grabbed our packs and then went down to him, took a few pictures and cut him up.
My first blacktail!
After that work was done we headed back to camp. As we neared the top we stopped for a break and looked back down the mountain. There was a group of does staring at what was left of the buck.
We made it back to camp a little after dark and were ready for a warm meal.
We decided everyone would go hunt the direction we went the first day since we saw quite a few deer on the way back the first day. So we packed up our sleeping gear, enough food for a couple of days and the two small tents we brought and headed south. We again split up into two groups when we were about halfway to where we were going to set up our spike camp.
This fox was curious what we were and decided to come and check us out. He came to within about 6 feet of us.
After glassing all afternoon we had a plan for the morning and went and set up camp.
The next morning we woke up to 25 degrees and frost all over everything. It was a little chilly in our mesh screen tents!
Since we were halfway to the mt. goats at our new camp two of us decided to go and see if they were more cooperative. As soon as we got to the cliffs we spotted a goat. It was a nanny and her two kids. We again searched the rest of the cliffs but could not find any billys.
This nanny and her two kids were the only goats we saw.
View of the ocean while taking a break.
After exhausting the goat search it was back to deer. We dropped down to the bottom and started glassing. There were lots and lots of deer from a few hundred yards away to miles away. We found one that looked good and the stalk was on. We got to about 120 yards away and since I shot first, it was my brother in laws turn on this one. The shot was good and there was no tracking involved. We took some pictures and then started cutting. After everything was de-boned we headed back to spike camp to meet the other guys. They had seen lots of deer that day but hadn't shot anything.
The next morning found us glassing the same area we had been in the previous night. I spotted a couple of nice bucks a ways off and decided to go closer for a better look. It appeared one was in full velvet. As I got closer it indeed was in full velvet. I have always wanted to shoot a buck in velvet! So we dropped our packs and the stalk was on. As was approached the 120 yard mark I set up and waited for a good shot. I took the first good shot and he ran a few yards and was done. So we got busy cutting it up and packed it back to the spike camp.
My first velvet buck!
The other guys had also had success that day and we shared stories back at camp while eating.
The fourth morning we hunted a little around the spike camp and then packed it up and headed back to the main camp. On the way back we spotted a nice buck and two of the guys put a stalk on it and got it. So we cut it up and hauled what we could back on our already full packs.
The fifth day was a pack out day. Three of us headed back to where we had left all of the meat and heads by spike camp. We loaded up all of the meat and heads and made the long journey back with heavy packs! The fresh backstraps tasted excellent and the camp mat felt even better that night!
The sixth and final day we could hunt found us headed north. We split up again into two groups. Two of the guys had one deer tag left each. We walked a couple of miles without seeing hardly any deer and wondered if we had made the right decision about going this direction. We kept walking further and further and finally found some deer. Both guys were able to fill their remaining tags the last day. We were getting pretty good at cutting the deer up and packing them out!
Last pack out of the trip!
We made it back to camp and had a big supper! It was a great trip and seemed like it went so fast. The weather was beautiful! It rained early one morning while we were sleeping and that was it. I never saw a bear. Two of the guys saw four, but they were miles away.
The last morning we were up early and ready for the plane to pick us up at 9-9:30 am. It finally arrived at 1 pm. We loaded our gear up and were headed back towards civilization. Once in Kodiak we headed to the laundrymat for showers and some clothes washing. The warm shower was great! We grabbed a bite to eat and got on the ferry to Homer.
The plane to pick us up.
In Homer we were able to go fishing one day before we had to head home.
Black Bass