For Magicman:
I want to start out by thanking Ben (Goober) and his Mom and Dad for inviting me to hunt and letting me park my camper at their place. Ben hunted hard to get me on birds. Ben really knows his turkey hunting and I learned a lot.
Our first day out we hit several spots before we hit pay dirt. We were approaching an open meadow on a woods trail and Ben thought it would be a good idea to set up and call before entering the field. We setup on the "stump chair" and set out a hen decoy. Before we were set up a turkey gobbled from the field. We hurried to get set and Ben started calling. A while later 3 jakes came down the trail. They froze up after they saw the decoy. Ben told me they were within range and I could shoot as soon as they split apart. After a few tense moments they turned to leave and split apart. The shotgun barked and the rest is history. My first turkey. A jake but I was as pumped as if I just killed a trophy buck. We paced the shot off at 50 yds. Ben videoed but was in a bad position to get good footage. I will try to get it on line if anyone wants to see it.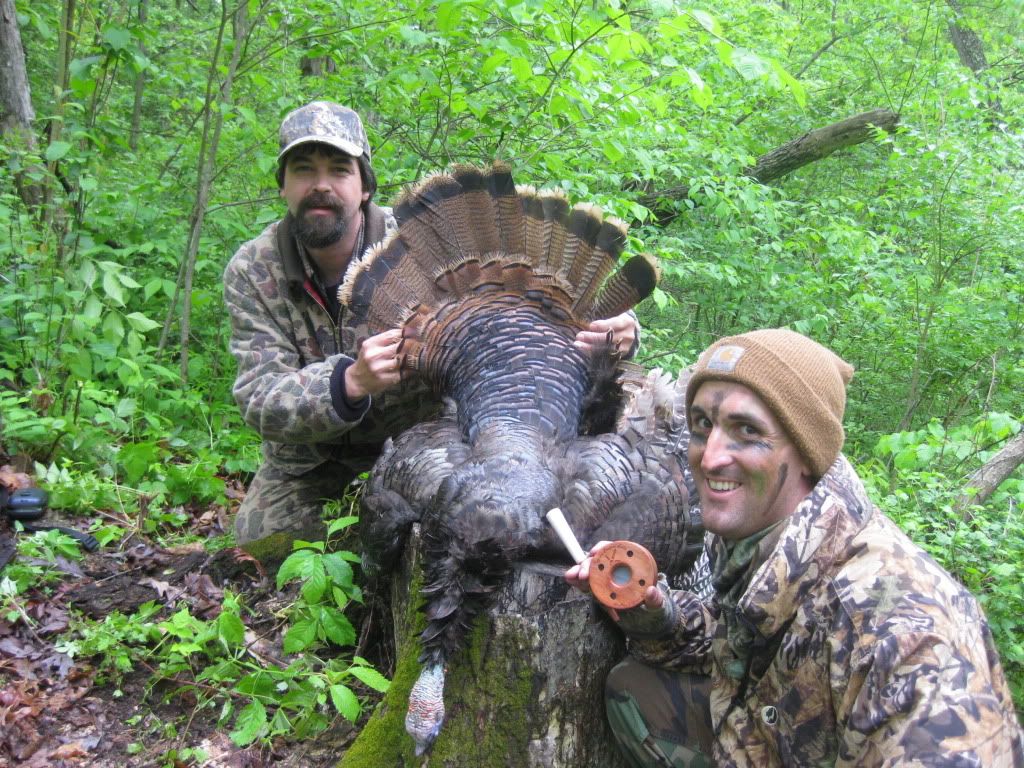 Ben suggested that I get another tag and try again. We did some trout fishing and registered the bird and picked up another tag.
Thursday didn't go quite as well. Ben's alternator went out so we headed home and switched gear to my truck.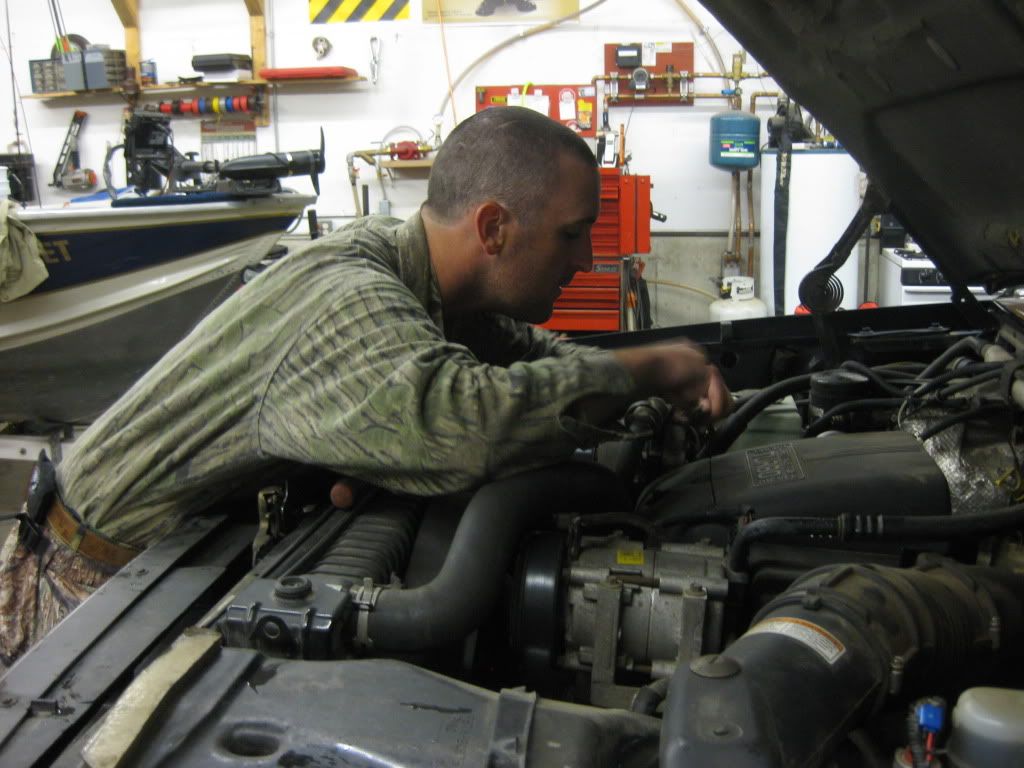 We didn't have a lot of luck with the turkeys. Hard rain from the night before ruined any chance to fish trout.
Friday Ben started the morning with his bow and I switched to cameraman. He called a hen and she came in from behide and gave us quite a surprise. Later we checked out another spot and I was back behind the shotgun. We came close on one tom and watched a flock for a while but couldn't get them to respond to calling.
Ben had to take care of some business so I hunted by myself the rest of the day. I hunted a meadow on top of a bluff. I spotted a tom strutting on the ridge top. He was with a jake and a hen. As soon as they dropped over the back side of the ridge I backed into the woods and moved in on them. I belly crawled to a deer hunting ground blind on the ridge top and peeked over the other side. The birds had moved out of sight so I put up my camo netting and got set up. They came back out and moved around the field for 4 hours. This turkey hunting is a roller coaster of emotions. Here they come, there they go, will I ever get a shot? Just about the time I thought it was going to happen they would turn and go the other way. After a while I learned to just relax and enjoy the show. After 4 hours of this they finally headed my way. They got out in front of me and the hen turned to go back. They were a ways out there but I knew it was now or never. I poked the barrel out of the netting and pulled the trigger. He dropped right there. I paced it off at 57 yds. He had a 10" beard, 7/8" spurs and weighed 21 pounds. I got a lot of footage but couldn't get the shot on film.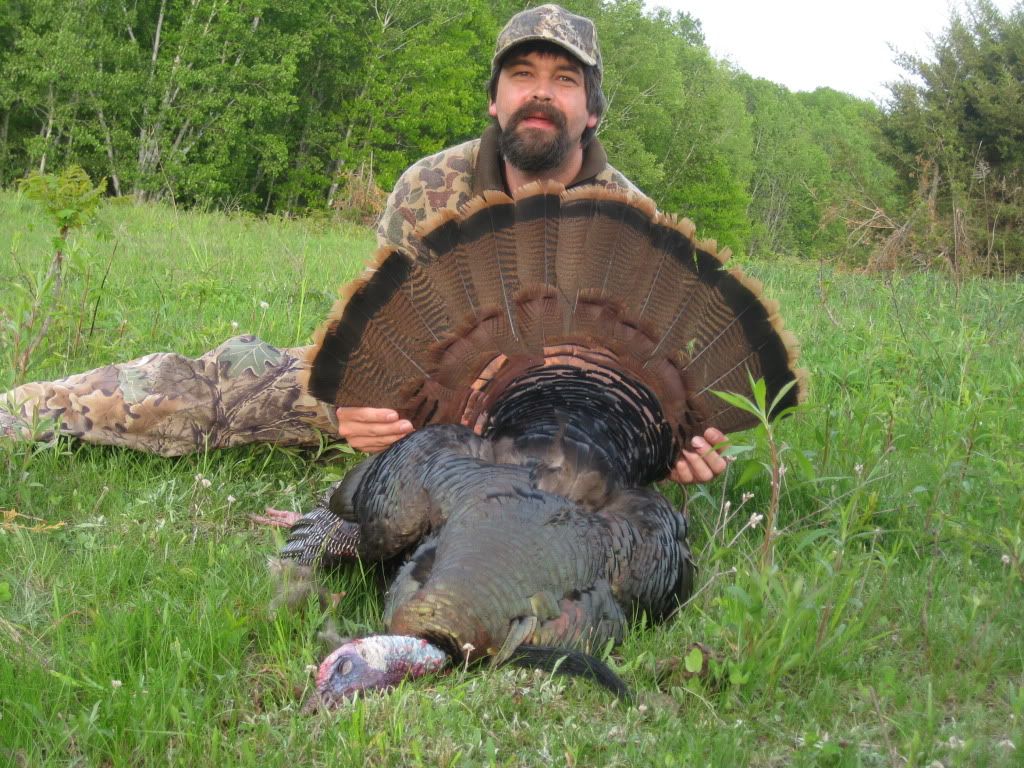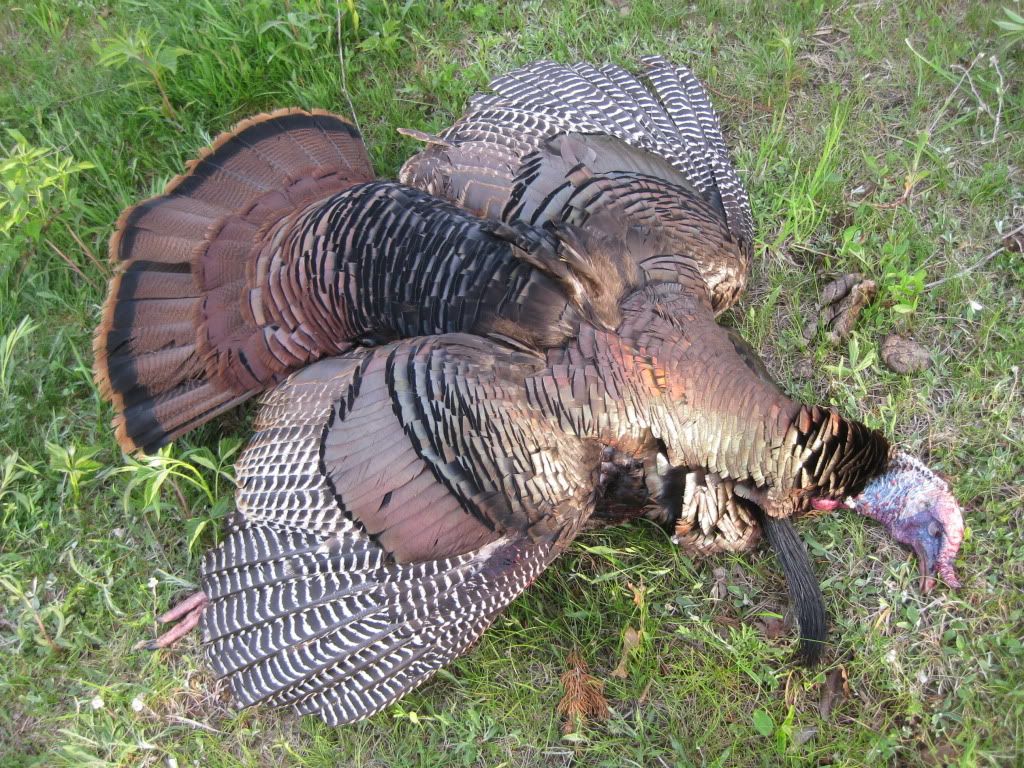 One night Ben made us a meal of grilled wild pig, morel mushrooms (we found about 5 pounds), and soup with morel pieces. Saturday night we had deep fried turkey and trout for supper.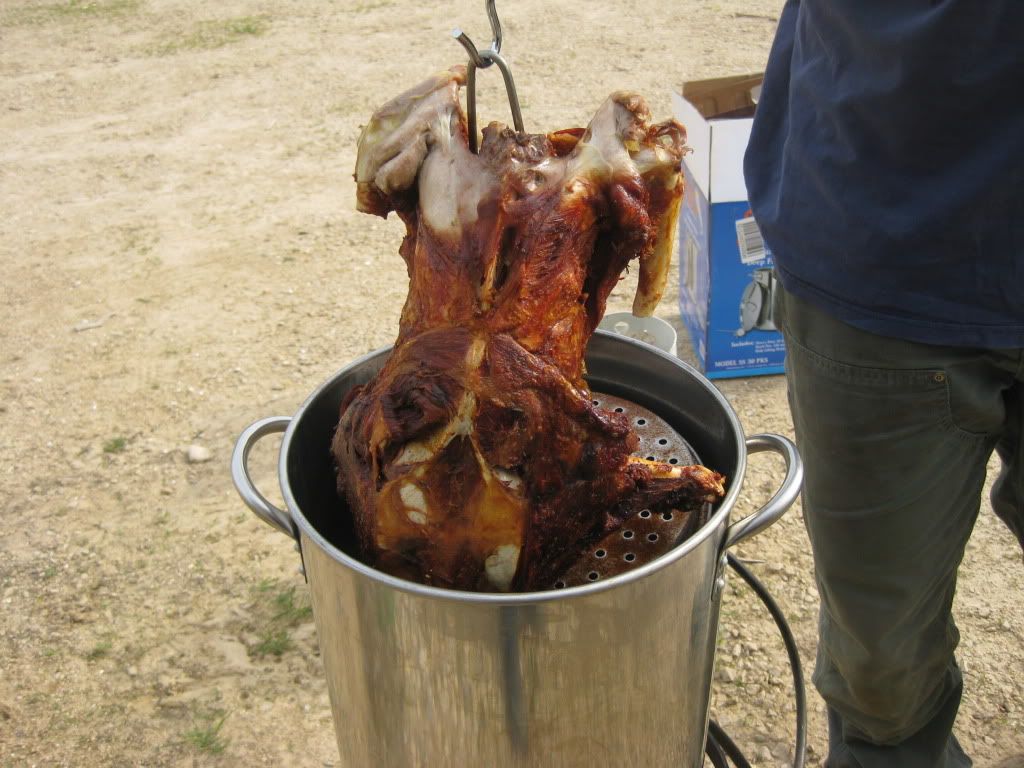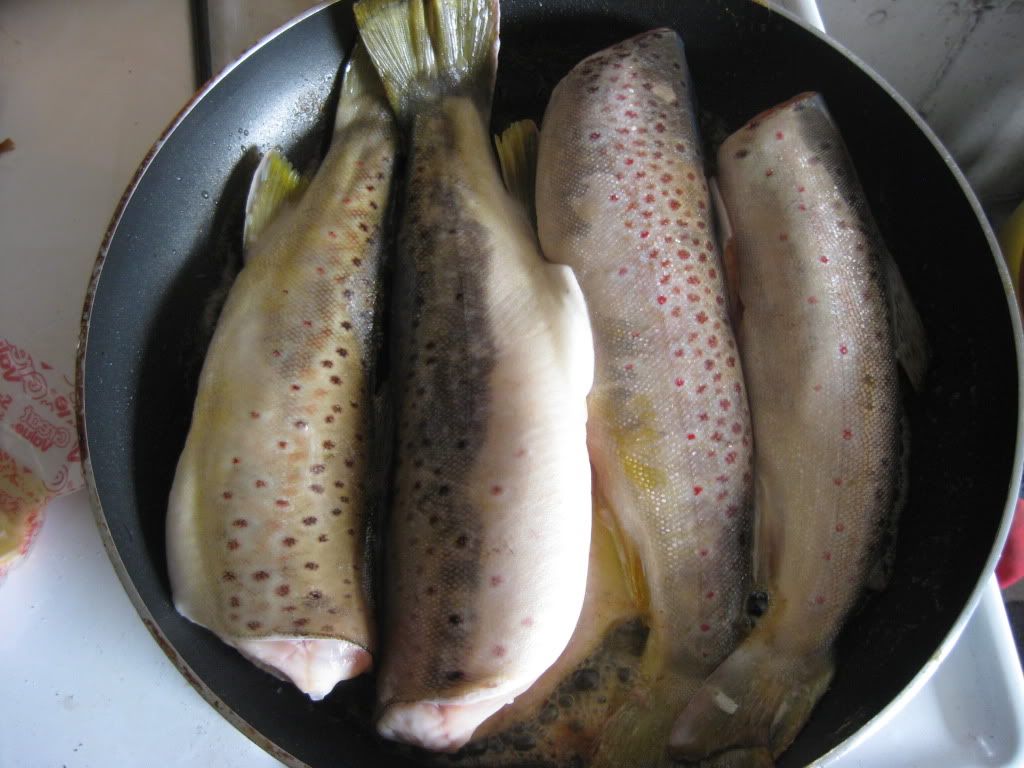 Ben just started trout fishing and I think it's safe to say he's hooked.
Trout fishing commando style