500 Club
Posts: 1154
Joined: Wed Feb 17, 2010 11:10 am
Status: Offline
03/29/10
Sunny
57 degrees outside temp
water temp 50
fished from 9am until 11:45am
20 browns to hand.
Nothing large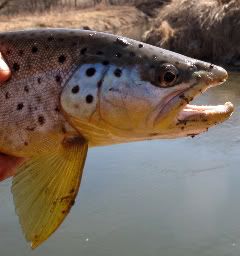 Site Owner
Posts: 39054
Joined: Sat Feb 13, 2010 6:11 am
Location: S.E. Wisconsin
Status: Offline
500 Club
Posts: 4158
Joined: Fri Feb 26, 2010 6:05 pm
Location: central and northern WI
Status: Offline
Nice catchs Len. I'm interested in your thoughts on how beaver dams effect trout streams. Maybe if you have time you could start a new post on the subject. Things such as long term, short term, How it might effect trout numbers and size. Does the waterflow change effect the food base in the stream? What about water temp or quality? Maybe the different effects (if there is any) between brookies and browns. Thanks
500 Club
Posts: 1154
Joined: Wed Feb 17, 2010 11:10 am
Status: Offline
03/31/10 outing
18 browns to hand ranging from 2 inches to 17 inches.
Outside temp at 8:30 am was 56 degrees
Outside temp at end of outing 66 degrees
Water Clarity good.
Water temp at 8:30am 50 degrees
Water temp at 10:30am 56 degrees
Trout shut down when the sun got high in the sky.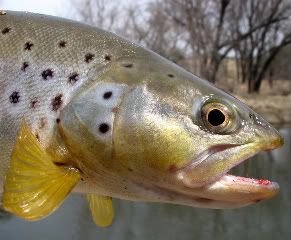 Site Owner
Posts: 39054
Joined: Sat Feb 13, 2010 6:11 am
Location: S.E. Wisconsin
Status: Offline
I love the way every one of them looks a little different with the color patterns
---
Users browsing this forum: No registered users and 0 guests