I don't quite have access to bear hunting, I've always heard that pigs were the "poor mans grizzly" so I guess that makes these guys the "poor mans pig"?
Anyway, yesterday started off pretty normal until my coworker shrieked. I immediately knew what was going down and in no time flat rounded up some bait and went to work. Within a few hours I had my first "poor mans pig" of the year. You can see by the gray hair that he is immature, yet he's still a trophy to me.
Well, that was yesterday and today is today. I was ironically checking out "The Beast" when I noticed movement in the chest wader area. Sure enough this cagy rascal showed his face during daylight hours. Being patient I allowed him to return to his bedding area under the file cabinet. Once he had settled in for a few minutes I grabbed a few buddies and we executed a perfect drive. I flushed him into the open and my buddy put a boot stomping on him, it was a great hunt full of comaraderie and primal man like things. Again, this one also has the gray fur which is indicative of a young "poor mans pig" so we are genuinely hopefull that we will get a crack at the brown back fur one within a few days.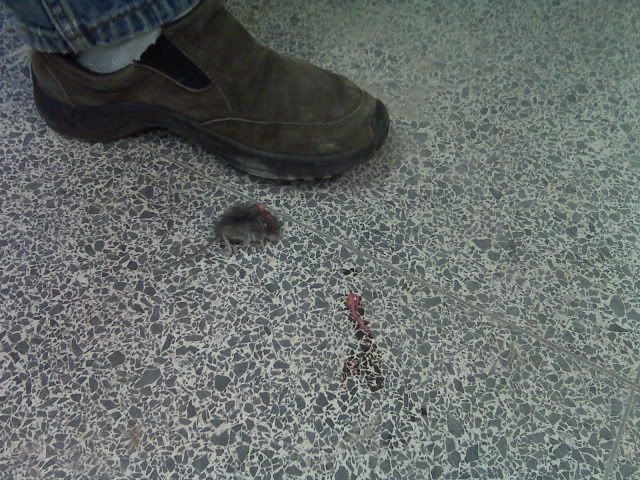 Again, I'd like to throw a shout out to the state of Iowa for allowing us to enjoy such a grand game species as the "poor mans pig". What was especially enjoyable was the fact that this entire two day hunt was on public land here at the state hygienic lab, and I'm not even kidding.