A good buddy of mine Steve and I have been trying to get a free day to head for the turkey woods since the late season started here in MI in the beginning of May. With schedules and commitments and the season winding down, Friday 5/27 was going to be the only day we both had to hunt.
The plan was that after work on Thursday 5/26, I was going to head up to the cottage and try to roost some birds. Steve had a late doctor's appointment and after he was done to packup and meet me at a local watering hole about 9:30 pm. Over a burger and a couple cold ones, a hunt plan came together for the morning. Had a couple of birds roosted on a creek bottom and we were going to setup on a field not to far from the roost site.
This would be Steve's first ever turkey hunt....he's a newbie, so he doesn't know quite what to expect. The morning is clear and cold, little wind, a perfect morning for turkey's to be talking. As we head out into the field, we pause, and use a owl call. Instant responce from 3 different toms...I can see Steve's eyes light up....tell him this should be fun. We setup, and the toms are responding to every call...box, slate, diaphram, didn't matter...they were heading our way. Well as the birds approach the field, we have a hen start talking about 80 yards to our left..she's out in the field, as we see 2 jakes, and a longbeard meet her in the field. Crap, beat by the real deal...they move off...i'm giving them some soft hen talk....and the longbeard and hen disappear. But we strike up some interest in the jakes... the jakes hangup at about 60 yards...put on a great show, strutting and gobbling, but just won't commit. We call it a hunt at about 10:30, and go have some breakfast.
Steve and I talk about the morning hunt...this turkey hunting is something else,
Steve says....sure beats sitting and waiting for something to happen. The afternoon will be doing some run and gun, seeing if we can get something going. It's getting warm, so we travel light...as we are walking and calling I ask Steve if he's every tried morels. He tells me that his wife and kids love them, but have never been able to find any. Well, were in the right kind of woods, hardwood...ash, elm, and maple and we should keep our eyes open.
No more than got the words out of my mouth...and look down and spot 2 white morels.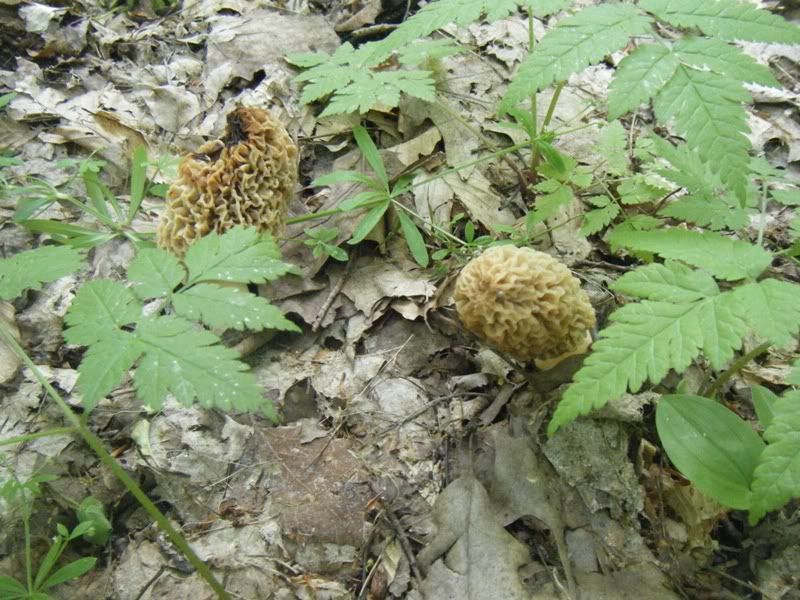 So now the hunt plan changes to morels...Steve's on a mission.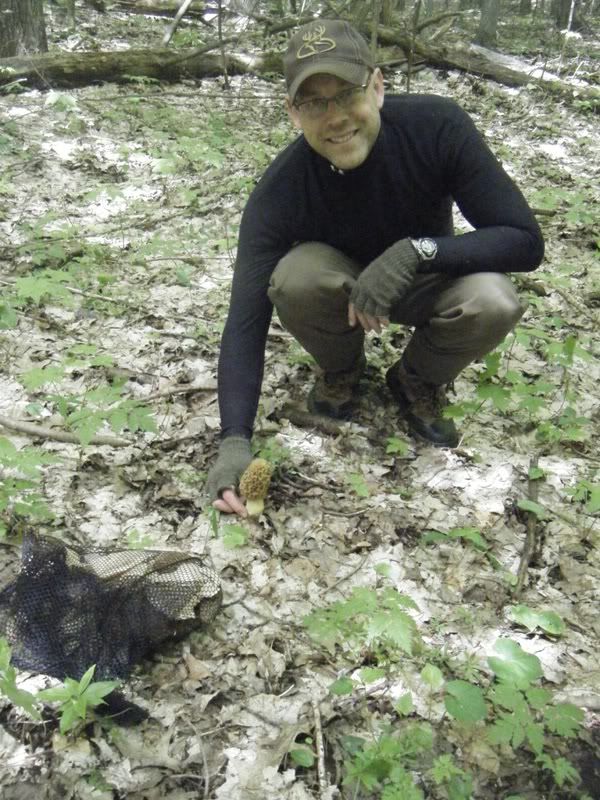 Couple more...looking good.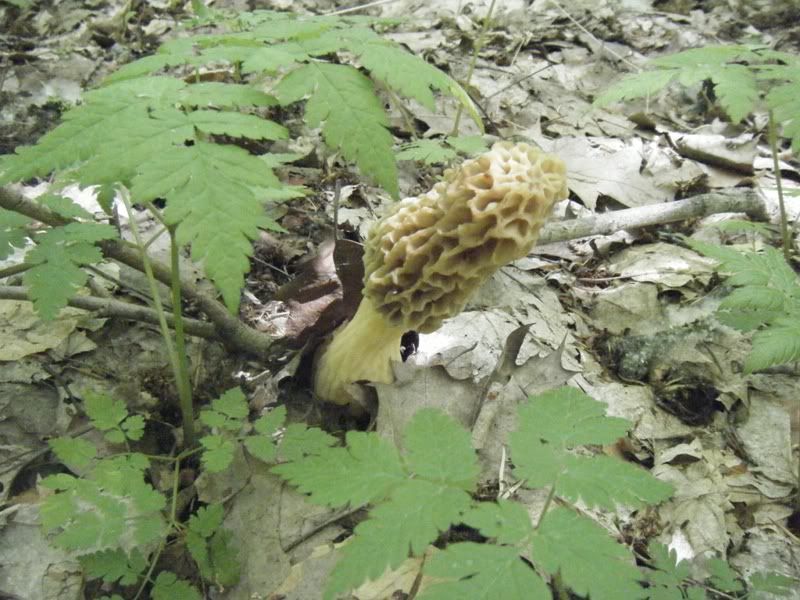 Steve...with the largest one...a bigfoot.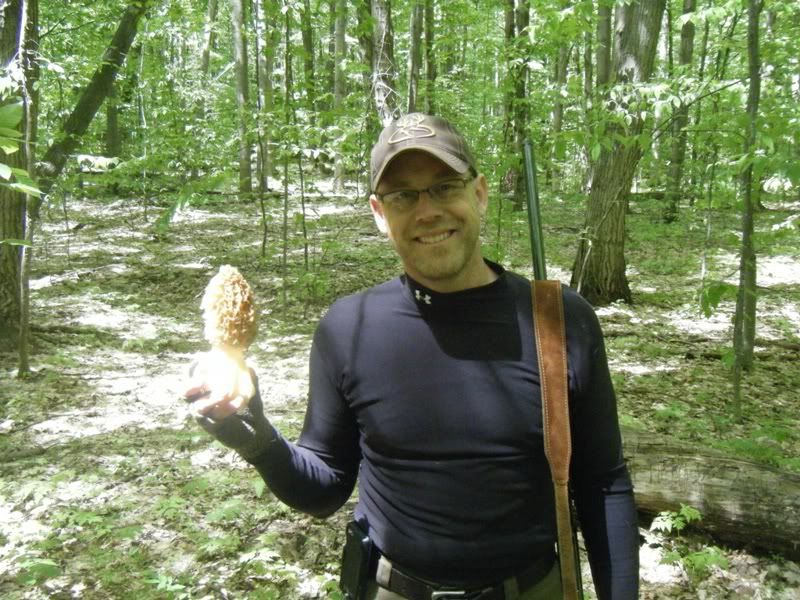 In a couple of hours of searching we find a few more morels, and a nice batch of oyster mushrooms, a fine meal. Steve has plans so he needs to be back by 6 pm, so we start heading back to the truck...calling here a there...and looking for mushrooms. We are about 300 yards from the truck....working down a trail there is a small opening....and I spot a turkey. Steve and I kneel down, scan with the binoculars....2 hens and a jake. Steve setup behind a tree...I give a couple soft hen calls... the jake's head pops up, looks right at us, and lets out a gooble. I can see Steve has the gun shouldered, and the barrel is wavering around...can here him breathing hard. The jake is commited to investigate this hen...I tell Steve, he's in range, take him if you want him. Boom....Steve jumps up and retrieve's his first turkey, and the woods dance begins...we probably looked liked 2 old fools.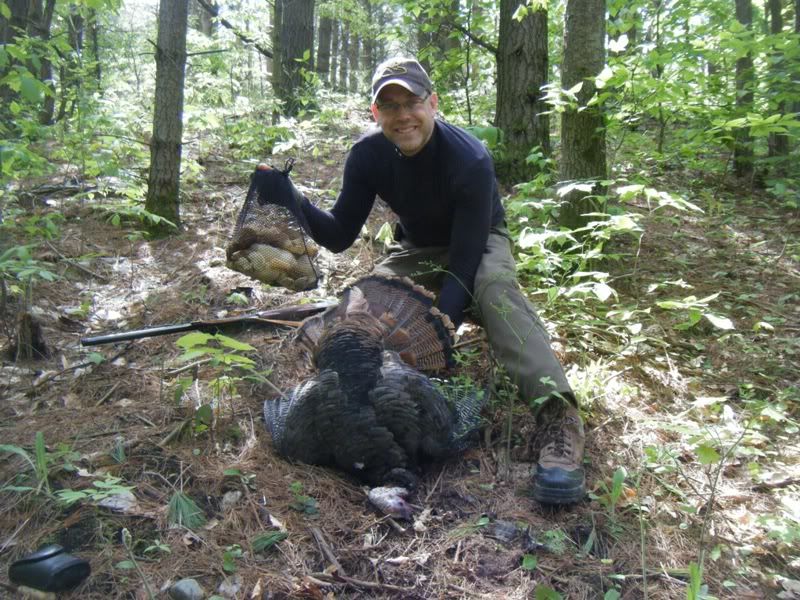 It was a fine day in the turkey woods.