Last Saturday and Sunday, 4-30-11 and 5-1-11, Dan, Magicman and myself went scouting in search of big woods beds and deer activity. I knew it was going to be a learning experiance for me and was really looking forward to the time with both of these grizzled veterans.
We selected areas I was somewhat familar with and went over some topo maps before heading out.......all "spots within a spot" that looked promising to Dan and Magic were locations I spent little to no time in before hand.
Previously guessed we would be spending all day walking but with these two who seem to be part deer, "a walk in the woods" is a whole new defination.
........Yeah, my legs and feet still hurt.
Dan offered me a ride on his dinosaur scooter but I declined as we both together would be over the weight limit.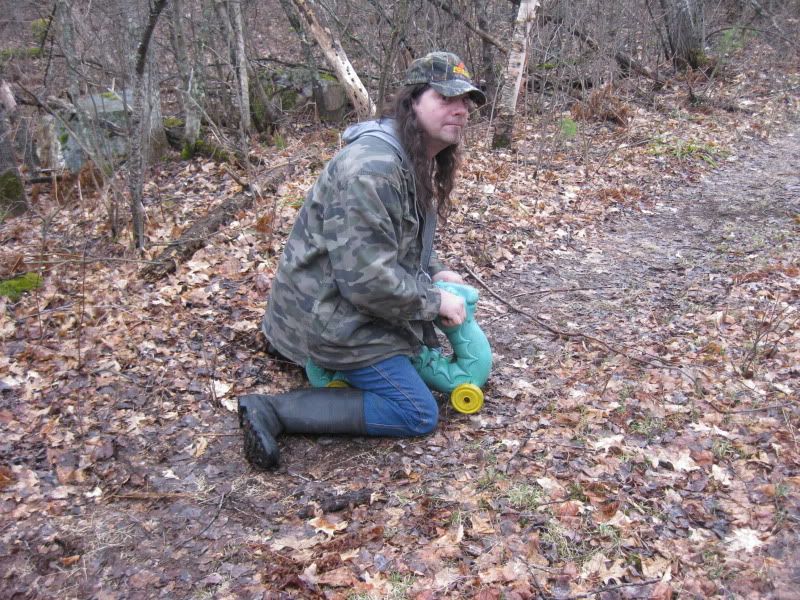 Magic kept yelling for help as he knew Dan and himself couldn't drag my fatbutt out if I had the big-one in front of them.
From previous years hunting and trail pictures knew the areas held some respectable bucks, but I always had difficulty nailing down EXACTLY where they bed. Well we found some prime locations and as every hour ticked by the light bulb kept getting brighter and brighter in my head.
The whole idea of finding the exact location of a buck's bed never was so true. We would find the bed or beds and then the staging areas or entry/exit routes into the bedding. The staging areas where typical of what I would find on my own but how I would hunt them was basically a crap shoot. Previously I would place my stand, keeping wind direction in mind for the staging area and where I guessed the buck would bed. Well, this was/is a mistake as the trees I would choose might be fine once the deer was physcally in the staging area, but might be 100% wrong for where the buck bed is located. It really made sense after seeing it first hand in the woods........ all my years of hunting I could have blown the hunt before I even climbed the tree because my scent would be blowing right to the bed. Even if I was "right" in my stand placement, in part, probably was because I was too far away from where the buck beds and walks in daylight. I would be long gone from the stand before the buck would make his way to the area and the game was over because of finding my ground scent from just being there a few hours ago.
To hunt a big buck you have to be close, allmost on top of, where they move in the daylight......which is where they bed.
I can't stress enough how critical it is to know where that bed or beds are in relation to his entry/exit routes and/or staging areas. Knowing the exact location of the bed also will give you the advantage for entry and exit into your area to hunt......another thing I was crap-shooting on. Previously would take my best guess and go for it. I seen deer in the past.....lots of them.....but pretty much because mature bucks don't bed where the does and little bucks bed. Where those big bucks bed is right where most humans/predators would approach an area......it all just makes so much sense now putting all pieces of the puzzle together.
Couple pictures from Magic's camera.......mine took a crap/I broke it.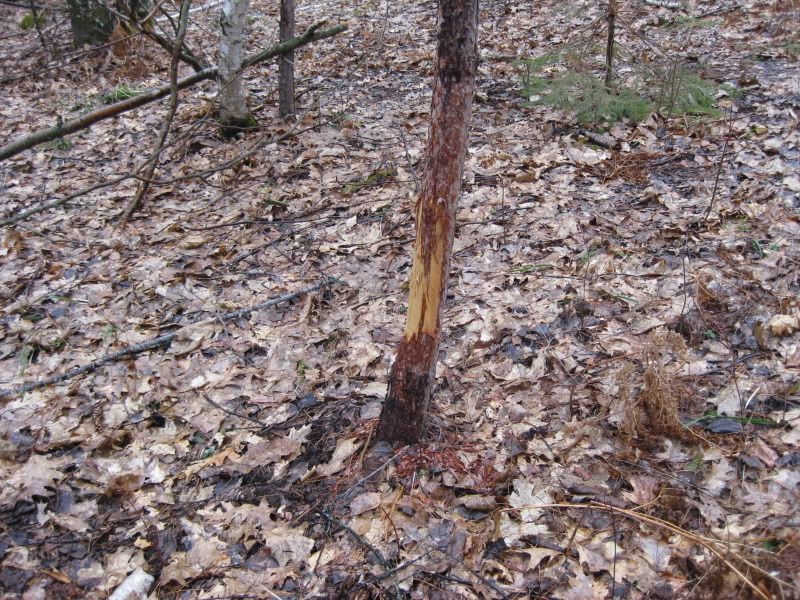 Dan even met a few new friends in the woods.....he is quite the friendly guy but I don't know about the monkey.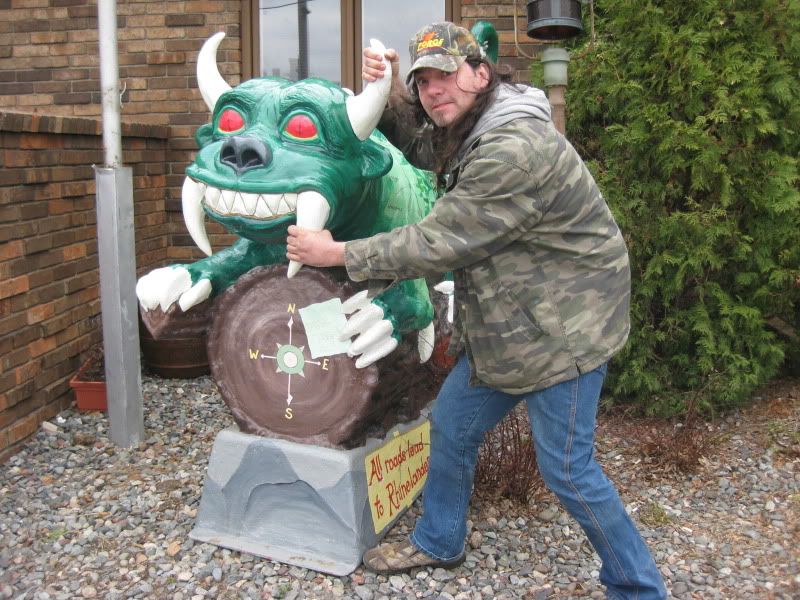 In closing, what I learned first hand this weekend would take a few years for a guy to apply himself after reading "it" here on the Beast. This weekend was time well spent and I thank Dan and Magic both for coming up and sharing their knowledge.