Sorry fellas - this post is overdue – time has a way of getting away from me still! It was supposed to be mostly photos but I couldn't resist writing quite a bit here and there…
I scouted and prepared for deer season over the course of this year much the same as I have the last couple – not nearly as much as I used to in the years before that, but will take what I can get. Two little kids and a demanding job doesn't leave a lot left over for hunting, and as much as I love it, I will not let that take away from those other two priorities in my life.
In mid-September I and two others headed to a general unit in WY after elk, first elk trip since 2016. Having only hunted CO over the counter units before that I was curious how WY would compare. Where we hunted there are more elk but also more hunters. It was hard to get away from the pressure but I had picked out a number of areas on maps and a couple of them turned out to be pretty good. Regardless, the country was beautiful - aspens were not turning yet and plenty of smoke from nearby fires in the air but still really pretty!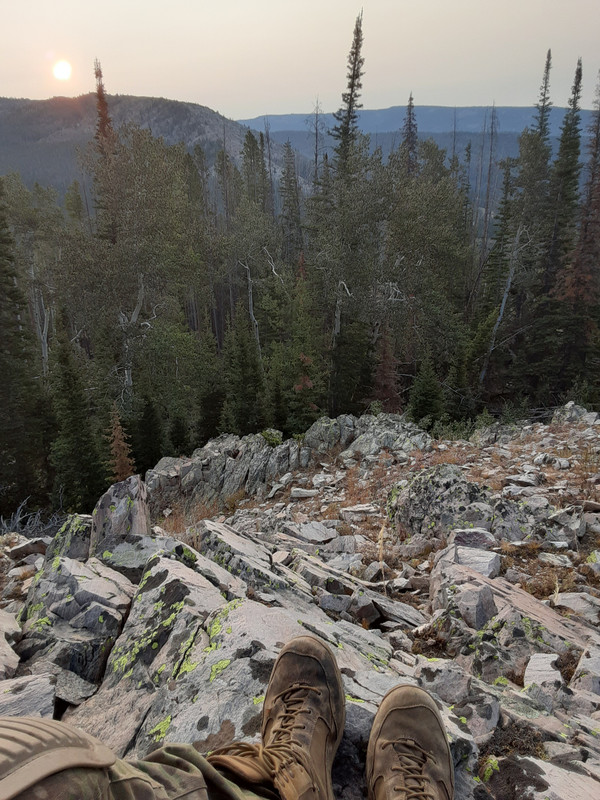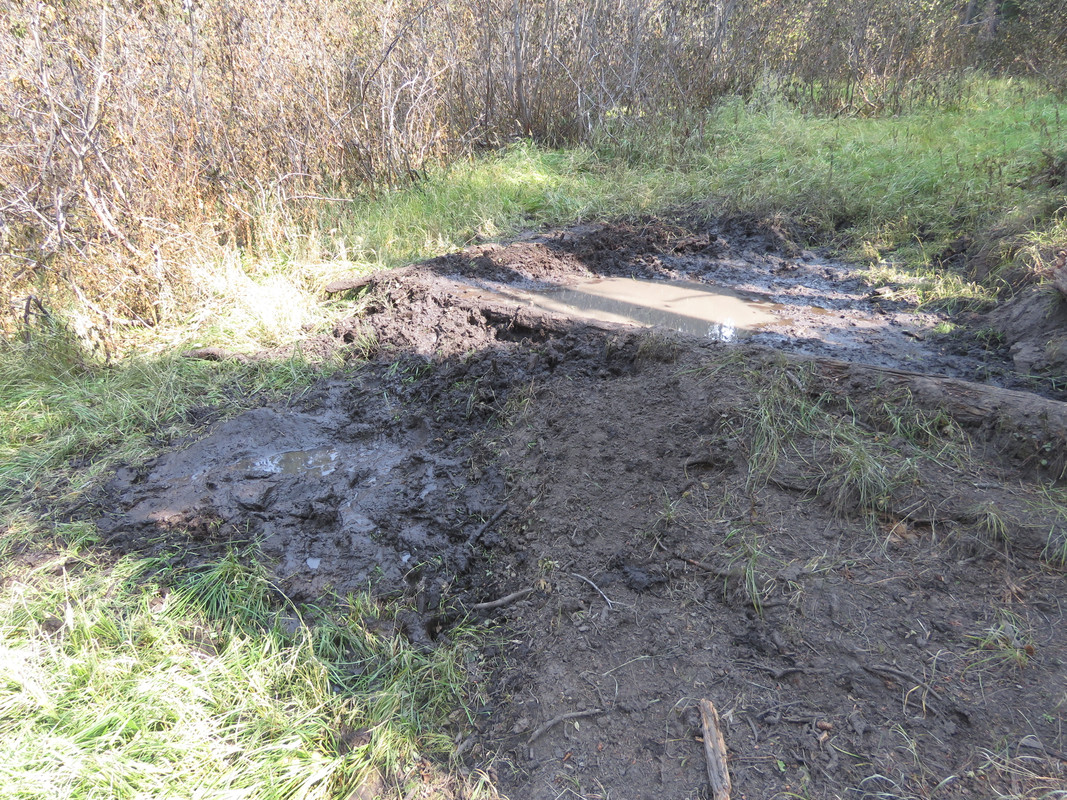 On the first full day hunting I got a split second opportunity at a spike bull and I took it without hesitation. Might seem strange to some, waiting this many years to hunt elk again and only shooting a spike, but I wanted to make sure we came home with meat, and if I didn't have to worry about my tag, it would be easier to concentrate on helping the other two get a chance, neither of whom had shot an elk yet. My arrow hit its heart at 35 yards and the bull was dead 40 yards later.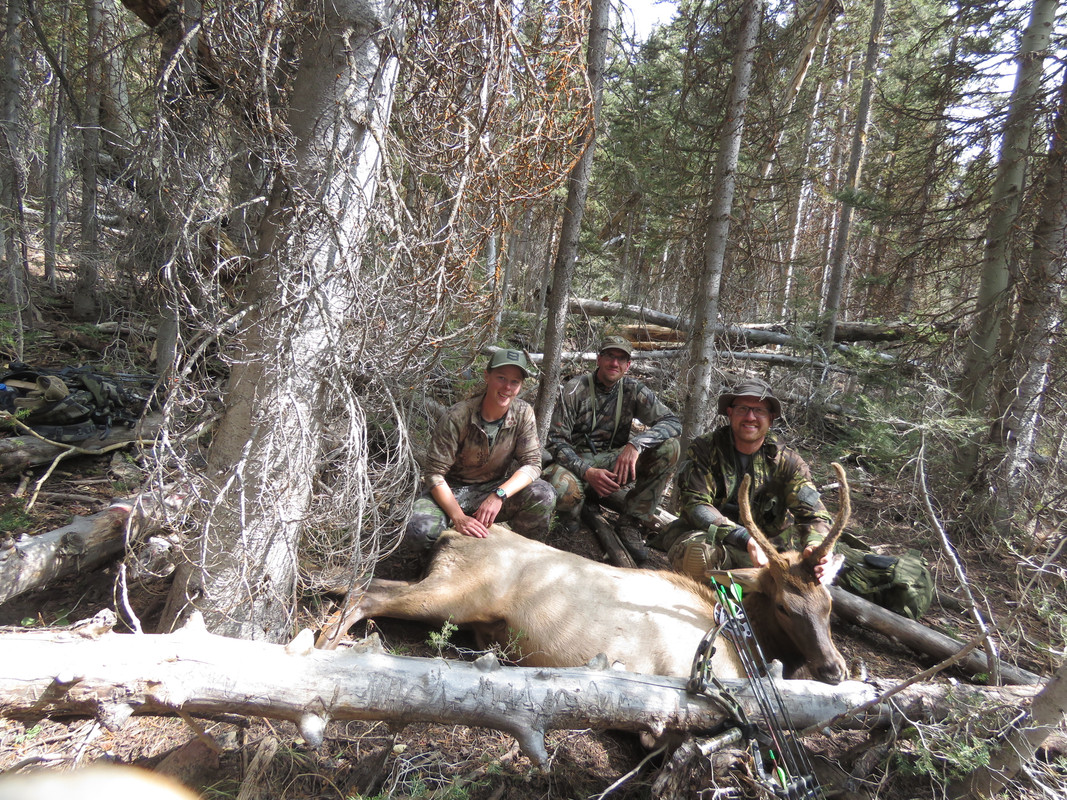 We didn't manage to get another elk, but had some good encounters. I returned to Iowa massively behind on everything else I should have been doing the 8 days I was gone. There was very little time to bowhunt whitetails here in Iowa – I went out a whopping two times the entire month of October. I did get out scouting a couple times, found some sign, and a huge (and delicious) hen of the woods! I've become a lot more of a forager in recent years, love picking different kinds of mushrooms all spring, summer, and fall.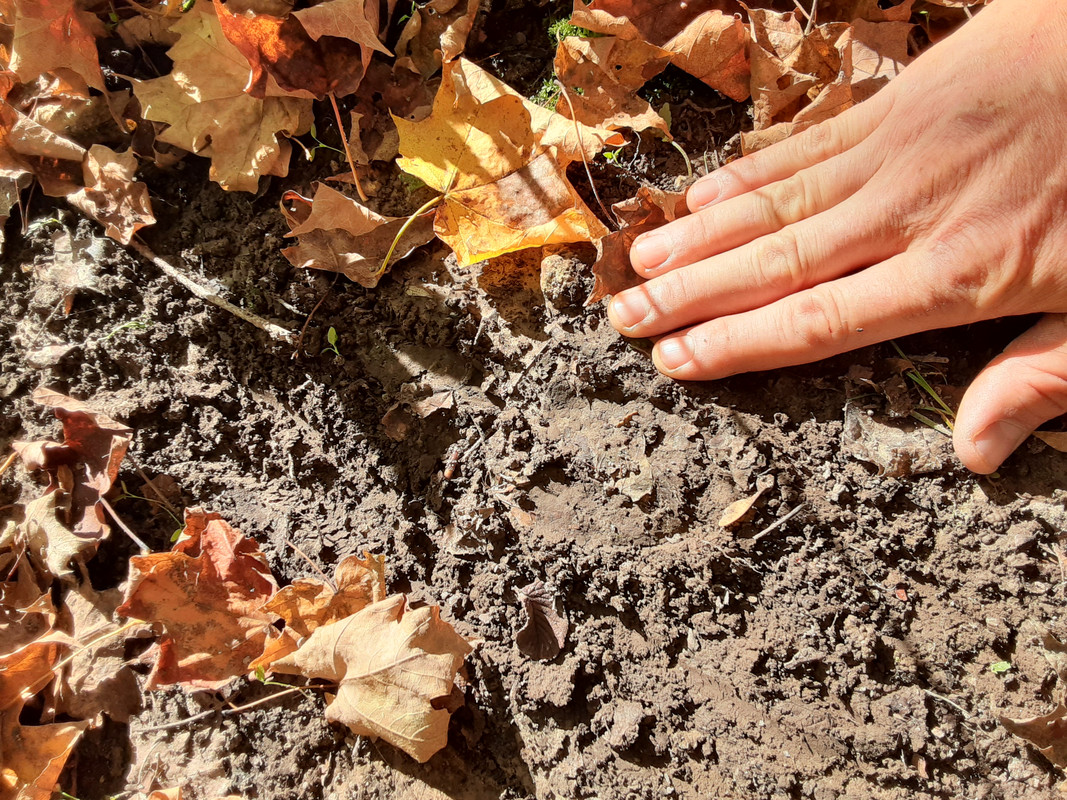 On one of those two hunts, in the second week of October I had a close call with a 6 year old public land buck where I just set up wrong in a thermal hub area – I set up 40 yards downwind of a scrape cluster and should have been 40 yards further away as the warry old buck scent checked the area. This is a picture I took from that setup, you can see how thick and nasty that buck's lair was.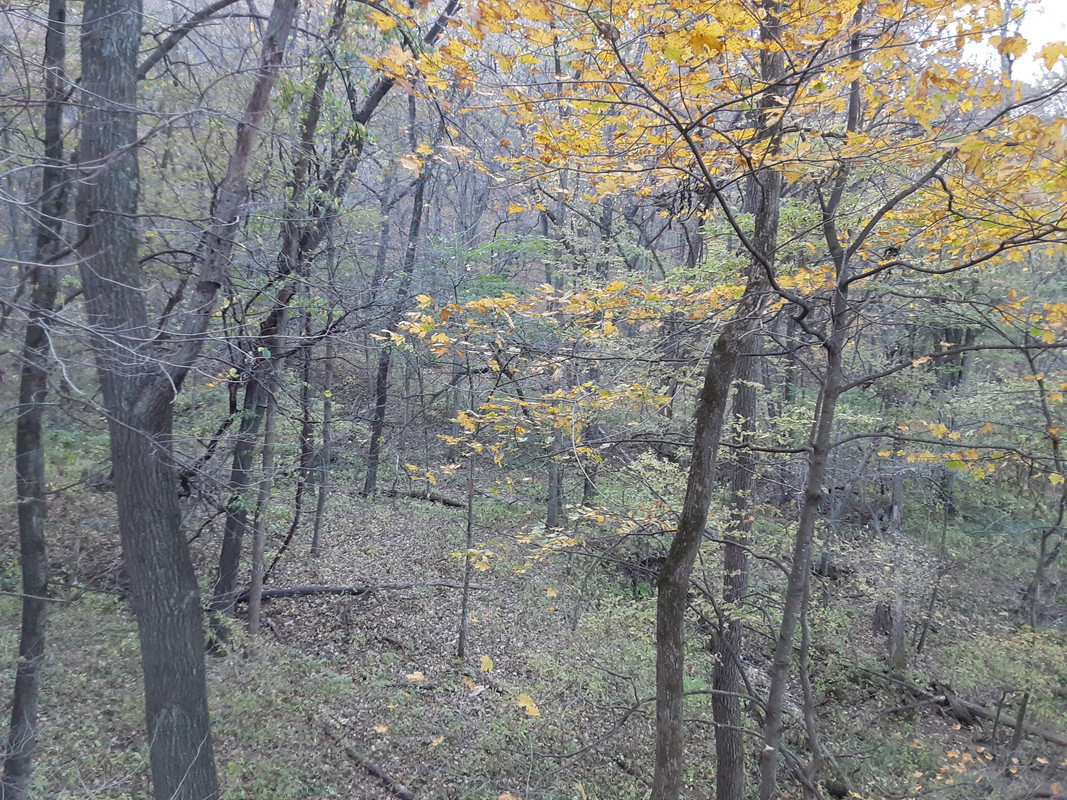 I didn't mean to make this encounter sound simple, remember that that near miss took several years of scouting, looking back at camera photos and looking at movement trends, and a lot of studying the land just to get that close. That is why we love the chess match! More on that deer later, that story isn't over.
I usually make a trip up north to the big woods of WI for a rut bowhunt. This fall the only time that worked out was a day and a half in mid October. I am not ashamed to say I have come to love hunting up there more than anywhere else. Yes, even more than Iowa. We had a massive cold front hit, and conditions were more like December with snow and temperatures in the teens and twenties.
Wolf tracks in the area: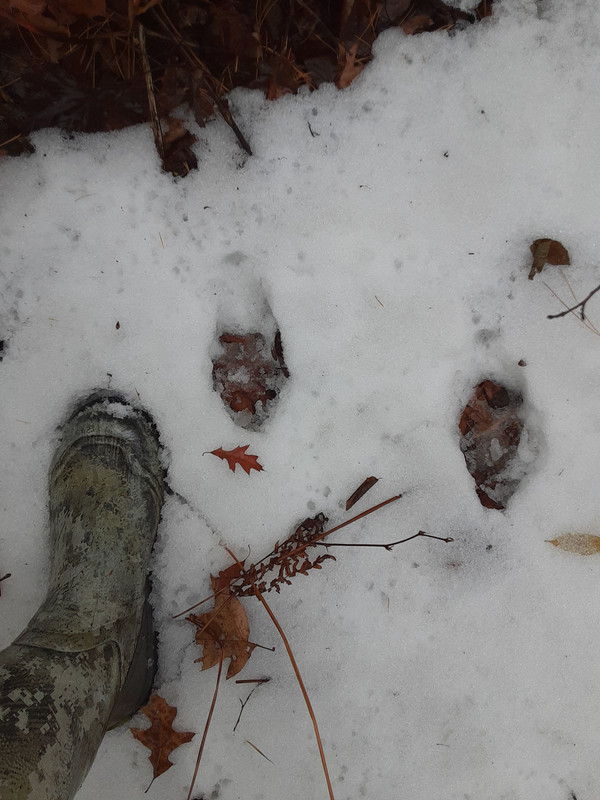 On my final frigid cold morning I watched a basket rack nosing around some does in front of me as they filtered back into their swamp edge bedding next to me and decided I was going to shoot him. As he moved away I took the final shot offered at 35 yards – extremely long range in that thick cover - and the arrow hit perfectly – entry on the front edge of the near hindquarter and exit through the top of the heart right between the front legs. It was a tough shot, and man that felt good to nail it. He never knew what hit him…it really was a perfect hunt.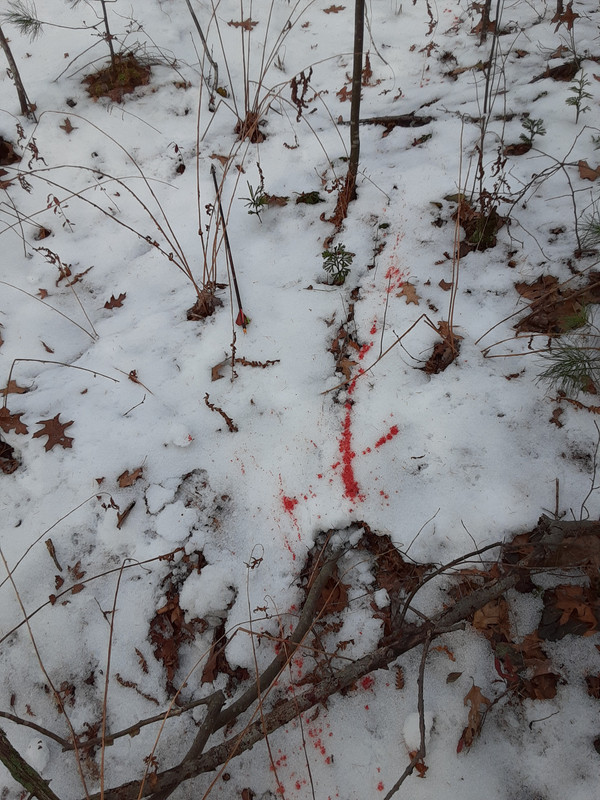 Point of impact, arrow laying where it fell after passing through about 36" of deer.
So, this is the smallest buck I have shot in at least 15 years. But not gonna lie, I am proud of the hunt, proud of that clean kill, and also had some perverse satisfaction in knowing some clammy handed big buck hunters out there might sneer at shooting that buck, and I got to enjoy it anyway…sometimes I can be the contrary sort haha.
Back in Iowa, I did get the last laugh on that old public land buck that outsmarted me back in October. In late October we got another perfect day to hunt him – but I couldn't make it out, like so many great hunting days last fall. Instead I suggested to my older brother that he give it a try and described how he should access and set up. He killed him 30 minutes into his hunt. He had broken off his right G2 by then. Thus endeth the story of the split G2 buck that I had tracked down for three seasons.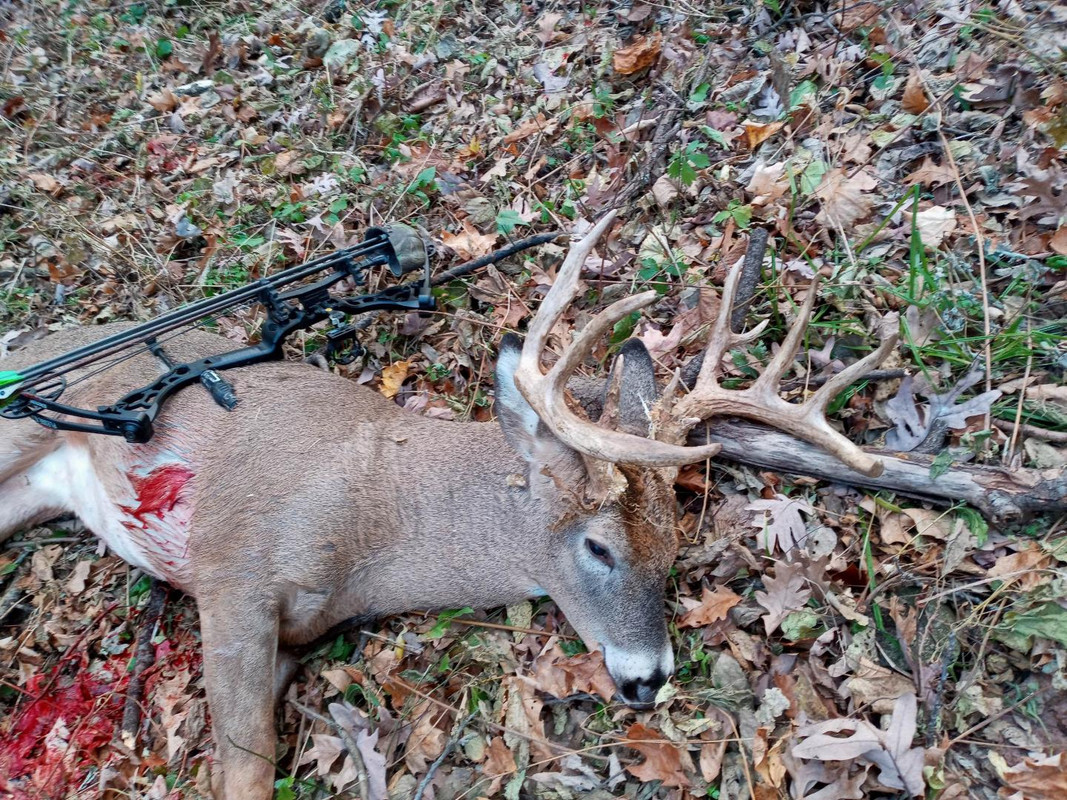 I got out for a couple more bowhunts in early November. I had another near miss when I climbed down just too early – at noon – on the trail of another old public land buck. Seemed like I could not catch a break for either getting out much, or closing the deal when I did.
Then in mid-November – Friday the 13th coincidentally – I found I could wrap up work a couple hours early and get out for a quick hunt. I didn't have time to get into a public spot so I went into few acres of timber that I own behind my house for the first time all fall. I set up with my saddle in a scrubby little tree watching where bucks consistently cross from one area of bedding cover to another, cutting across doe trails as they go. Such is my addiction to mobile hunting I don't even hang stands on my own property!
Shortly before sunset I heard a light 'mehhh' off to my right and glanced casually over, expecting a little buck to appear given the weak sounding grunt. Instead I was shocked to see one of the two bucks I knew was around walking toward me. He came broadside at 20 yards at a slow walk, rutted out, hunched up and sunken eyed, and my arrow again managed to find a buck's heart. He hopped 30 yards, looked around in surprise, and slumped to the ground.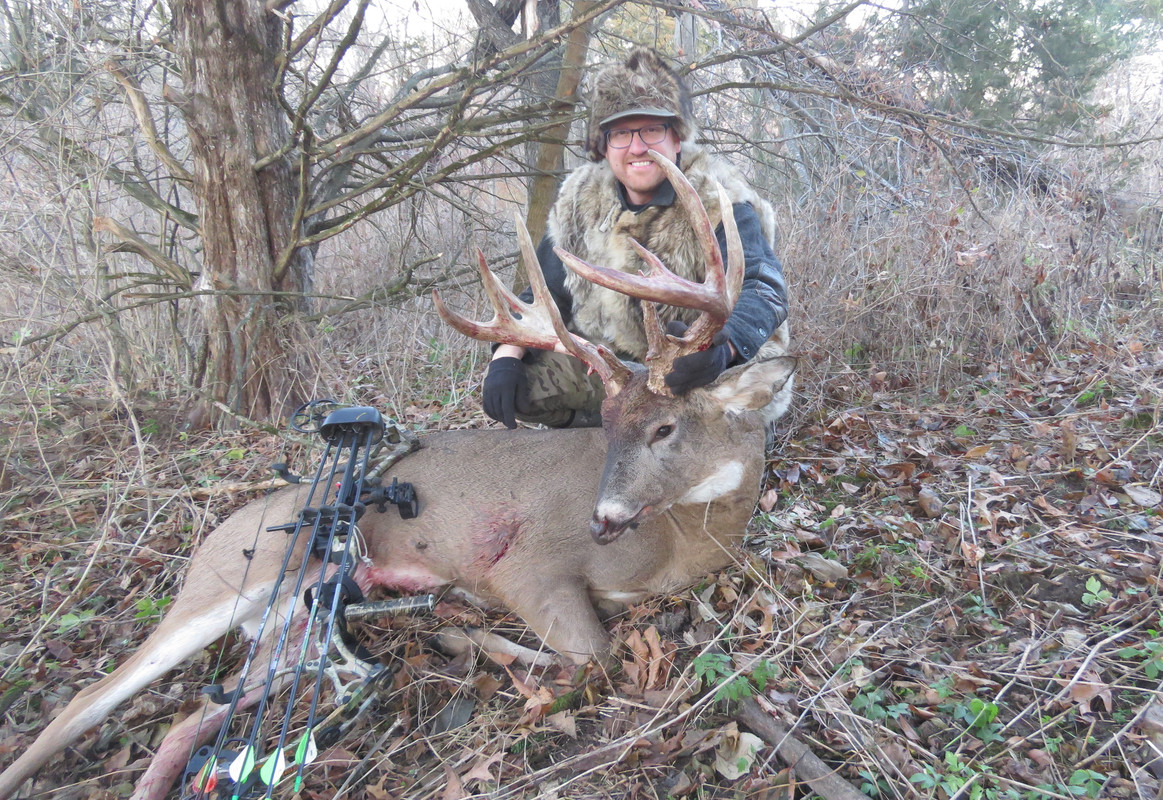 I've never had a buck GROW as much as this one did as I walked up to him, with 16 total points and around 45 inches of mass. Turns out he had a huge body, which made his antlers look smaller in trail camera photos that I had of him. He was close to 20 inches bigger than I though he would be. He weighed 240 lbs dressed (and late in the rut) and am sure he was only 4 years old having seen him the last couple years around too.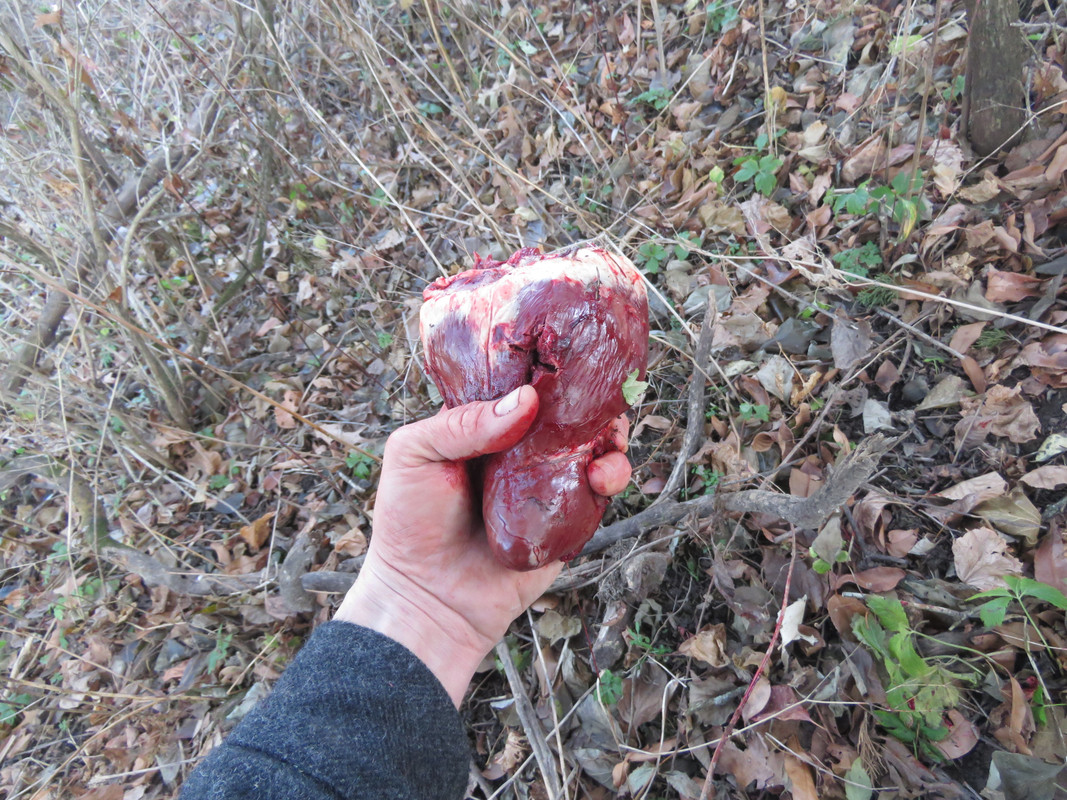 Looking over the deer while butchering made me realize that he had gotten into a bad fight very recently. He had multiple puncture wounds in his face, all of which were still oozing and not infected yet. Even crazier, he had broken off almost all his incisors. I really think he would have been in trouble in the winter, unable to browse. Even in farm country studies have shown deer need browse to survive. Right now we have close to 2' of snow on the ground around here, I think he would be dead.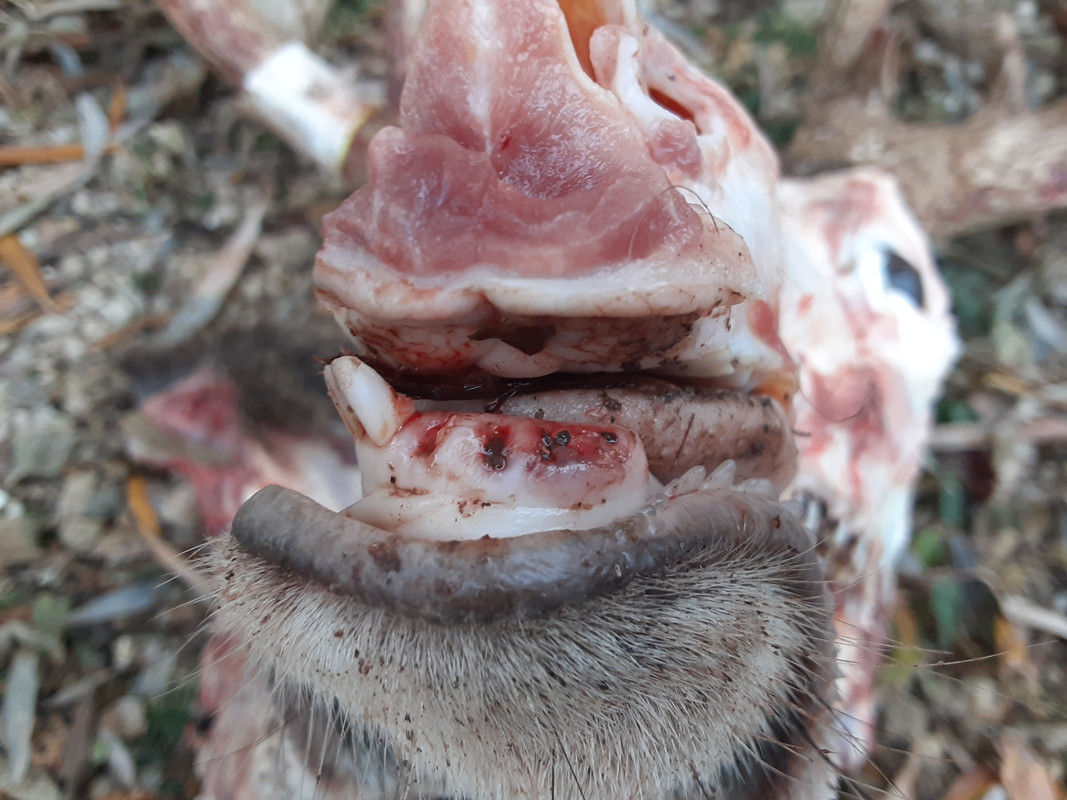 Another interesting thing about the deer was that he had tiny hooves compared to his rack and body, more pointed and the size of a real big doe. While I pay very close attention to tracks, I am convinced there are a lot more small footed big bucks out there than most hunters would guess….20-30% of the really big bucks that I have shot (say 160+ gross) had hooves the size of what most would say are a younger buck or big doe. I have the photos to prove it.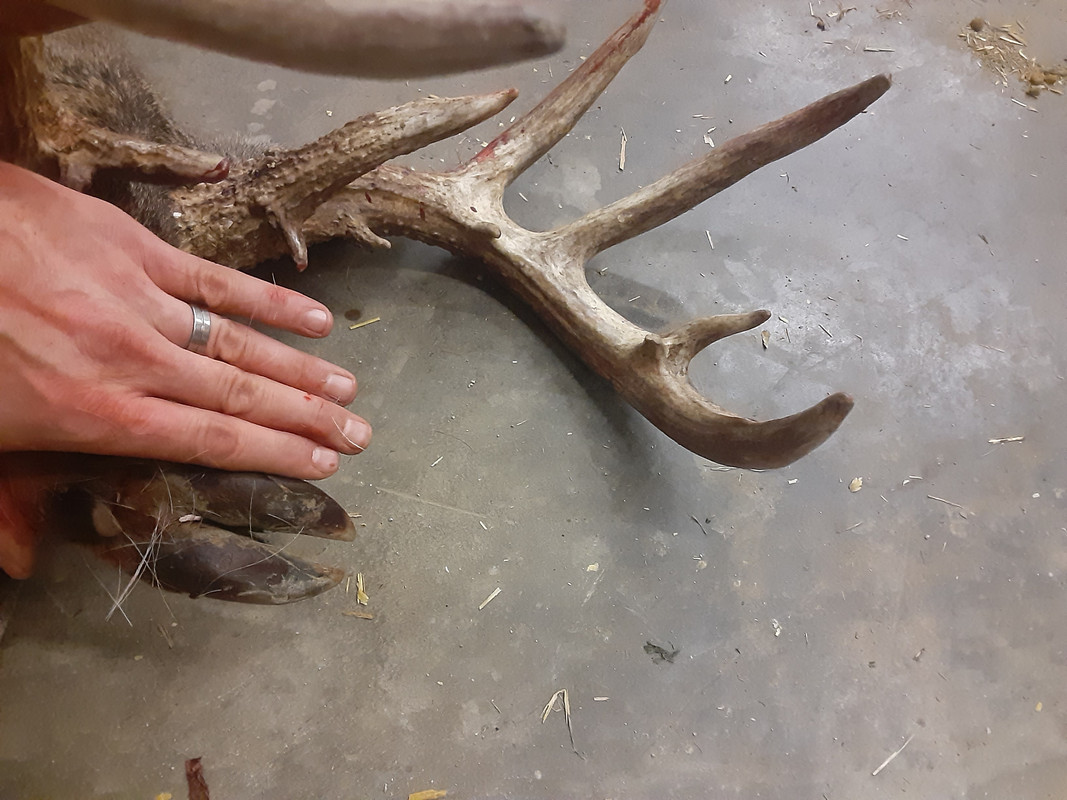 Once again I would stress this was not an easy kill, it just played out easy that day. I have spent a ton of time watching deer around the house, how they move, being very precise on when and where I hunt, and manipulating habitat. Its not my passion though – I find a lot more enjoyment hunting down bucks on public land on their own turf.
That buck filled my landowners tag. Bow season was drawing to a close after that but I still had my general archery tag in my pocket. I got out for one last public hunt a few days before the Iowa 1st Shotgun season opened at the beginning of December. I had scouted a few days before that and found one last patch of acorns that deer were feeding heavily in, with several great big tracks in the area. I knew from prior scouting the most likely place a buck would come from was a thick bedding area not too far away. This was post rut movement, bed to feed pattern and I have found bucks extremely predictable when you can find them in this time period, before gun season disrupts movement.
I did not have a strong feel in my gut on that afternoon hunt, so I was shocked when I saw a huge wide white rack moving down the side of the ridge to me as I hung there in my saddle with the setting sun still slanting through the trees Some does were already out feeding in the oaks down the ridge and he was looking at them with some interest, no idea that he was my prey. A few seconds later he lay dead a few yards away from me, another heart shot deer for the year.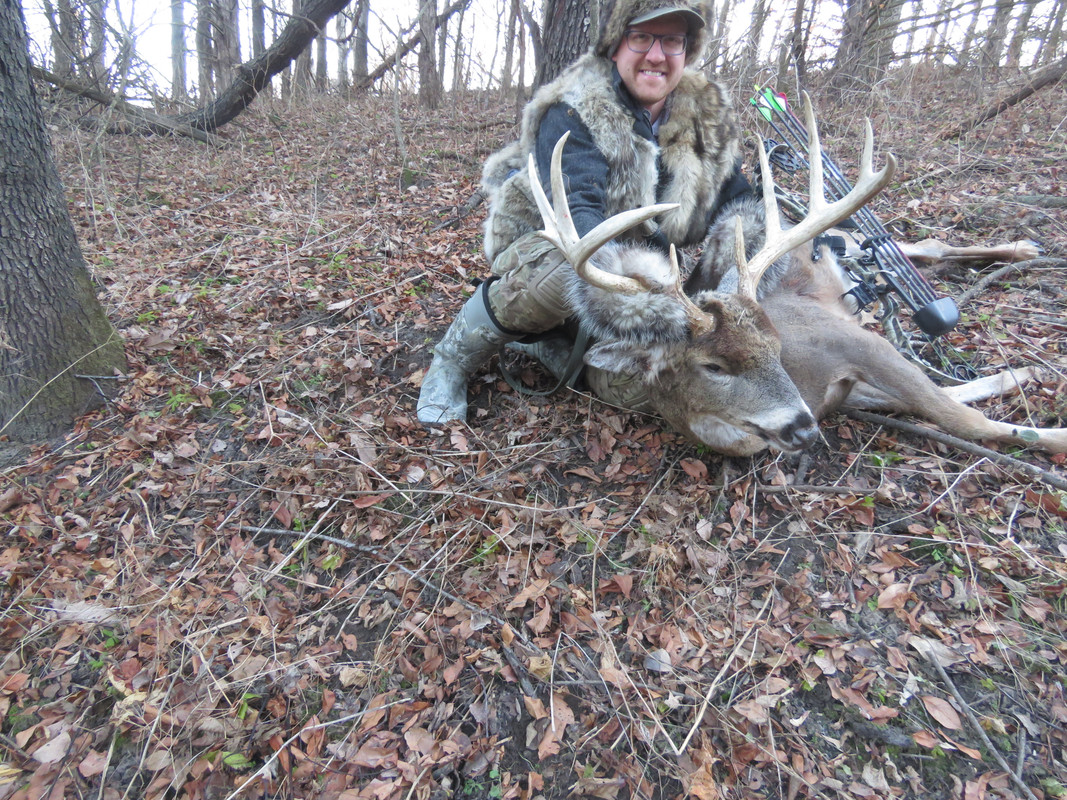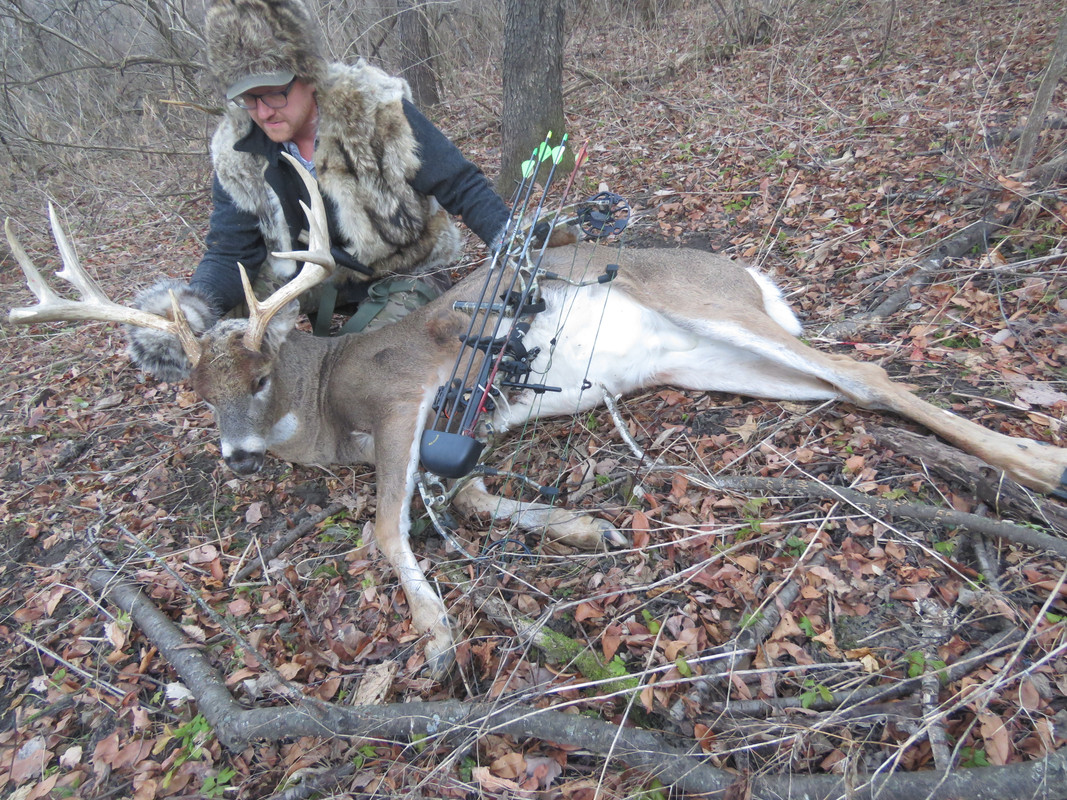 This buck was not one I knew well – won't claim I knew what buck I was after that night. I had a couple photos of him from 2017 and 2018 in the greater area, no sign of him last year though in 2019. He was actually an ancient deer, one of the oldest I have shot, I would say 7 years old minimum with worn teeth and giant knobby hooves. I think I just got lucky in finding a hot food source, in cover (not feeding in corn or bean fields) while he was worn down and trying to recover from the rut. Any earlier in the year he would not have been nearly as killable. I think most old bucks I have killed were only really killable for a small window of time to be honest, and in only a certain spot...if you want to be able to predict that a little more often, put in 10,000 hours of learning - I am not really kidding!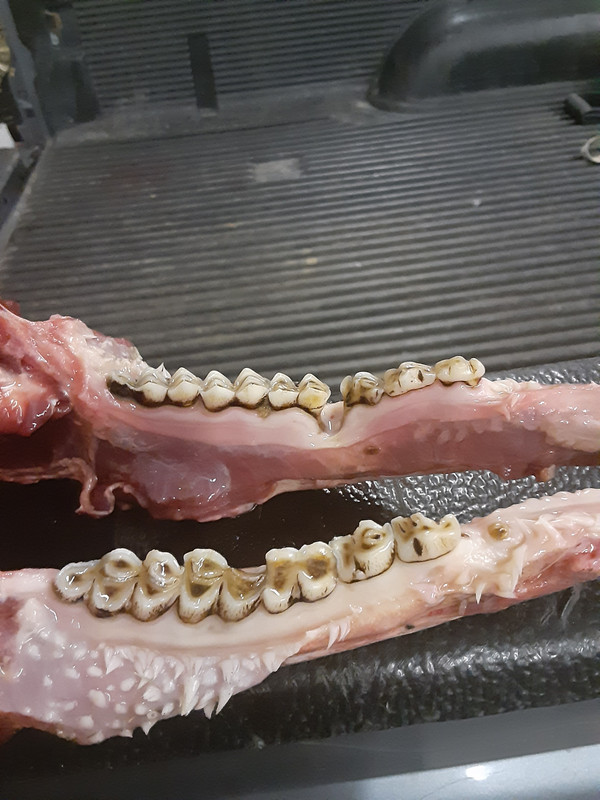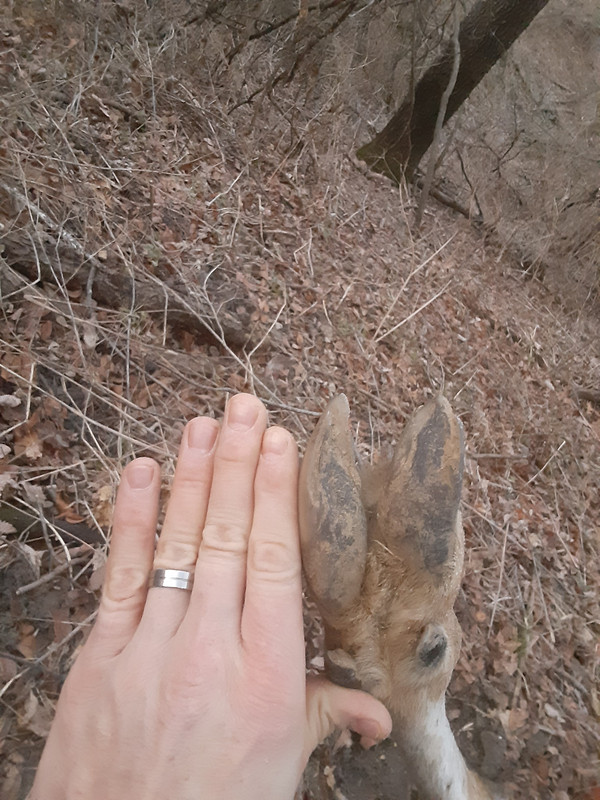 And that was the end of my bow season. I hunted Iowa's late muzzleloader season as well and despite really good conditions – snow almost the entire season – did not tag a buck. Honestly, I lost most of my drive through late season – my freezers were full, and with every passing year justifying killing with the meat I get is more and more important to me. There was a unique buck that caught my eye late season, and I got close to getting him – had him at 80 yards in brush too thick to thread a bullet through – so he will live to see next year. There's always next year.
It was a strange season – I had some crazy success, and at those times it felt I could do no wrong (a strange feeling, not always that way!) but the rest of the time was kind of a grind. I either couldn't get out there or when I did I felt like I was off, or just should not be out there for various reasons. Other obligations in my life are getting to the point of me wondering if I need to really change my priorities of what I go after to fill the freezer, and give my kids experiences hunting. It ended up being exhausting, like the year 2020 was for a lot of folks in general probably. I have never measured success in inches of antler but love the challenge of a big ol buck as much as anyone. Make no mistake, I am very thankful for a lot of things this year - everything that did go right and work out, every shot that hit where I wanted. I hit and lost a buck in 2019, something that really tears me up, and it was more important than anything that I make clean kills. I am very thankful for that, 4 for 4 heart shot animals, my arrows seemed guided from above this year.
Will see what next year brings…hope everyone on here had a good year last year, at least got out more than I did!