Let me begin by saying a HUGE THANK YOU to Jamie and Kelly Hicks of Cobequid outfitters! When I talked with Jamie back in June about tenatively planning this hunt I had no idea it would be the hunt of a lifetime for not just me, but everyone that hunted! I knew I would have to have a good cameraman and since Karen could not get away from work I figured Steve would like to go, and not being one to leave out dear old Dad I invited him as well. We tried to come up with a fourth to complete the video teams but alas no one was available, but Jamie said he would love to run the camera so he and Steve paired up to try and capture Steve's first bear hunt on video. That left Dad and I and since I lined up the trip I was up to bat first. Now Jamie had trail cam pix of a monster that had been hitting this particuliar bait so I thought I would hold out for the big dude.........Well our first bear sighting came at about 2 o'clock when a dry sow crept in cautiously and stole some donuts from the tire: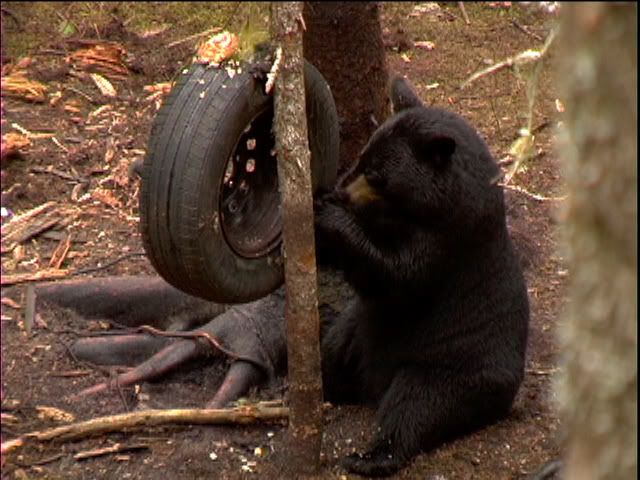 Dad and I watched as she left and came back 3 more times throughout the day:
Finally after studying the ole girl for more than an hour I decided if she presented a shot I was going to take it as it was a good bear and for video purposes we were good with light and who knows we might get bad weather the rest of the week.........So not one to look a gift horse in the mouth I anxiously awaited a shot op.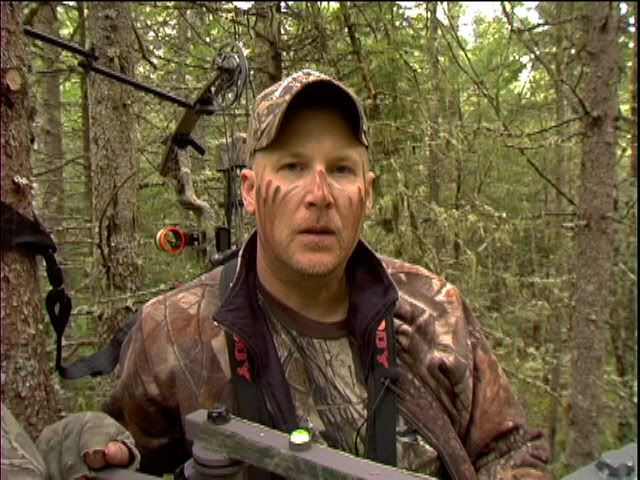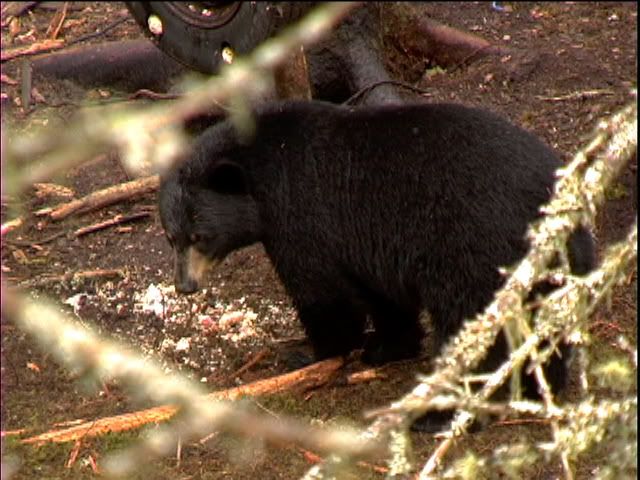 Now I can't give away the ending so you'll have to watch the show when it airs or hits the website!
Now Steve had been texting me all afternoon with thier siteings: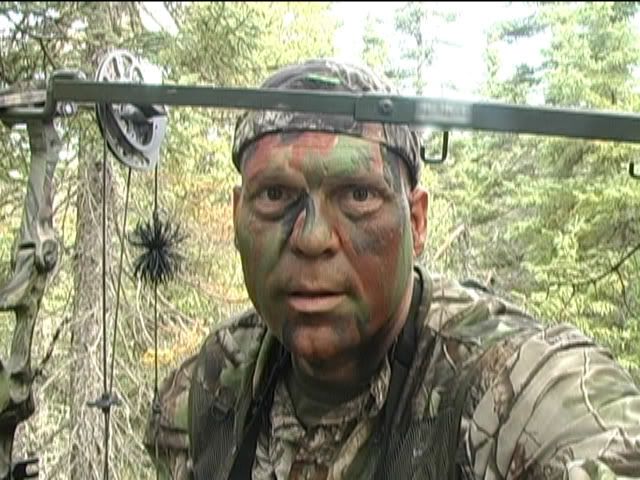 First a small dry sow entertained them at the bait for more than an hour!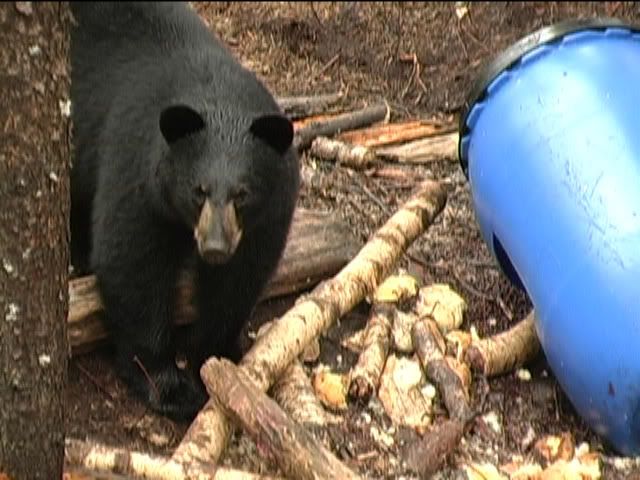 Then a good boar stepped out and showed off for the boys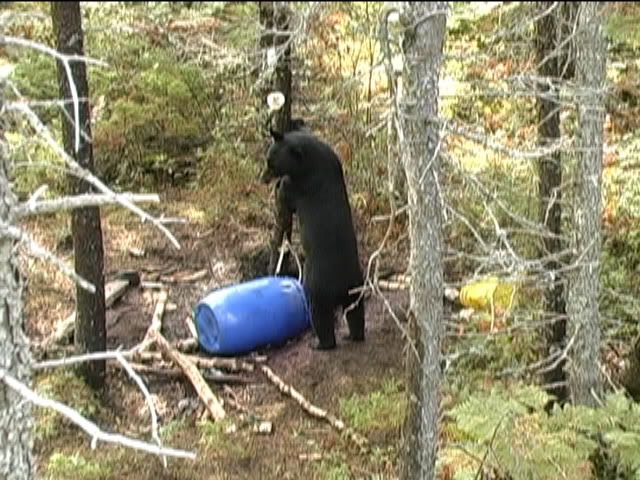 Well it was more than Steve could stand and he decided he would attempt a shot!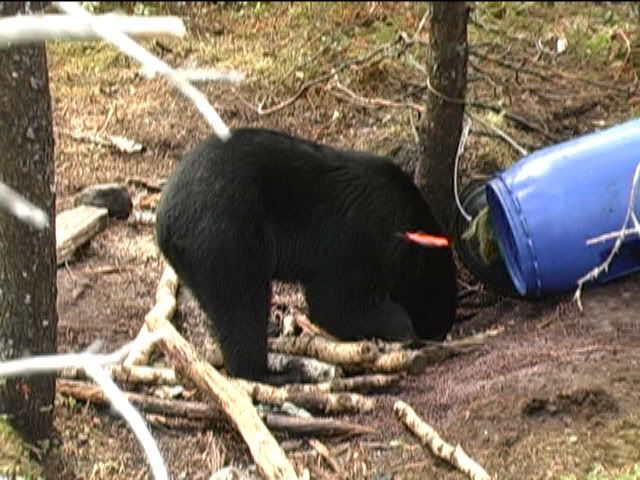 Now again, not one to give up the ending you can see the footage of Steve's hunt on Oct.1 on the show or the following week on the website!
Tues. was left to recover a bear and re-bait some sites and hang stands, looks to me like these guys would rather eat the bait than put it out for the bears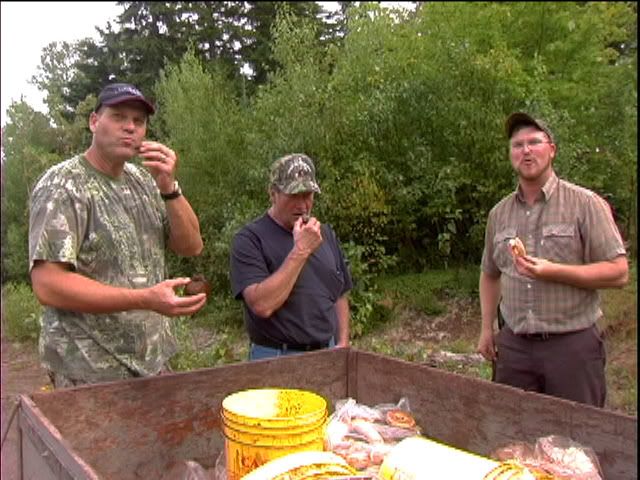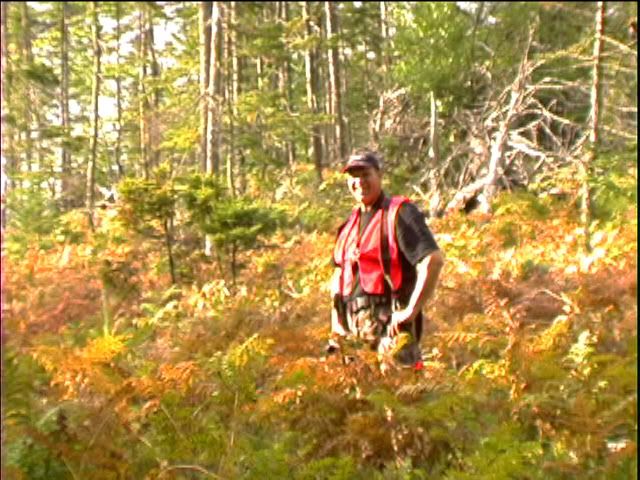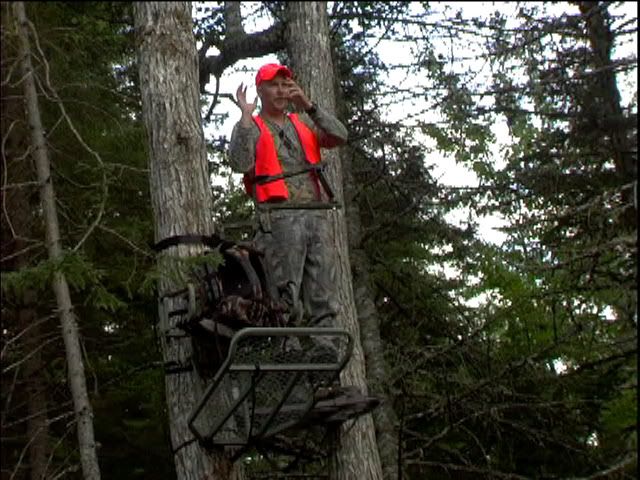 Our guide on the cell phone!
The bear slayers!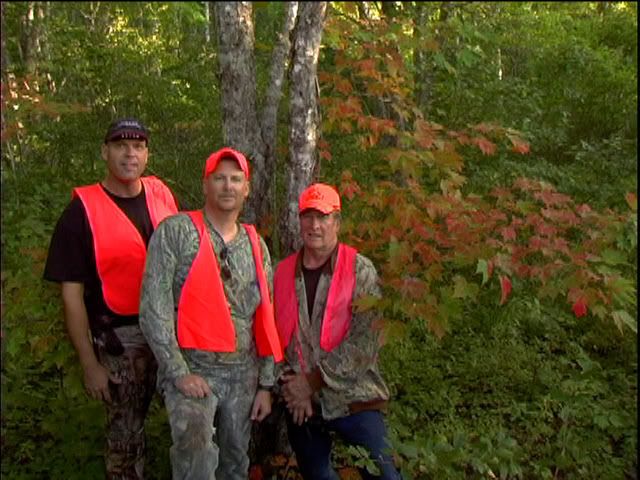 Some sites seeing while traveling between bait sites.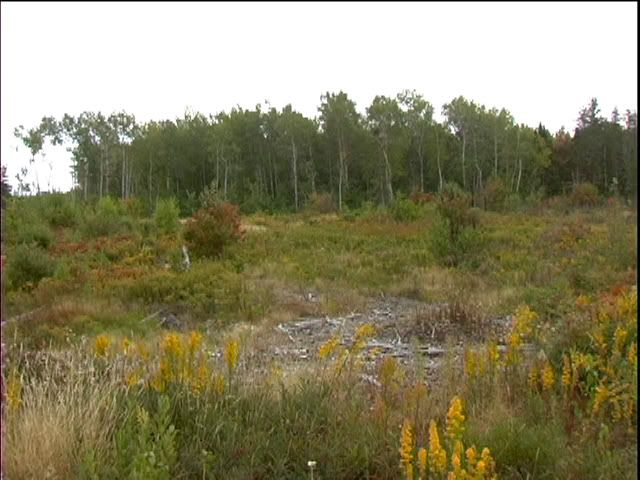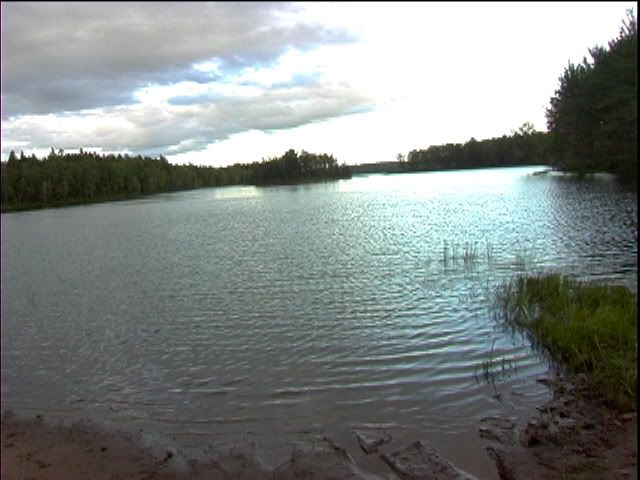 We had a close encounter with a bull moose later that evening, unfortunately the light level was too low for video but needless to say he posed for a perfect broadside bow shot at 17 yards! Too bad we didn't have a moose tag and moose hunting in that area was prohibited!
Day three dawned misty rain so we slept in so as not to ruin the video equip. but by 10am the rain let off and it was Roger and Kelly's turn to hunt: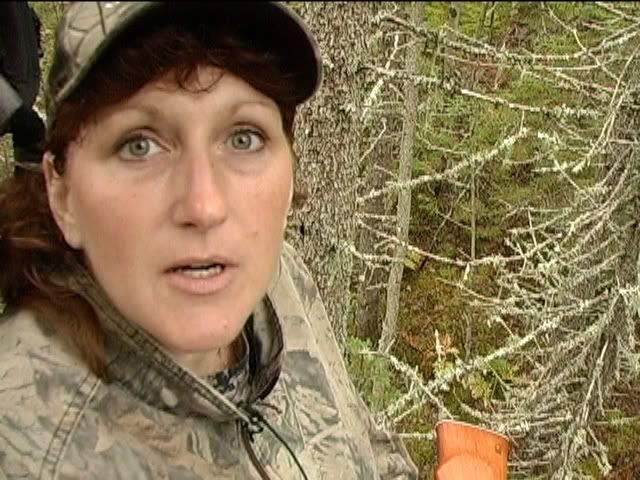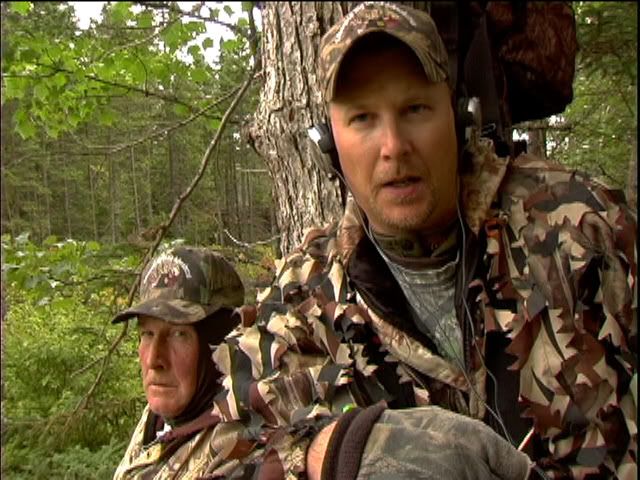 With the rain starting again about 1 o'clock we went back to camp for some lunch, Steve and Kelly had seen no bears in the morning either......After a quick nap the rain subsided and we were back at it, Steve and Kelly didn't even make it back to thier stands as there were bears at the bait! One bear walked past them at just 10 steps! They decided it was time to try a stalk on the bear at the barrel:
They closed the distance to 40 yards and kelly was ready with the rifle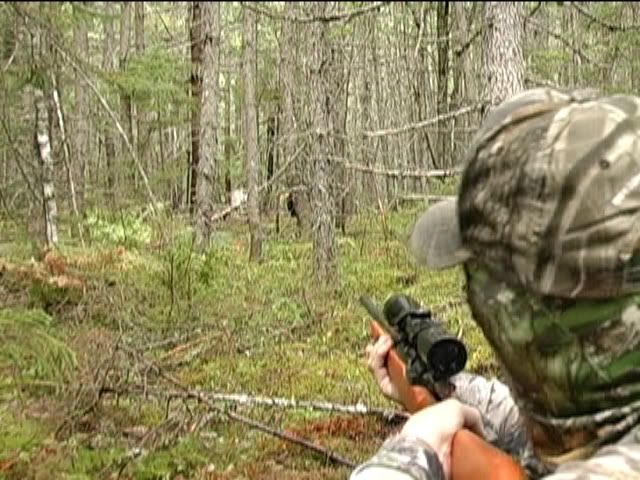 The look on her face tells the rest of the story and Steve was able to capture it all on video!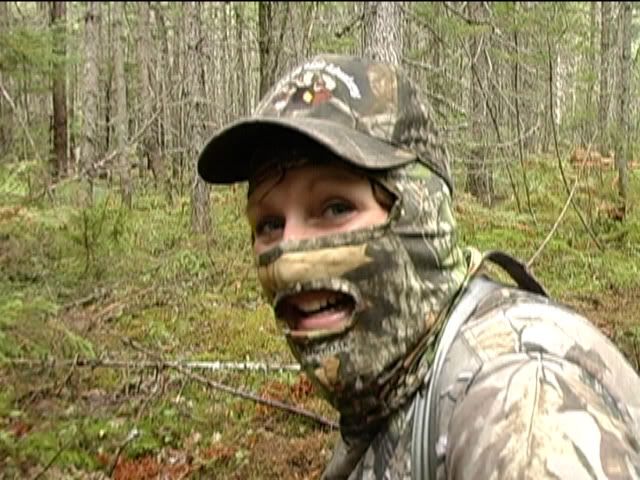 Now as for Rog. and I , we had a slow afternoon with only squirrels and Spruce grouse to keep us entertained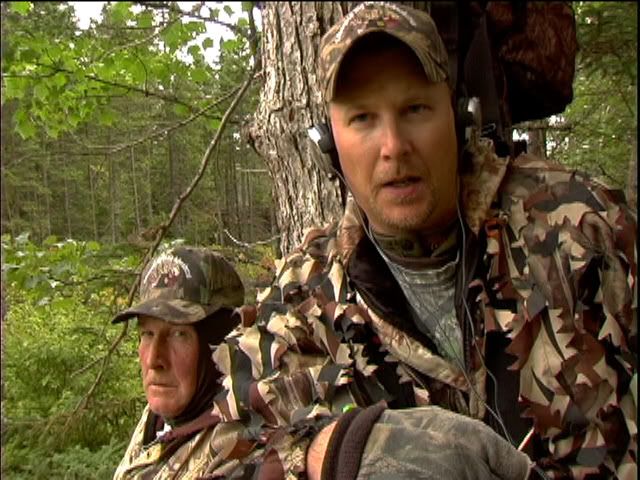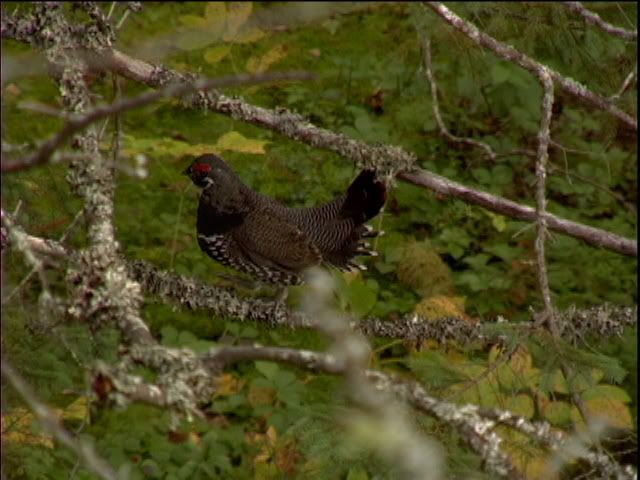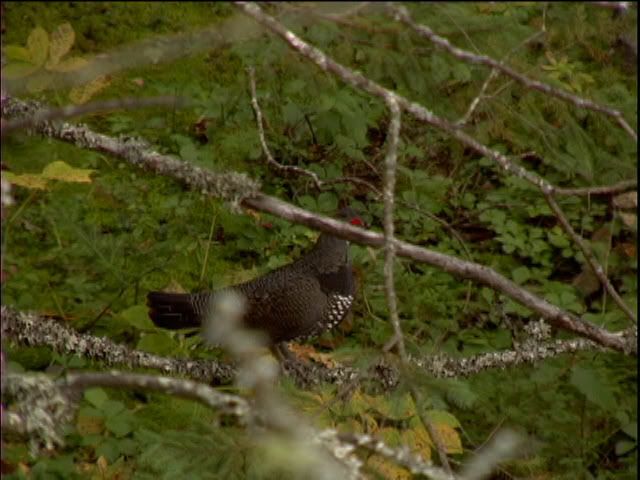 But the sunset sure was pretty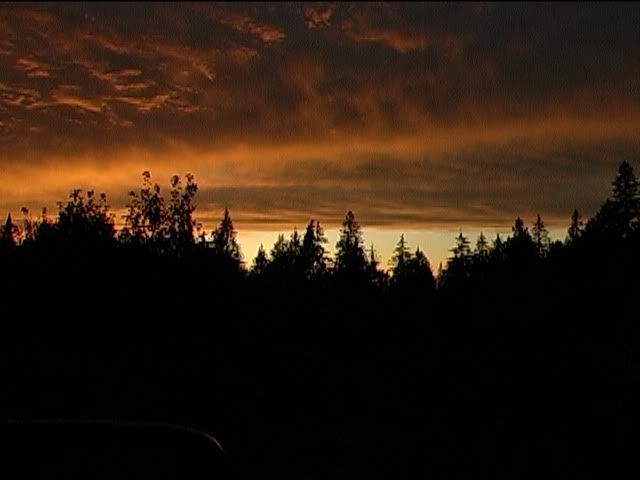 So after congratulating Kelly on her first bear and getting pix and skinning chores done it was off to bed to rest up for another day in the bear woods..........Thurs. morning we had decided to give the bait we had sat the day before one last chance, if nothing showed by 11 we would move to another site closer to camp.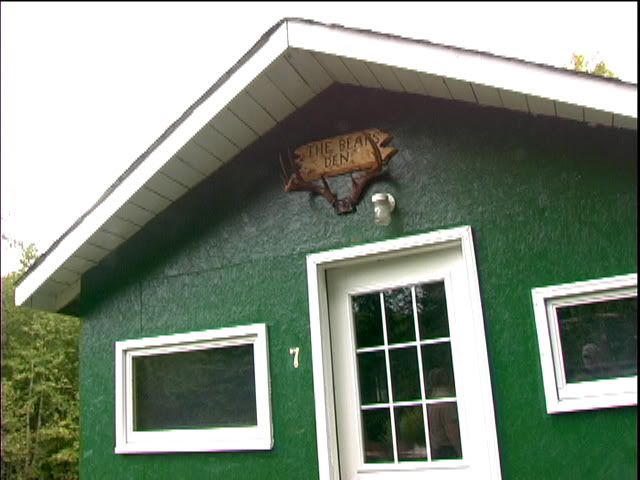 We were somewhat late getting to camp , so Dad and I discussed using a ground blind intead of hanging our stands. Jamie thought it might work and we quickly set up the blind while Steve and Jamie filled the bait barrel.
After setting up we did an intro and waited for the bruins..........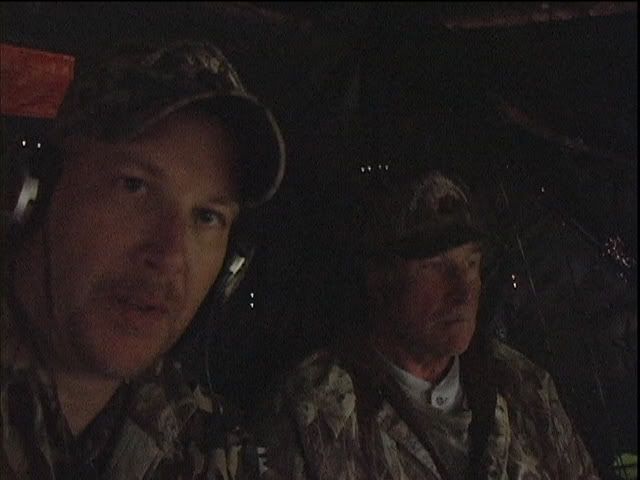 Well it wasn't long before this fat bear came cautiously in to the bait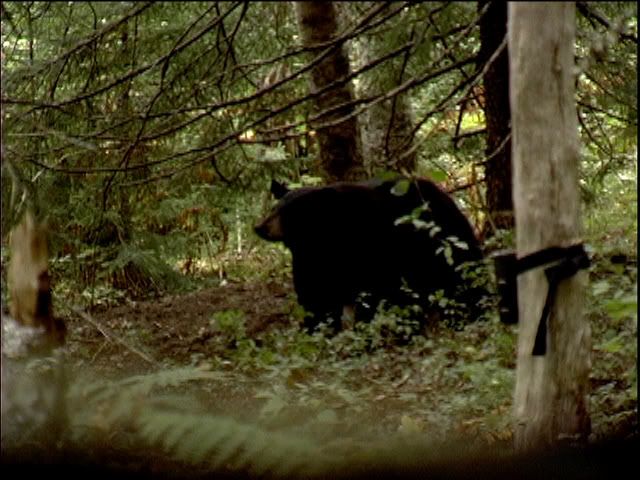 The bear came in 3 different times offing us a good chance to size it up, the last time it came in Dad readied for the shot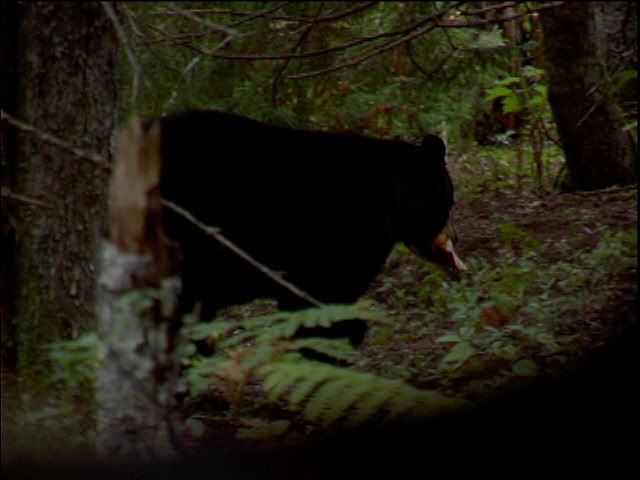 After shooting light it was time to relax in the woods!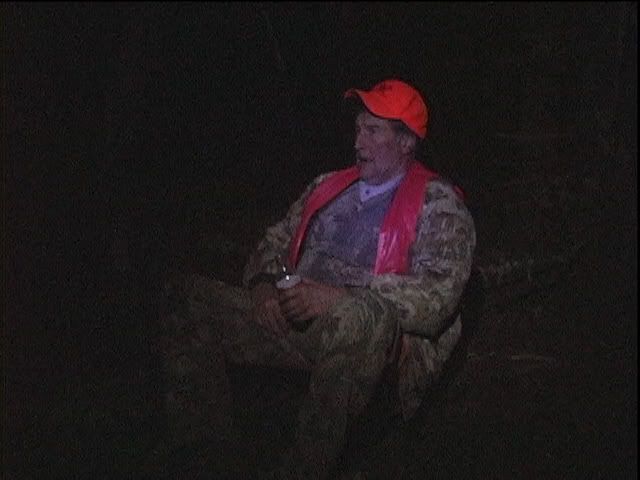 WE WERE TAGGED OUT IN NOVA SCOTIA!!!!!!!!!!!!!!!!!!!
It was a trip of first's, 3 first time bear, 1 first time moose sighting and all the hunts were captured on video for use in the show and future DVD's!!
What an incredible week we had with Jamie, Kelly and thier whole family!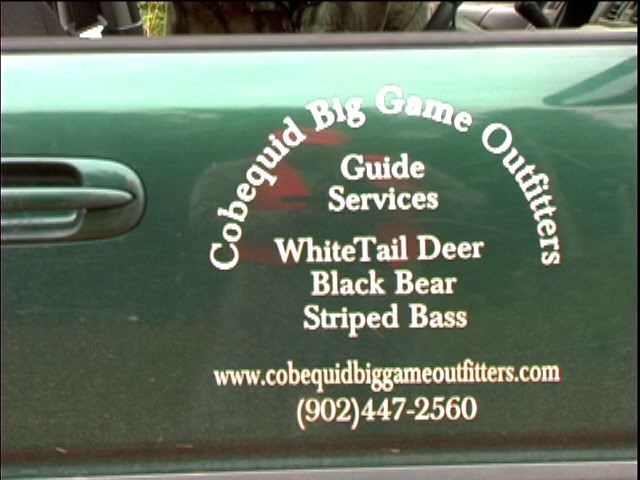 Dustybear mugging for the camera
Clean baitsites!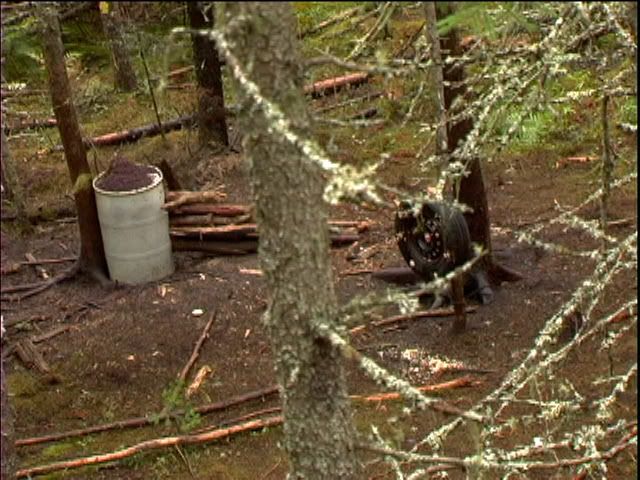 And huge bear!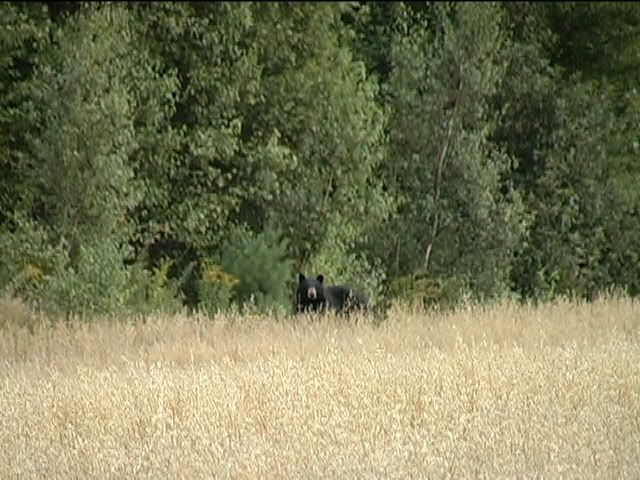 I can't wait to go back again!!!!!!!!!!!!!!!!!!!!!!!!!!