I never did write up a kill story for the buck I killed in 2020. Been thinking about hunting a lot lately, reflecting on last season and planning out 2021 season and decided I should write up this story. It was a nice 2.5 yr old buck, and it was a good adventure, and I documented the hunt really well with pictures, so figured I would share.
I have been doing a bow-rut-camp-hunt weekend the past few years in the central forest zone in WI. The unending public land to roam and presence of decent number of deer has me continuing the tradition yearly. Throughout the years a couple coworkers and my brother have joined me. This year my one coworker who has been with me every year just had a new baby at home, so this year it was just my brother and I.
We set up camp in the dark Thursday night. The warm weather (~60°) was very different since in past years it has gotten down to the single digits on us. We weren't complaining one bit even though it was a little warmer than you would like for rut hunting.
Friday morning we got up nice and early and decided neither of us had an exact pinpoint of where we wanted to hunt so we decided we would wait till it was getting light to walk in. Gave us a nice chance to drink coffee and catch up for a while. It was a beautiful still, slightly damp morning perfect conditions for sneaking around in peak rut with a bow in hand.
Sun up: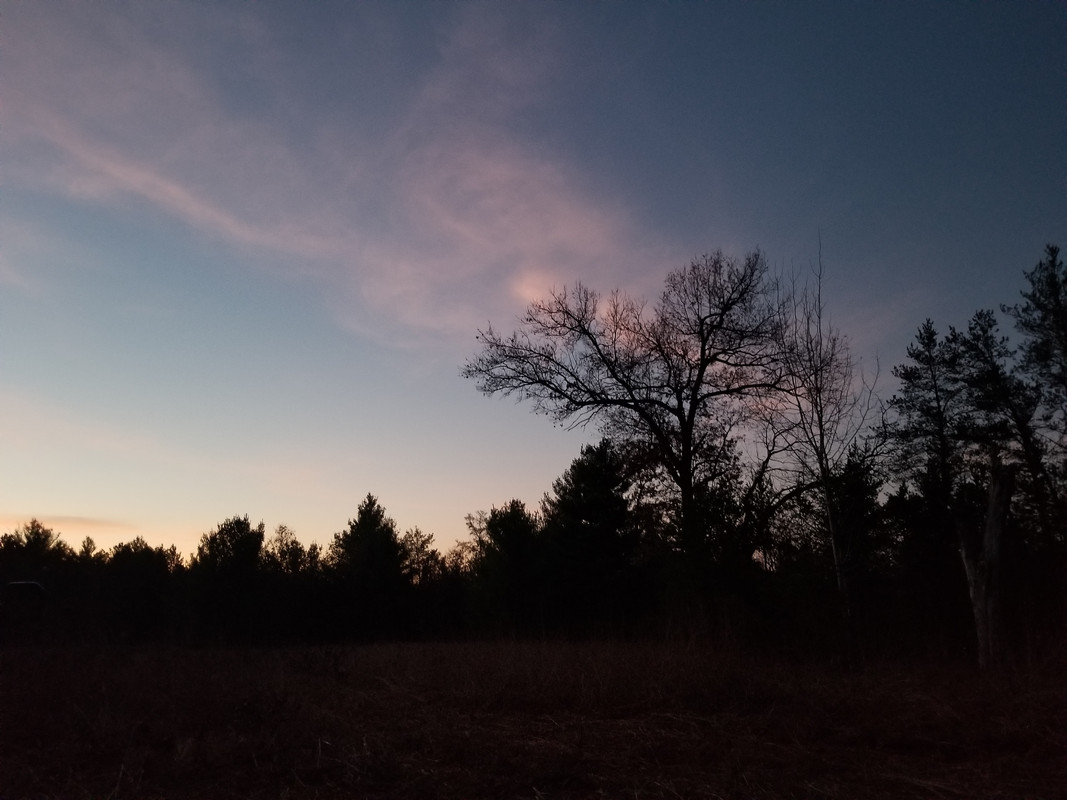 My destination for the morning was an area that I encountered a whole bunch of bucks chasing a hot doe the previous year.
I walked in and saw there wasn't as much deer sign as there had been the year before. But then I got down into the swampy area and immediately started finding rubs. After just a short walk along the transition I had a deer blowing at me. I couldn't see that deer but after it ran away I crept into right where the deer had been standing (found its tracks), there were a bunch of rubs right there. It was so quiet out, I was pretty sure I could hear another deer upwind of me. I picked a tree to lean up against, set up my little camp stool so I could hunker down low and stay perfectly still, then did a couple grunts with my grunt tube. Sure enough about a minute later a little spike buck came in to 30 yards, circled downwind and disappeared. I waited till I was sure he was gone and then packed up my stool and crept around. Did a little scout-about and realized I was probably standing in a pretty consistently used bedding area. Filed away the spot in my gps for another hunt some day.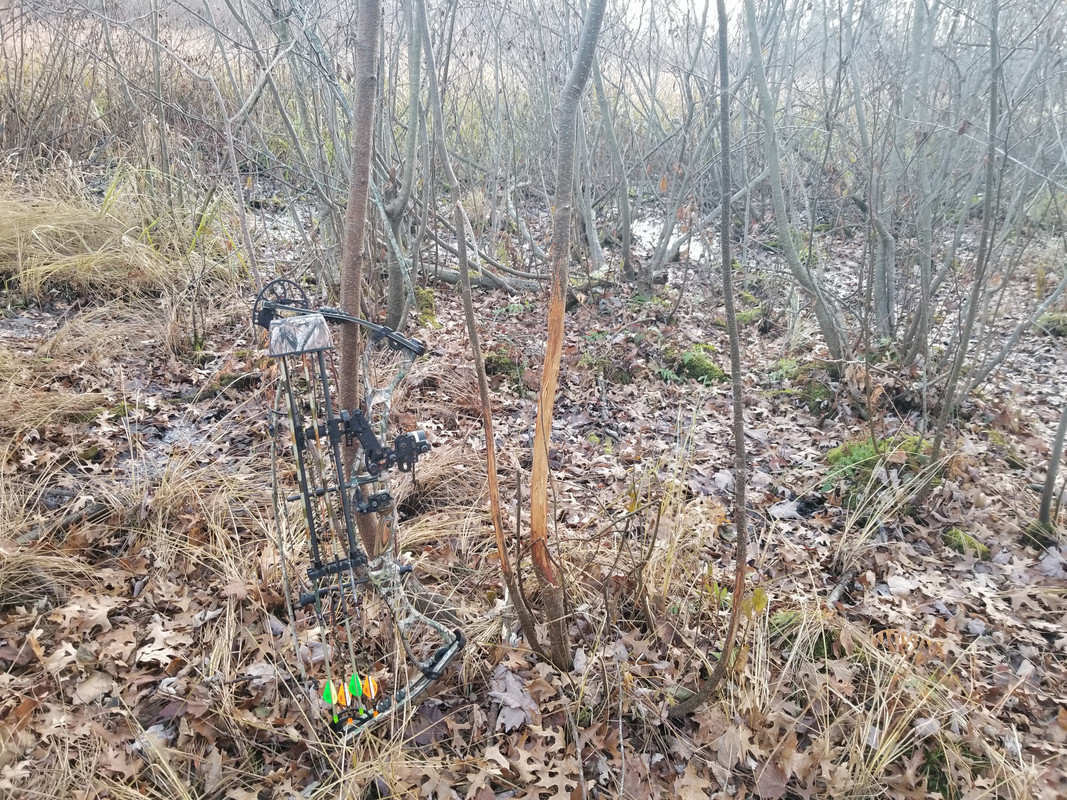 I then kept walking. Looking at the aerial photos on my phone I saw there was a similar looking area about 1/4 mile away so I headed there. As I got near that area I spotted movement. I crept in just a little closer taking a step or two and glassing up ahead. A doe fawn began to trot toward me. I knelt down about 10 ft from the swamp edge and she busted me at about 10 yards. After that I moved about 15 ft into a good shooting position and set up my little stool and put my ghillie jacket back on. Just like the earlier setup I could hear another deer nearby to my right. I grunted and within a minute a little 5 pointer came from my left and walked by at about 30 yards. I could still hear the other deer to my right side in the wet swampy area so I gave a couple more grunts and did some ground scraping with my rattling antlers.
Then I finally heard that deer to my right side make a move. He circled along the transition edge and followed it right to me. When he was about 30 yards out I saw the breath pouring out of his nose, the 8 point rack and a big swelled up neck and decided this was the opportunity I was waiting for. There was a big 1.5 ft diameter tree 10 yards or so from me and when the buck went behind it I was able to draw back undetected.
Took this selfie of where I was sitting after the shot to document my setup: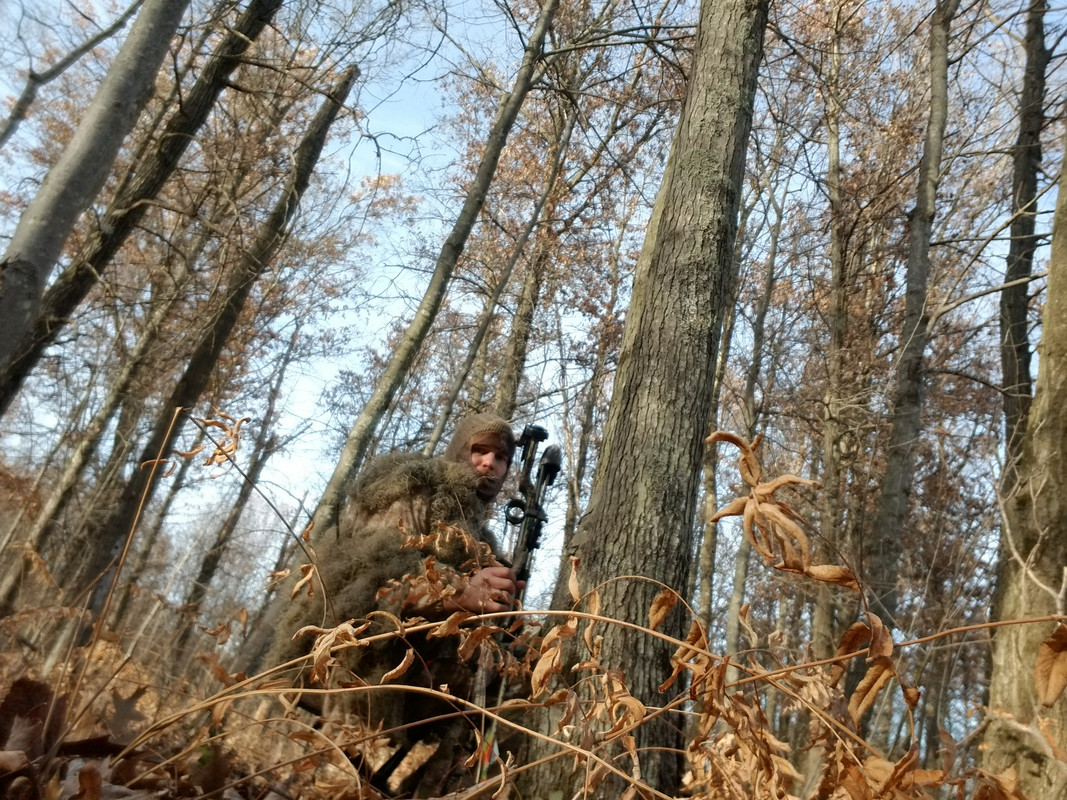 My view from where I was sitting when I shot. Buck walked in from the left, quartering to me and was standing in the center of the photo: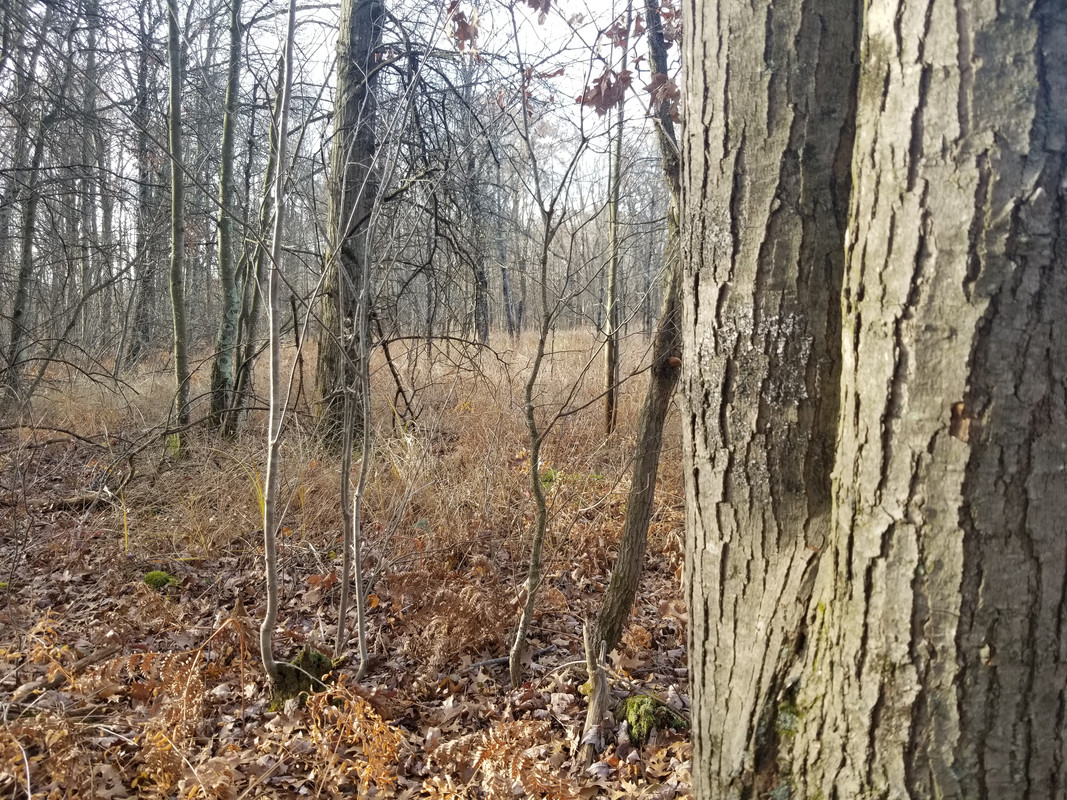 The buck finally saw me at 18 yards and stopped quartering towards me. I could tell he was about to wheel around but the arrow was already on it's way. I thought for sure the arrow went through his shoulder blade and I could see a couple ft of the sharp end of my arrow sticking out as he ran away so I was sure he was done for, and was even mere sure when I saw him stop and tip over about 50 yards out.
I called my brother and told him I got one! Texted him "dead fat buck" haha. I met up with him at the road and we went back to the scene of the crime. As we walked in we busted a couple turkey vultures out of the tree right above where I saw the buck go down.
It was a short blood trail and we found him. Turns out the arrow went in mid body, through a tenderloin and exited out near his tail.
I was a little bothered by my shot placement but very thankful the buck died quick.
It was 3/4 mile drag to the truck and there was a decent logging road to follow on mostly hard ground. We had him hanging by noon and had time to go out for an evening hunt with my brother. He was feeling sick (not covid) and wasn't able to hunt much the rest of the trip but it was still a good adventure hunt and the camping in 60 -70 degree weather just made it surreal.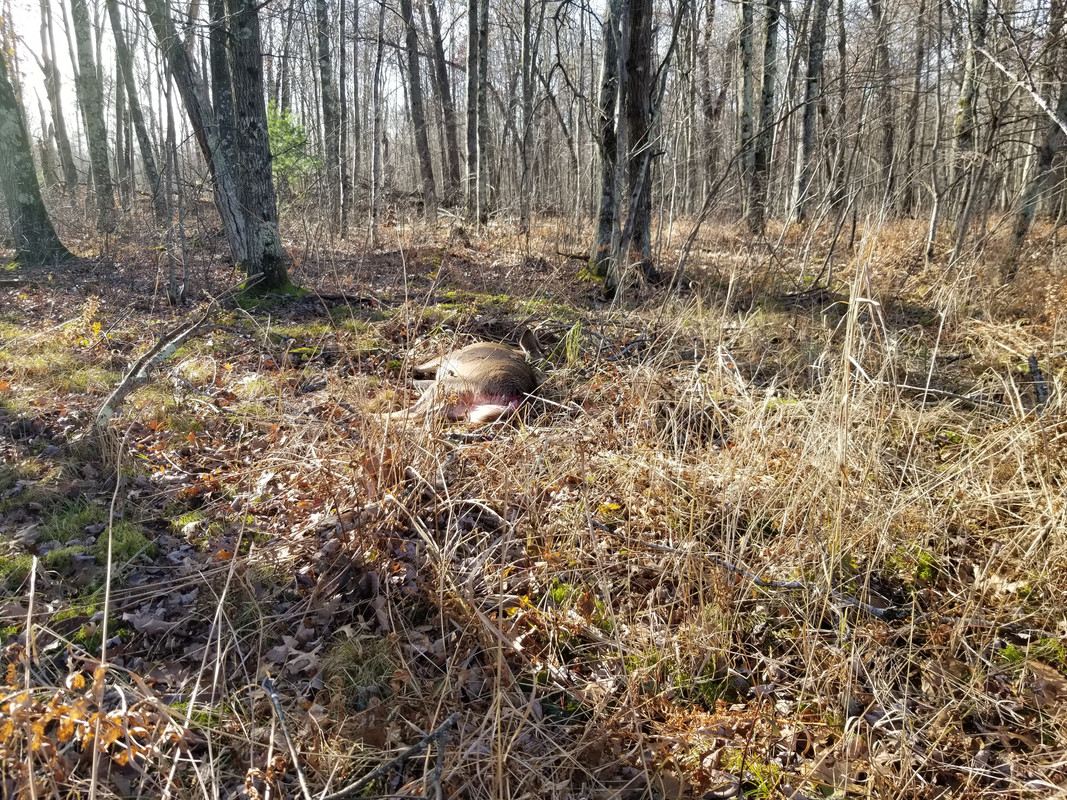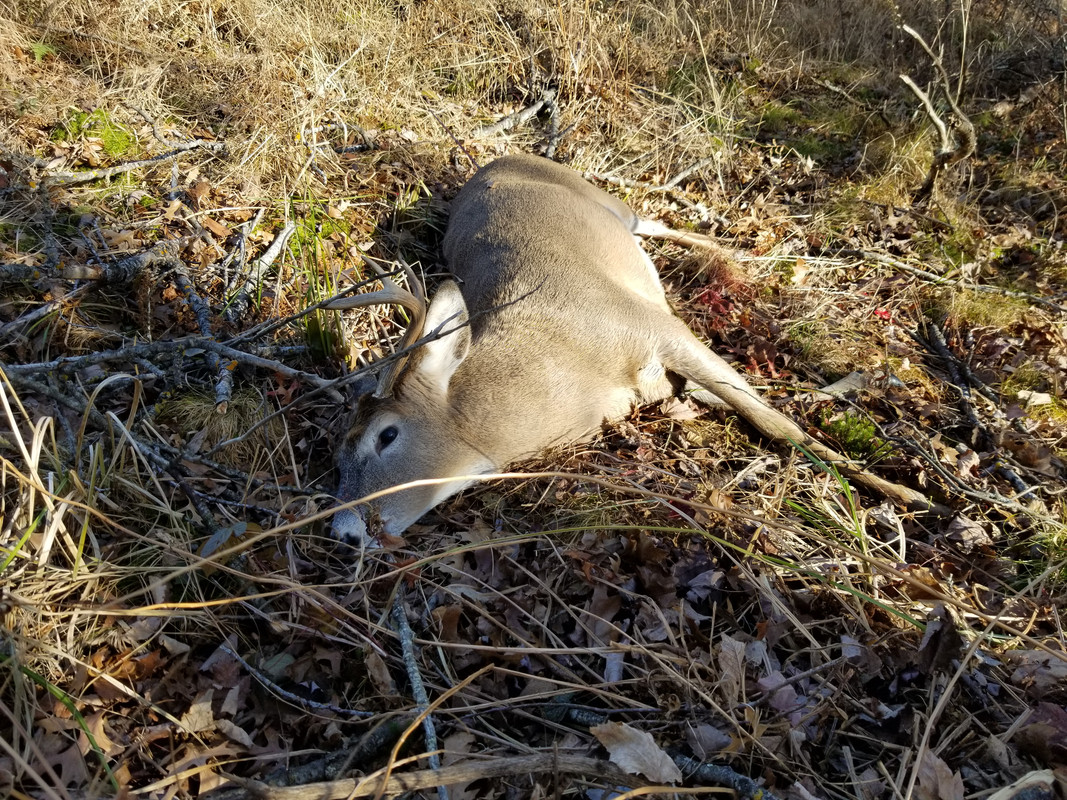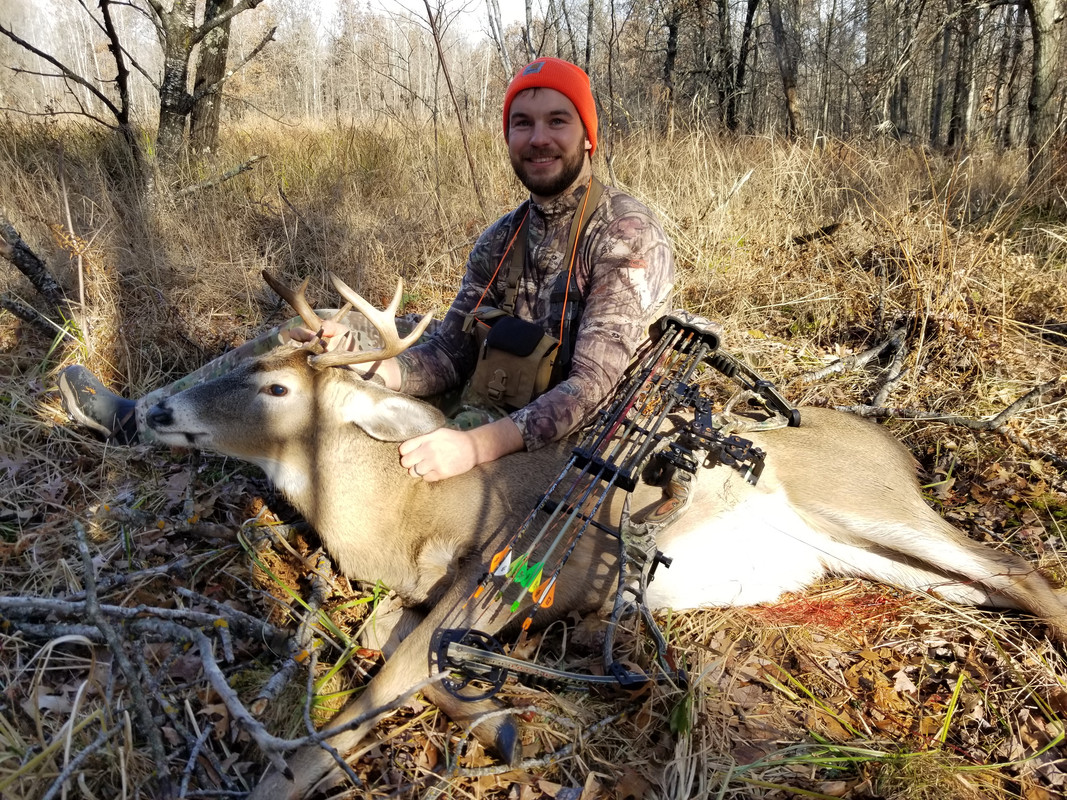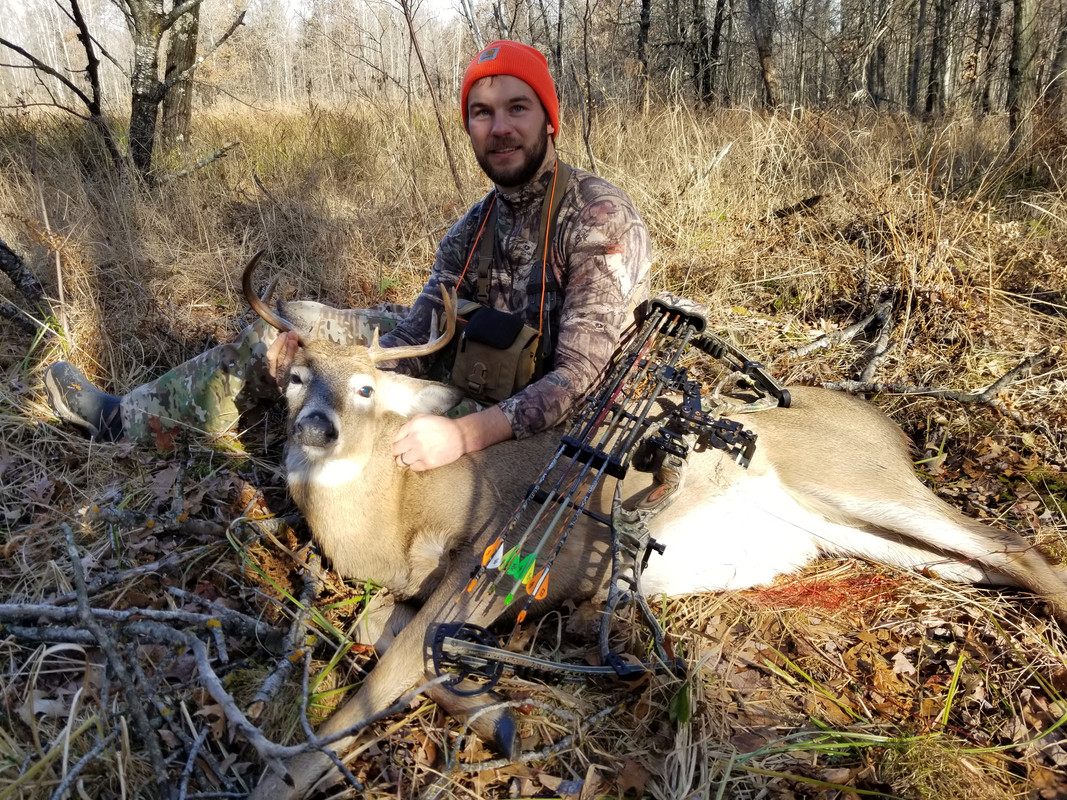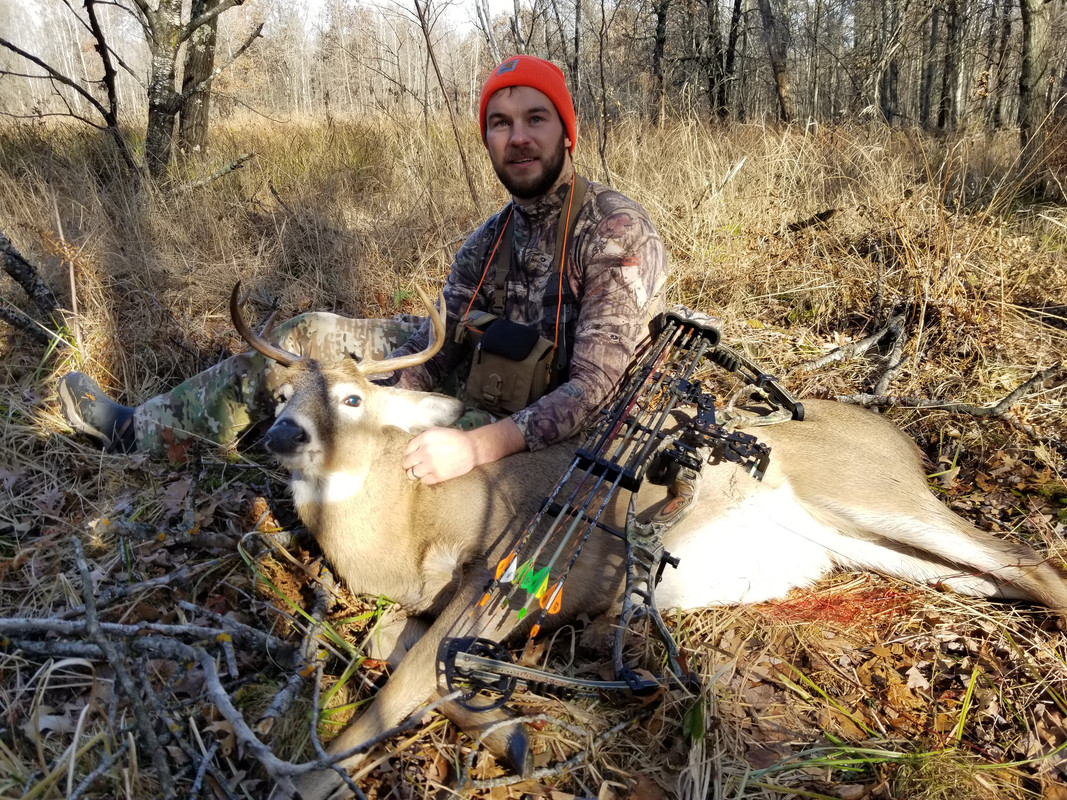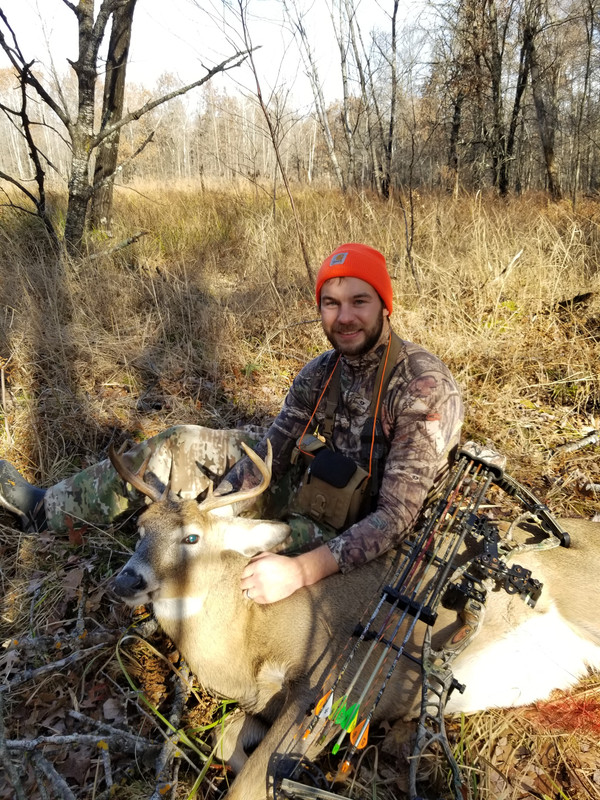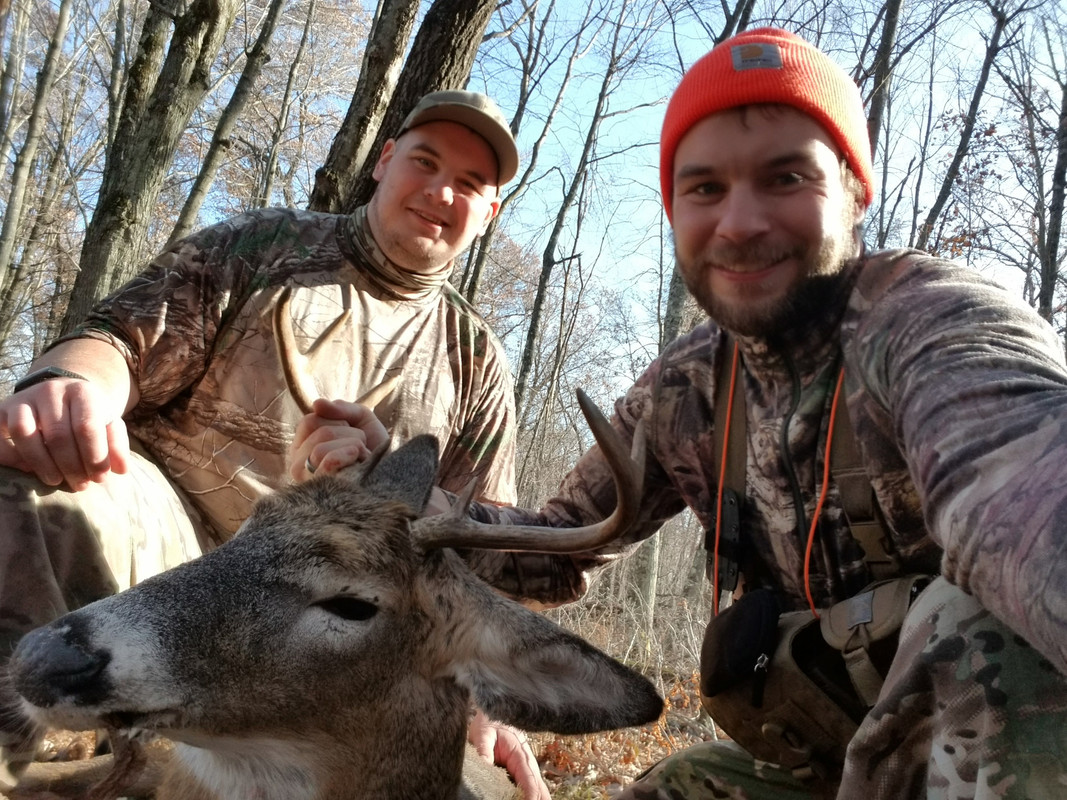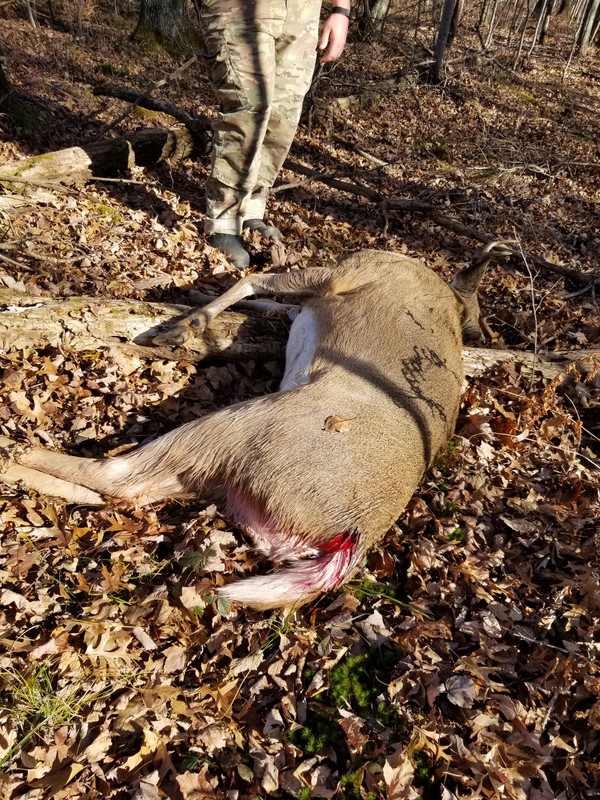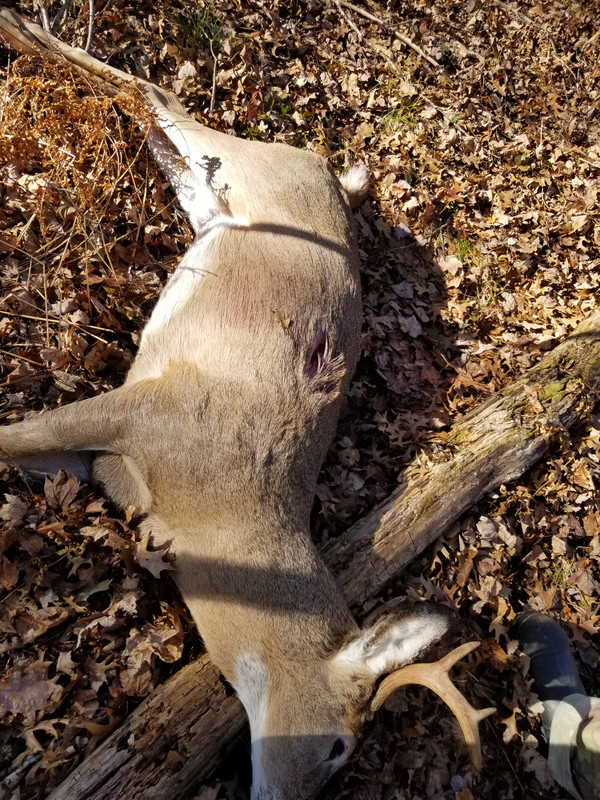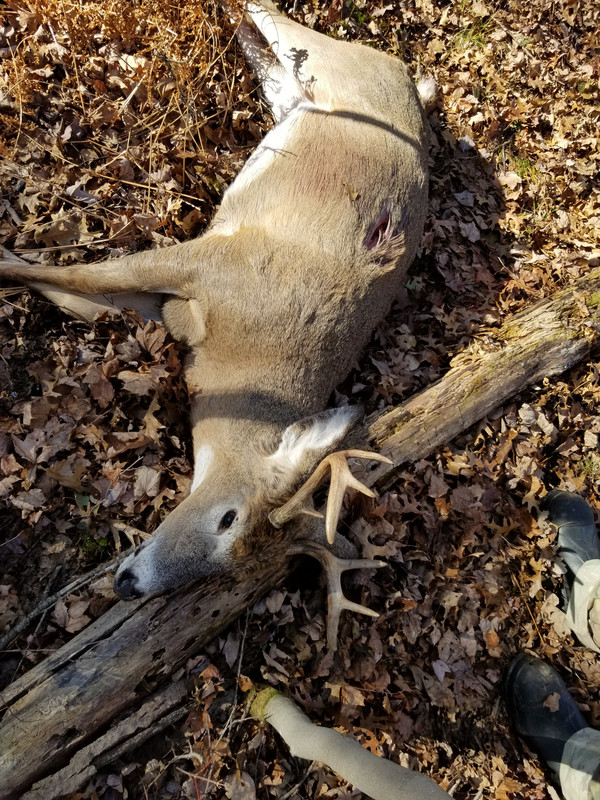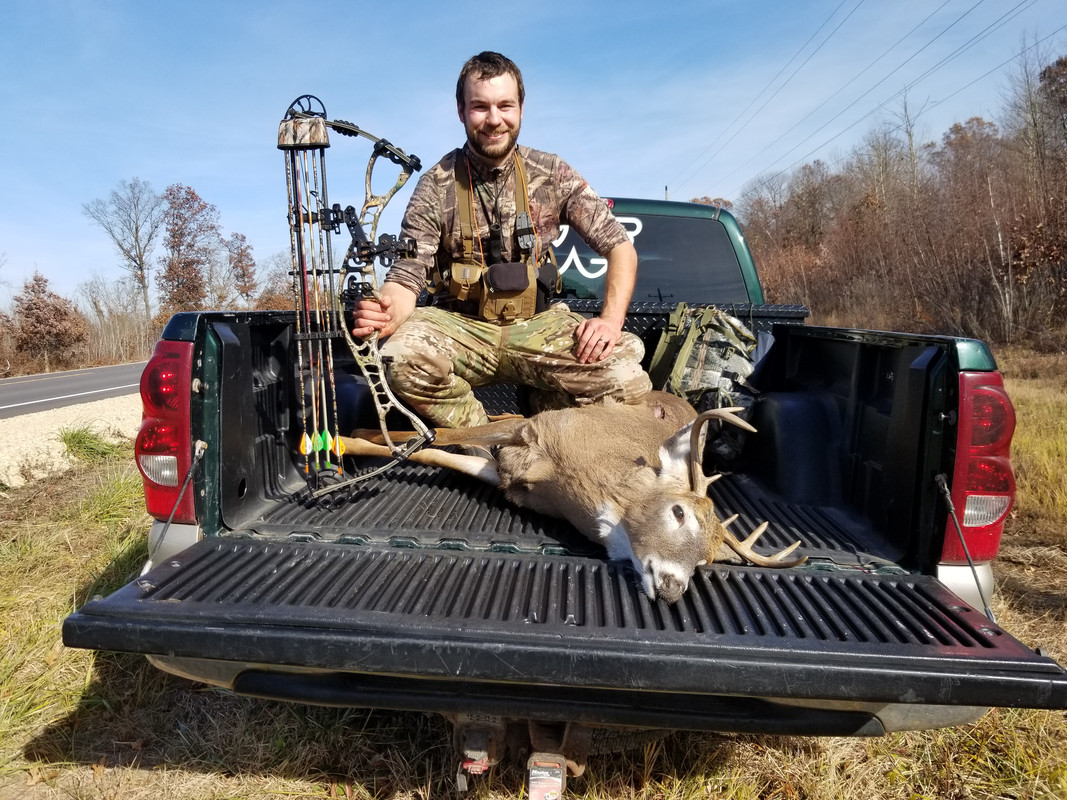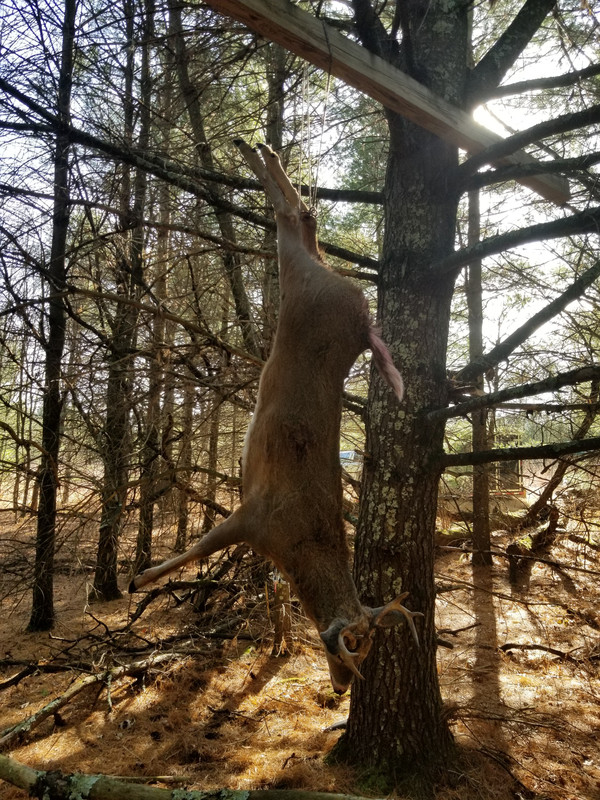 Camp: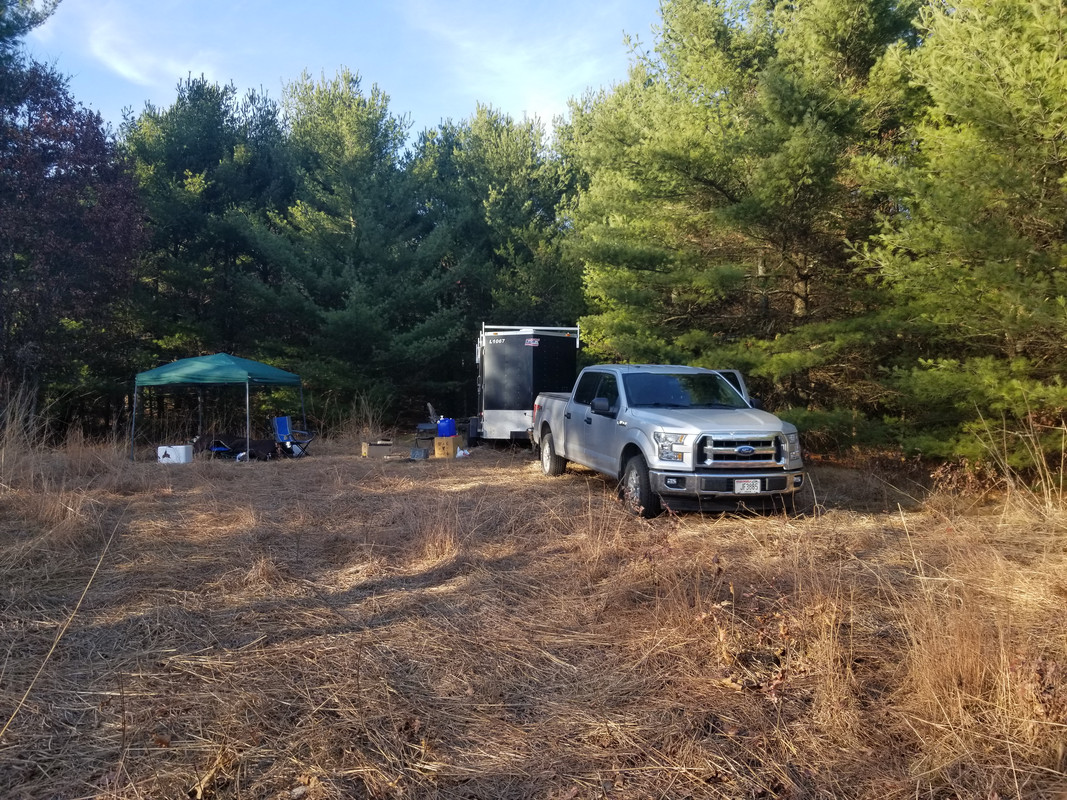 Bro's warm weather camp setup, cot and shelter: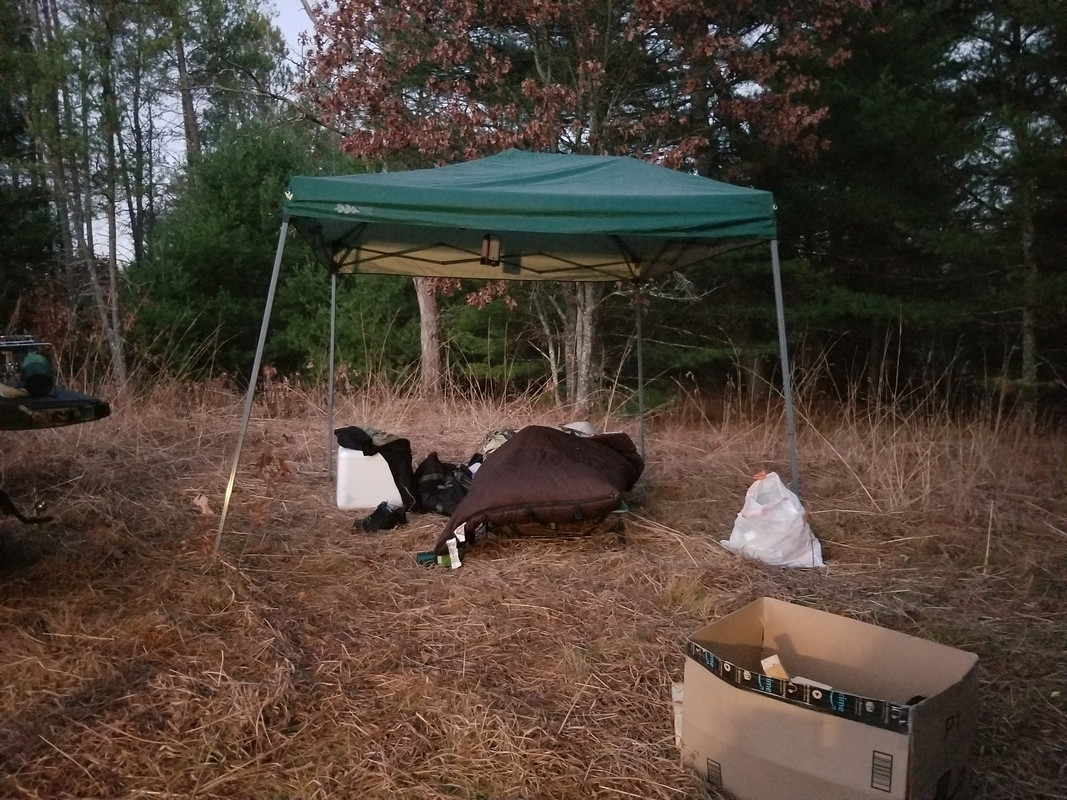 Buck heart, onions and butter: