Meat is probably a little bit bigger motivation for me than a lot of you guys. Last week my kids school went full remote so as of today we have an 8 and 9 year old at home with us for school, and we're both also very busy at work. I'd planned to hunt every day the next two weeks, but it just seemed like that wasn't going to round into form.
Hunted central WI mid last week and made a perfect play on known big buck bedding that was tore up with rubs, but a 120-130 mature buck ghosted me while I was waiting for him to appear while I was tucked behind a big oak at full draw. He never showed after hearing him leave bedding and seeing him come up a knob at 25 yards before I ducked back behind the tree. I think I ended up having my elbow sticking out when I drew and he didn't bust hard but knew something was up and slinked back to bedding.
Saturday morning was my next time to get out, and made the decision it was a meat mission, but I've also always wanted to shoot a Halloween buck. Wasn't planning on being too picky.
About 7:30 I caught some movement under a small tree 100 yards out and glassed a little buck working a licking branch and making a scrape. I banged some antlers and he either didn't hear of ignored them, but I figured he'd end up working my treeline anyways. Ten minutes later he was heading for me and got to 10 yards but head on then saw my decoy and hopped back to 20 in some thick stuff. Proceeded to stomp and blow at the decoy for over five minutes, thereby securing his canoe ride should he not exit carefully. I had one window to slide an arrow in if he turned broadside. Finally he did and my shot was true and watched him tip over at 60 yards.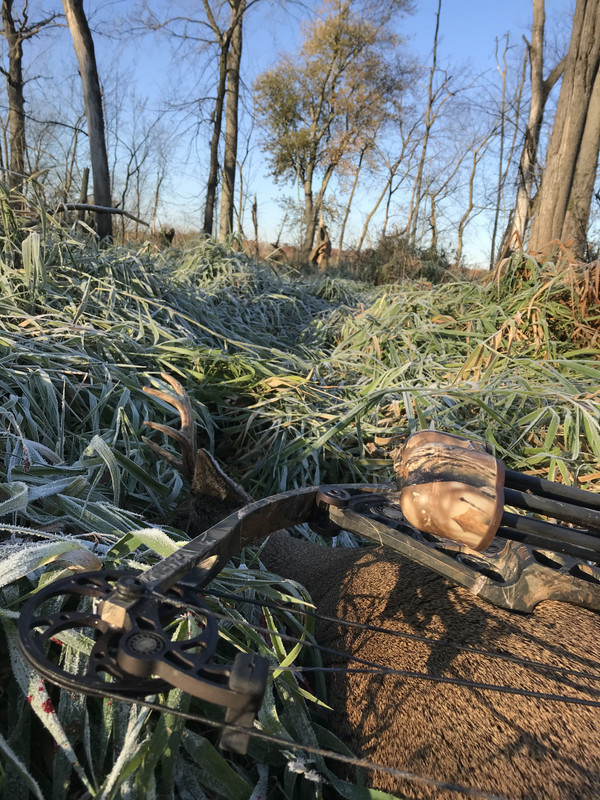 Kill tree is the silver maple with leaves in the background
Dragged him to the base of my tree and climbed back up. Illinois is a two buck tag state. At this point I had really planned on holding out for something big with the second IL tag. About an hour later I looked up and a little fork was working the scrape and ended up coming down the same path. He got to where the dead one was standing when I shoot him and literally worked the blood trail like a hound dog back too where the first buck dropped. About then a mature doe cam under me and got his attention. On his way back he ended up three yards from the dead buck.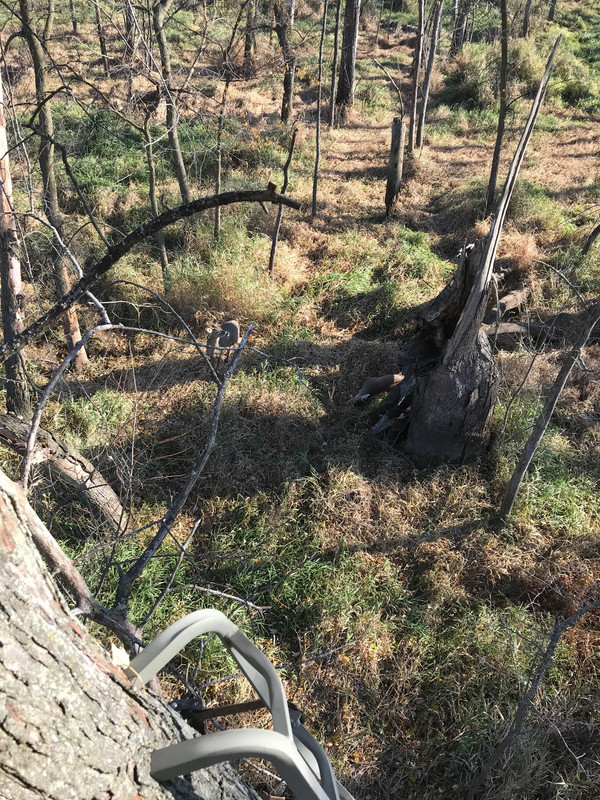 Live buck, meet dead buck
The small buck and doe kept looking south so I figured something else was coming. The little guy started moving the way and I looked around the tree to see a bigger buck with a small 6 point rack acting like he was the boss. He chased the little guy off then made a beeline for the decoy and ended up knocking it over. At that point I figured I've never doubled and between the meat and the memory I'd take him if he gave me a shot. The decoy falling spooked him off, but one quick grunt and he marched right back in under my tree and I hit him going away at 5 yards. He was also down in site!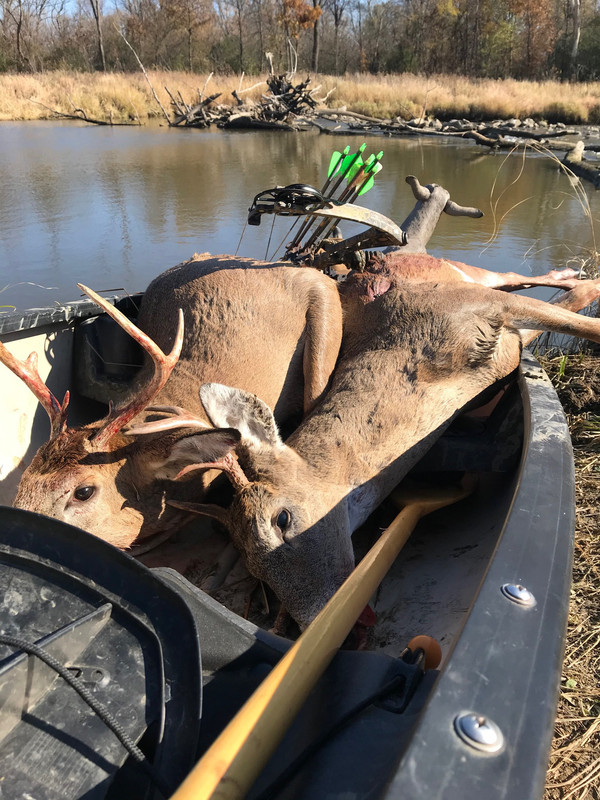 They won't go pope and young together, but was a very memorable morning for me, and a relief to have meat in the freezer for the rest of this crazy year. Bonus fun having two bucks hanging in the garage for trick or treat! Threw a tenderloin and heart on my neighbors bonfire for dinner too. All in all, a day I'll always remember and saved myself a taxi bill!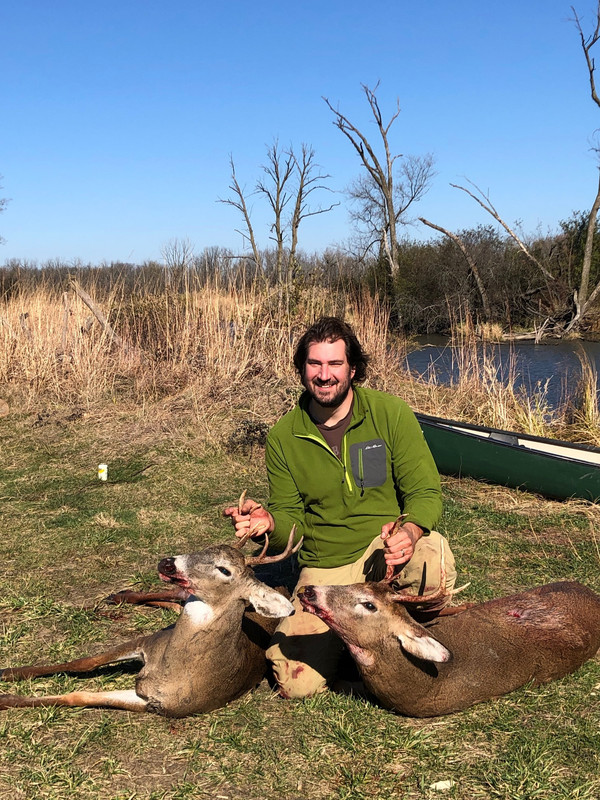 I have a WI buck tag left. Honestly, I've been using this IL private as a rut crutch for a while. Hunt WI public hard starting opening weekend, then just as I start to figure some things out, start sitting the private spots. What time I can find over the next few weeks will be dedicated to trying to get on a good one in WI.