Like every year, guys at work can't seem to figure out why I like to take this week and next off. Read all over the net and guys boohoo about some October Lull.
I just find it to be a great period of time. Especially if you can grab some cold front action. Seems to be as predicable as early hunts. But it's not 80 degrees and bucks are laying down sign that a dummy could find.
This hunt started in March of 2019. I spent a few days picking apart a public marsh by my new house.
I was really puzzled because the habitat was fantastic...the access is next to horrible....the tracks and trails were heavy...but rubs and beds were just about impossible to come across.
One area really stuck out. A real small island that did have rubs and lots of heavy trails leading to it. It's not far from the land...maybe 50yds. And it's too small for me to feel comfortable hunting.
Last season I hunted the edge over a heavy trail. Didn't see anything...but my setup wasn't as stealthy as I'd liked.
I don't write spots off after a blank. So today I revisited it.
The access really isn't bad. There is 1 "water crossing"...a floating 100yd wide swath of swamp grass.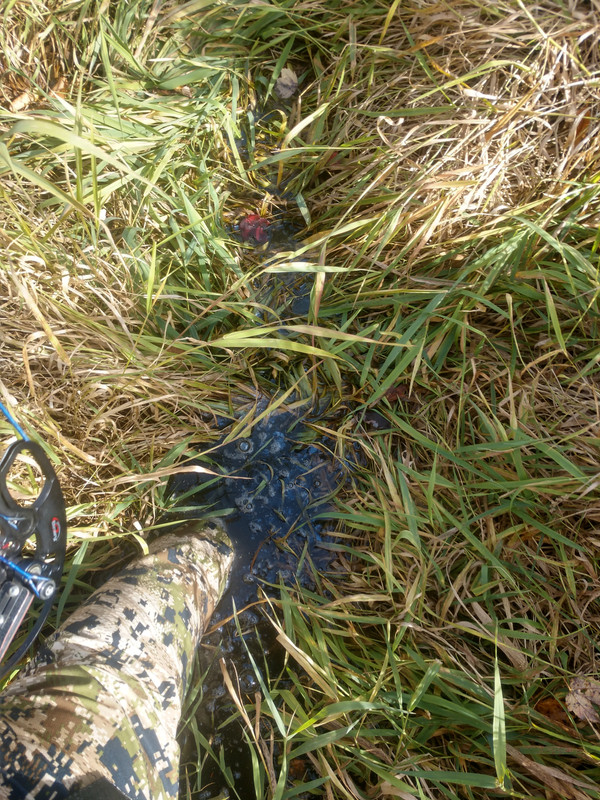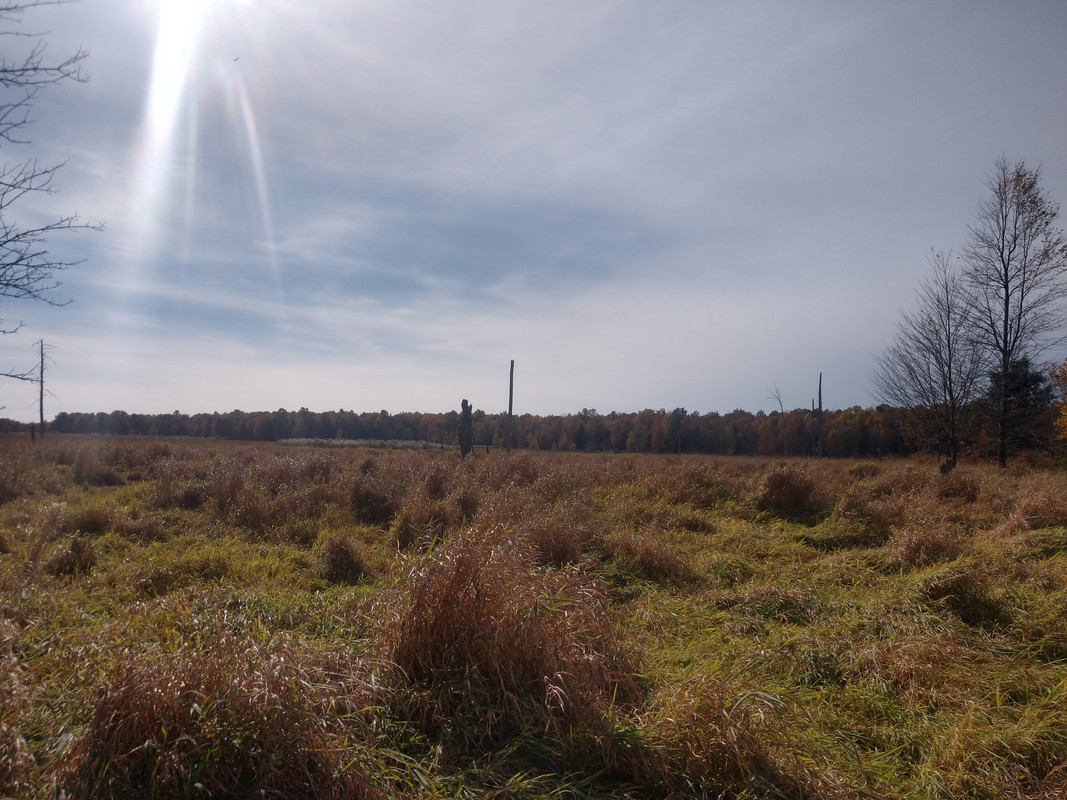 Other than that, smooth sailing. Walking through the woods. The woods are fairly thick. Mostly maple, cherry, hemlock and I think beech.
I was getting close to the island I still believe is buck bedding.
Out of nowhere, an acorn about hit me on the head. Ive been there a few times now and I failed to noticed a few pretty big red oaks.
I stopped and listened. Up ahead I spotted another and it was dropping pretty consistent.
As I scanned around I noticed a tiny fresh rub. (I didn't notice it till after the kill, but there is a brand new scrape next to that rub).
I hunted a different part of this marsh yesterday and couldn't find a rub and saw several deer in a similar situation....so I felt I was definitely on to something.
I didn't like bedding being about 150-200yds away. I knew between me and the bedding was far too thick. Do I go for broke and hunt the edge?? Do I hung the food source and hope they get up early enough?
I opted to hunt the oaks. What made me comfortable with it was the fact that there are several hard trails from the land to the island. If there was just 1, I'd probably opt to hunt it again.
Tree selection was difficult. Everything was either blocked by the scrub beech and other big saplings....other trees were ridiculously wide open. I finally settled on a tree that offered good shootable openings for the predicted movement and had enough cover. Not kidding, that was a half hour decision in its own.
I settled in right around 430. A little later than I wanted but still a couple hours for the woods to settle down. Felt like I got in good and clean.
About 615 the smallest spike I've ever seen came right in. If he does any fighting, those little daggers of his are going to knock out some eyeballs. Of course he hit my ground scent...which made him a little suspicious. Of course he circled downwind. He did the stupid stomping around stuff and eventually snuck off. I was praying he didn't blow or take off busting back into the bedding. I was relieved when he snuck the opposite direction.
About 635 I catch movement to my left. I could immediately tell by the stagger it was a buck. I stood up and grabbed the bow. I had a good opening about 12-15yds in front of me he was marching towards.
I caught a glimpse of his rack and instantly told myself I was passing. I stayed ready because I've fallen victim to that trick before.
He stopped and was casually rubbing his antlers in a honeysuckle tree. Not really making scrape but definitely marking his turf.
I realized his body looked to be a mature buck. I couldn't see his rack well but it looked like my first assumption was off...I really thought it was a small 1.5yo basket rack.
As he was about to step into the opening, which is WIDE OPEN I knew I better draw...just incase.
I drew and his head poked out from underneath the honeysuckle tree. His rack grew. Not a giant. But not a buck I had the will power to let walk.
I brought my pin right up his leg and sent it.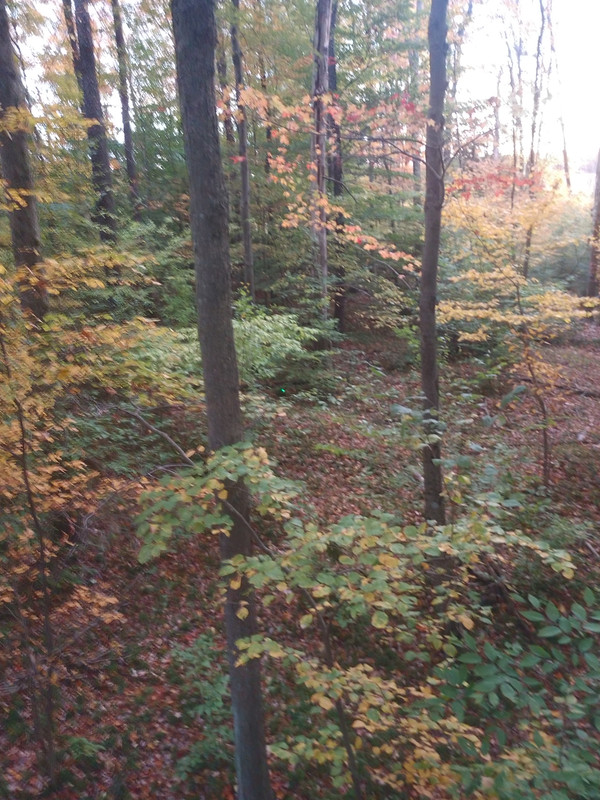 The arrow blew through him like he wasn't even there. I had no doubt I smoked him. He trigger about 20yds and stopped for a second. That's when the blood pressure started to really drop. He did the old death circle and made it about 30yds from the shot. I couldn't see him from the tree...but I had no doubt he was dead.
I stood there in silence a few minutes. Never heard of saw anything else. I was confident it was over. I decided to make use of the last 20mins or so of daylight and break down my setup and go see him.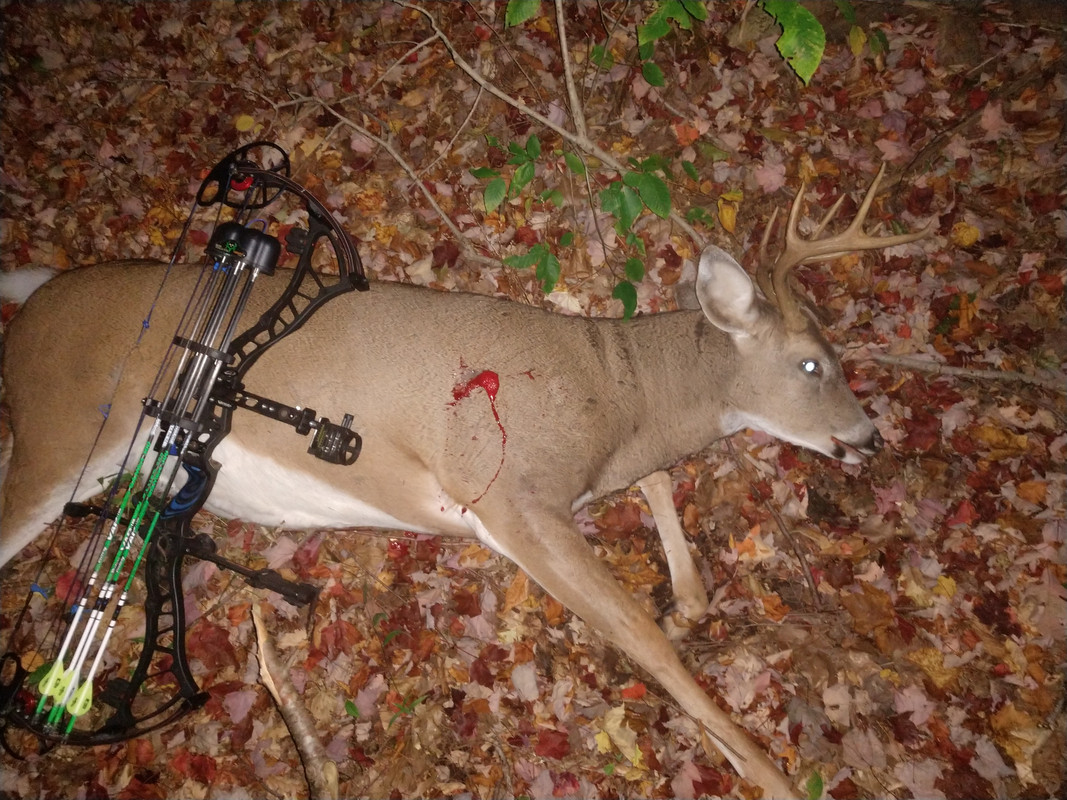 That's the entrance.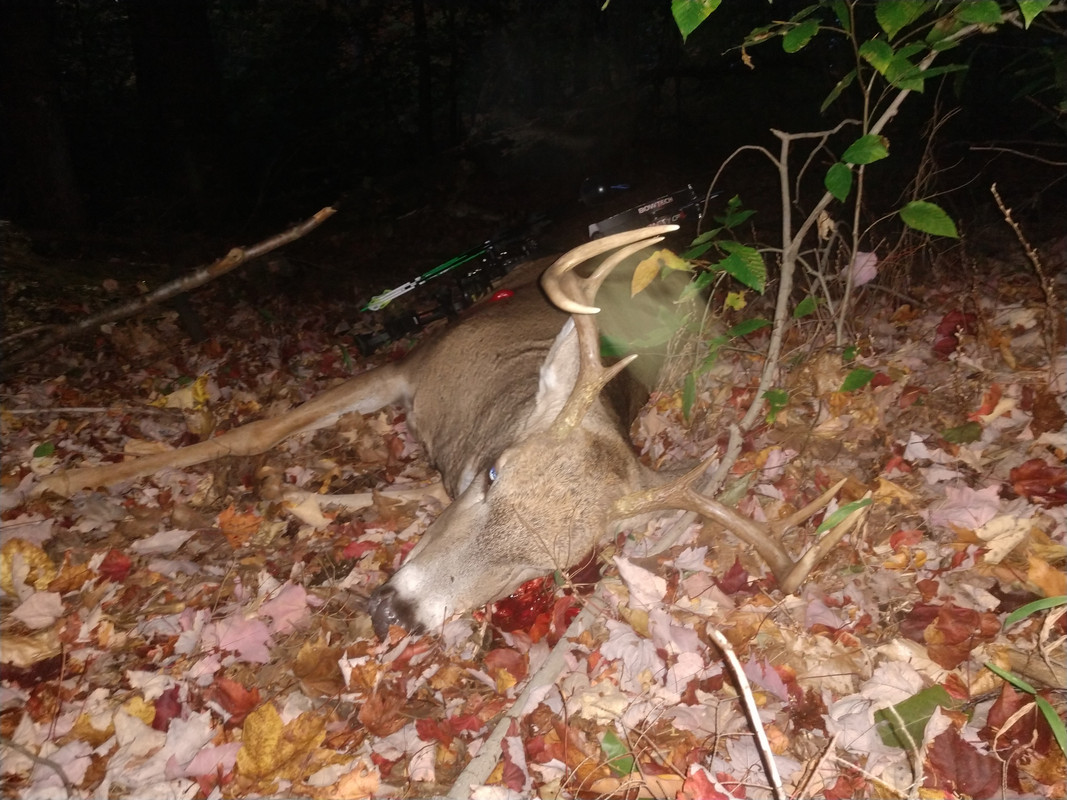 Im happy as could be. Day 1 of my "vacation" and buck tag is filled.
I tagged and gutted him. Spread the legs and chest to help air him out while I was gone.
I was only 10 mins from the house so I took my stand and bow out and headed for the house to figure out how I'm going to get him out myself.
I decided a sled and my cart should be alright opposed to packing him out. Of course when I pulled in I remembered I didn't grab the sled...."eh...I shouldn't need to drag him at all aside from the floating marsh grass section..."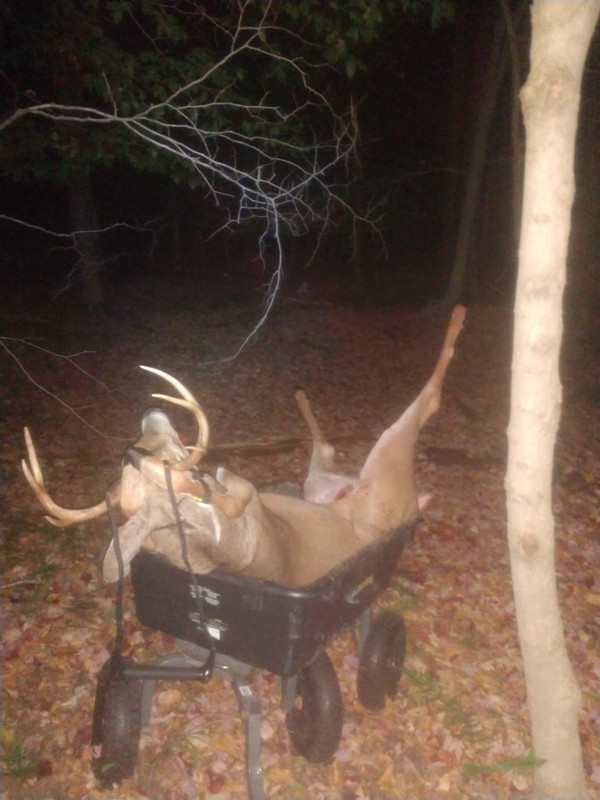 Had him loaded on the cart at about 930.
I made it about 8 feet before the cart toppled over.
I should have drug the cart out right then and there and grabbed the pack....
I finally hit the road at midnight. Every muscle in my arms and legs were cramping something fierce. Ended up getting and dragging. About 50/50.
I am done dragging deer or trying to cart them through the woods. The cart works GREAT if there is a good trail. Dragging is brutal unless there is snow...
Time for bed!