If you remember my post about discovering a great buck literally in my backyard.....
Saturday, I was walking to my truck to head to work and heard a tractor seemingly close. I peeked into the woods and my neighbor was dumping yard debris in the woods between out houses. Figured it was a prime time to grab my card since the area is sorta disturbed.
The backyard buck is a regular passer-byer. As is a bunch of his friends.
I haven't analyzed the pics yet...but I think every morning and evening they are coming by. Often during shooting light.
They are hard horned now.
I have no idea where they are bedding but based on timing and direction, I am fairly certain they are bedding between the road and my shop. There is a small wet ditch of thick swamp grass and high thick nasty cover on both sides. The west side is my yard/shop...east side of that is a road. South is a road. North is my neighbors driveway. Based on times, I just can't see a parade of bucks crossing either road.
Not sure how many different bucks are there. Definitely 6-8+. I honestly believe it's a bachelor group and even days I get pics of the other bucks and not the biggun, I think they are probably all still in the area.
Acorns are raining right now.
My opener isn't until the....3rd. I'm scheduled to work 3-11. Off the 5th and 6th. I could hunt the morning of the 3rd..
Do you think they'll stick on that pattern??? I know this time of year 2 weeks can be huge.
Do I strike in the morning? Or evening? I seem to get pics of both times. Some days earlier or later. Often in shooting light but sometimes not.
I'm leaning towards a morning hunt...but not till the 5th when I can hunt morning and evening and if they don't show or I can't get him killed, I can hunt again Tuesday. My thinking is I'm in the tree when they come by. If they don't come by that morning, I am there that evening incase they were already bedded early...then again on the 6th just for good measure.
I picked out a tree today while I was mowing. It's like 16yds from where I mow and like 25 to the camera. They seem to walk by 2 different ways and from that tree it'll either be a 10 or 20-25yd shot.
Do I check the camera anymore???
Do I try to hang my stand ahead of time so I can really sneak in? Or wait and go in "mobile" and try to do it quietly?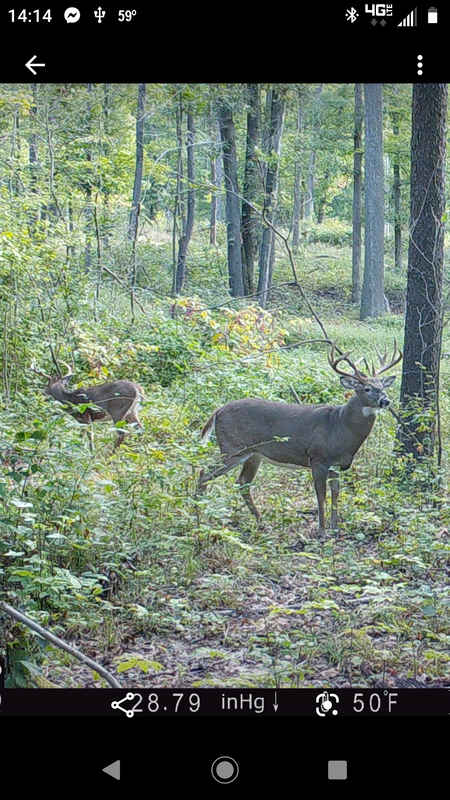 He's a tank....
So much to go wrong. The westerly predominant wind is pretty bad. North or NE would be ideal...I'm not too sure the bedding is wind based. Several bucks and several are definitely educated 2.5+yo so it'll be tricky if they do parade by...and he's often in the rear.
Definitely looking for some guidance on how to strike.