Day 3 (Hump Day)
Today was more of a kick in the teeth than anything. It has become highly apparent that there isn't any rut action going on in these parts. When I scouted in the spring I did so with cruising bucks in mind. I believe I'm a week early and this heat wave isn't helping. Mosquitos have just bout ate me to the bone.
This morning I set a pinch with a big open field to my back. From daylight til 10 I probably saw 30 doe angle across that field 100 yards a way. Not a buck one!
Realized my rut plan isn't gonna fly. So I got down a lil earlier than usual and beat the bushes. I located a pretty big thicket and located several trails with rubs coming from the thicket. I sandwhiched my stand inbetween 3 of them for an evening sit. Didn't see diddly.
I've already made up my mind the next deer that ends up inside 20 yards of my stand is dead meat. I'm ready to get the heck out of here and back to civilization. I haven't seen a soul since I got here. Getting a bit stir crazy. Hopefully tomorrow's the day. Fingers crossed....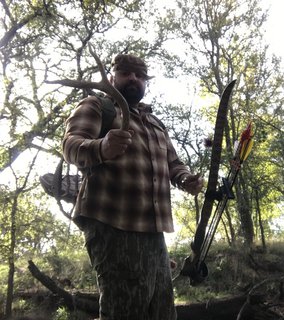 Found this big chewed up shed in a dry creek bed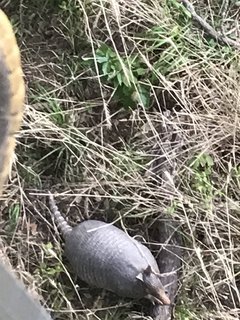 Highlight of my evening a lone armadillo passed under me