Yesterday morning at 0730 I shot this guy in the face: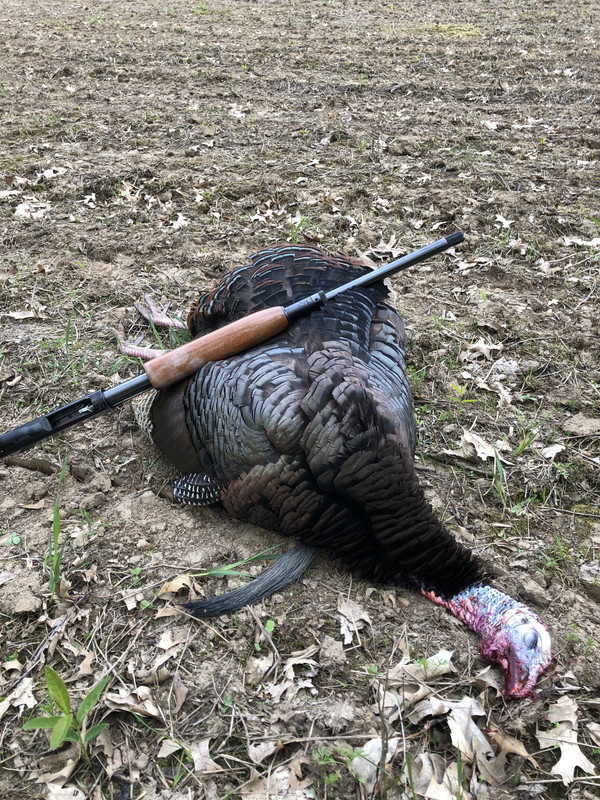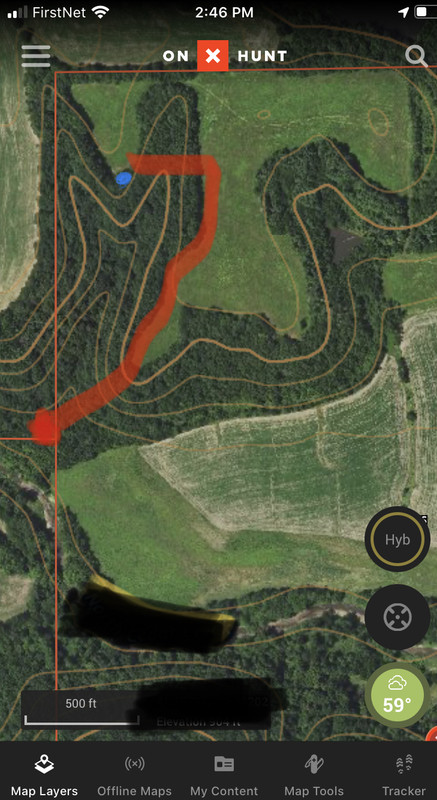 I was hunting a private spot for the first time. The night before I decided I'd try setting up at the blue dot the next morning and hope for the best.
I setup just inside the tree line and facing downhill. At first light I heard 4 different gobblers. One of them sounded pretty close, probably within 100 yards.
After fly down the close bird was not interested in me and only gobbled a couple more times. I eventually got a hen to respond to me that I assumed was with the Tom that wasn't interested. She got pretty fired up and came closer, but never showed herself.
While I was messing with the hen I noticed the 2 birds that sounded the farthest away started to sound a little closer. The red dot on the map is where I think they were roosted. I continued to call aggressively and following the red line the birds continued to close the distance.
They eventually got parallel with me on the hill next to me and I could occasionally see them pacing on the field edge. After a couple minutes I could see them running down the hill they were on towards me. They crossed the ditch and I could hear them running up hill. A few seconds later I could see 2 heads peaking over vegetation about 15 yards away.
I was about to shoot when a squirrel jumped up onto a tree next to me. The turkeys spooked, putted, and began to run the opposite direction. A few yelps changed their mind and they ended up back over my left shoulder about 30 yards away. After slowly twisting around to get my gun on them I took the first shot I could.