I was able to slide out for a couple late season hunts here in FL.
Last month I went with my dad on a hunt and we were able to double up on bucks. Not much of a story, we have hunted this area for years now, we hunt a few remote funnels around a big nasty swamp. Just sit and wait and the bucks generally slide thru...
Both bucks had big bodies and worn teeth, just nothing really going on in the antler department: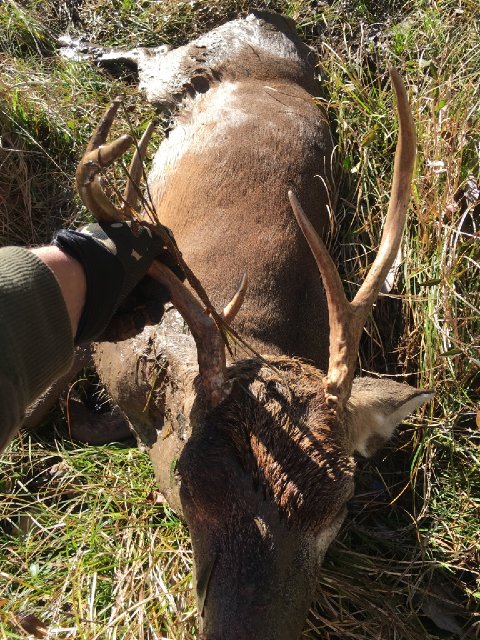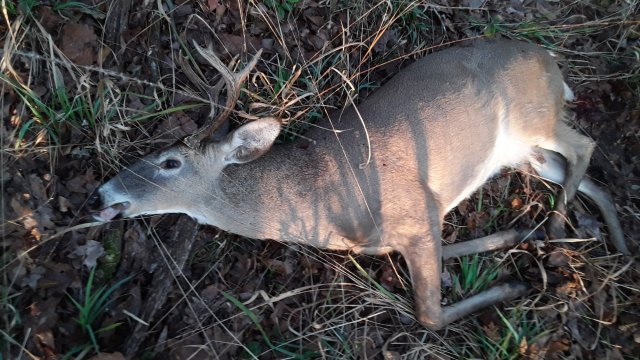 This weekend I was able to get out with a buddy and hunt a new area. I don't really know if I can write this story in a way that will do it justice, or give a proper perspective of just how much I was able to learn, why I made certain decisions and also just the luck factor that is purely out of our control. I'll just start at the beginning...
Picked out a few areas that looked good on the map. Showed up the afternoon before the hunt opened and spot checked. Wasn't finding nothing for deer sign. Ran down deep into an area and finally started finding rubs, big rubs. Kept speed scouting, burning transitions and peaking at the map trying to make sense of the sign. I was basically playing the 'hot/cold' game with buck sign until I stumbled into clusters of big rubs, relating it to the map I knew I was in a big bucks core area. When you find one of these areas it is just an aha moment and everything makes sense of why they are there. But all the rubs seemed to be around 4+ weeks old... no matter, this was by far the best sign I had found so I burned back the mile or so to the truck to grab the stand.
I get the stand on my back and it's already after sunset. So I am really making tracks down the access path to get in there and get the stand set before it's pitch black. Just before I get to the area I wanted to hunt, maybe 1/4 mile shy of it, I come around a corner and there is a buck standing about 75 yards off the path in a small clearing. I can tell he has a tall rack but it is just dark enough and he is just far enough that I can't tell much else about him. But of course I make a mental note of where he was and exactly which direction he ran.
I get my stand setup that night where all that big sign was concentrated. The following morning I get in early, realize the wind isn't quite what it was supposed to be. I tear down and setup about 30 yards away. Now I could shoot a buck before it get downwind of me, but I knew I wouldn't be able to get him before he got downwind of the original tree I was in. This is the 2nd time this year I put myself in this predicament and both times deer came in exactly how I anticipated and blew out from the scent lingering round the original setup (Lesson learned). Thankfully this time it was only a spike. I tore the stand down and picked that area apart, it is a great spot but the wind wasn't cooperating.
I pack out and drive around spot checking for a few hours. I burned thru a bunch of areas and nothing looked remotely as good as the section I was in, so I decided I would head back in that afternoon and setup for the tall racked buck I saw, even tho I didn't think he was very big, lol.
On my way back into that area, I ran into an old buddy. Dude is a serious big buck killer, so when he told me he was heading back into the same section I knew I was definitely in a good area. I told him all the sign I found and the buck I saw with the tall rack. He already knew about all the big sign and showed me some trail cam pics of a big 8 point and asks if it's the buck I saw. I told him I didn't think it was that big of a deer but it's possible. We talked about all the rubs being old and nothing being freshened up. He said the big 8 was all over his cams in that spot until about 4 weeks prior. We both figured the buck moved off onto private. But my wheels started turning, what if that was the buck I saw...
Anyways, I walk in and get to the spot I saw the buck the night prior. I walk down this little opening and pick out a tree where I can see into this section of young pines and nasty thick stuff near a swamp transition. I thought for sure this buck would have been laying somewhere back in that mess and I had a perfect 'just off' wind.
To make a long story short about 15 mins before quitting time I look over my right shoulder and I see this stud of a buck just strolling thru what is basically an open area about 60 yards away, directly downwind. It caught me so off guard that I got really rattled honestly. So I swing around and try to get the gun on the deer and the wind is blowing, I mean blowing 20-30 mph gusts and I was in a pretty small pine tree. So if you can imagine trying to settle crosshairs while wind surfing... yea that was pretty much it. The crosshairs crossed his chest a few times and target panic nearly got me to just hammer that trigger. But I stopped myself, told myself I had time and wait for the wind gust to stop. When the wind let up, I stopped the buck and let it rip.
Where this buck came out of was a tiny, tiny brush pile(maybe an 1/4 acre) that had a couple big oaks, right adjacent to the main access path. Idk how this deer let me walk and setup directly upwind of him, I can't understand it but the speed of the wind must have just carried my scent in a way that it never got to him.
I don't really know what else to say except that I am extremely happy and grateful.