Sorry for the long read in advance, consider it a way for compensating for my lack of activity on here in the past year!
Looking back on this past deer season, I see three distinct chapters, each ironically with three hunts in them. Here's the story.
Chapter 1
Going into the fall I was able to scout a lot more than I had the last couple years. By putting in the hours and the miles across a dozen or so pieces of public land here in Iowa I narrowed in on a handful of spots and a few bucks to target with my bow that seemed pretty high odds.
I found my share of buck sign while scouting, but it also gave me a chance to do some foraging – one walk in early September yielded a trifecta – puffball, chicken of the woods, and hen of the woods mushrooms!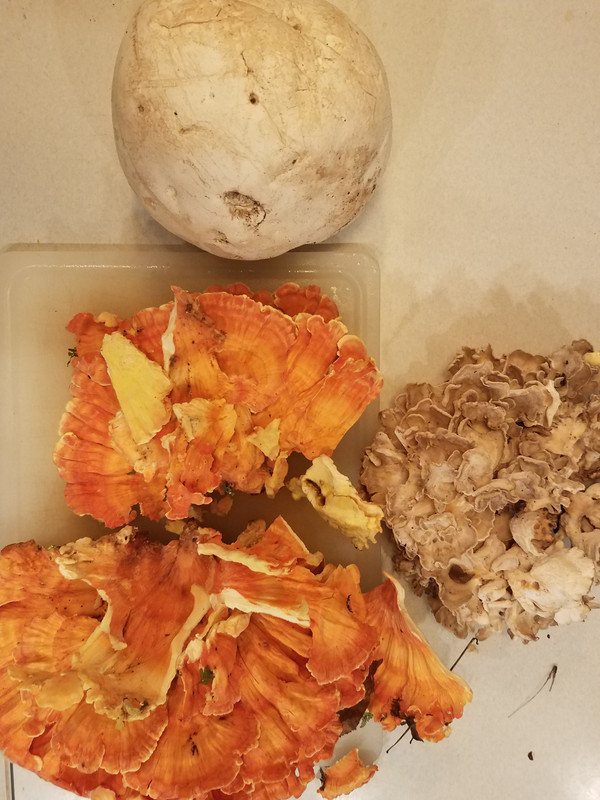 As a result of the scouting, I went into bow season optimistic about my chances at an early season buck. I made it into the woods with my bow twice in the first few days of October after specific deer….and didn't see a single deer either sit. That is the reality when you are hunting older bucks – you won't see much else on many hunts, because they can act and move so differently than other deer.
My third sit in bow season was the morning of October 12th. I slipped in to hunt a public land buck bedding area that I had known of for years. Safe morning access meant going across a few lesser hills then scaling a steep 200 foot bluff, part of it on my hands and knees.
I knew that most of the bedding was actually just across the fence on private land but the deer had to cross public land to come and go from food. It was on one end of a large ridge system. Further up the ridge were red oaks loaded with acorns.
In 2018, also a good red oak acorn year in that area, I had a trail camera set in this spot and got a couple nice bucks coming and going most frequently in early and mid-October and also the preferred weather conditions – hard westerly winds and cool weather.
I put a trail camera in this spot in August this year again, but had not checked it yet. All I knew going into this hunt was when I had hung the camera was that all the indicators were for a big buck to be there this year,
The morning of October 12th was a beautiful cool fall morning with a hard westerly wind, perfect for this sheltered bedding. I was set up slightly below the military crest of the ridge, where I knew historically the bucks liked to travel by several perennial rubs that marked the faintest hint of a trail, with the public land boundary about 30 yards behind me.
As I settled into my saddle, I made a boneheaded mistake that should have cost me big. I dropped the 5' atrier (rope step) that I use to hang between climbing sticks, which allows me to get close to 20' up with only three sticks. I needed to climb down to retrieve it, but decided not to. It felt like deer might be close and it was getting to grey light time by then. So I stayed put.
It was a beautiful morning even if the wind roared on the ridge top above me. Color was peaking in the hills, one of many reason I love hunting mid October….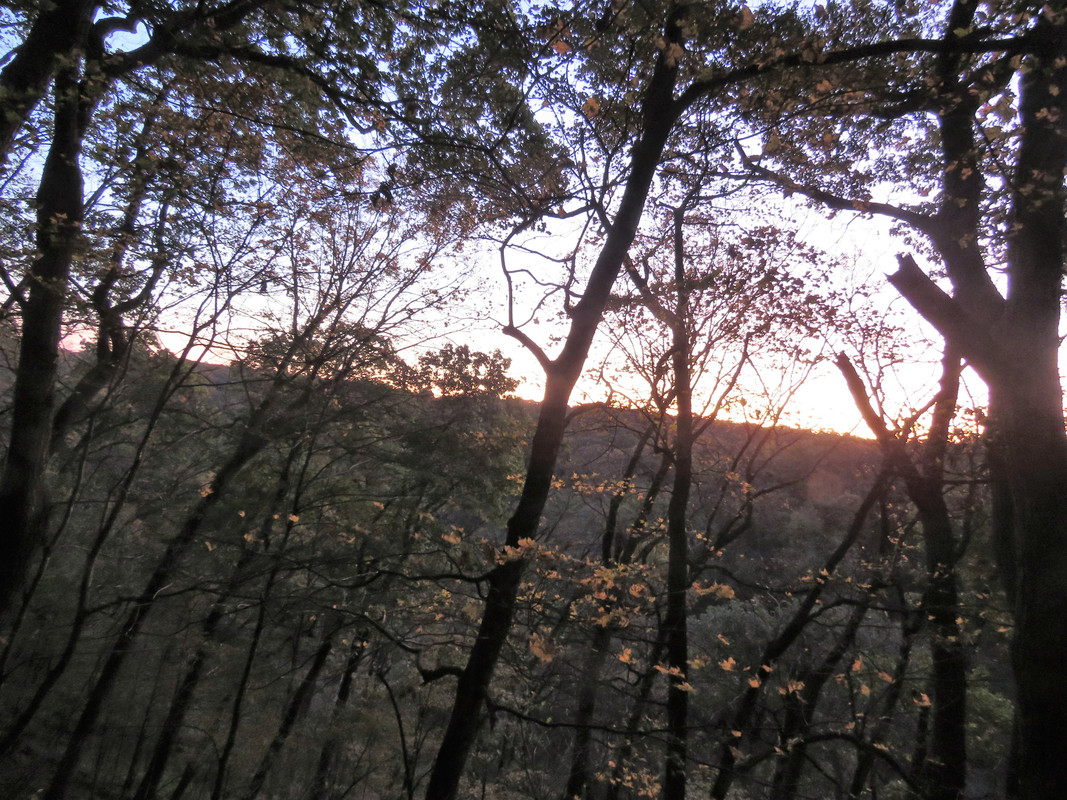 It has taken me years to understand some of the quirks when it comes to the wind and thermals in bluff country. One thing I have learned to use to my advantage is hunting fairly low on the leeward side of big bluffs with a strong wind over the top of the ridge. It creates an updraft, and such was the case this morning. The milkweed I dropped was consistently going UP, over my head. Nothing but the eagles could smell me that morning.
I was right about deer being close – right after shooting light a 2 year old 8 pointer picked his way up to me.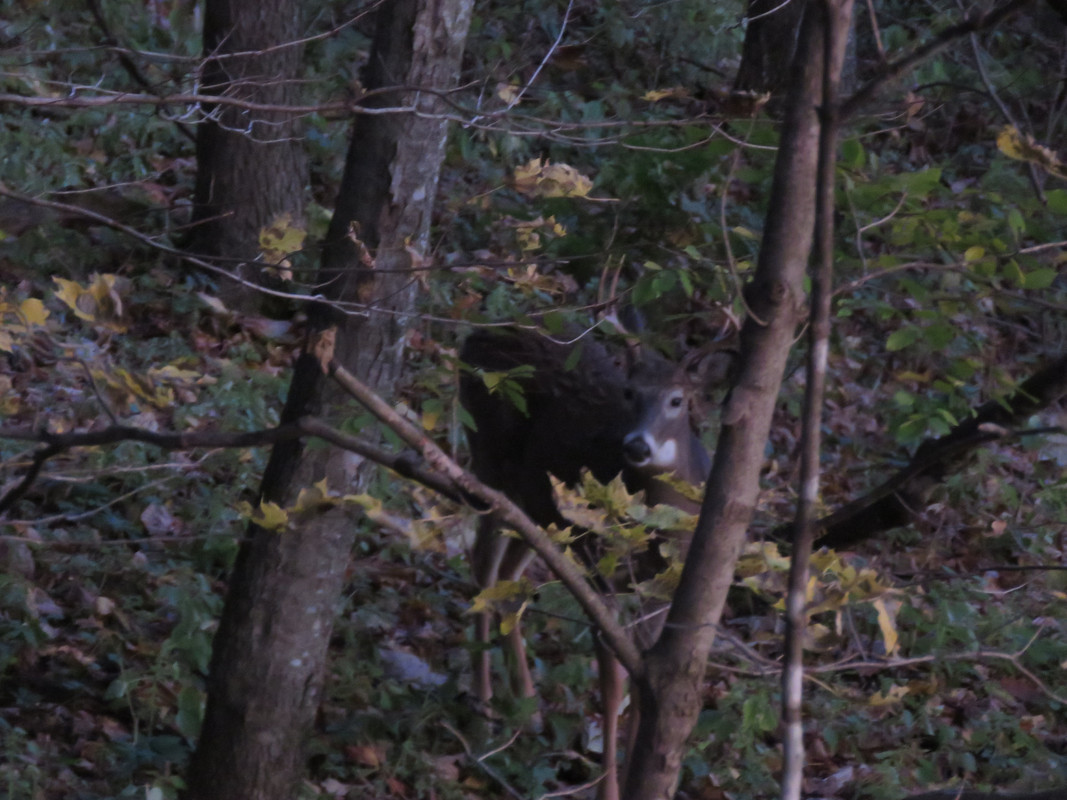 The 8 stayed close to me for the next half hour – I saw a doe and fawn come through too. Then a little after sunup, with the 8 still in front of me, something made me glance to the side and I instantly went into kill mode at the sight of a wide heavy racked buck walking calmly toward me.
He was as low on the slope as he could go without rock climbing gear and would pass pretty close to the base of my tree. Everything was perfect – the tree was mostly between me and the buck, hiding me well, and he was approaching from left to right. I grabbed my bow and gradually rotated clockwise around the tree to keep him in the open as I slowly drew back. He was already close – I had not heard him in the wind until he was inside of 30 yards.
He was in the wide open but still sharply quartering toward me so I did not shoot. While I shoot a heavy, high FOC arrow with a COC broadhead to that will get sufficient penetration no matter what shot angle, the angle was so sharp I knew I might not hit both lungs, and that was definitely a reason not to shoot.
As the buck drew near the angle began to get better. I was an instant from deciding it was time to let the arrow go when in one motion the buck wheeled and began to run up the hillside away from me – drat! I am certain he smelled the atrier, only 30 feet away from him or so at the base of my tree. The air was rising 20' in the air but it was likely pretty swirly right at ground level.
The sight of those wide heavy antlers bounding away is still etched into my mind. After a lot of trials by fire I have settled down in moments like that though - time slowed to the speed of molasses. I was still at full draw, generally tracking his movements up the slope in front of me. I knew the buck was spooked by human scent but he was also completely surprised and not sure where the danger was. He had to go up over the military crest right in front of me on the steep hillside, and I knew he just might stop and look over the crest before starting to move again, as big bucks so often do when their eyesight is obstructed.
And that is exactly what he did. He stopped about 5 yards shy of the 40 yard circle I had mentally painted around my tree, sharply quartering away. My 40 yard pin caught the bottom edge of his brisket – actually behind his last rib at that shot angle – and the arrow was gone. I am not sure how fast that shot went off, but it was fast – maybe a couple seconds. Very fast shots are something I practice. It's not how I recommend shooting given a choice, but I practice fast shots for situations just like that.
The arrow hit where it was supposed to and the buck didn't go far.
I recognized the deer when I walked up to him – he was one of the nice bucks last year on camera, but he absolutely had blown up into a massive 13 pointer with double forked G3s.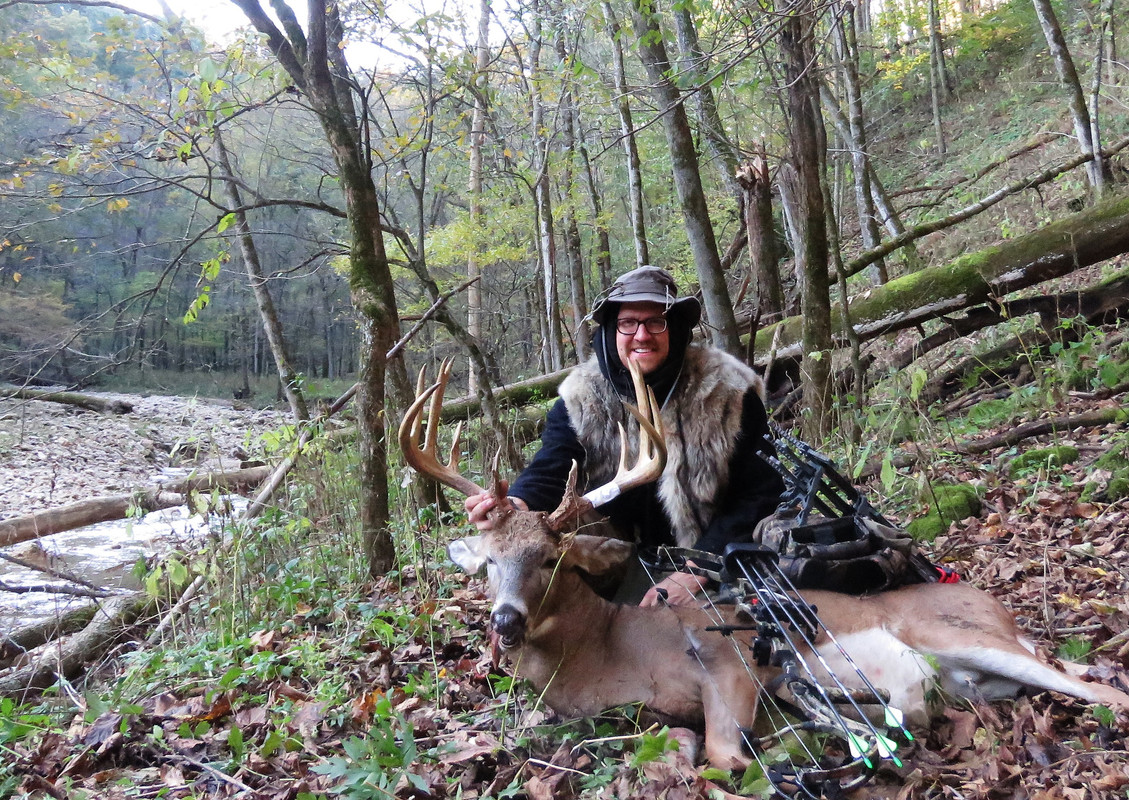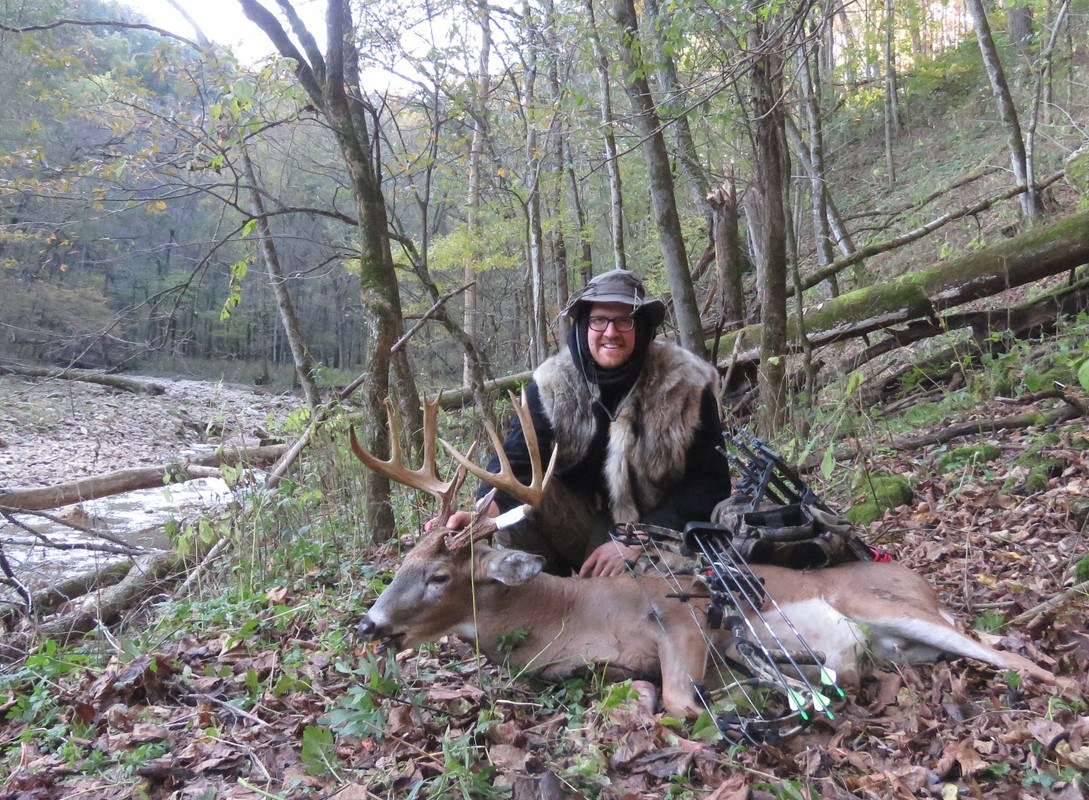 Trail camera picture from 2018 below, about 20 yards from where I shot him almost exactly a year later in mid-October.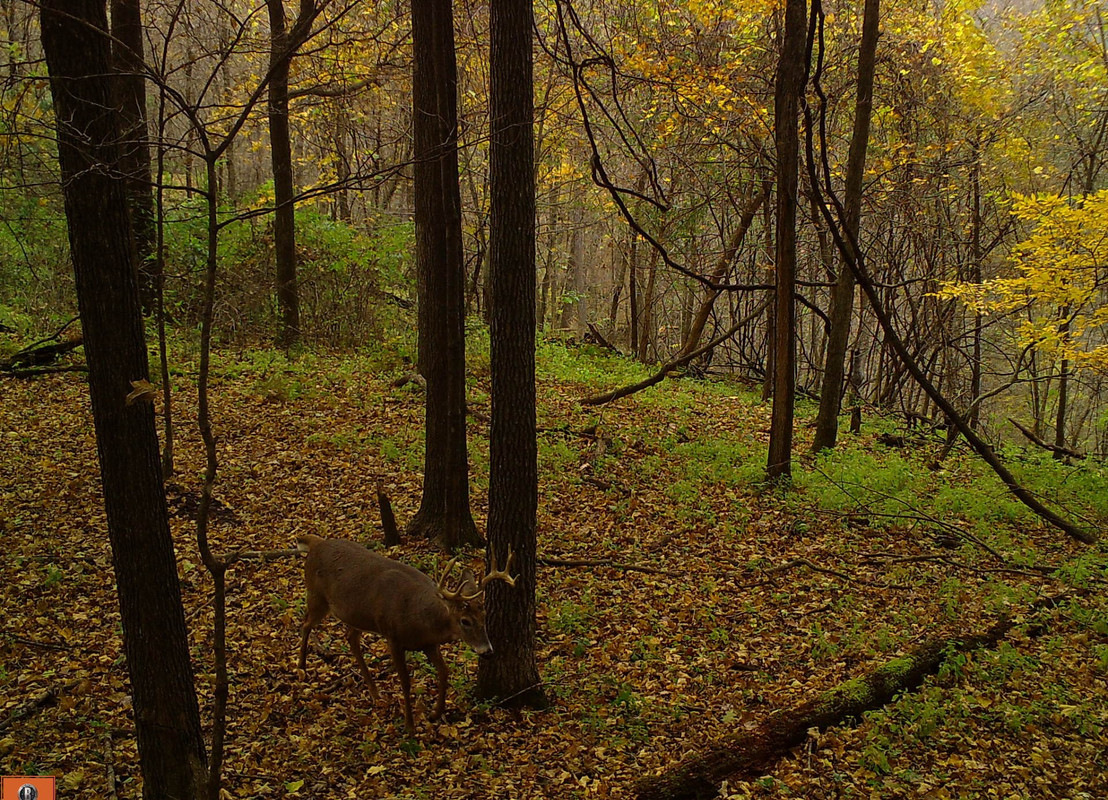 I had him multiple times on camera this fall too leading up to the hunt. One of those all too rare situations where the hunt happened exactly like it was supposed to.
2019 pics: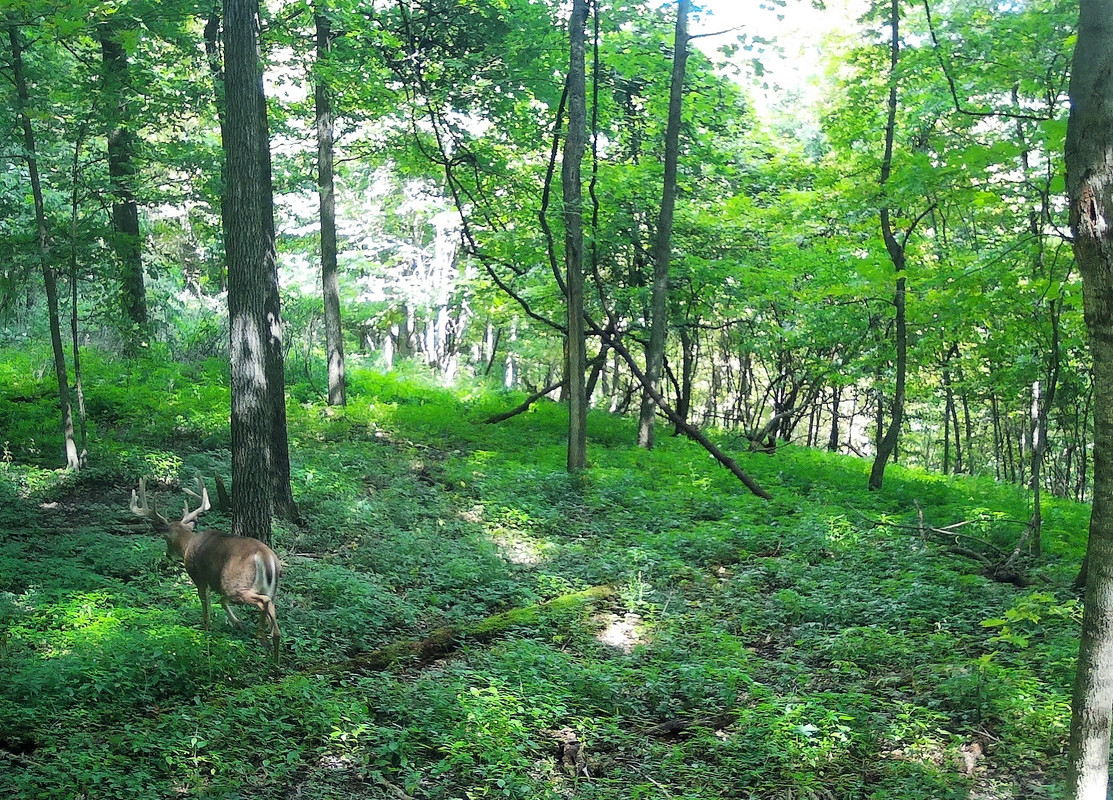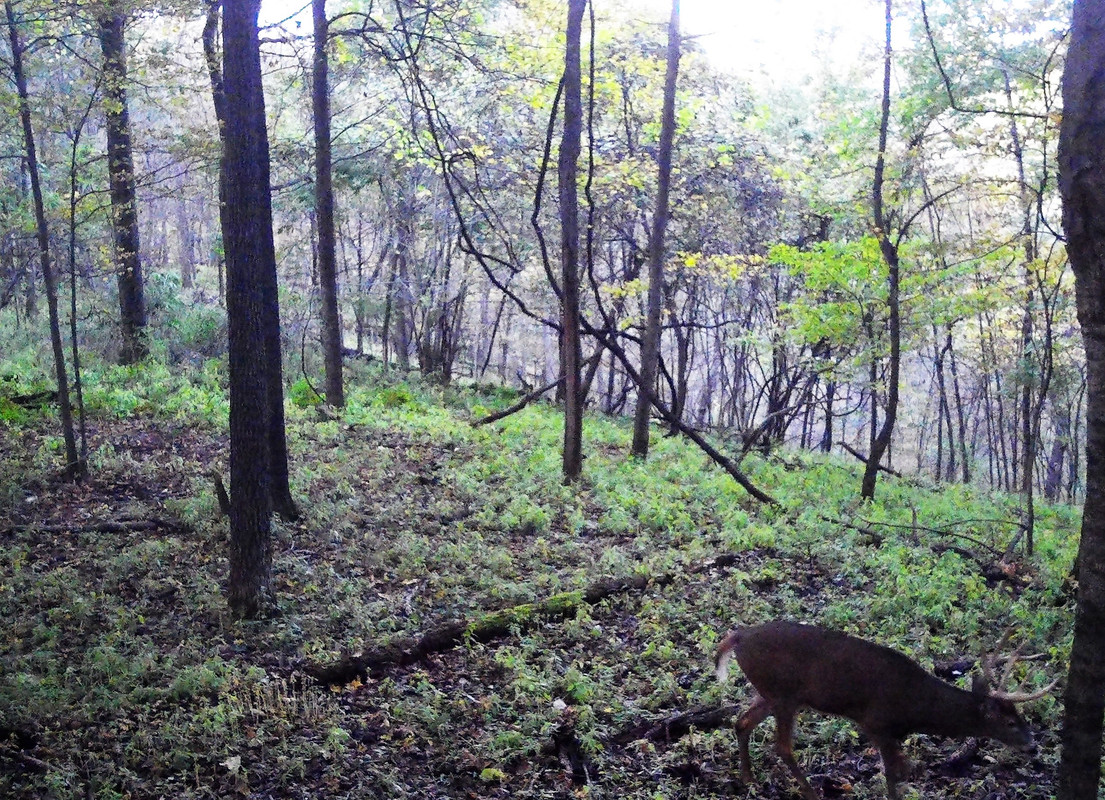 And that was the first chapter of my deer season. I didn't have a clue what roller coaster lay ahead.