The last few years I've had my journal in the 500 club. It defeated the purpose of helping new members learn, and anyone that's been around long enough to be in the 500 club pretty much knows how I hunt anyway... so I'm back to the open forum!
Most of you know that I'm VERY limited on time. I have a 2 & 4 year old at home, and have been working overtime the last few years. With my girls getting a little older, and a requested cut in hours at work, I'm hoping for more time afield in 2020.
Earlier this week I had an hour to scout close to my work place. There's a rumor of a monster buck in the area, and supposedly he has been seen on the public where I killed my doe this year. I'd been through all the bedding here, but wanted the intel the snow provided. I did find one good bed on an island, but it was in an interesting spot. He most likely was laying here to monitor movement coming and going from the island with a prevailing NW wind. Bed was on the NE side on the cattail transition. It was right under a tree I was hoping to use for a kill tree. Although the tracks and bed weren't huge, it's not impossible it was him. I did shine a 110-125" buck near here in late October, too. Regardless of who the tracks belonged to, he'll likely be a shooter in 2020.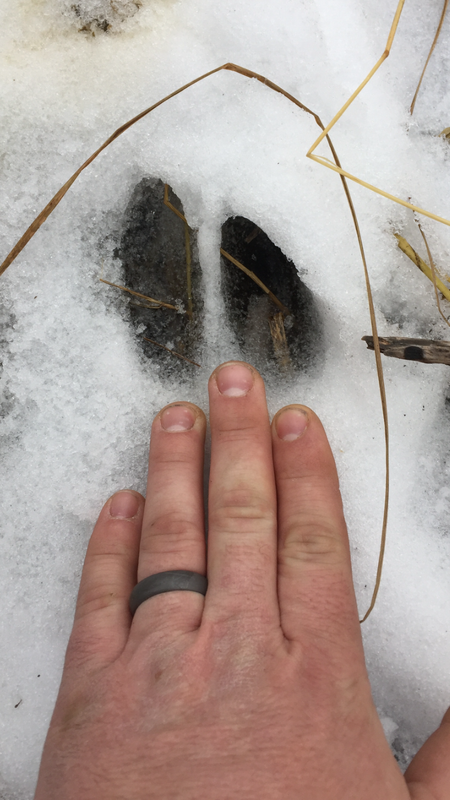 The one thing I noticed was with the fairly old snow, he'd only been in there one time. One set of tracks in and out, one bed.
I made a good game plan for observing this spot. Observations are becoming a very important part of my game. Especially pre-season.
December 27th 2019
I pinned a few new properties recently, and was pretty excited to get to this one. With a rare day off of work, I left home with 8 hours available to me. The property had some obvious bedding located on the back side of some public. Water and cattails are what keep it isolated. The property contains multiple slews, creeks, and lots of cattails. Per usual, it was super thick.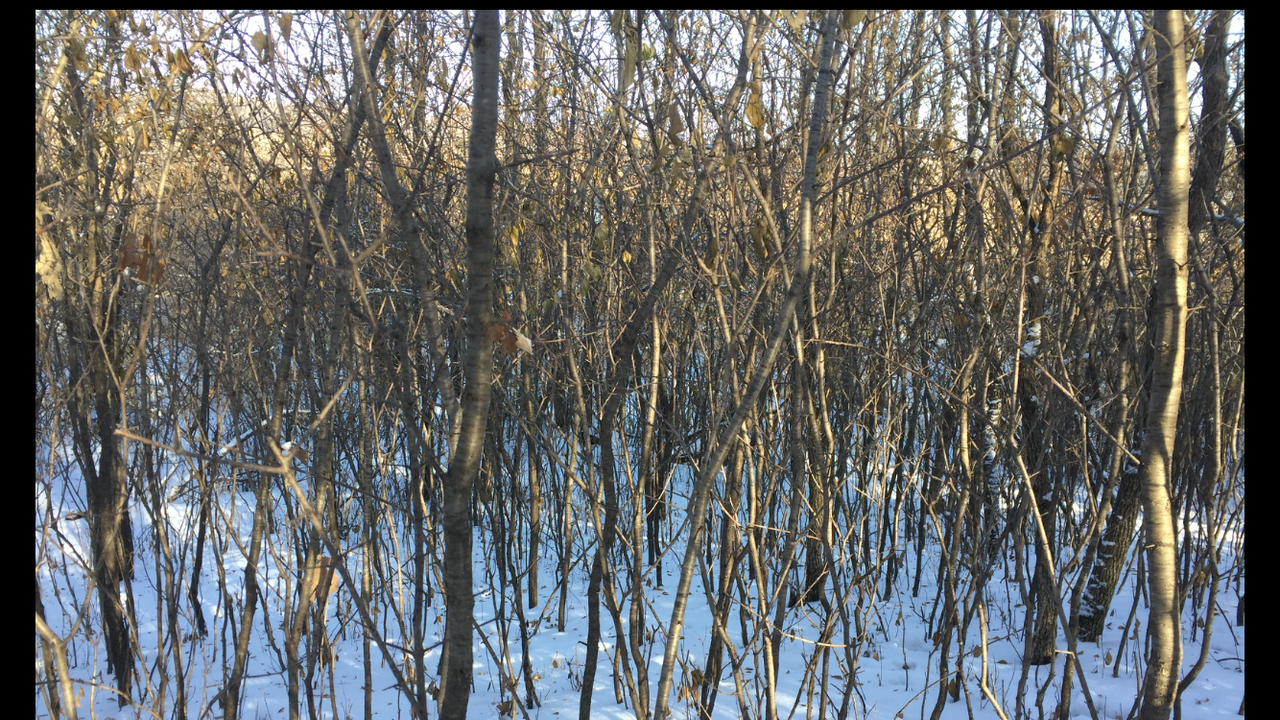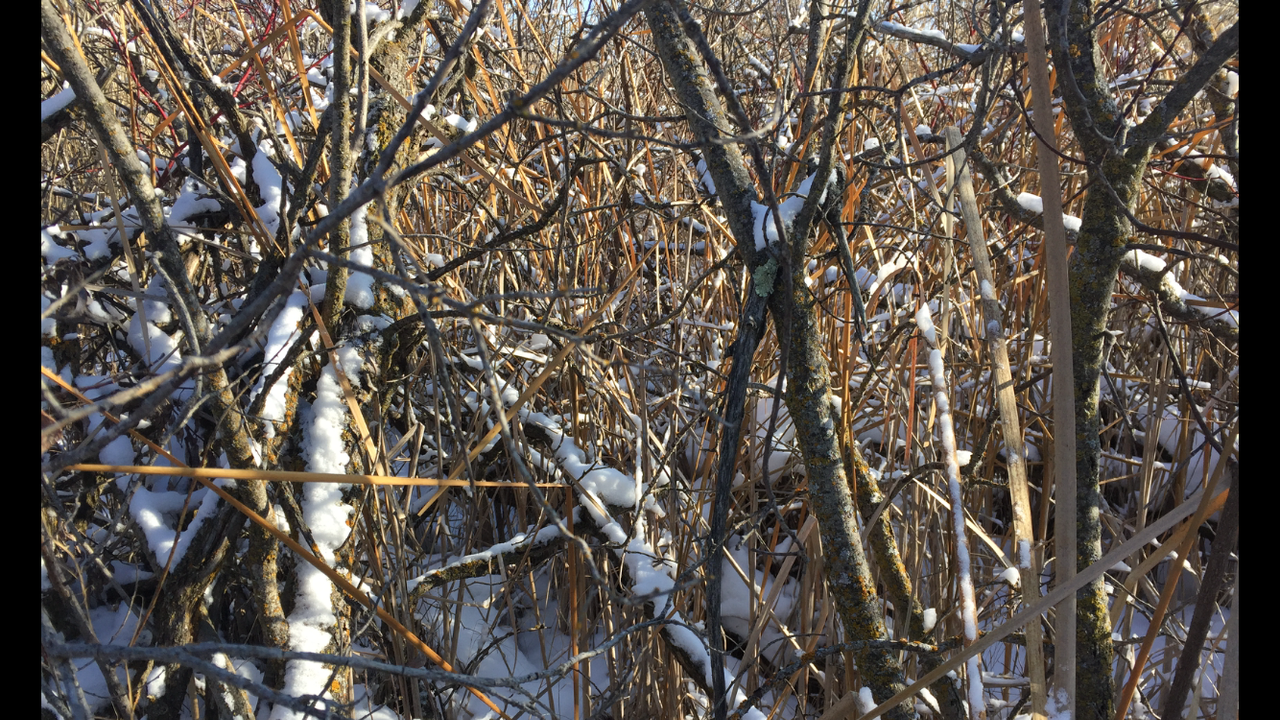 Through the snow I crashed cattails, brush and buckthorn for 5.1 miles... but it was worth it
I headed for the (suspected) best bedding first. I was slightly off with my initial suspicion. I soon realized they preferred one side of this island over the other due to the thicker brush in the cattails, and also a wind advantage. With a SE wind, they're bedded on a point AND monitoring island access.
We got a dusting of snow the day before, and there were multiple sets of fresh tracks. I likely bumped some deer heading in. There were a lot of rubs. 12-14 which is a ton for this area. Here's some of the sign...
Rub cluster 10 yards from a buck bed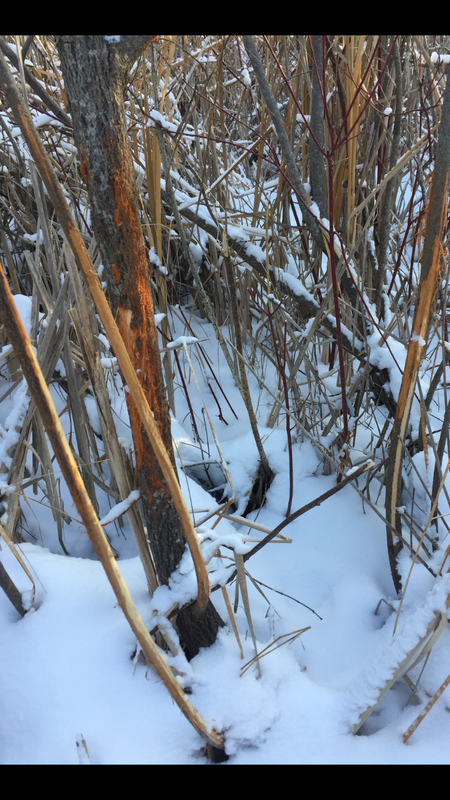 Buck Bed is under this little tree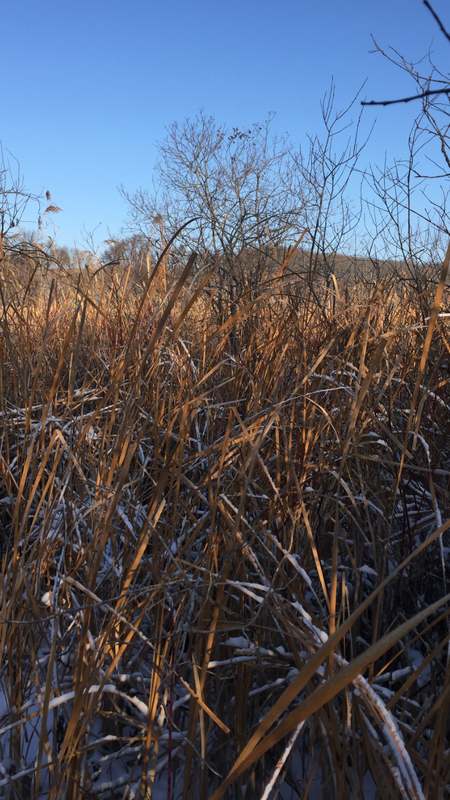 Tracks in the bed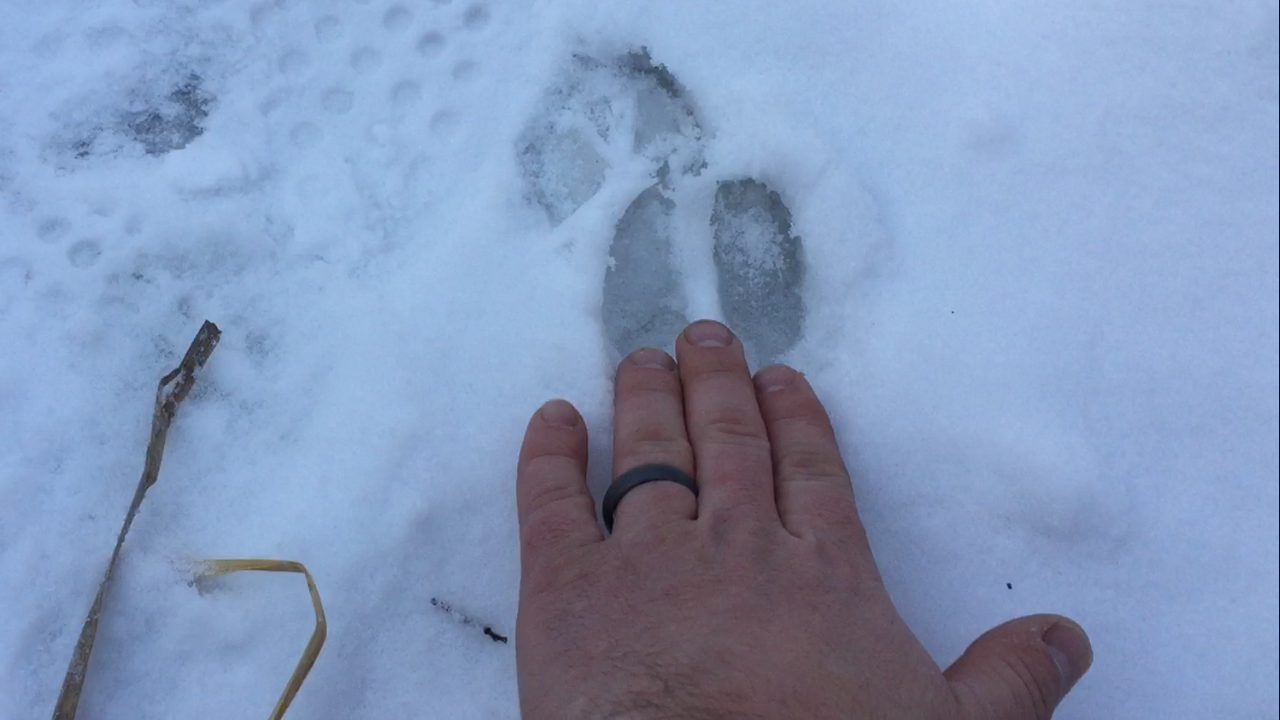 I can't remember exactly where I found this bed, but I think it was in or near the first bedding area.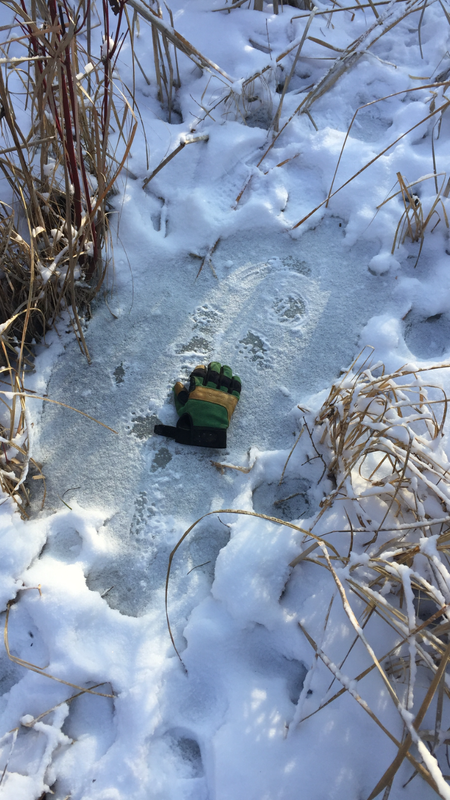 This bedding is legit, but hard to hunt. I will come back after snow melt, re-hash things, and finalize a kill plan. From there I headed toward the private border. I found a huge snow covered scrape with a ladder stand right behind the landowners house. Pretty sure it's a gun stand, and not really hurting anything. I headed North and found a standing corn plot
this property's stock just went up. It appears the landowner sticks to field edge hunting. I SHOULD have this bedding all to myself.
A lot of the cover here is homogenous. Thick buckthorn on the dry ground, and a mixture of cattails, willow, and dogwood in the wet ground. There's also some sparse shatter cane and canary grass in spots. The amount of bedding was a bit overwhelming, but it became evident that none of it had the amount of buck sign that the island bedding had. Not even close.
I made my way to the far end to check a peninsula and island. The island had an illegal stand on it. The guy was monitoring use by other hunters by leaving his bottom step like this.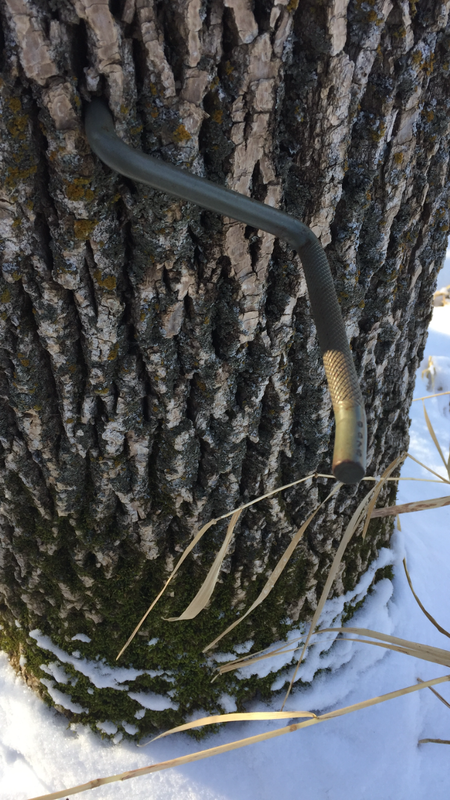 There is absolutely no way you can get to this island without bumping deer. It's definitely a gun stand, as the buckthorn was 10-12 feet tall all around it and he basically had zero shooting with a bow.
The island itself didn't look that great to me. The buckthorn on it was thick, but there was little bedding in the cattails around it.
The peninsula leading to it had all the bedding cover (just off it) and buck sign. Plus I can set up on the peninsula and catch movement coming off the island anyway. The island is a dead end.
After busting a lot of cover with only seeing marginal amounts of buck sign, the rubs picked up again on the peninsula. The rub line was obvious.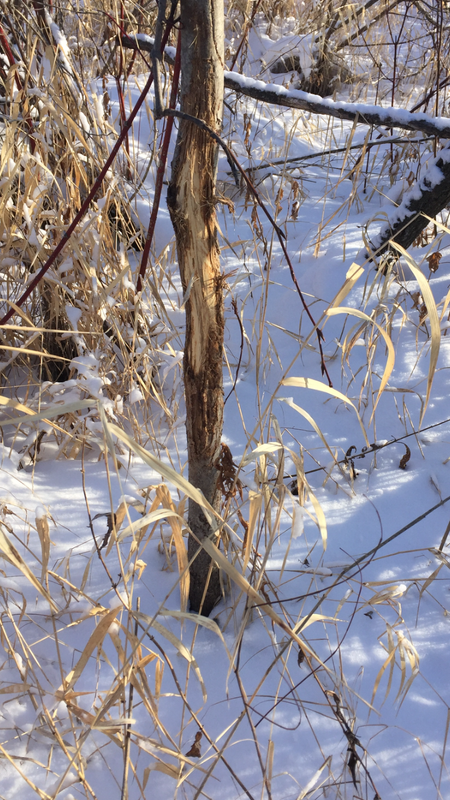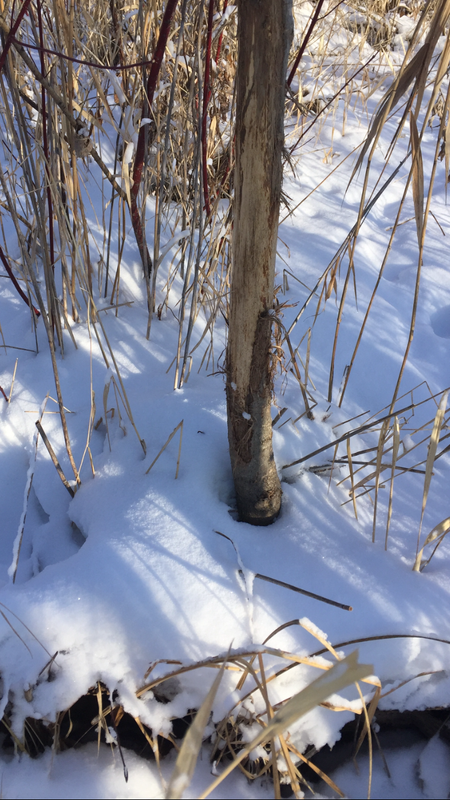 My main concern was they would be bedded so far back in there that I would have to set up too far from the furthest beds, as this bedding is very spread out. But the further I got in there the more the buck sign and fresh tracks petered out. I made some more loops through there and finally found some decent buck beds. I was glad to see they weren't camping out way in the back! Here's a bed that had t been laid in recently. The slight rise then concave surface are telltale signs of a good bed in a wet location. The multi year rubs were within arms reach of it.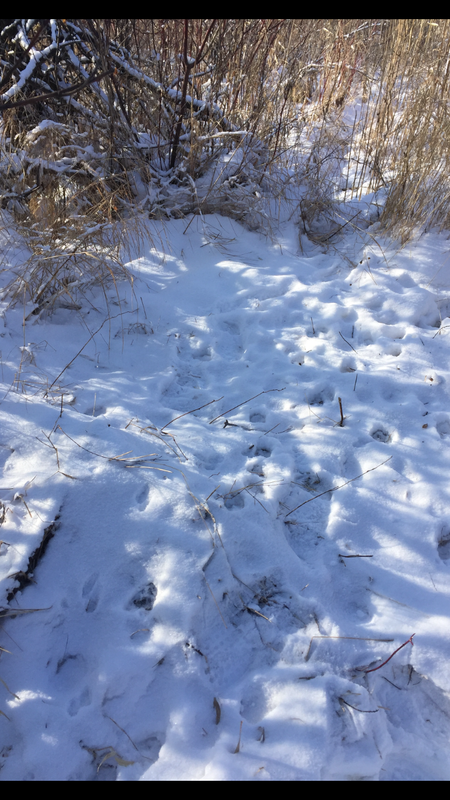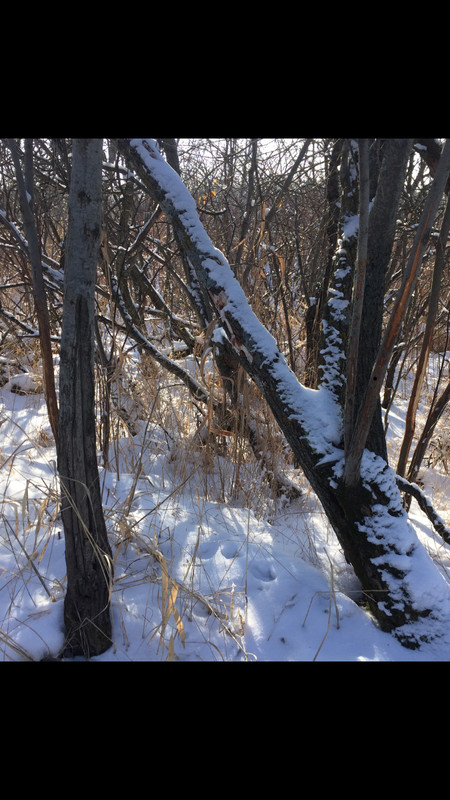 Such an awesome spot. And the best part is, the neighbors plant a food plot for me and I saw zero indication of other archery hunters. Can't wait to get back there in the spring and figure out the last few details!
I like to make multiple trips in. My scouting usually goes like this.
1) cyber scout the crap out of it.
2) boots on the ground
3) re-assess my findings with more cyber scouting
4) boots on the ground and get more in depth to make sure I'm seeing the big picture. I usually select and prep kill trees/ground blind locations the 2nd time in.
Pretty excited about this spot! Looking forward to a good 2020 hunting season. There was lots of standing corn for shotgun season, so that should have saved some deer.