Figured I'd share this story... mainly because I share most my seasons with you guys. Ups and downs and adventures of the hunts.
As some may recall, I have missed THREE different bucks in about a 2 week span in archery season. The last was on the last day and was by far bigger than anything I've ever seen while hunting. To say I was down in the dumps was an understatement.
Rifle season came and I took off as much time as I possibly could have. Rifle season for my typically consists of small drives with a few buddies. (Outside from opening day hunting funnels, escape routes, thick hidey holes etc).
Now that I live an hour away, I've been more determined to "cut the cord" and kill deer myself no matter what season. Archery season, not a big problem..I can usually get myself on deer...other that epic failures shooting this season lol.
Rifle and late season are what my focuses are now in my journey to become a better, more rounded hunter.
Every day I wake up and layer up and lace up my boots and head for the big woods.
I chose to hunt big woods to hopefully get into deer that aren't super pressured. And to still hunt or track in the snow. With a gun in my hand, I feel still hunting and tracking tips the deck in my favor opposed to sitting in a stand.
I struggled a bit. But I was learning a lot. It's not a new style of hunting for me...but not something I focused on super hard either. The 2nd day I did get busted by a Biggun. I put several deer in my crosshairs. I think I saw deer pretty much every day. The first Saturday I snuck into a group of deer. One appeared to be a shooter buck. One was a 5" spike and the rest doe. As my luck continued, the buck pushed the does around and they didn't wanna play...the bucks left and I never got a good look or a shot opportunity.
This week does and several small buck found their way into my scope. Twice I felt myself reaching to crank the scope to "count points" and talked myself out of it. I'm not a big buck killer ...but for me, I know a small 1.5yo doesn't even increase my heart rate. I have doe tags for filling the freezer.
Today, I woke up again at 530. Checked the weather knowing it was supposed to be a wash out. Perfect still hunting weather. I saw at 10 or so, it was supposed to change to snow. I decided sleeping another hour or 2 and getting snowed in sounded better than getting wet...then snowed on.
7am my phone went off. Text from my buddy. He, his dad and another buddy were hunting in the general area I was planning to. Figured I'd join them and we could be wet together.
I got directions to his truck. His dad was asleep in the truck. He woke up and started gearing up with me.
All we knew was the other 2 were 3/4 of a mile back a trail.
A half mile in my buddies dad said "I'm gunna walk to that opening and lean on a tree till they come out to the trail".
I said "well, this little knob overlooking the bottom looks good to me!"
I went 80yds off the trail and found a hemlock that would shelter me from the steady rain. It was on a little knob and I could see a little side ditch and the bottom.
I was sitting there MAYBE a half hour. I don't know why but I happened to turn to my right and behind me.
"Whoa!! Deer!!!"
I see movement maybe 40yds above me.
First one was a basket rack. Behind him was a bigger buck. He looked like a pretty good one with bright glowing antlers on a very dreary morning. Behind him were others but I didn't see antlers.
I couldn't tell what the wind was doing because of the rain.
I knew they were dangerously close to hitting my tracks.
The bigger buck locked up behind an old rotting stump like he hit my wind or my tracks. Oh no!
30-35yds away hoping he steps out.
Like a wise ole buck does, he did but he was quartering hard at me and definitely giving me the look. As I hit the safety, the little buck jumps in front of him like he was trying to take the bullet for his big brother lol.
He started to trot. As soon as he cleared, I centered the crosshairs on the bigger bucks right shoulder and sent it.
He hit the ground and never moved. I was convinced something went wrong. I cautiously made my way to him ready to fire again. He was DEAD. After missing 3 bucks, I was kinda beside myself lol.
Within a minute, a stranger was standing on the trail looking at me. He said he saw both bucks and couldn't get a shot.
Later, I found out my one buddy was on the backside of the ridge and started walking out before I shot.
I don't know where those deer came from ..I am guessing my buddy spooked them to the stranger who spooked them to me.
Literally dumb luck.
My biggest take away and message to everyone else.....you HAVE to be in the woods to fill tags!
Here's the ONLY picture I got. The phone was NOT cooperating in the rain and actually shut off.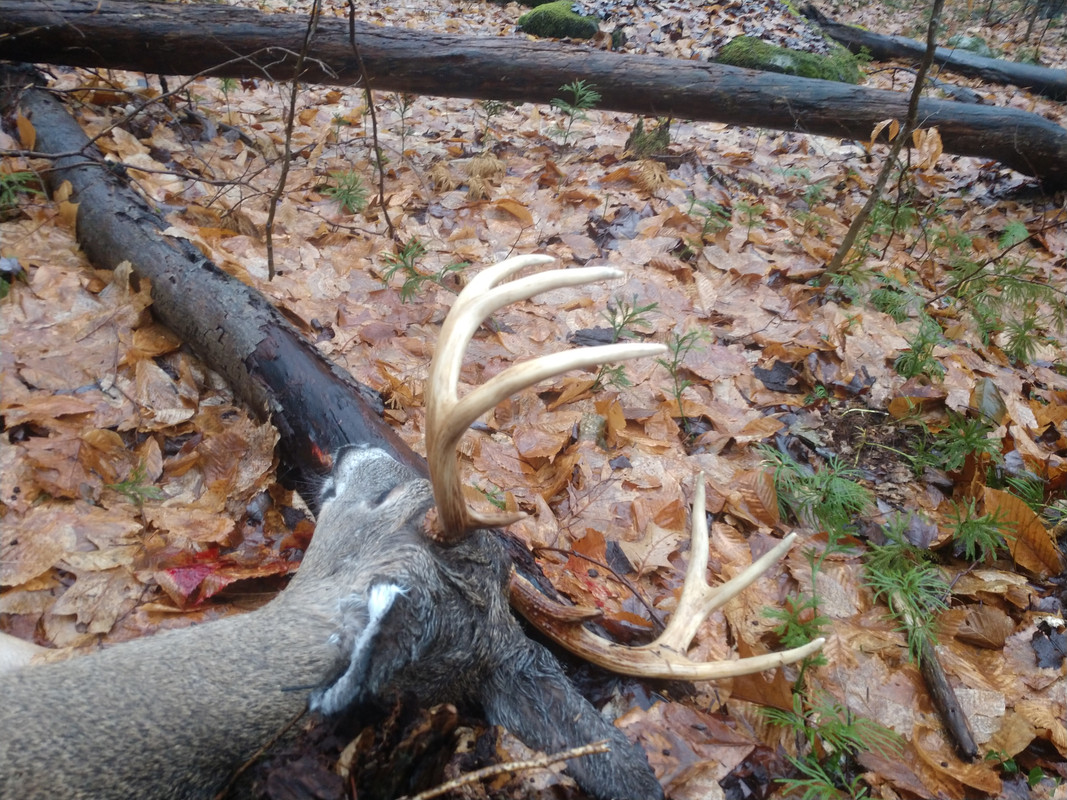 Not a monster...but a dandy buck on the last day of rifle season on public ground. Very happy with him. Right place...right time. Just happened to be there at that exact moment in time that he was coming through.
Another "take away"....it's easy to get down and frustrated and step away. For me, it drives me harder. I WANT to become a better hunter. I WANT to learn to kill bigger bucks. I WANT to get on bigger bucks more consistently and making my own fate. Deer drives are a good time and I certainly still participate...but that's not an option for me every day. I HAVE to learn to get in these bucks myself. No matter the time of year or season or conditions. I push myself. But I enjoy every second of it in the end. Even if I ate tag soup, I learned a TON this season. It's been my most successful season to date. And I'm not done yet. Late season doe hunting turns into buck scouting.
When the deck seems stacked against you, lace up your boots and get in the woods. That is when you need to be out there learning.