MN rifle opener was this weekend and the goal was to get the kid his first deer, we tried last year but never saw a deer in 4 days of hunting but the wolves were working us over pretty darn good. Tried again youth season this year and 3 days of hunting and no deer spotted, dad was feeling some pressure to get the kid something to shoot.
Well it finally worked out opening day, nice doe came in about 9am and the kid made a good shot, he was pumped!!! Lots of high fives at camp.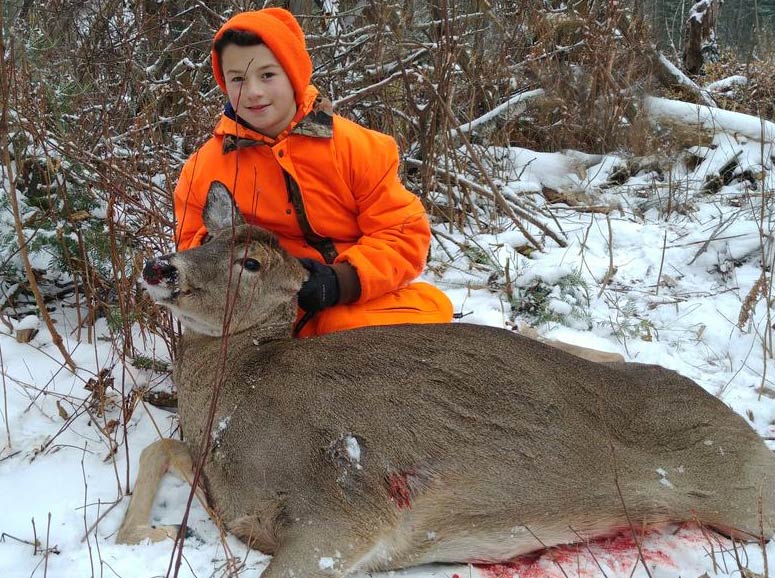 I still had a tag in my pocket and told the kid we should try and get him a buck next, nothing showed that evening and cold temps were on the way. We woke up to 10 degrees and some nice brutal north wind in the morning so the kid wanted to sleep in and dad was happy enough to head out on his own. Did a little scouting that morning and found some good doe sign, just had to sit in the wide open and freezy my but off but I felt good about the area.
To make a long story short I saw this buck, then he disappeared on me for half an hour. Finally I saw some does that should have been upwind of where the buck was walking and eventually he popped out and the hunt was on. I then watched this buck chase does in the distance for about 20 minutes, brush was just too thick and he was too far to take any kind of reasonable shot. Finally the buck and all the does headed over the ridge and I wondered if they were gone forever, I decided to get aggressive and make a move so I hopped out of my stand and sprinted 150 yards in their direction and then slowly climbed an old brush pile the loggers left to get a better view. Before long I spotted two doe's in the distance, then a fawn and finally another doe was walking toward me. Not long after that the buck appeared and he was grunting up a storm. He was still in some thicker brush but as the does moved off it was now or never, touched off a shot and nothing, so I quickly fired another and this one hit the mark, he hunched over and then just stood there for a couple of minutes before finally tipping over. I was pretty darn excited, first the kid gets his first deer and I was able to connect the next day.