500 Club
Posts: 1831
Joined: Tue Feb 23, 2010 4:36 am
Location: Wi.
Status: Offline
My bday was March 5th,spoiled myself with some afternoon fishing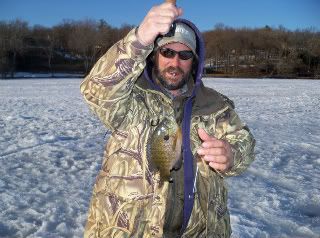 My buddy Dave
500 Club
Posts: 1831
Joined: Tue Feb 23, 2010 4:36 am
Location: Wi.
Status: Offline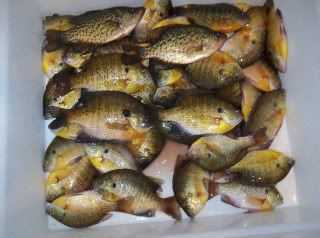 43 eaters
500 Club
Posts: 1831
Joined: Tue Feb 23, 2010 4:36 am
Location: Wi.
Status: Offline
Cant post the rest of pics will pm Dan and post later
500 Club
Posts: 1783
Joined: Mon Feb 22, 2010 9:31 pm
Location: FRANCE
Status: Offline
Nice to see those froze moment!
Can you tell me what species of fish it's?
"Huntingly",
L-H
GIVE ME LIBERTY OR GIVE ME DEATH!
500 Club
Posts: 3582
Joined: Sun Feb 21, 2010 3:02 am
Status: Offline
The fish are blue gills. Very common here in Wisconsin and much of the US. They're agressive (some of the time) and great to eat.
Site Owner
Posts: 41130
Joined: Sat Feb 13, 2010 6:11 am
Location: S.E. Wisconsin
Status: Offline
Bigdaddy-yoyo wrote:Cant post the rest of pics will pm Dan and post later
Whats the issue?
Posts: 159
Joined: Sun Feb 21, 2010 2:16 pm
Status: Offline
Were you on Silver lake? Haven't been there in years. Is that the one with the big beach? Good fishing lake
500 Club
Posts: 1831
Joined: Tue Feb 23, 2010 4:36 am
Location: Wi.
Status: Offline
Bluegills and a couple of crappies,I was on Lake Delavan,and Silverlake does have the Beach on the east side.Dan for some reason some of the pics were to wide,even when I took them down to the smallest size on photobucket. They were the same size as the pics that did make it on. I am technically challenged so it is prob something I am doing.
---
Return to "Game fish, pan fish, and general fishing talk"
Users browsing this forum: No registered users and 1 guest