Riding the Storm in Memory of Jaylee
This fishing trip was in memory of Jaylee Hofmeister who was 16 years old and had been diagnosed with Fibrod Mixed Sarcoma. Jaylee had gone on a deep sea fishing trip with "A Hunt Above" in the past. His story can be read on our web site
http://www.ahuntabove.org
. We are sad to say that Jaylee lost his battle with cancer and earned his angel wings on June 10, 2009 at the age of 16. Please be in prayer for his family as they go through this difficult time.
"A Hunt Above" received an application from a boy named Zach.
Zach wanted to go on a deep sea fishing trip. A little about Zach: He was born with bilateral hydronephrosis. Bilateral hydronephrosis is the enlargement (distention) of the urine collecting structures and pelvis of both kidneys. Bilateral means both sides. He lost his right kidney at 2 months old. In his lifetime he's had over
40 procedures. He had an auto-transplant at the age of 13. He will need a regular transplant at some point. He is an awesome kid. His spirit doesn't seem to falter very often. He is now 17. He only has 1 kidney with decreased function.
Meet Zach:
Now with the details of the trip:
Randy Arfele, Co-Director of "A Hunt Above", his son Justin, and contributor Tony Powell picked up Zach and Dana Lonsinger (Zach's mom) at Houston Hobby Airport in the evening time and headed to Galveston, TX. for a deep sea fishing trip that was scheduled for the next day. After settling into their rooms at the Commodore Hotel, they met up with Director of "A Hunt Above", Mike Macko, and rested for the fishing trip the next day.
Forecasted prior to arrival was that hurricane Alex, which was lurking in the Gulf of Mexico, and was to make landfall along the Texas coastline just south of our location. The next morning we were awakened to strong winds and clouds and an occasional rain shower, but after contacting the boat captain, pressed on to the meeting place to board the boat and begin fishing. After an hour long, semi-rough ride, we began trolling offshore in hopes of luring a fish onto the end of a line. Sadly to say, the waves were up a little too high due to the storm, and we were unable to find any takers on either trolling rod. We then headed back into the sheltered bay, where we found several protected inlets and rock dikes to fish around, where Zach was able to hook and land several fish, including a black tip shark.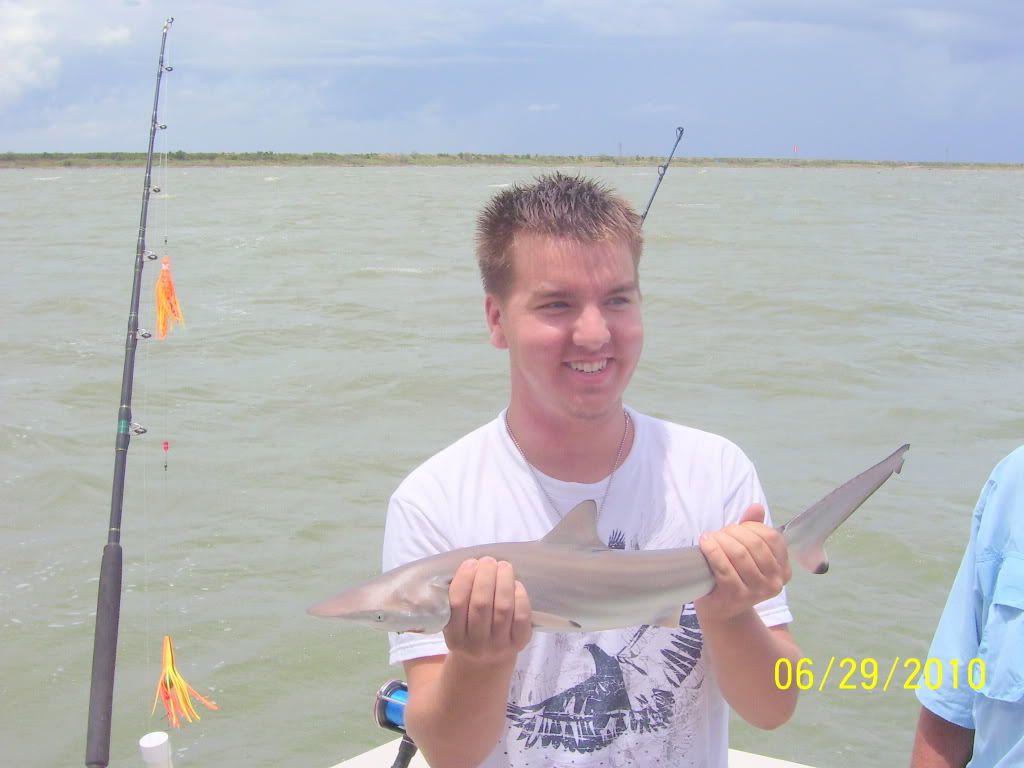 We returned to the hotel, with exciting stories of the day's events, and rested that night with the song of the wind, and the chorus of rainfall lulling everyone to sleep. The next morning began a fun filled day, with a tour of the historical district of the Island, lunch at Rainforest Café, and a ride on the Bolivar Ferry.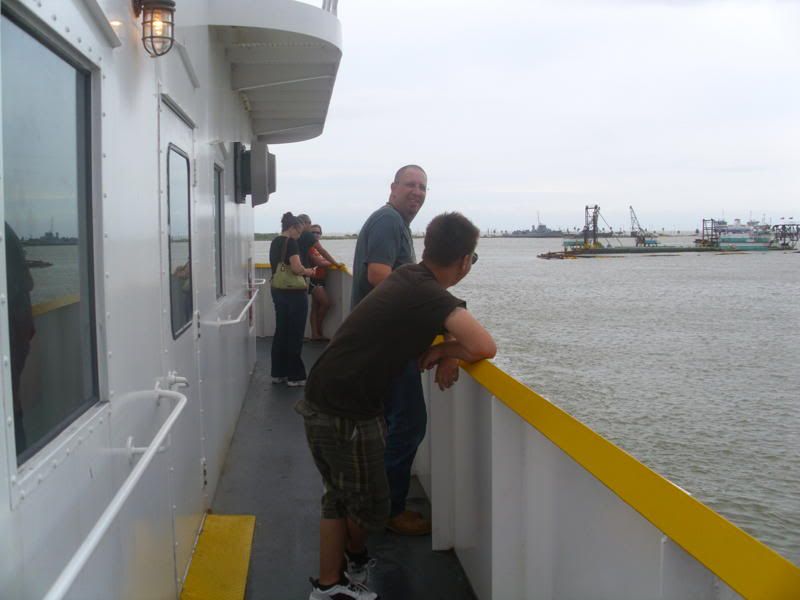 After another nights rest, the morning found us touring the San Jacinta Monument in La Porte (Houston), Texas, and then traveling back to the airport for their return trip home.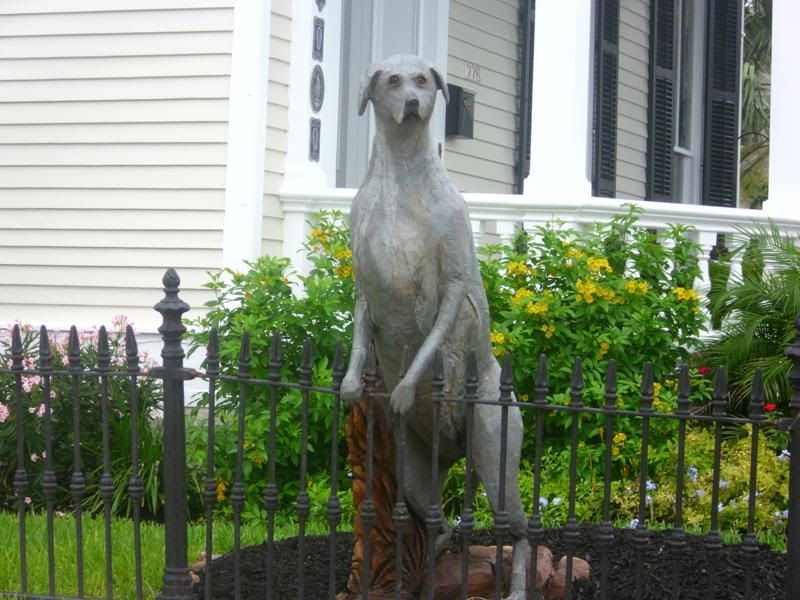 We would like to thank "The Commodore on the Beach"
http://www.commodoreonthebeach.com/
in Galveston, TX. for providing Zach and his mom a room at no charge.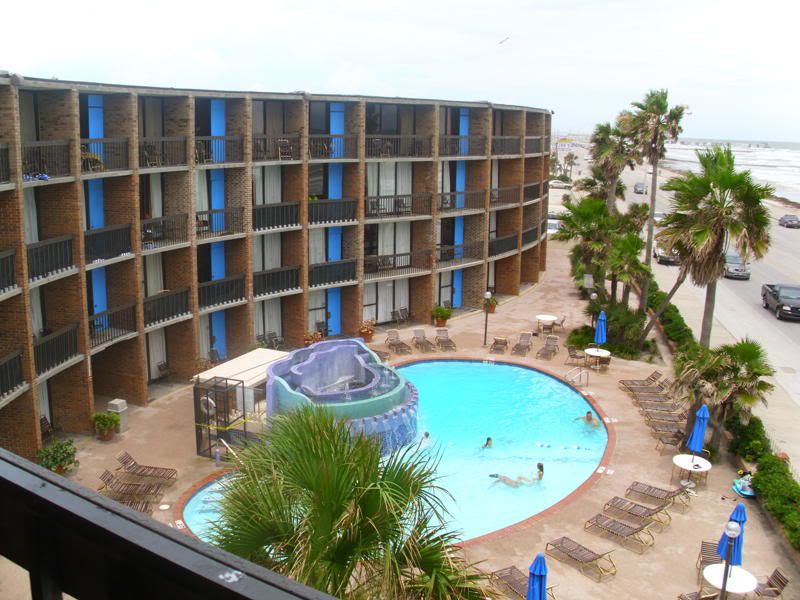 "A Hunt Above" would like to thank Gina Russell from Academy of Hair Design
http://academyofhair.com/
in Jackson, MS. for providing funding for the airline tickets for Zach and his mom to fly to Houston, TX. Also we would like to thank Mike Hillman owner of Galveston Adventures Guide Service
http://www.galvestontxfishing.com/FishingTrips.htm
for providing this trip. Please be in prayer for Zach as he continues to deal with his illness. Also be in prayer for Jaylee's family as they deal with the loss of their loved one.