I'm pushing hard to get back on the road to hunt northern Wis. So I'll give an abbreviated recap.
I hunted 14 days and saw only 10 deer. Tons of wolf sign! The first half of the hunt was without snow. I focused on areas I had success in previous years. Long days on stand with few deer sightings. I found a lot of moose sign including some cool rubs.
Then the snow came!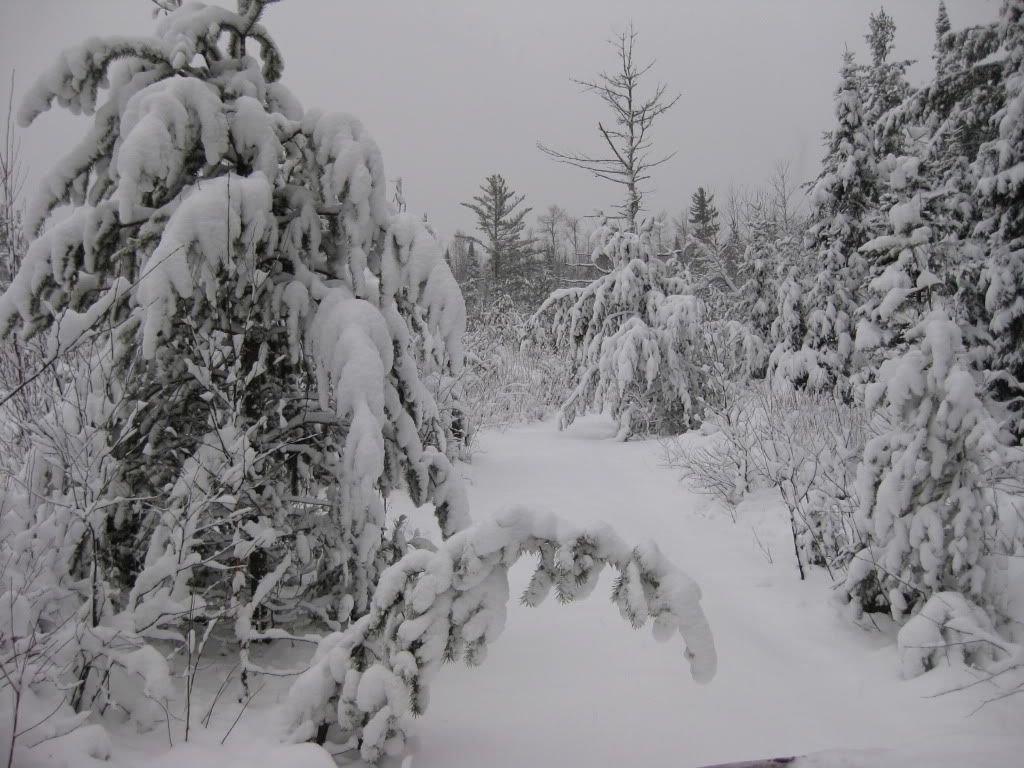 I switched gears and did some tracking. I had several days where the woods were so quiet there is no way to get close to deer but I tracked anyway. I learn a lot about deer movement and location this way so it's worth the effort. I found an excellent river crossing that is worth a few sits when there isn't any snow. My tracking confirmed that there weren't many deer. Tracking up there is tough because it is so thick that in most places you can't see much further than 20 – 30 yds. It would be easy to convince yourself that it's a waste of time. I know first hand that if you stick with it it works. I tracked down a small buck 3 days from the end of season and let him go. I traded the gun for my video camera and got some footage of him. I took a doe and fawn track late that same day on my way back to the truck. I saw them earlier that day and wanted to see if I could get close just for fun. I got close to them and videoed them for a while but dummy me I forgot to push the record button.
One day while on track I had a close call with a pack of wolves. I was in dense cover and wolves started fighting just 20 yds from me but it was so thick I couldn't see them. I believe 2 different packs ran into each other and started fighting. By the tracks I would guess there were at least 8 wolves there. Not knowing what the ruckus was about I dropped to one knee and shouldered the rifle. The next thing I know there are 4 wolves running right at me. I waited to the last moment to send a 30-06 round right over the lead wolves head. He was within 10 ft. They scattered at the shot. I noticed that one of the wolves was bleeding pretty good. I found only wolf tracks and fur at the fight scene so that's why I believe there were only wolve involved. A spooky situation to be in the middle of for sure! I wish I would have grabbed my video camera instead of the gun. I could have got some cool footage.
The last day of season arrived and I decided to take any buck so I would at least go home with some meat. The day started out perfect with fresh snow and high winds to allow me to get close. I found a good buck track who was chasing a doe. I started out on the track but heavy snow came and soon there were too many tracks from them running all over (along with a few other bucks that joined the chase) and the snow was filling in the tracks until I could no longer tell one track from the next. It can be tough to track when bucks are chasing a doe. They lay so many tracks in all directions and the lesser bucks circle around and zig zag in and out making things more complicated. You have to just sort it out but it takes time. With the snow coming down time was not on my side. I decided to swing a circle around the area and hope to pick up a fresher track. I found a track that was a bit fresher but was filling with snow fast. I could tell it wasn't a huge buck but it was the last day and it was freezer filling time. I jogged after the track hoping to catch up before the snow filled it in. I went about a half mile before he cut off of his bee line and ducked into some thick pines. They usually do this right before bedding. I slowed up and looked for a way to pick thru there quietly. Then I could smell him. I knew he was right in front of me. I did my best to slip in on him but only found his bed. I decided to give him some time to settle down before taking the track again. I eased forward to a little opening and there he stood! He did a 60 yd hook and was standing there to see what made the noise. I pulled up the gun and killed a popple tree. The second shot found it's mark. He's no trophy racked buck but a trophy to me just the same. It was a great end to a great hunt!