Moderator
Posts: 9307
Joined: Sat Feb 20, 2010 12:32 pm
Location: Holly, MI
Status: Offline
Nice. What exactly is a snort wheeze? I have heard the term and laughed my but off at a friend last week trying to do one. Maybe I need to pay a little more attention to this.
Posts: 10061
Joined: Sat Feb 20, 2010 4:57 pm
Location: OK, I am in Kansas.....
Status: Offline
Very nice buck, congrad's.


marty
"Forged in fire lit long ago. Stand next to me and you will never stand alone".
Posts: 83
Joined: Tue Feb 23, 2010 2:22 am
Status: Offline
Muddy they fly awesome better than the 3 blades I used last year and I was happy with those,as long as your bow is tuned they fly right with my field tips.
UncleLou
Hard to explain on line it is a challenge that a buck puts out to another buck and as long as the other buck is aggressive it will work,if he is not you most likely will watch him run like the wind.. Basicly I give two dominent grunts and then to blow as hard as you can through your front teeth..This buck heard that and was coming in for a fight,I couldn't even see him anymore in the black brush and when I snortwheezed we instantly heard him breaking branchs and coming back to us..This is where he died you can kinda see how thick that brush is behind me..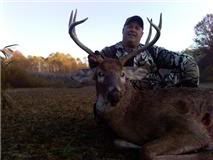 500 Club
Posts: 554
Joined: Sun Feb 21, 2010 2:58 am
Status: Offline
Cool six point...congrats
500 Club
Posts: 1774
Joined: Sat Feb 20, 2010 2:27 pm
Location: Greensburg Indiana
Status: Offline
Congrats Walt! I am assuming we will get to see this hunt on the next WKP release? How's your "boy" Todd doing haven't seen anything where he has connected yet?
God shows his love for us in that while we were still sinners, Christ died for us.
Romans 5:8
500 Club
Posts: 3141
Joined: Sat Feb 20, 2010 3:46 pm
Location: Minnesota
Status: Offline
That a boy Walt!! Congratulation's!!
500 Club
Posts: 821
Joined: Wed Mar 31, 2010 1:50 pm
Status: Offline
Awesome buck Walt. Way to tough it out and make it happen.
500 Club
Posts: 7162
Joined: Wed Feb 17, 2010 1:11 pm
Location: Logged in - from above
Status: Offline
Posts: 1315
Joined: Tue Jun 08, 2010 1:23 pm
Status: Offline
500 Club
Posts: 1032
Joined: Wed Jul 21, 2010 5:56 am
Location: Norcak
Status: Offline
congrads on a great reward
500 Club
Posts: 531
Joined: Wed Feb 17, 2010 12:20 pm
Status: Offline
Look at the hole in that critter....you could drive a truck through that hole! Way to go!
And....all on public land.....I like it!
PLH
Go farther, stay longer.........hunt harder.
---
Return to "Public Land Hunting"
Users browsing this forum: No registered users and 1 guest