Never have I hunted or even been to Colorado but this year I was talked Into going there by a good friend from Colorado. The hunt was not what I was expecting but none the less I enjoyed the scenery and also got to meet some fine people. What was so disappointing about the hunt was where 4 wheelers can drive and go. I've elk hunted 6 other times In Montana and In Idaho and never have 4 wheelers been allowed to go Into the mountains. Where I hunted this year was a different story unfortunately. Wish I would've known this prior as I wouldn't of gone then. On average I'd see 30 to 40 four wheelers a day. They pretty much could go anywhere they wanted to. I put on 6 to 8 miles a day on foot. I hunted as high as 12000 feet hoping to get away from people and 4 wheelers but these roads were everywhere. I had a GPS with but 90% of these 4 wheeler roads (old mining roads) weren't on the GPS and maps. I saw plenty of elk sign but I'm guessing the elk were on the move all the time due to the 4 wheelers.
On one occasion I had 2 cow elk at 30 yards but chose to let them pass as that's too far for my recurve. On this same hunt I had a 3x3 Muley buck at the same yardage, he too got the pass for the same reason. My closest encounter came with a cow elk the 2nd to last day. Had her at 17 or so yards but she wouldn't take that last step she needed to. She then turned 90 degree's and walked directly away from me not knowing I was there. That's elk hunting to a tee right there.
I was planning on staying out there for 10 days but I just couldn't stand the 4 wheeler BS anymore and packed It up and headed back to Minnesota and went back up to where we bear hunt and connected on a bear. So In the end It all worked out. The sad part Is I spent 1200.00 dollars on tags- either sex elk, either sex muley and a bear tag. Never saw one bear, saw 4 elk and saw about 10 muley's. What I learned from this hunt Is you've got to do your homework good. I didn't do mine enough as I never would've went here to begin with If I knew 4 wheelers were allowed pretty much everywhere.
Anyhow here's a few pictures of the scenery out there. Colorado has to be one of the most beautiful places In the world.
The guy In this picture Is Matt from Australia. of a good guy. This was his 1st ever elk hunt and 1st time ever In the states. We hunted together most of the time. Nice rub here eh?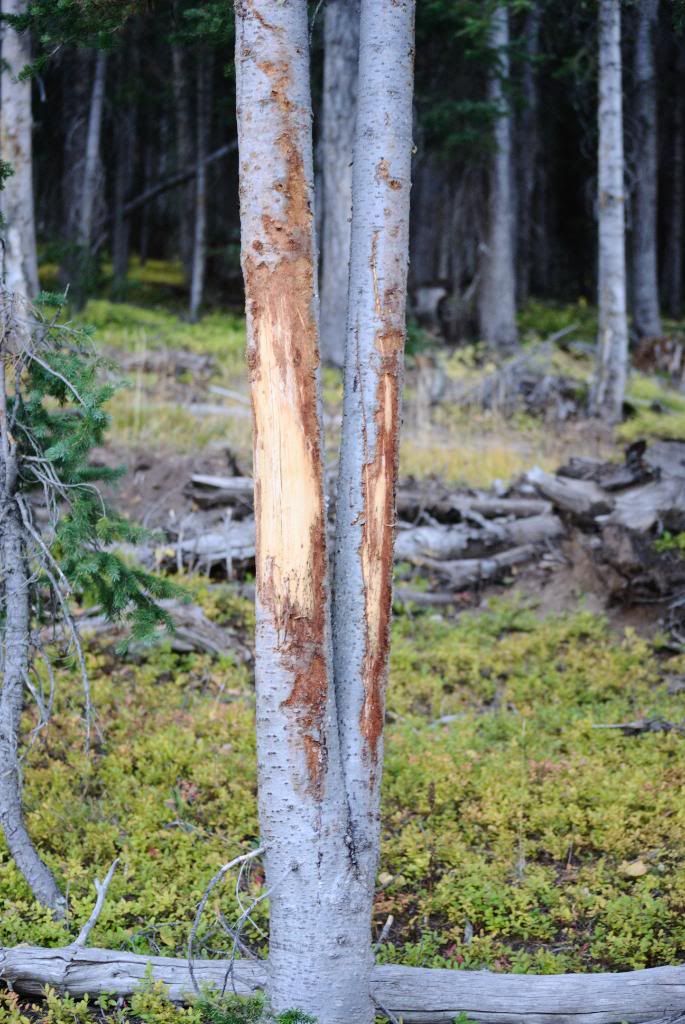 My recurve laying against the rub.