A few month ago, I meet in an Internet forum a Black Bear Guide.
* Since this day, we did talk a lot about Black Bear Hunt as you can imagine.
He told me to reed a book for learn a little more about : Successful Black Bear Hunting buy Bill Vaznis (a very good book in deed).
And after that I did decide to go hunt this wonderful animal with my new friend in Quebec.
My guide is Mario DOIRON.
I did booth some Black Bear hunting DVD!!! That give me more reasons to go trough!!!
About the beginning of 2009 I prepare this travel :
* 1st the date (beginning of June)
* 2nd the airplane tickets, hotel, etc...
* 3th the gun papers...
* now the rest (tourist informations, what will I bring with me (Andicam, extra battery, flash light, good knife, mosquitoes repulsive, hunting cloth, and so on)
Lets filming and hunt.
After a long flying travel I land in Quebec the 29th of May.
The 1st June 2009, I retch my friend and guide Mario. We decide to hunt on the Rimouski reserve (Bas-Saint-Laurent).
I wanted more then just sit in a tree stand and shoot. I need to learn and do all about a hunt when I decide to practice it… It is more interesting for sure.
So Mario did teach me all he could, analyses of the Bear signs, strategic position for a bait, camera, tree stand, food needed and loved buy the Bears…
Also how judge a bear if is it possible (for example put a log of know dimension next of drum)…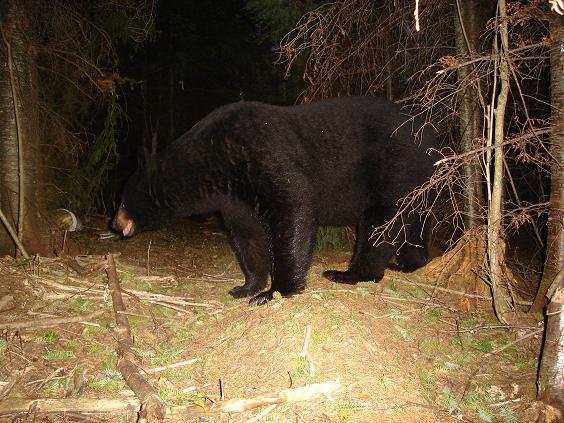 During the hunt we did stay the 2 first's days 6H long for nothing, the Bear was gone…
Mario told me it was probably because he was checking is territory…
For decide him to show is face, we did put some excrement from 2 others younger bears in the bait site and make burn some honey… So the third day, at 14H30 we where on the bait site and a few minute after it was raining hard but so hard with thunder so we decide to go back to or truck for wait until that stop. My guide tells me to not stop the hunt because he was confident for the rest of the day... At 17H00 we where back and I hurt some noises from my left side. I did put my camera on and we wait… The Bear was approaching us at the beginning with some little noises and at the and completely in silence. He did past underneath me, he did stop him at 7 meters and show completely is left side for smelling the burned honey and then I shoot him!
He was a 190.5lb (field dressed) Male Black Bear,
5 inch wide front pad, 8.5 inch hind feet, 60 inch nose to tail.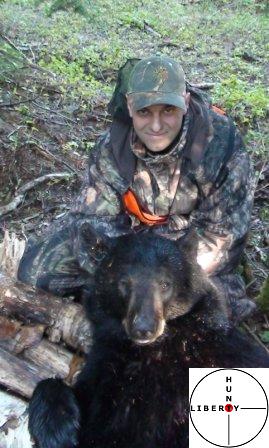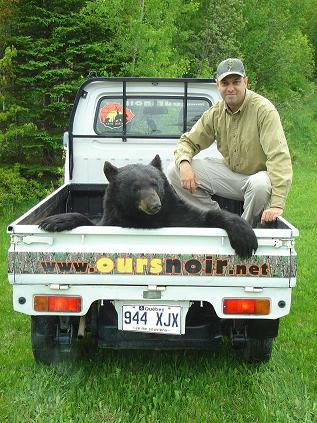 That's a big mature boy! I feel like never before, I can't explain what I'm filing...
You can watch my video on :
http://vimeo.com/5502888