Posts: 37
Joined: Sun Feb 21, 2010 4:38 am
Status: Offline
What the story behind the albino in the pics section....will this be on any future DVD's.....
500 Club
Posts: 1570
Joined: Thu Jan 06, 2011 5:37 pm
Location: God's Country
Status: Offline
I could tell ya but then I'd have to................hehehehhe
Will let Dan tell the story.
For God so loved the world, that he gave his only begotten Son, that whosever believeth in him should not perish, but have everlasting life.John 3:16 KJV
500 Club
Posts: 7162
Joined: Wed Feb 17, 2010 1:11 pm
Location: Logged in - from above
Status: Offline
It's the end of a quest, and in my book an incredible trophy.
Site Owner
Posts: 41129
Joined: Sat Feb 13, 2010 6:11 am
Location: S.E. Wisconsin
Status: Offline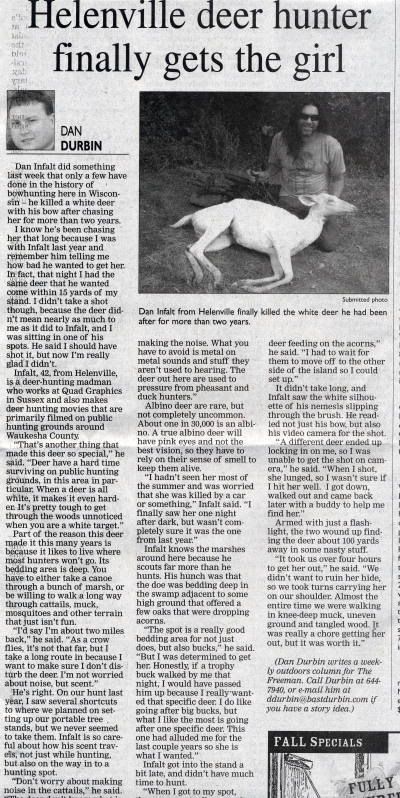 The print is probably to small to read... But anywho, I hunted the white doe for two seasons, got her the 1st day I hunted her this last season. I did not get the shot on film because of equipment malfunction. But Chad came out and helped film some of the recovery... I have some live footage of her too, and you will likely see something in a DVD about her in the near future.
Posts: 37
Joined: Sun Feb 21, 2010 4:38 am
Status: Offline
congrats...are you doing a full body mount? I think its great how you guys took turns carrying her....deer of a lifetime
---